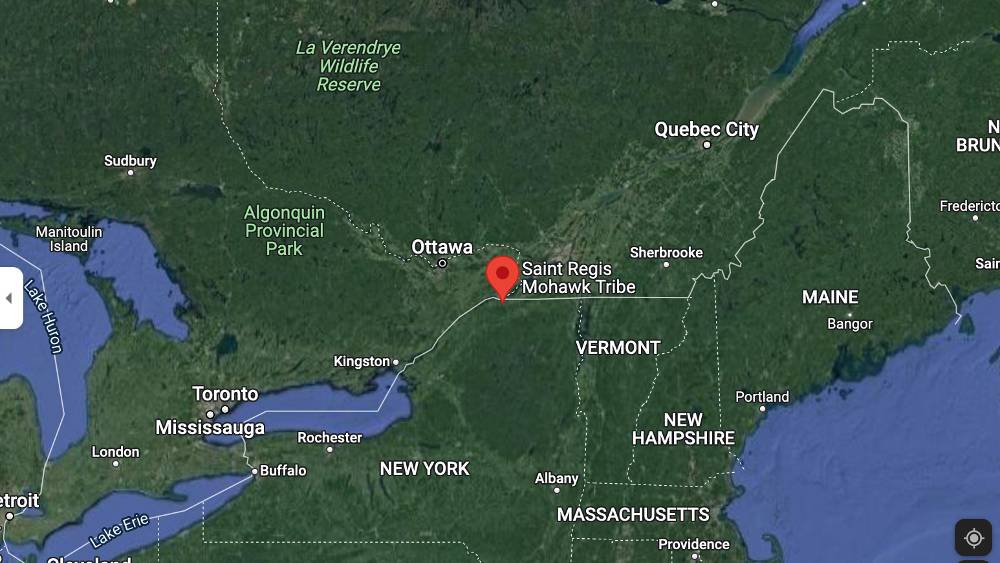 Details

By

Jenna Kunze
The Saint Regis Mohawk Tribe has scheduled a vote for June 4 to shed its colonized name. If the vote passes, they will again be known as the Akwesasne Mohawk Tribe.
International and provincial borders on both banks of the St. Lawrence River cross Akwesasne land. Mohawk people on First Nations Reserves to the north in both Quebec and Ontario call themselves Akwesasne, which is a Mohawk word meaning 'place of partridges.' The portion of the tribe on the U.S. side was named "Saint Regis" as part of settler-Catholic colonization.
"Saint Régis was a French Jesuit priest who wanted to be a missionary to North America but died before he got the chance. The Mohawk name for the community was undoubtedly older than the name of the Saint Regis Mission, which was founded in 1755," writes Director of the Tribal Historic Preservation Office of the Saint Regis Mohawk Tribe, Darren Bonaparte, in a 2019 article. "The name of Saint Regis is a colonial artifact, a holdover from the old Mission of Saint Jean-François Régis."
Never miss Indian Country's biggest stories and breaking news. Sign up to get our reporting sent straight to your inbox every weekday morning.
A previous tribal council voted to change the name of the village of Hogansburg–named for an Irish ship captain–to Akwesasne, but that change didn't affect the tribal government or reservation names.
In September 2019, the Saint Regis Mohawk tribal council conducted opinion polls on a name change, and found that 61% of community members who responded (about 550 total) supported a formal name change, according to the tribe's press release. Of fifteen suggested name changes, Akwesasne Mohawk Tribe received the most support.
The proposed name change was initially scheduled for a tribal vote during the 2020 Tribal Election, but was rescheduled several times due to the COVID-19 pandemic.
"Why change anything at all? Why fix it if it isn't broken?," Bonaparte wrote. "My only answer to that is that I have traveled to many other native communities over the years and whenever I have been asked where I am from, and I tell them Akwesasne, they never then ask me which side I am from. There is only one Akwesasne. It is only our own elected governments - and their external counterparts - that act as though there are two. Ultimately, Saint Regis was somebody else's name for us. We have always had our own. It was, is, and always will be Akwesasne."
More Stories Like This
Ohio State Podcast Examines the Fight to Save ICWA
Testimony in Support of Truth and Healing Commission Due May 26
Former Tlingit & Haida Chief Justice Appointed to National Commission on Missing and Murdered Indigenous People
Oklahoma Governor Kevin Stitt Vetoes Bill Enhancing Public Safety in Oklahoma
Duwamish Tribe Prepares to Sue Federal Government to Secure Tribal Sovereignty