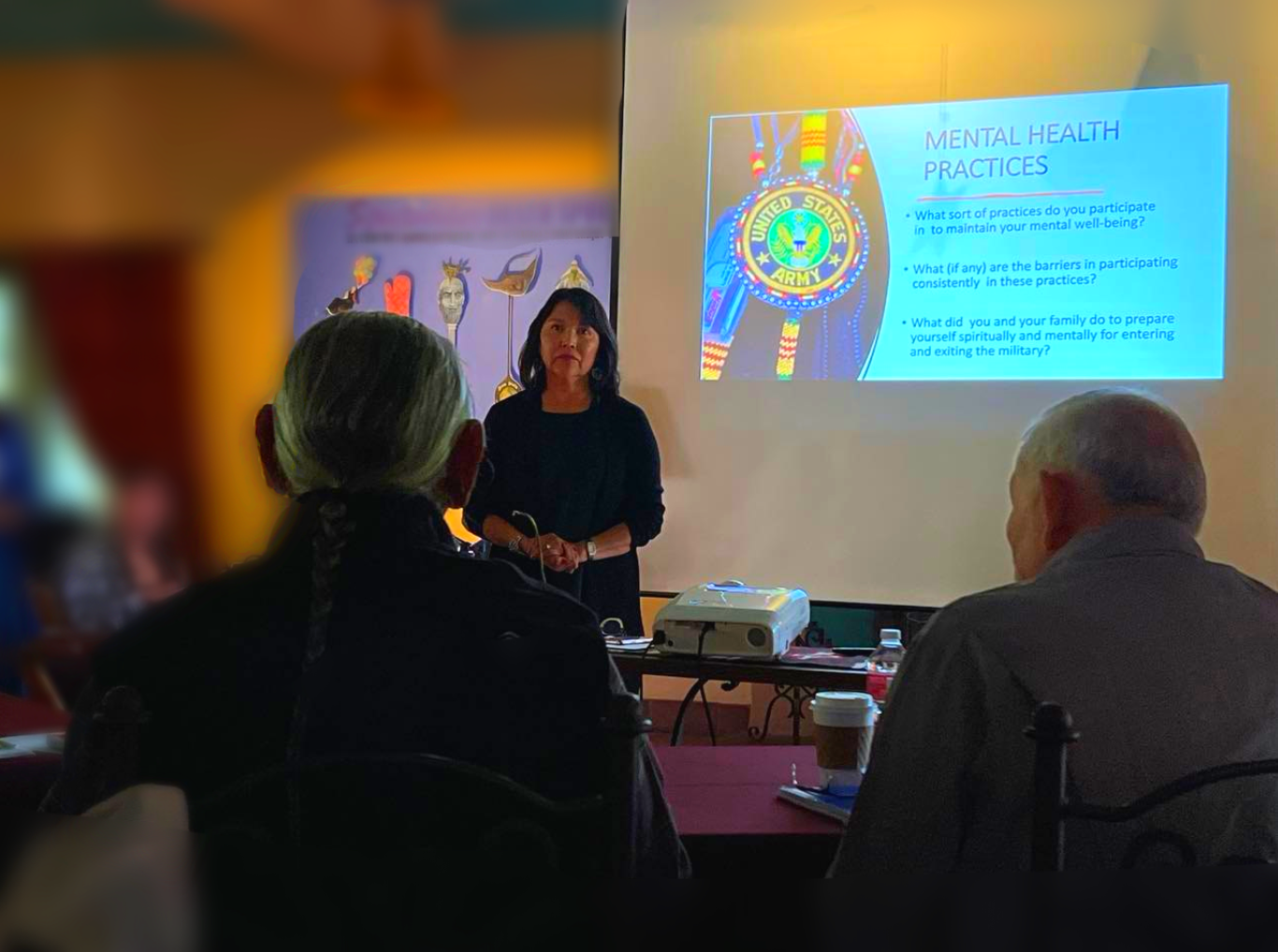 Details

By

Jenna Kunze
An Arizona company has won a $3 million grant from the U.S. Department of Veterans Affairs for a mental health app that aims to reduce suicide by military veterans on the Navajo Nation.
The company, Phoenix-based Televëda Systems Inc., was founded in response to co-founder Shruti Gurudanti's observation of a massively underserved healthcare problem: isolation.
"I was very close with my grandfather who suffered from age-related chronic conditions that made him homebound," Gurudanti said, according to the company's website. "It was a difficult time, and one that made me come to a stark realization: loneliness and social isolation are massive healthcare problems that need to be addressed. Loneliness is a major predictor of functional decline and death, and bringing individuals together can improve a society's physical, mental, and social health."
Today, the company offers weekly free virtual interactive events—mostly aimed at seniors— including bingo, art and music classes, and movement classes. They serve people in 26 states, mainly in community-based centers like senior centers and hospitals, but also from individuals' homes, co-founder Mayank Mishra told Native News Online. Televëda partners with over 125 community-based organizations to digitize events and deploy them to a larger audience.
Televëda's grant-winning project, Project Hózhó—meaning 'balance' in Diné—is a mental health app in development that's designed for and by Navajo veterans. Televëda is creating the app in partnership with Black Hills Center For American Indian Health, an organization aimed at improving the health of Natives living on reservations in South Dakota and Arizona.
The app will use traditional storytelling and talking circles in a hybrid format, with an aim to reduce veteran suicide and improve access to Veterans Affairs resources.
While Native Americans serve in the United States' armed forces at five times the national average, Native veterans also suffer from disproportionate suicide rates. Over the past two decades, suicide rates among Native American and Alaska Native veterans receiving care in the Veterans Health Administration system increased by nearly 150%, according to a study conducted by researchers for the US Department of Veterans Affairs Rocky Mountain Mental Illness Research, Education, and Clinical Center for Suicide Prevention and published in Medical Care in March 2022.
"Our results suggest a compelling need to review and strengthen suicide prevention efforts for AI/AN veterans," the researchers wrote.
But 67% of suicides can be reduced with access to mental health care services, according to Televëda's research.
Black Hills Center For American Indian Health's vice president, Diné public health scientist Dr. Patricia Nez Henderson, led several talking circles on the Navajo Nation last year to determine what types of services Native veterans needed.
"We know that [incorporating Navajo ways of knowing into addressing mental health] is needed for our people when it comes to addressing many of the health inequities that are happening with our communities, especially our Navajo veterans," said Henderson, who grew up on the Navajo Nation with many family members serving in the armed forces. "Many of the young vets were telling us: it would be really nice to be on a call where we feel safe, where our voices can be understood—meaning that they wanted to be among other vets— just to talk about everyday life situations."
The older veterans said they would like to share their stories and cultural teachings "that could make a vet even stronger, knowing those values," Henderson added.
Project Hózhó will roll out in two phases: first, the Televëda team will establish digital infrastructure on the Navajo Nation, including access to tablets, internet connectivity, and training Native veterans to lead certain digital literacy programs, Mishra told Native News Online in an interview yesterday.
Next, Televëda will roll out its hybrid talking circle platform, where Navajo Nation veterans can come together in small groups or individually through their tablets to connect and share with one another.
"Really the solution is going to be by the Native veterans, where they will be trained on interventions if someone is [having] suicidal ideation," Mishra said. "But it is the elders and the veterans who will be in the circles. The public health professionals will be designing appropriate storytelling curriculum."
Televëda and Black Hills Center For American Indian Health said they plan to tailor the program to other tribes, moving forward.
"Once we feel that that product is at a good place, we'll begin to have those conversations with [other] tribes, if they choose to," Henderson said. "The vision I have is [using] technology to bring these old stories, these songs, these prayers that are so sacred, back into our homes."
Navajo Nation Council Delegate Carl Slater called the grant "a step forward" for healing in the Navajo Nation.
"Through innovative ways which incorporate Navajo healing practices and modern technology, our Navajo veterans will have access to much needed culturally relevant services," she said in a statement provided to Native News Online. "Our Navajo veterans have served in the military services for many decades, and Project Hozhó is a step forward in creating a safe space for healing."
Project Hózhó was selected among 10 other winners—out of 1,300 applicants—as part of the VA's Mission Daybreak, a $20 million grand challenge to reduce Veteran suicides over ten years.
"Our Veterans need and deserve suicide prevention solutions that meet them where they are, rather than taking a one-size-fits-all approach, and that's exactly what Mission Daybreak has delivered," VA Under Secretary for Health, Shereef Elnahal, said in a statement. "By drawing on a range of focus areas and life experiences, the Mission Daybreak winners have developed innovations that will save Veterans lives – and there's nothing more important than that."
To read about other Mission Daybreak winners, visit https://news.va.gov/116015/mission-daybreak-announces-10-winners-challenge/.
More Stories Like This
'We are in dark times' | Reeling from Four Overdose Deaths in Four Days, Lummi Nation Calls for Urgent Action
IHS Awards $1.5 Million to Address Alzheimer's Disease 
Statement from IHS Director Roselyn Tso on the Availability of Updated COVID-19 Vaccines
Promote Hope for the Future: Addressing Suicide in Indigenous Youth
Ovarian Cancer Affects 20,000 Women a Year. Here's What You Need to Know.
The Native News Health Desk is made possible by a generous grant from the National Institute for Health Care Management Foundation as well as sponsorship support from the American Dental Association. This grant funding and sponsorship support have no effect on editorial consideration in Native News Online.