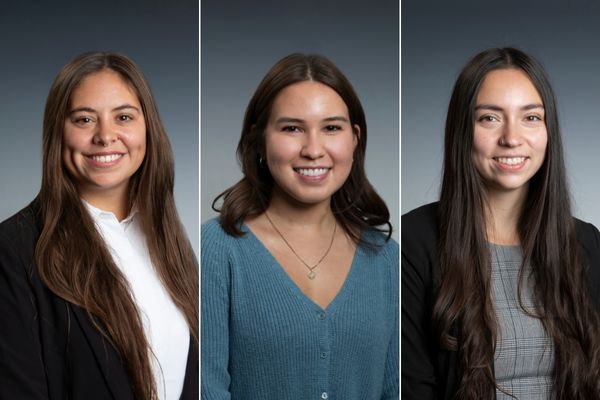 Details

By

Jenna Kunze
Across the nation, medical schools are seeing a drop in already low enrollment numbers for Native students. A medical school program in Alaska is doubling down on its efforts to bolster its Indigenous student body through early outreach, relationship building in tribal communities, and inviting Indigenous alumni to serve as mentors.

When Dr. Elise Pletnikoff (The Sun'aq Tribe of Kodiak) attended medical school from 2006 to 2010, she could not imagine what an Alaska Native female physician might even look like. The idea of what it meant to look "professional" was vague to Pletnikoff, who grew up doing commercial fishing with her father near Kodiak Island, southwest of Anchorage.
"A young, Native female — that look carries just as much intelligence and belonging in the healthcare system as we more traditionally might think of as a physician," Pletnikoff, now a family medicine doctor in her hometown, Kodiak, told Native News Online. "That was just not something I had exposure to."
When Dr. Pletnikoff graduated from medical school in 2010, she was one of two Indigenous students in her cohort of 10. A decade later, there's still a dearth of Indigenous medical students and physicians.
Although Native Americans and Alaska Natives make up about 3% of the U.S. population, they were just 1% of students enrolled in medical school as of 2021, according to data from the American Medical Association. As of 2018, there were about 3,400 Indigenous physicians in the United States.
Some medical schools, including Pletnikoff's alma mater, the WWAMI School of Medical Education, say they are working to increase their Indigenous student population. The WWAMI School is a five-state partnership between the University of Washington School of Medicine in Seattle and universities in Washington, Wyoming, Alaska, Montana, and Idaho. The program provides in-state medical education with a focus on rural medicine.
In 2021, three Native students entering the WWAMI program in Alaska represented the largest class of Indigenous matriculants the school had ever had, according to Dr. Kathy Young, Alaska WWAMI's Foundation-Stage Dean.
"The national picture is similarly bleak," University of Washington School of Medicine's Associate Dean for Admissions LeeAnna Muzquiz, M.D. (Confederated Salish and Kootenai Tribes of the Flathead Nation), told Native News Online.
"Over the course of the past ten years or so, I would say, that the number of people who applied to medical school who identify as Alaska Native or American Indian has actually decreased, while most other populations have increased. So it started low, and it's actually gotten worse," said Muzquiz, who is a family physician herself.
Never miss Indian Country's biggest stories and breaking news. Sign up to get our reporting sent straight to your inbox every weekday morning.
The school has been trying to drum up interest among Indigenous students at an early age with classroom Zoom visits to remote Alaska high schools and by asking Indigenous alumni of the program to speak to students. The school also hired a tribal liaison who works for the School of Medicine to build connections with tribal communities.
Muzquiz said she wants to make sure that there's a "shift in the ecosystem" to support students from the time they start thinking about a medical career in middle-school or high-school all the way through undergraduate programs and entry into medical school.
Decolonizing health care
Madilyn Short (Yup'ik/Inupiaq), Audrey Juliussen (Athabascan/Unangax̂), and Sarah Rasmussen-Rehkopf (Quileute/Makah) each entered the WWAMI School of Medical Education at the University of Alaska Anchorage for similar reasons: they'd witnessed or received subpar medical care in their respective communities and wanted to change the system from the inside.
"I wanted to go into medicine because of the experiences of my family and my community," Rasmussen-Rehkopf, 28, told Native News Online. "The care that we've received… it could be better, it should be better. We deserve to have good health-care outcomes, good providers, and a health-care team that understands who we are and how to take care of our health. I wanted to be part of a health-care team that came from a place of cultural knowledge while also knowing what it's like to be in a rural community [and] to be an Indigenous person."
The women each expressed a need to "decolonize" the Western health-care system, from the way it looks at health as something disparate from other parts of life to the standard doctor/patient relationship, which can be unrealistic and unhelpful in rural communities.
Western medicine was traditionally applied with a paternalistic method behind it, Short, a 24-year-old student from Southwest Alaska, told Native News Online. When a patient goes to a doctor for a problem, the doctor often quickly jumps to a diagnosis by referring to key diagnoses or clinical findings they have studied, and the patient is expected to follow their doctor's advice and prescriptions based on this short and often impersonal interaction.
"They might not ask you about how that treatment will fit in with your life, or whether or not you can afford the treatment, or what other barriers may prevent you from completing the treatment," Short said. "I think medical education, in general, is moving towards equal parts communication between the patient and the doctor, rather than the patients only learning from the doctors, the doctors having as much to learn from the patients."
A crucial part of their education, the students told Native News Online, has been working with Alaska Native and Native American mentors.
Although Dr. Pletnikoff didn't have a Native mentor when she was in medical school, she's become one for the next generation of Indigenous physicians. She serves as the medical director of the Kodiak Area Native Association (KANA) — a nonprofit corporation in Kodiak that provides health care and social services for Alaska Natives throughout the region. It is working with the University of Washington and Oregon Health Science University to train Native students in the medical field — and also train non-Native students about the Native health-care system and caring for Indigenous peoples, she said.
'How's your mom?'
Dr. Pletnikoff begins each visit with patients by talking about the weather and where they are in the harvesting season.
"I know my patients," she said. "I've heard about their families. I've delivered all their babies. It's typical for me to sit down and say: 'How's your mom?'
"I talk about the human side of personal experience before getting into whatever brought them into the doctor's office today. In my experience, removing that barrier and connecting as people and as somebody that's invested in what they have going on in life helps to make people more comfortable sharing what they're worried about, or what's bothering them."
Juliussen, a 27-year-old from Anchorage, completed her clinical rotation, an assignment as part of a medical team, at KANA over the summer, alongside Dr. Pletnikoff.
"Just being able to work closely with [Pletnikoff] and see her approach to working with Native people in her clinic was such a good reminder for me that I can bring who I am and where I come from into this space," Juliussen told Native News Online. "In fact, there is an understanding in that interaction that allows for even better care."
Pletnikoff, the only Native physician among more than 20 doctors in Kodiak and five at KANA, said that her patients were excited to see another Alaska Native as a physician in training.
"I think that with more Native physicians, we would see patients more comfortable engaging with the health-care system and improved health in the way that is meaningful to the individual patients, whatever that means to the individual patient and their family," she said.
Mending the mistrust
For the three young Alaska Native medical students, their goal is also to heal a lot of the mistrust many Indigenous people feel about the medical system, while also indigenizing the health-care framework rather than conforming to it.
"I think our participation and presence and eventual careers within the tribal health system are slowly mending that [mistrustful] relationship, and hopefully, we'll contribute to a better perception of the health-care field and provide care to those that are still distrustful," Short said.
Her peers agreed.
"When I was starting med school, and even now, I want to be sure that I remain myself as an Indigenous person, [as] part of my community, [and as] part of my tribe," Rasmussen-Rehkopf said. "And instead of becoming part of the Western medicine system and building it that way, I want to bring that system closer to us."
More Stories Like This
Substance Abuse and Mental Health Services Administration Awards $35 Million to Reduce Suicide in Indian Country
'We are in dark times' | Reeling from Four Overdose Deaths in Four Days, Lummi Nation Calls for Urgent Action
IHS Awards $1.5 Million to Address Alzheimer's Disease 
Statement from IHS Director Roselyn Tso on the Availability of Updated COVID-19 Vaccines
Promote Hope for the Future: Addressing Suicide in Indigenous Youth
The Native News Health Desk is made possible by a generous grant from the National Institute for Health Care Management Foundation as well as sponsorship support from the American Dental Association. This grant funding and sponsorship support have no effect on editorial consideration in Native News Online.