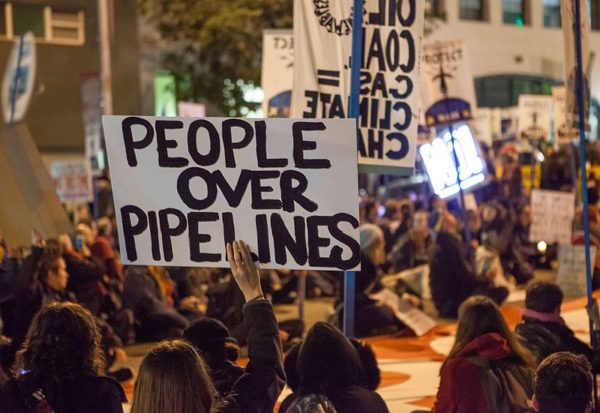 Details

By

Native News Online Staff
Lake Andes, S.D. — A coalition of Native American, rural and environmental groups have called on Montana Gov. Steve Bullock and Canadian company TC Energy to halt all work on the Keystone XL pipeline project due to the COVID-19 public health threat.
The Promise to Protect coalition today delivered petitions by email to Montana Governor Steve Bullock signed by 44,598 people, urging the Canadian corporation and elected officials in the U.S. to take action immediately to halt construction during the coronavirus public health emergency.
TC Energy recently announced plans to go forward with the controversial pipeline project, despite ongoing lawsuits and its potential to intensify the spread of coronavirus in rural communities across Montana, South Dakota and Nebraska.
"It is unethical and down right dangerous for TC Energy to send hundreds of workers into rural communities during this pandemic," said Dallas Goldtooth, campaigner for Indigenous Environmental Network. "Native communities are already at risk for sexual violence associated with transient oil company workers, and now add in the risk of Covid-19 infection? We have to draw the line in defense of our families."
According to Promise to Protect, TC Energy plans to send hundreds of workers into rural communities to build a half dozen "man camps" across Montana, South Dakota and Nebraska — temporary housing where hundreds or even thousands of pipeline workers live together in close quarters throughout months of pipeline construction. Residents fear that the close proximity to very rural towns, and reservation and treaty lands could create additional public health risks, according to the group.
Rural hospitals and Indian Health Service facilities along the proposed route are already straining to serve tribal citizns and community members with the coronavirus public health threat. The Keystone XL, which Promise to Protect calls a clearly "non-essential" construction project, would create additional strains and threats as thousands of out-of-state workers move close to the work sites.
Over the past weeks, several cities and states have instituted bans on construction projects, including Boston, San Francisco, and New York. In Pennsylvania, construction on a Shell ethane cracker plant and further construction of the proposed Mariner East pipeline have been halted.
"TC Energy is putting their workers and our communities at risk by recklessly moving forward with construction on the Keystone XL pipeline amid this public health crisis, when experts are urging us to isolate in order to protect people's lives," said Summer Nelson, Director of the Sierra Club Montana Chapter. "TC Energy executives aim to ram this disastrous tar sands project forward without addressing the many concerns of communities and tribes along the route, and at a time when we need everyone to work together to protect our communities. It is time for them to stand on the right side of history and abandon this costly, polluting project and protect public health."
Promise to Protect also launched an online petition urging the Canadian corporation, Montana Governor Steve Bullock, and other elected officials in the U.S. to take action immediately to "Cancel KXL."
"This is public endangerment," said John Harter, Board Chair of Dakota Rural Action. "Not only is the pipeline itself a danger to the public, but with the current coronavirus emergency it is doubly so. Bringing in workers to build a pipeline creates a pipeline for the virus to enter and spread in our rural communities."
Native News Online reached out to TC Energy for comment, but did not hear back prior to press time.
More Stories Like This
American Basketball Association Announces Native ABA Initiative
Four Winds South Bend Upgrades to Class III Gaming Casino
Native News Online Wins Two Awards from Native American Journalists Association
Wahlberg Brothers Are a Big Hit at Indian Gaming Tradeshow and Convention in Las Vegas
Native Gro Offers Tribes a 'One-Stop Shop' for Entering the Cannabis Industry