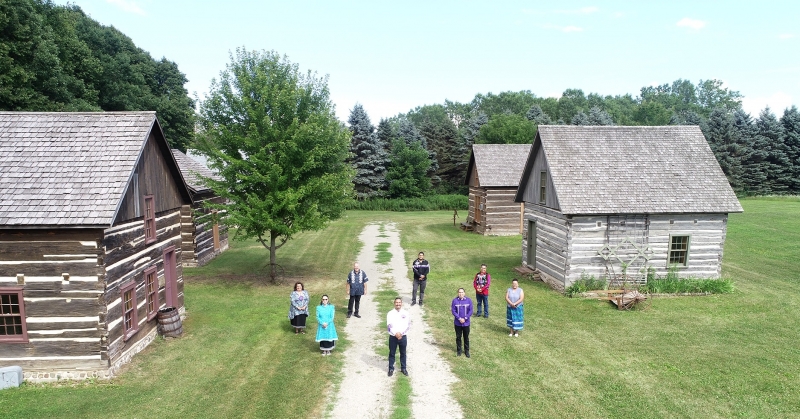 Details

By

Monica Whitepigeon
ONEIDA NATION, Wis. — After a four-year legal battle with the Village of Hobart, Wis., the U.S. Court of Appeals for the Seventh Circuit ruled in favor of the Oneida Nation.
Since 2009, the Oneida Nation has hosted the annual Big Apple Fest, a cultural event that is free and open to the public. The festival offers a wide range of family-friendly activities and operates on tribal lands, which includes federal trust land and fee land (because of the COVID-19 pandemic, this year's festival has been canceled).
The controversy arose in 2016, when Hobart adopted a Special Events Ordinance and claimed the tribe did not comply with the village's ordinances and apply for a permit to host the festival. The incorporated municipality of the Village of Hobart is located inside Oneida Nation territory. As a sovereign nation, the tribe countered by filing a declaratory and injunctive relief action.
Last week, the court upheld the 1838 federal treaty with the Oneida Nation, an agreement that established the tribe's reservation in Wisconsin with approximately 65,000 acres of land and mandated "to include all their settlements and improvements in the vicinity of Green Bay."
However, in the ensuing decades, much of the individual parcels of land were transferred over to non-Native people by sale, foreclosure or enforcement of tax liens. Nearly all of the tribal land was lost as a result.
The Oneida Nation has made enormous efforts to buy back its original reservation land since the 1990s. Over the years, the tribe and village have had a number of property disputes.
"As a matter of federal law, the entire reservation as established by the 1838 Treaty remains Indian country," 7th Circuit Judge David Hamilton wrote in his decision. "The village (of Hobart) lacks jurisdiction to apply its ordinance to the Nation's on-reservation activities."
"The Oneida Nation appreciates the support from the Federal Government, the State of Wisconsin, and the National Congress of American Indians and Indian Land Tenure Foundation for their filing of amicus curiae briefs in this case," Chairman Tehassi Tasi Hill said in a press release.
For Oneida citizen and Northwestern University professor Doug Kiel, the recent court victory came as a relief.
"The facts were always on our side, but the SCOTUS decision in McGirt v. Oklahoma reinforced our case," said Kiel, who focuses on the Great Lakes region and twentieth century Indigenous nation rebuilding.
Kiel recently published a journal article through the University of Minnesota Press entitled
"Nation v. Municipality: Indigenous Land Recovery, Settler Resentment, and Taxation on the Oneida Reservation."
"During the 2000s, the nation and the village had responded tit for tat to each other's initiatives," Kiel explained in the article. "In 2001, for instance, when the village invested over $3 million in developing roads and infrastructure to create a 490-acre business/industrial park, the nation purchased more than 75 percent of the land within the proposed site and informed the village that it had no intention of developing the land."
His article also notes that Hobart's land development "has since exceeded expectations, having led to the construction of nearly $130 million in taxable property, bringing total property values in Hobart to $975 million."
For nearly 200 years, the Oneida Nation has overcome countless struggles with federal, state and local governments to successfully expand the reservation territory and preserve lands from overdevelopment.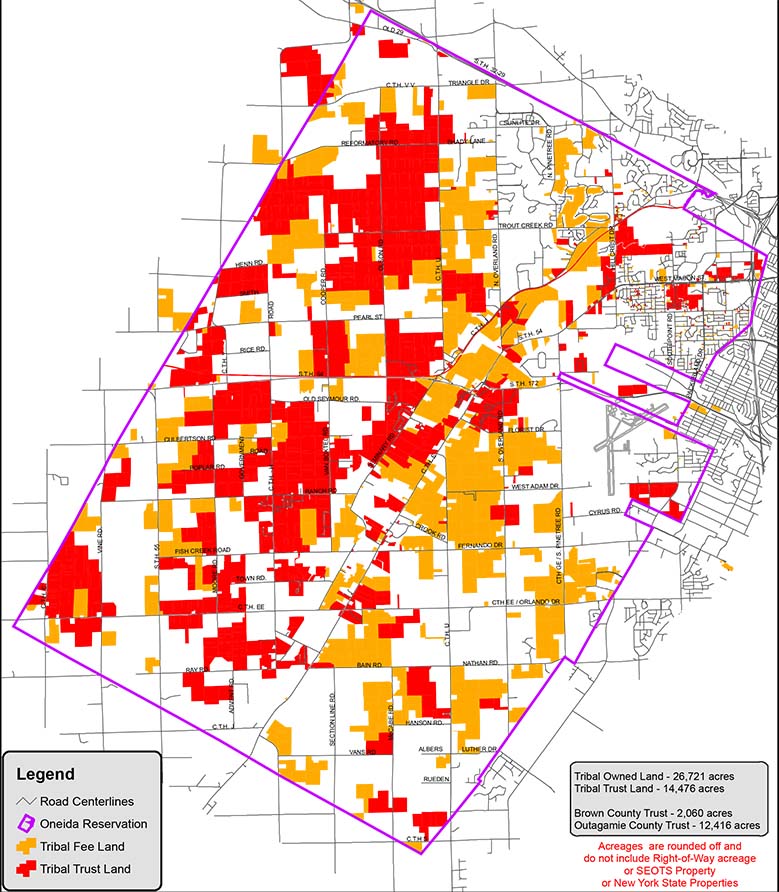 Oneida Nation Reservation Maps. Courtesy of the Oneida Nation website.
In 2017, the Bureau of Indian Affairs's Board of Appeals ruled in favor of Oneida moving 500 acres into a trust despite Hobart's objections to jurisdictional conflicts and loss of tax revenue.
Village president Rich Heidel claimed that the village "will continue to oppose all attempts to remove its legitimate governmental jurisdiction and will take every action to avoid these parcels, or any parcels, from being placed into federal trust status."
Hobart officials have continually fought the tribe's jurisdiction and its legitimacy as a governing entity.
Rebecca Webster is an enrolled citizen of the Oneida Nation, an elected land commissioner and is on faculty at the University of Minnesota Duluth in the American Indian studies department. She previously served 13 years as an attorney for the tribe.
"Why do they have such a problem with what the tribe is doing on our land?" Webster said. "It's all really grounded in hate and racism."
Regardless of the lawsuits, the tribe has consistently shown good faith efforts and maintains strong relationships with as many government bodies as possible.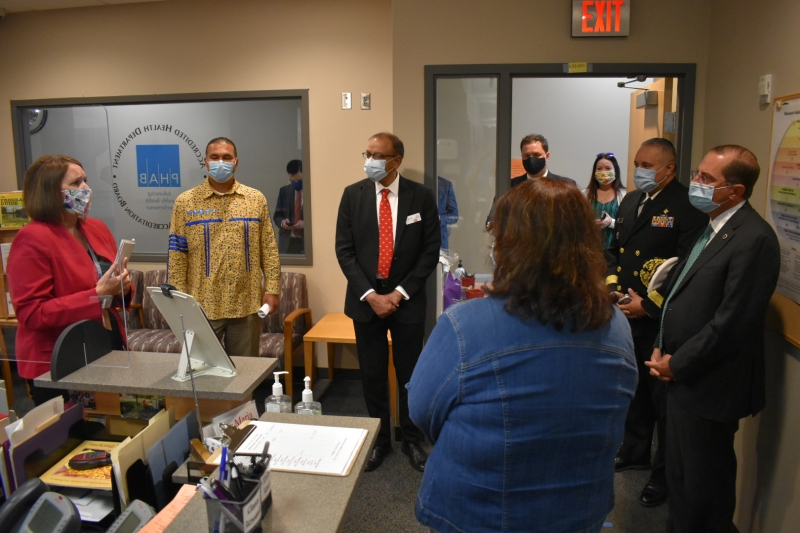 In June, Oneida Nation hosted HHS Secretary Alex Azar and IHS director Michael Wehkee (Zuni). Via Facebook.]
In June, Oneida Community Health Center hosted Health Human Services Secretary Alex Azar and Indian Health Service director Michael Wehkee (Zuni) to showcase tribal efforts to keep the community safe during the pandemic.
In July, the podcast "Aligning the Quan" interviewed Webster to further explain the tribe's long, complex history with Hobart, and how it is a prime example of modern day colonialism. During the "ATQ – Hobart hates Oneida" podcast, Webster makes it clear that the back and forth litigation between Oneida and Hobart is the result of the village's need for control over the tribe.
For example, in an effort to be good neighbors, Oneida signed a service agreement to pay approximately $150,000 per year to Hobart while the village agreed to not challenge the tribe's land being taken into trusts. Hobart violated the agreement and has since spent nearly $200,000 on litigation with the majority going towards Oneida cases.
As what some speculated to be a fear tactic, village officials told residents that if the tribe put land into trusts it would diminish tax revenue and the village would cease to exist.
Through an assortment of service agreements, Oneida Nation offers community services such as mutual aid and police protection, road maintenance, environmental protection and emergency communications to surrounding municipalities in lieu of paying taxes on trust land.
"It's even worse when the other side doesn't talk about how things are happening, and I'm sure there's a strategy behind that," Webster said. "Oneida wanted to take the high road… but taking the high road doesn't mean you don't have to share the facts."
More Stories Like This
Tribal Leaders Weigh in on the Catholic Church's Effort to Engage over Indian Boarding Schools
Supreme Court Moves Review of State's McGirt Argument
U.S. Supreme Court Denies Union Springs Petition, Reaffirming Cayuga Nation's Right to Operate Electronic Bingo Hall
Court Rules Mining Rights Stay with the Feds on Oklahoma Tribal Lands
ANCSA made only Natives born before December 1971 corporate shareholders. Those born after want change.
The truth about Indian Boarding Schools
This month, we're asking our readers to help us raise $10,000 to fund our year-long journalism initiative called "The Indian Boarding School Project: A Dark Chapter in History." Our mission is to shine a light on the dark era of forced assimilation of native American children by the U.S. government and churches. You'll be able to read stories each week and join us for Livestream events to understand what the Indian Boarding School era has meant to Native Americans — and what it still means today.
This news will be provided free for everyone to read, but it is not free to produce. That's why we're asking you to make a donation this month to help support our efforts. Any contribution of any amount — big or small — gives us a better, stronger future and allows us to remain a force for change. Donate to Native News Online today and support independent Indigenous journalism. Thank you.