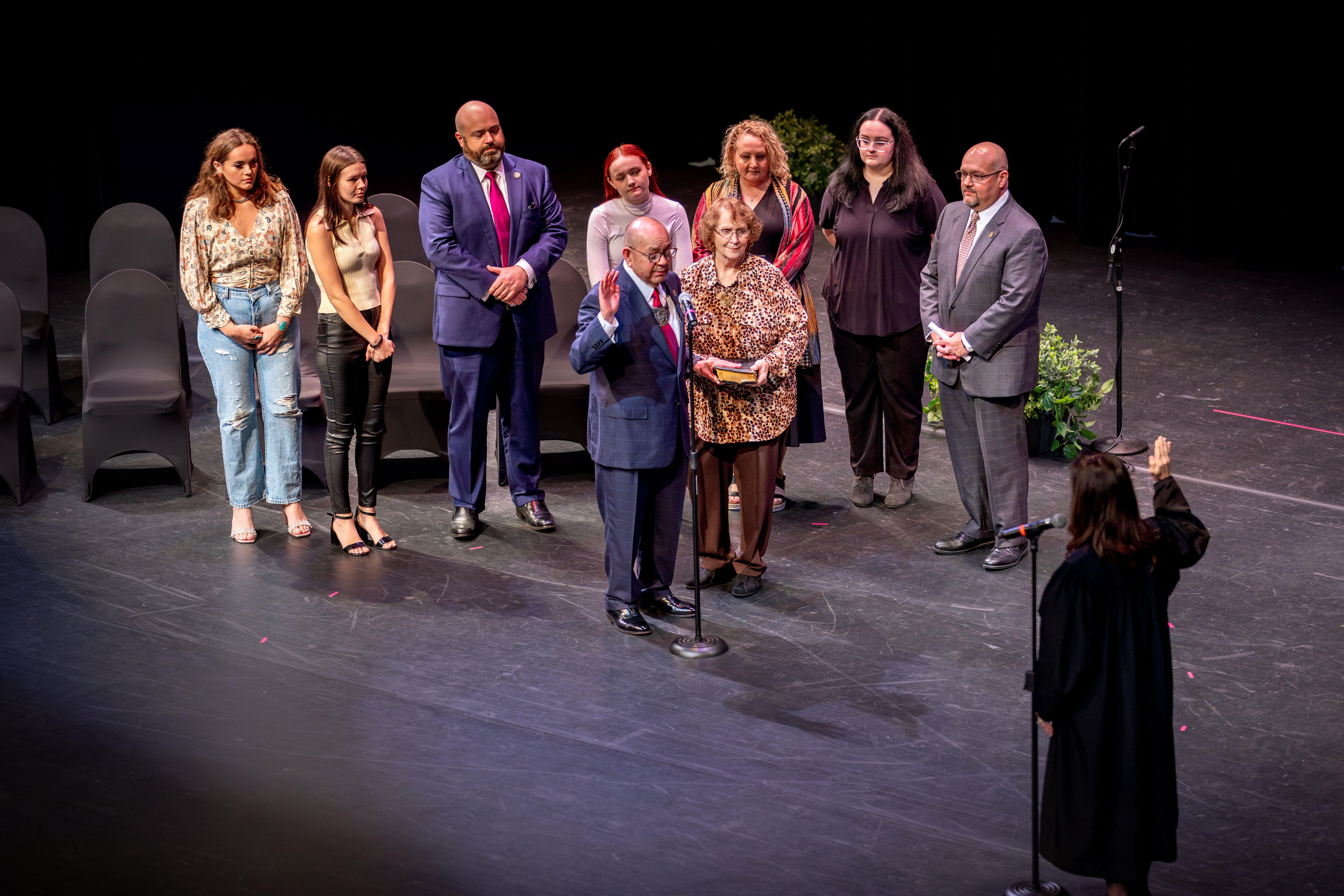 Details

By

Native News Online Staff
Chickasaw Nation Governor Bill Anoatubby took the oath of office for an unprecedented 10th consecutive term during an October 2, 2023 inauguration ceremony conducted at Ataloa Theatre on East Central University's campus in Ada, Oklahoma.
"Throughout our history, Chickasaws have worked together for the common good of our tribe," said Governor Anoatubby. "That same spirit of unity is central to our success today."
Lt. Governor Chris Anoatubby, who has served the Chickasaw Nation for more than two decades, was also sworn into office. He is beginning his second term as Lt. Governor.
Never miss Indian Country's biggest stories and breaking news. Sign up to get our reporting sent straight to your inbox every weekday morning.
Other Chickasaw Nation elected officials taking the oath of office include a Chickasaw Supreme Court Justice and four Chickasaw legislators.
"Together, we have, and we will continue to make remarkable progress in our mission: 'To enhance the overall quality of life of the Chickasaw people."' Governor Anoatubby said.
Governor Anoatubby has served the Chickasaw people for 36 years as governor. He has served the Chickasaw Nation for 48 years, accepting his first position as health services director in 1975.
In 1979, he was elected Lt. Governor and served in that role until elected Governor in 1987.
In 1987, the Chickasaw Nation had approximately 250 employees and a budget of $11 million, most of which came from the federal government.
His leadership has proven to be transformational for the Chickasaw Nation. Today, the Chickasaw Nation's annual economic impact in Oklahoma is $5.5 billion, supporting more than 34,400 jobs and $1.8 billion in wages and benefits. The success stems from more 100 successful businesses in gaming, hospitality, tourism, banking, manufacturing, chocolate and other industries that are operated by the Chickasaw Nation. The business enterprises employ more than 14,000 workers.
Successful business development and diversification efforts enable the Chickasaw Nation to pursue new opportunities and diverse economic ventures, which continues to support self-determination and long-term sustainability. Business revenues provide the majority of funding for the more than 200 programs and services available to Chickasaws.
Housing
Housing is one example of these services.
Working to meet the housing needs of Chickasaw citizens is essential to fulfilling the tribe's mission.
"Building strong families and strong communities is fundamental to our strength as a nation, and we have worked for decades to make quality, affordable housing more accessible," Governor Anoatubby said.
Expanded housing services help meet the needs of Chickasaws in all walks of life. Those services include rental assistance and home ownership services, including programs to facilitate home loans, as well as home repairs and improvement assistance. Housing assistance for Chickasaws across the U.S. includes the storm shelter installation program as well as grants for closing costs, repairs, and home improvements.
Health Care
Significant strides in health care have been made in the past four decades, including an acclaimed hospital, four clinics, eight pharmacies, four dental clinics, a diabetes care center, emergency medical services, four nutrition centers, eight WIC offices, five wellness centers and services that range from pediatrics to physical therapy.
A health facility to serve the needs of Chickasaws and First Americans in the Oklahoma City area is in the planning stages.
Education
Education has historically been one of the Chickasaw Nation's highest priorities, and a significant investment in education services has been made to ensure the future well-being of the Chickasaw Nation.
As a result, a variety of educational services and resources for Chickasaws of all ages are available, ranging from child development centers to adult learning programs.
In addition to providing grants and scholarships this year, totaling more than $30.9 million to more than 8,100 students, the Chickasaw Nation operates three Head Start centers and one preschool, as well as two child development centers. Construction is underway for a second child development center in Ada, and facilities in Tishomingo and Purcell are planned.
The Chickasaw Nation also offers tutoring assistance, internships, career development, student support services, operates the Chickasaw Institute of Technology, and many other educational programs.
"We will continue our long history of encouraging education and supporting professional development, so that all Chickasaw are able to receive a quality education and achieve career success."
Elders and Cultural Preservation

Governor Anoatubby reflected on the importance of Chickasaw elders and the need to share their cultural knowledge, experience, and wisdom with the next generation.
Maintaining and sharing Chickasaw culture and language is paramount to preserving Chickasaw identity and the Chickasaw Nation offers a wide array of opportunities to learn the Chickasaw language and traditional ways of life.

The Chickasaw Cultural Center, Sulphur, continues its mission of telling the Chickasaw story and sharing tribal traditions and culture. Since its 2010 opening, the cultural center has hosted hundreds of thousands of guests from across the globe.
Expanded programs, events and cultural initiatives help Chickasaw citizens, employees and community members learn about the Chickasaw people and customs.
Preserving and providing access to the Chickasaw language is a top priority, as the language is an essential connection to the past and integral to tribal identity. Several opportunities including classes and online applications are available to learn the Chickasaw language.
Last year, Governor Anoatubby issued a proclamation declaring the decade spanning from 2022-2032 as "Chikashshanompa' Ilanompoli'! (Let's Speak Chickasaw!): A Decade of Chickasaw Language."
1983 Chickasaw Nation Constitution
The inauguration was also an opportunity to reflect on the 40th anniversary of the ratification of the 1983 Chickasaw Nation Constitution, a pivotal document which established the modern Chickasaw Nation government.
It serves as a foundation for the tribe's continued self-determination and effective governance.

"Today's ceremony represents more than the promising potential of the next four years – today is a celebration of our tribal sovereignty and the foresight of the men and women who continued to fight for our rights as a tribal government," Governor Anoatubby said.
Looking Ahead

Embarking on his 10th term of service, Governor Anoatubby said meeting the needs of the Chickasaw people and protection of Chickasaw sovereignty remains paramount.
"With each decision, opportunity and challenge, our dedication to enriching the lives of Chickasaws is and will always remain, our guiding compass," Governor Anoatubby said.
More Stories Like This
Federal Government Overhauls NAGPRA to Expedite Return of Native Ancestral Remains
Tribes in Maine Spent Decades Fighting to Rebury Ancestral Remains. Harvard Resisted Them at Nearly Every Turn.
3 Million Acres Returned to Tribal Trust Ownership During Decade Long Program
Seneca Nation & New York State Agree to Short-Term Compact Gaming Extension, as Negotiations Continue
$1.58M Grant Will Reconnect Otoe-Missouria to Ancestral Lands
In a world filled with inaccurate narratives about Native Americans, we spotlight the overlooked, unheard and underrepresented stories that are often overlooked by the mainstream media. Our journalism is free for all to read, but it is not free to produce. Your donation provides the much-needed financial support for us to produce inclusive Indigenous journalism that inspires, informs and uplifts Native Americans. Thank you for being a force behind our work. Together, we are rewriting the narrative.