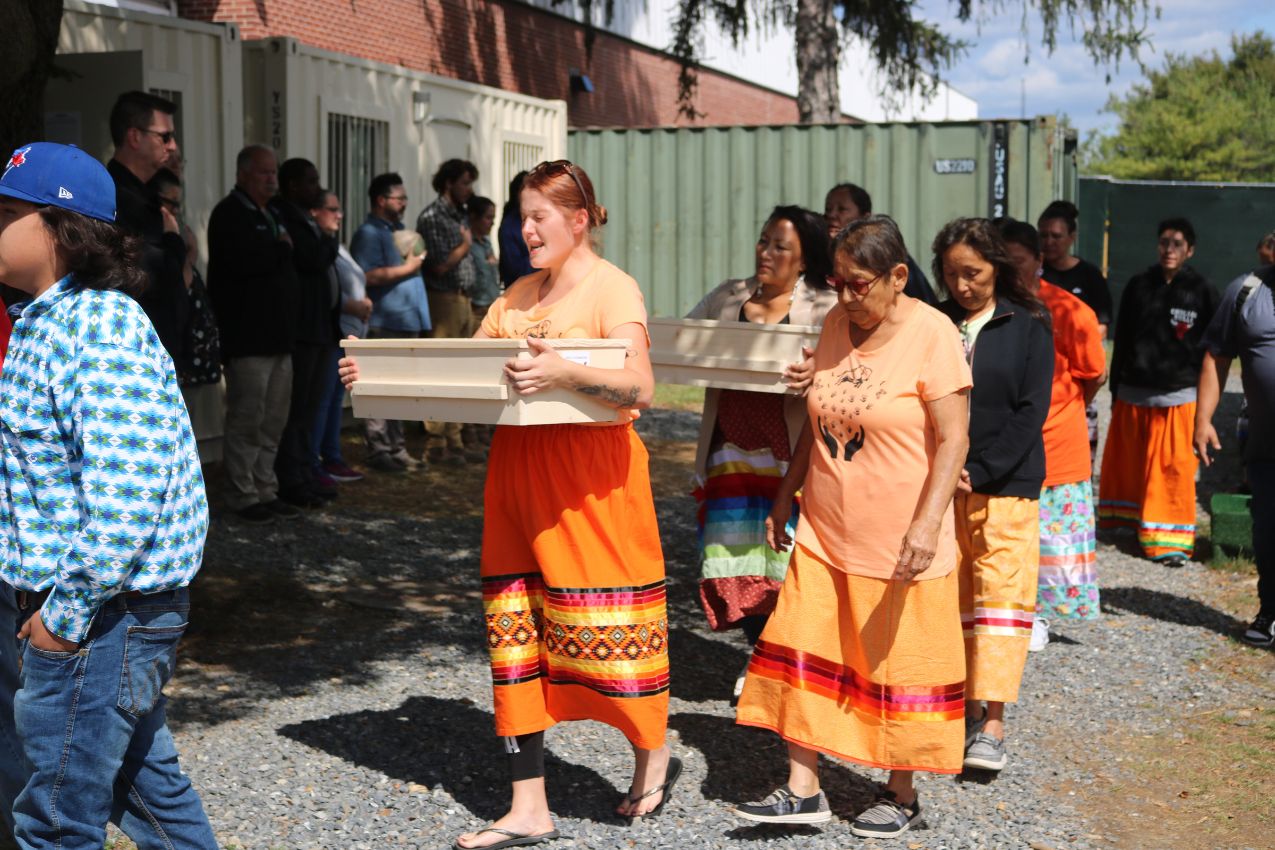 Details

By

Jenna Kunze
CARLISLE, Penn. — Smudged sage billowed into the air on Tuesday, September 19, as members from the Sisseton Wahpeton Oyate tribe of South Dakota and Spirit Lake Tribe of North Dakota carried small wooden coffins containing their relatives' remains to the tribal van that would bring them home after nearly 150 years away.
Around them, a crowd of tribal members and Army staff gathered, many with clasped hands and bowed heads.
Going home were two Oyate boys: Edward Upright (Spirit Lake Nation) and Amos LaFromboise (Sisseton Wahpeton Oyate). The boys left their homes in the Dakotas in 1879 when they were 13 and 12 years old, respectively. They were each the son of a powerful tribal leader—Amos of Joseph LaFromboise, a founding father of his tribe, and Edward of Chief Waanatan—in line to become hereditary chiefs of their respective tribes when they grew older. Instead, they never left Carlisle: They both died before they turned 16 and were among nearly 200 Native children who died in the government's care between 1879 and 1910 while attending the nation's flagship Indian boarding school: the Carlisle Indian Industrial School in Carlisle, Pennsylvania.
On September 19, 144 years after their arrival in Carlisle, the boys began their journey home.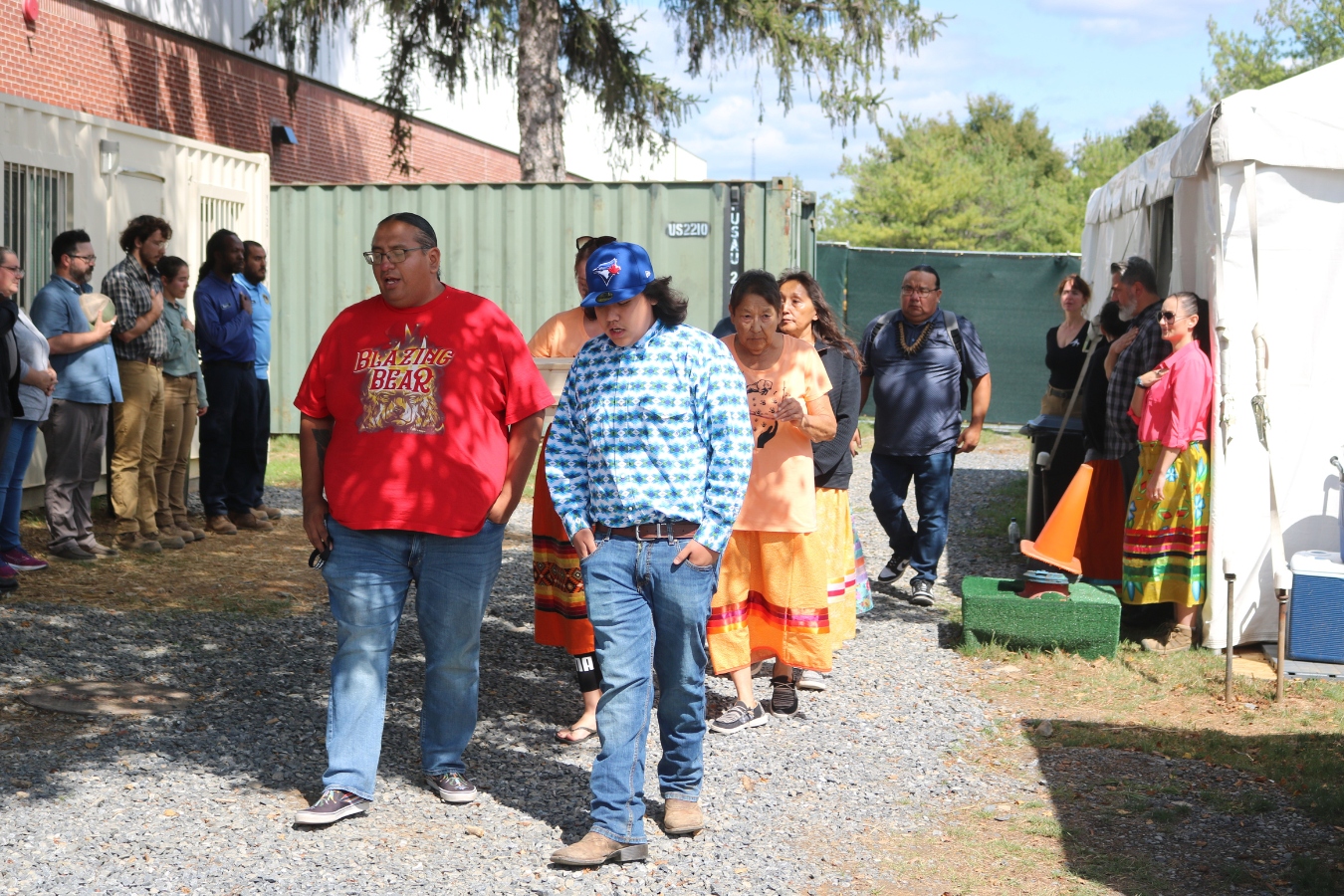 Eric Jens (left) and Layton Wanna (right) led the transfer ceremony on Tuesday. St. John said she invited Wanna to the ceremony because he is a well known singer and the same age Amos was when he died. "He is Amos, and came to sing for him," she said. (Photo: Jenna Kunze)
"Today was very emotional," said Angie Robertson, Edward Upright's great great great granddaughter, after the Tuesday ceremony to officially transfer the boys from the Army to tribal control. She was among the caravan of about 60 Oyate tribal members bringing their relatives home. "I left my children back home to come here, and now I feel like we're leaving others behind. It's happy, sad at the same time."
The Carlisle Barrack cemetery still holds the remains of at least 161 Native children, including infants, though the Army says it is committed to returning every last ancestor. On some of the headstones left behind, tribal members placed small gifts, including a plastic turtle, smooth stones, and pennies.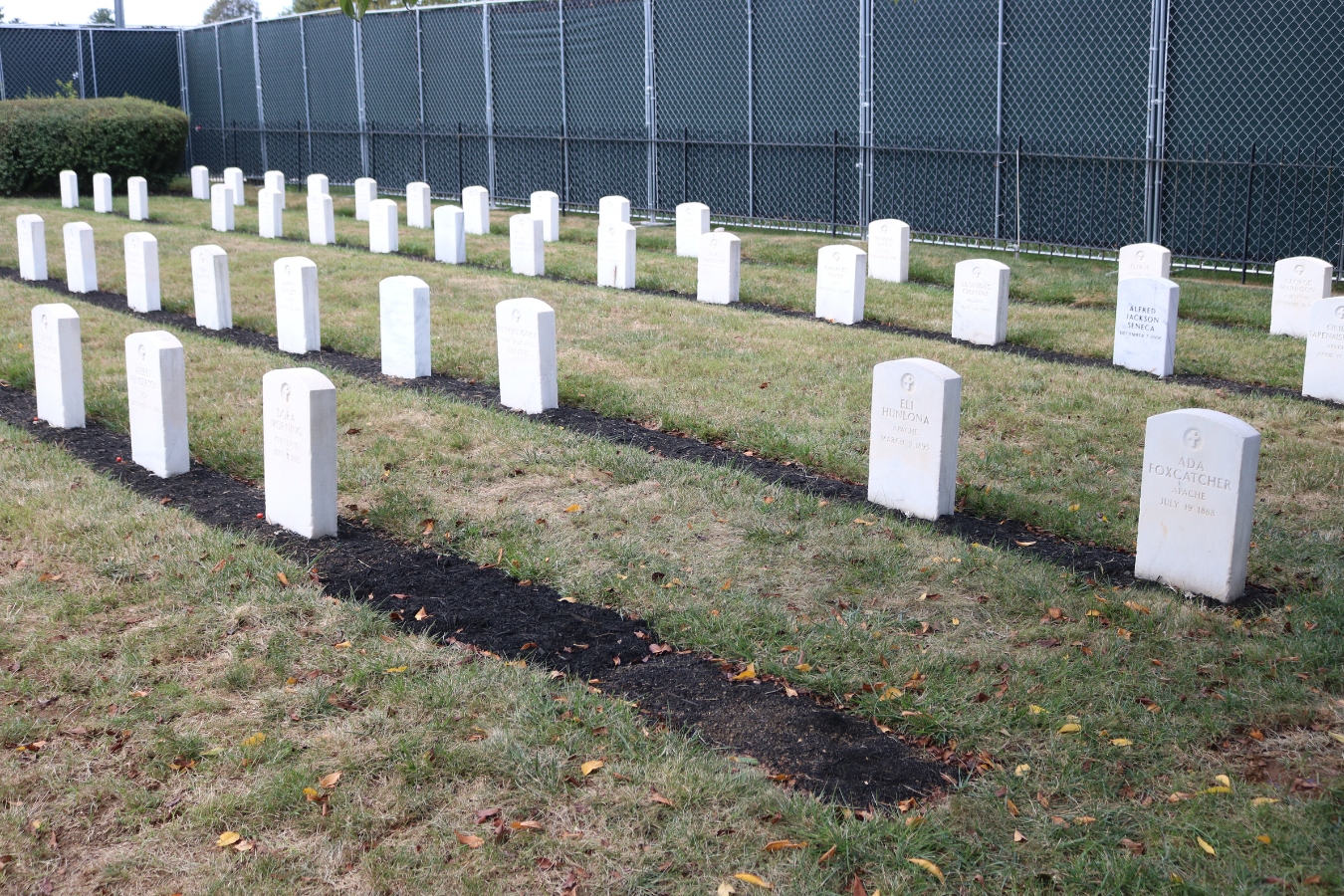 The left side of the Carlisle Main Post Cemetery after this summer's disinterments concluded. While 32 children have gone home in the last seven years, more than 160 are still waiting. (Photo: Jenna Kunze)
The boys will be welcomed back home to Sisseton with a four-day morning ceremony, Tribal Chairwoman of the Spirit Lake Nation, Lana Street, told Native News Online. "We mutually agreed that Amos and Edward will be buried together in Sisseton, as they were here," she said. "We wanted to keep them together."
At the South Dakota ceremony, tribal members will mourn and honor their relatives using their cultural heritage that Carlisle—and Indian boarding schools across the nation—sought to eliminate.
"All the things that were meant to be erased will be right there," Sisseton Wahpeton Oyate tribal historian Tamara St. John told Native News Online. "Our songs, our spiritual practices, our regalia. That, to me, is a powerful point."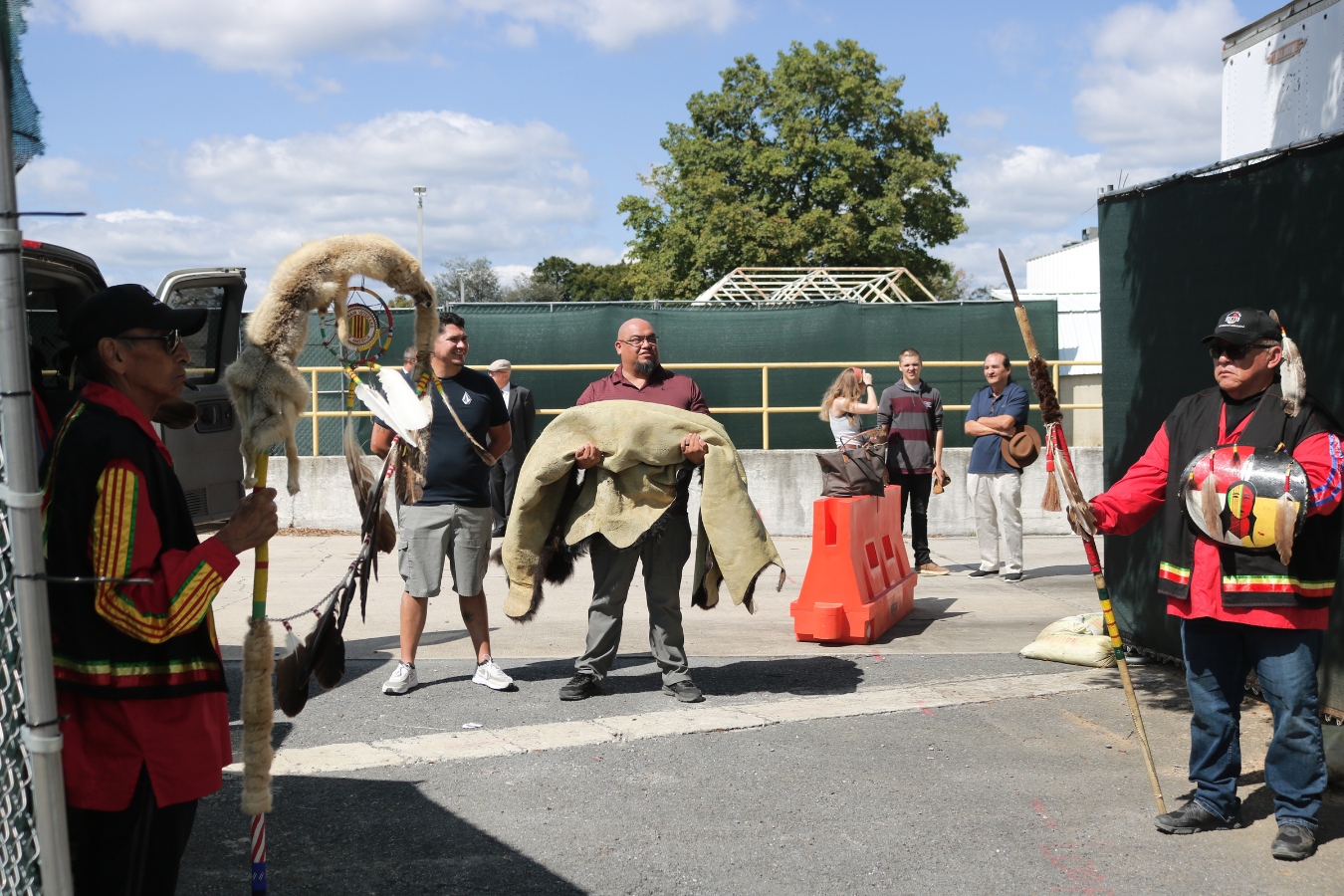 KJ Greywater of the Spirit Lake Nation, a veteran and the Tribal Historic Preservation Officer, awaits Amos and Edward's transfer to the tribal van with a buffalo hide. Greywater led the way for the return of the children. (Photo: Jenna Kunze)
Sixth Disinterment
In 1879, what was then the Carlisle Barracks became the site of the nation's first Indian boarding school, which was operated by the Department of the Interior until 1918. During those nearly four decades, it forcibly assimilated 7,800 Native American children from more than 140 tribal nations through a mix of Western-style education and hard labor. Records show that close to 200 children from 59 different tribes died there, of diseases often made worse by poor living conditions and abuse and were buried at the school.
Since 1918, the United States Army War College has controlled the grounds of the former Indian Boarding School, including its cemetery.
The Army began the process of exhuming and returning Native children to their tribal nations in 2017 when Yufna Soldier Wolf of the Northern Arapaho Tribe won her 10-year battle to return three Arapaho children back to their tribal homelands for reburial.
Since Soldier Wolf paved the path for other tribes to follow, the Army has returned a total of 32 children in six disinterment projects, the sixth one finishing with the Oyate boys' return this week. Each project has been conducted over about a month-long period during the summer by a team of professionals from the Army Corps of Engineers' Center of Expertise for Curation. The team worked with tribal nations to carry out the process of exhuming and identifying each child's remains.
But because of apparent mismanagement of the cemetery—including in 1927, when the U.S. Army dug up the children and moved their graves to an area next to the barracks entrance to make room for development—there have been several mix-ups and complications in identifying and returning children.
In this year's disinterment cycle, the Army intended to return five children. Those children were, in addition to Amos and Edward, Beau Neal, from the Northern Arapaho Tribe in Wyoming; Edward Spott from the Puyallup Tribe in Washington; and Launy Shorty from the Blackfeet Nation in Montana.
But on September 14, the Army's disinterment of Edward Spott's marked grave "were inconsistent with that of an approximately 17–18-year-old male, and instead found to be that of an approximately 16–22-year-old female," according to the Army.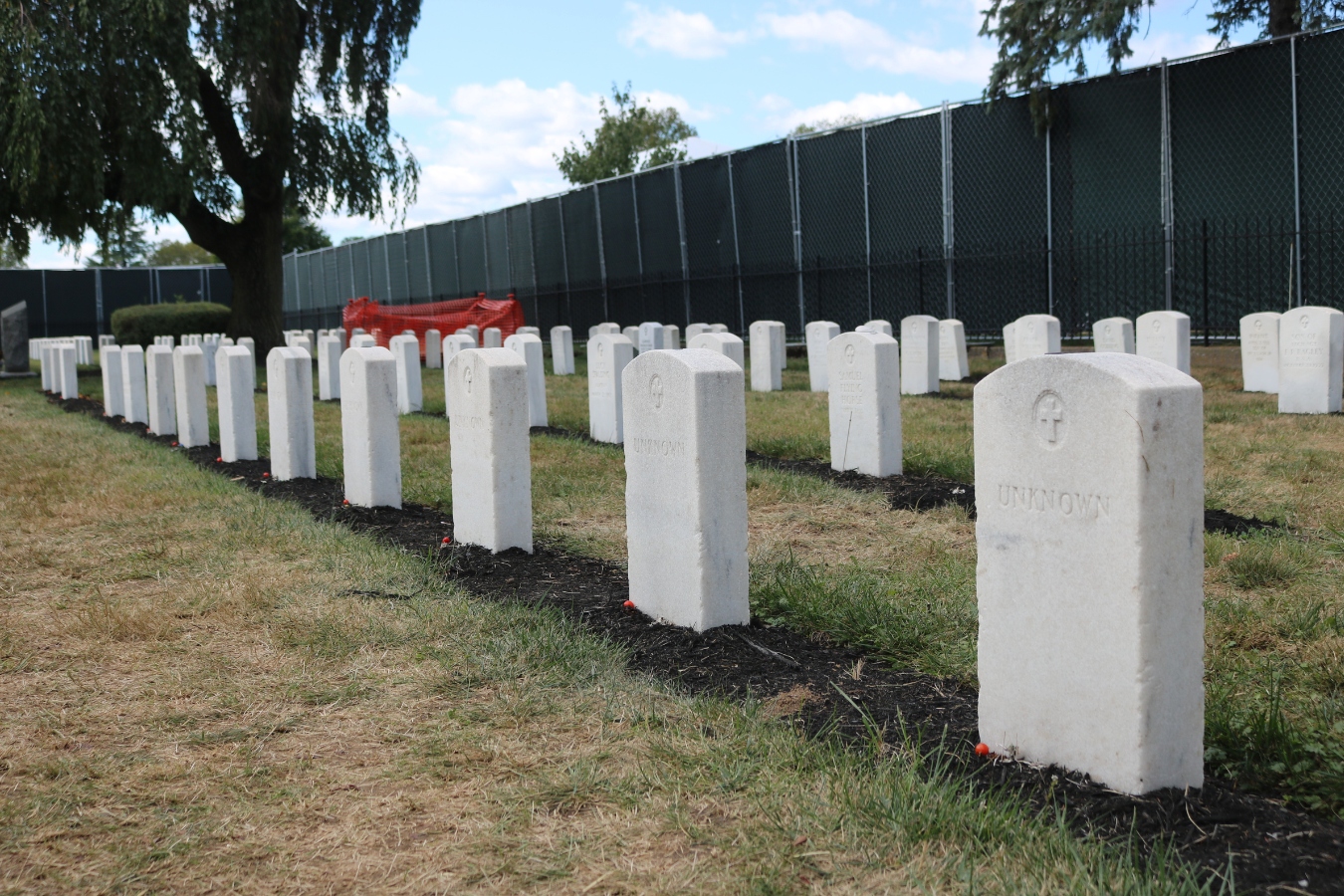 The number of unidentified Native children buried under 'Unknown' headstones has grown nearly every year since the Army began disintering and returning ancestors to their tribal nations. (Photo:Jenna Kunze)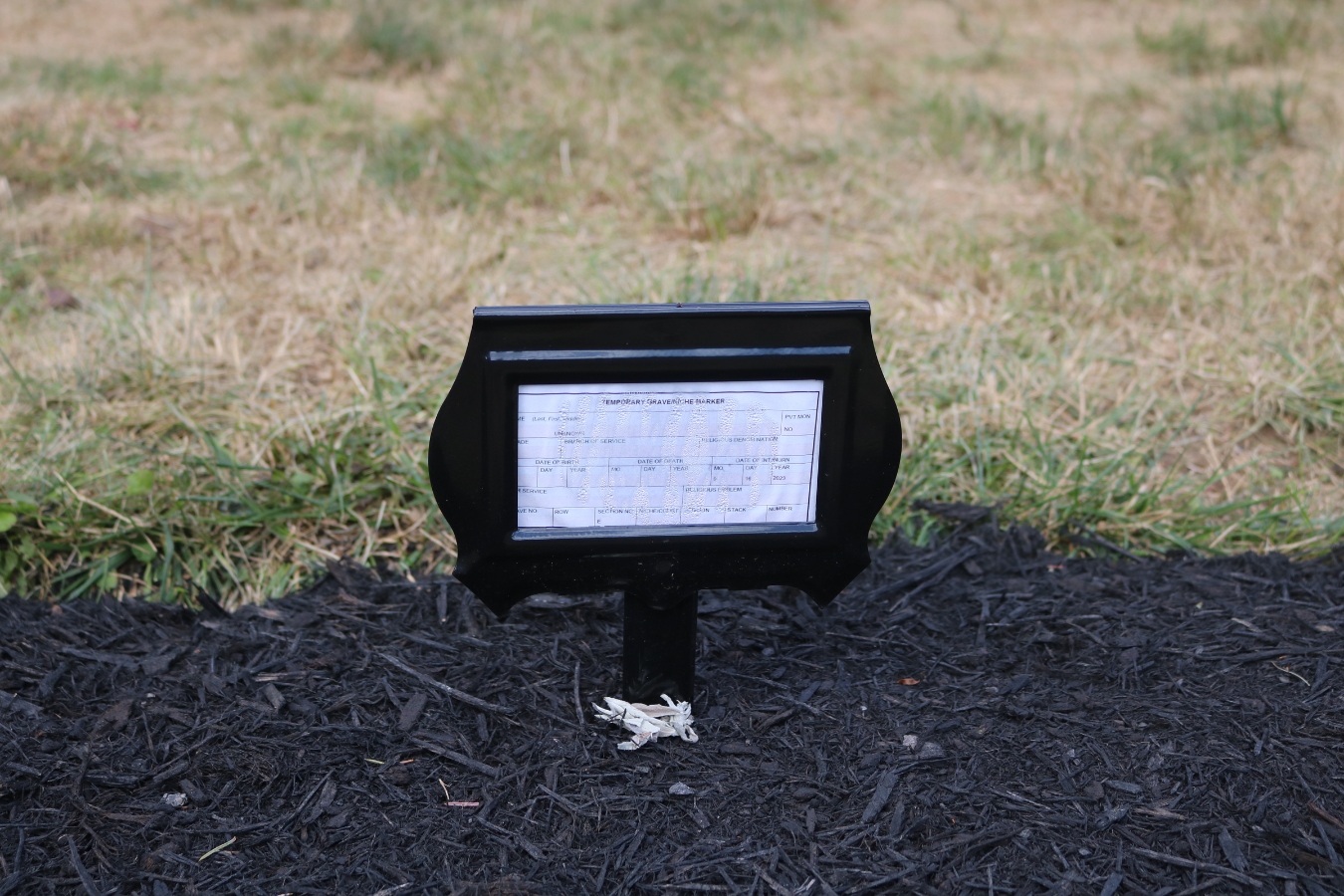 A temporary grave marker replaces what was previously Edward Spott's headstone, now reinterred with an unidentified girl. (Photo:Jenna Kunze)
"It's freaking terrible," Edward Spott's 25-year-old relative, Tiauna Augkhopinee, who had traveled from Washington state to Pennsylvania with her family to retrieve Edward, told Native News Online. "It just about broke my heart, because now I'm not only grieving Eddie, but I'm grieving that girl. She's just about the same size as me."
Augkhopinee said her family gave the unidentified girl an honoring ceremony with song, prayer, and medicines. Augkhopinee gave the girl her favorite ceremonial polka-dotted wing dress, and the Army reburied her with a commitment to "reviewing all available resources and seeking new information that may help us identify any possible error that led to this anomaly so we can make the appropriate effort to return Edward to his family and the Puyallup Tribe."
There are a number of factors that have created the problem of having remains in the graves that don't match the information on the headstones, said Carlisle Indian School Digital Research Center archivist Jim Gerencser. A similar misidentification happened with the Northern Arapaho in 2017 and with the Rosebud Sioux in 2021 when an additional person was found buried in one of the girls' graves.
Part of the problem was the way in which the cemetery move was managed in 1927, to the various changes of headstones that have happened in the hundred years since Gerencser told Native News Online.
"We haven't succeeded in finding detailed documentation for each of these activities either, which adds to the challenges," he said, "So, while we can identify how discrepancies likely occurred, it's much harder to pinpoint exactly what happened and when."
Office of Army Cemeteries director Renea Yates told Native News Online that the unidentified children will be addressed once the majority of the children are returned. She sent a letter to every federally recognized tribe last fall, asking them to consult with the Army on children they may have buried at the school.
"We don't know what we're going to find when we open a grave," Yates said. "And so, therefore, we're working with the tribes who sent children to the school, who know they died at the school, and who know they were buried in the cemetery— or they don't know where they're buried. We're willing to work with any of the tribes that want to consult with us on that."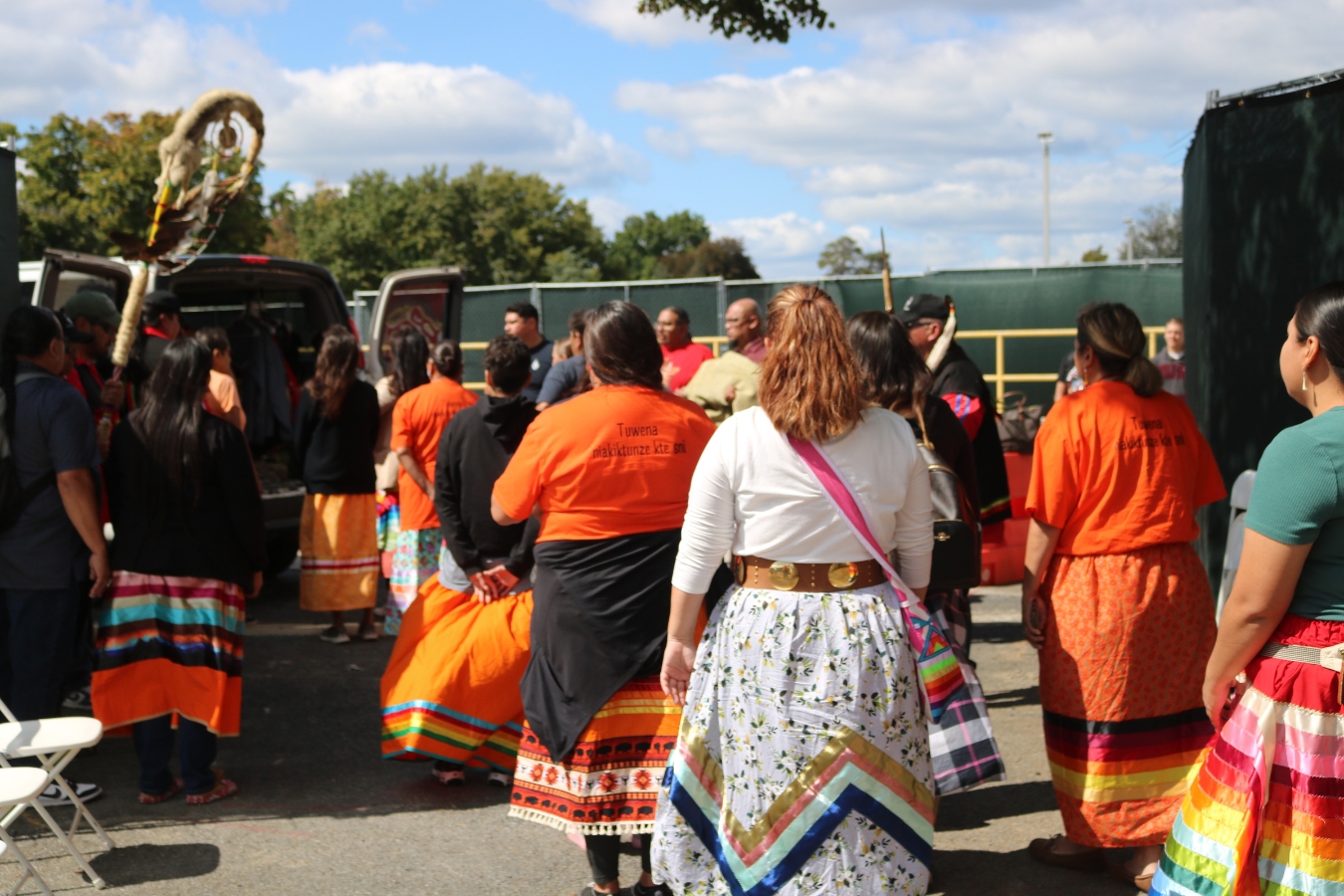 The final moments of Tuesday's dignified transfer ceremony, where tribal members from the Sisseton Wahpeton Oyate and Spirit Lake Nations welcomed their relatives into the vehicle that would take them home for reburial. (Photo: Jenna Kunze)
A new standard for return
This year's disinterment cycle has spearheaded a new streamlined approach between tribal nations and the Army.
In March, Sisseton Wahpeton Oyate tribal attorney joined with two other attorneys from the Native American Rights Fund (NARF) to send a letter to the U.S. Army's Department of Army Cemeteries asking for the "expeditious repatriation" of their ancestor, Amos LaFromboise, backed by the letter of federal law.
The tribe had applied with the Army and were approved for their ancestor's return the year prior, but the Army later cited limited funding and a full roster of exhumations as reasons to delay the boy's return by at least another year.
Primarily, the tribal attorneys argued that the federal law that requires federal agencies to return certain Native American cultural items —including human remains— back to their respective tribal nations, should apply to the Carlisle Main Post Cemetery.
The Army has maintained that the Native American Graves Protection and Repatriation Act (NAGPRA) doesn't apply to the Carlisle Main Post Cemetery "because the remains are not part of a collection," they wrote in a Federal Register Notice of Intended Disinterment last year.
So instead of further delaying their ancestors from coming home, the Oyate nations worked with NARF attorneys Beth Wright and Jason Searle to draft a Written Plan of Action, signed by Renea Yates and both tribal chairpersons, to outline the plan for disinterment. Details from the travel to Carlisle, to the building and preparing of a sweat lodge on the property and the forensic analysis process were outlined in the document.
In the agreement, both parties maintain their opposition positions of NAGPRA but "seek to avoid conflict…and reach a compromise so that the remains of Amos and Edward can be delivered to their tribal homes in a culturally appropriate and expeditious manner."
After the dignified transfer ceremony on Tuesday, tribal members stood in a large circle beside Army staff, including cemetery groundskeepers, and smudged. Afterward, tribal members offered sage to each individual Army staffer and let them know how to use it as a protection.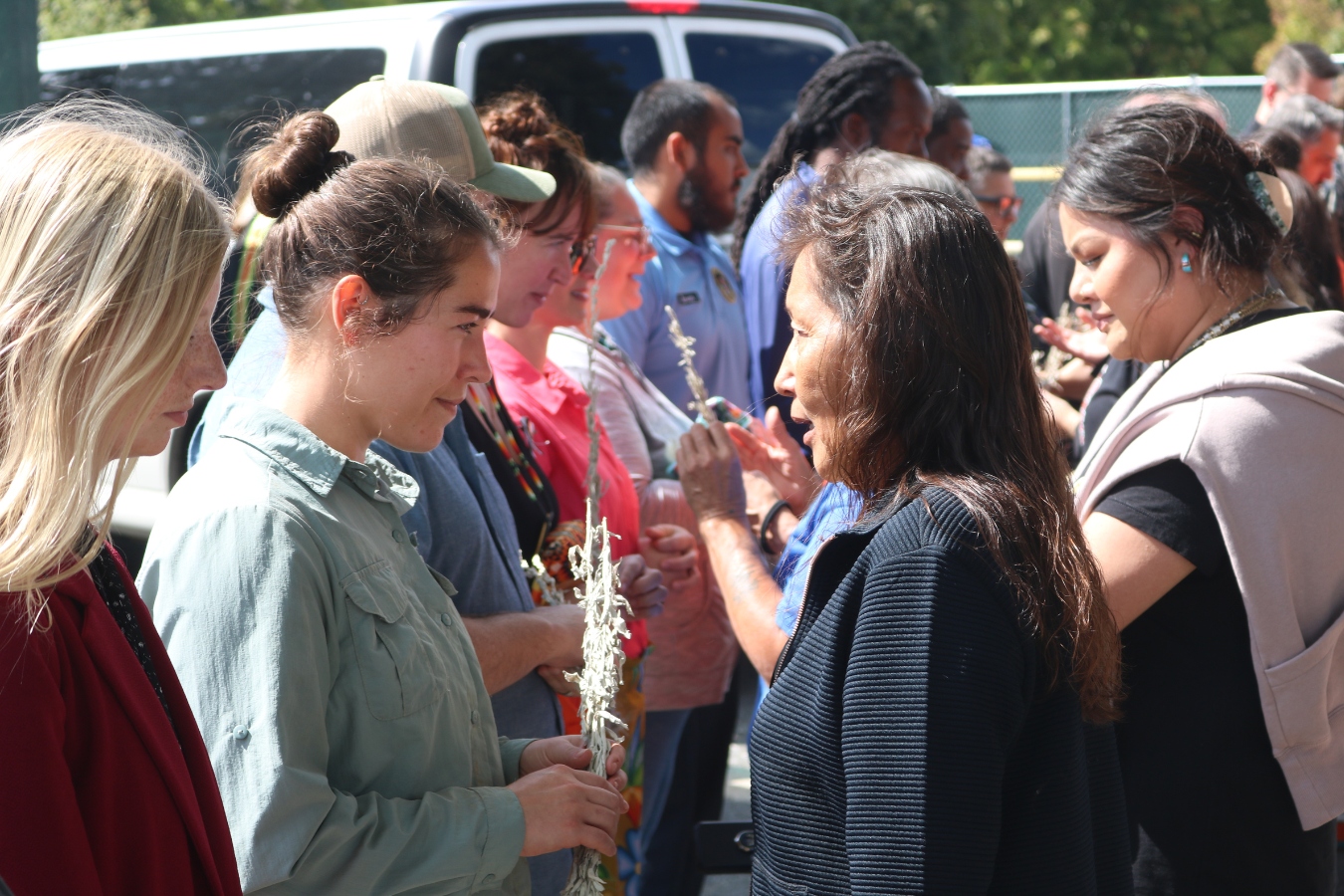 Michelle Wanna (right), a member of the LaFromboise family, explains to one of the archeologists the importance of traditional plant medicines and cultural ways. (Photo Jenna Kunze)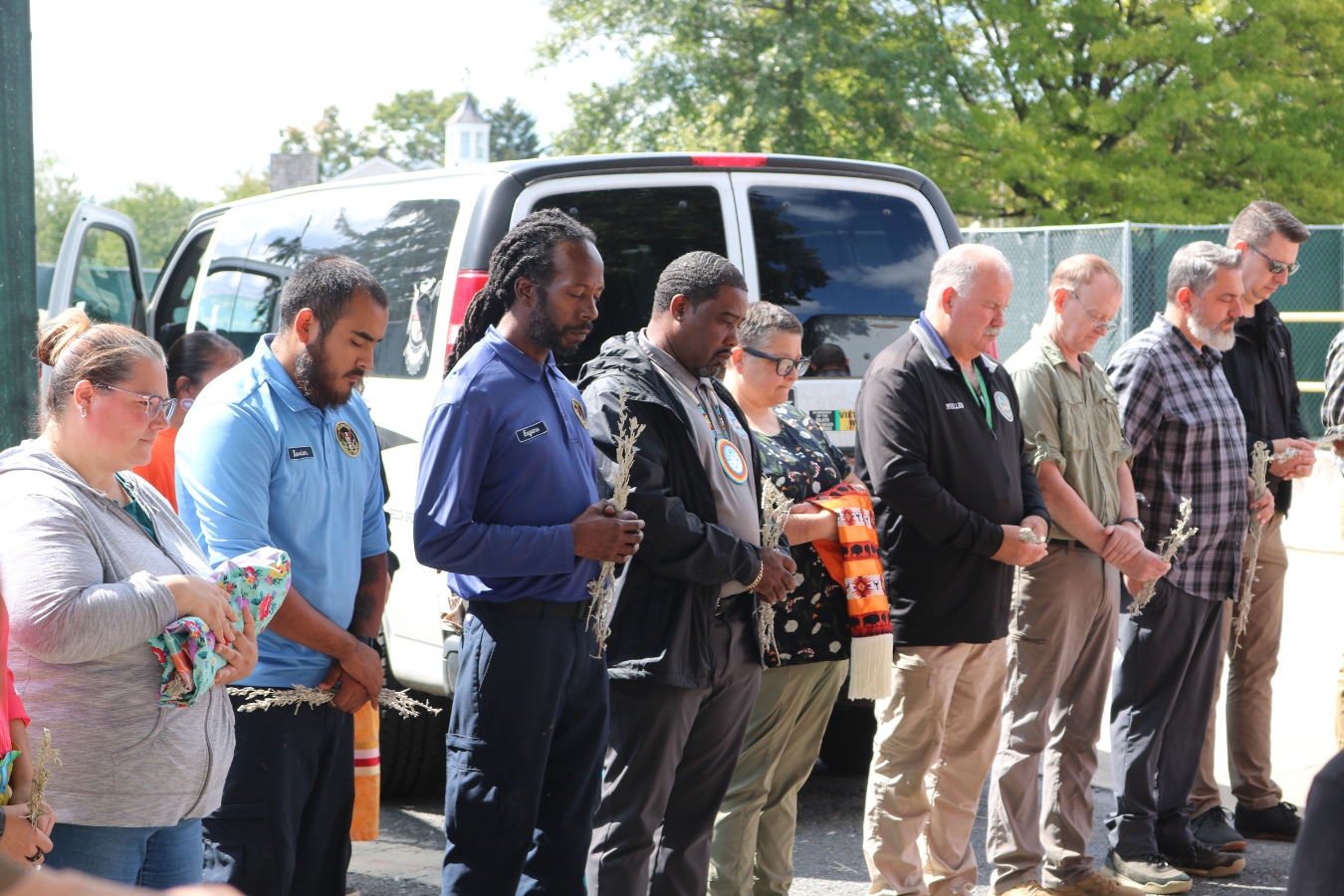 Carlisle Main Post Cemetery staff and Office of Army Cemetery staff with the sage they've just received from tribal members in Tuesday's transfer ceremony. (Photo:Jenna Kunze)
"They felt the emotions of it all, and they were so kind and good to our children," St. John said afterward of the staff who exhumed the children. "I have faith in everyone involved— from families, tribes leadership and even the Army and those on a federal level—that all of us can come together to bring [each child] home."
More Stories Like This
Federal Government Overhauls NAGPRA to Expedite Return of Native Ancestral Remains
Tribes in Maine Spent Decades Fighting to Rebury Ancestral Remains. Harvard Resisted Them at Nearly Every Turn.
3 Million Acres Returned to Tribal Trust Ownership During Decade Long Program
Seneca Nation & New York State Agree to Short-Term Compact Gaming Extension, as Negotiations Continue
$1.58M Grant Will Reconnect Otoe-Missouria to Ancestral Lands
Together, we can educate, enlighten, and empower.
November is celebrated as "Native American Heritage Month." At Native News Online, we amplify Native voices and share our relatives' unique perspectives every day of the year. We believe every month should celebrate Native American heritage.
If you appreciate our commitment to Native voices and our mission to tell stories that connect us to our roots and inspire understanding and respect, we hope you will consider making a donation this month to support our work. For those who commit to a recurring donation of $12 per month or more, or make a one-time donation of $150 or greater, we're excited to offer you a copy of our upcoming Indian Boarding School publication and access to our quarterly Founder's Circle meetings and newsletter.