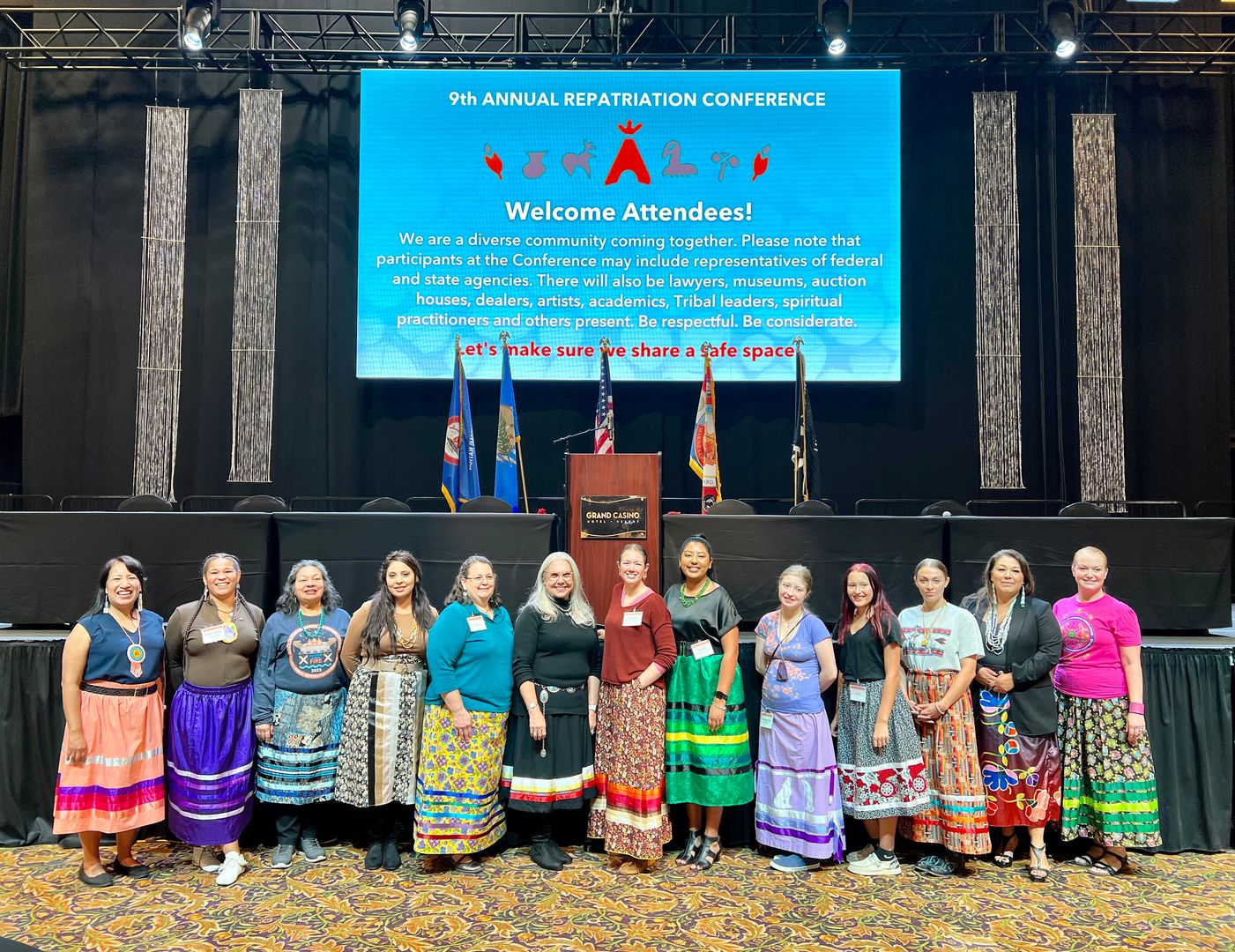 Details

By

Jenna Kunze
SHAWNEE, Oklahoma — This past week, tribal leaders, museum employees, academics, government officials, and repatriation practitioners gathered together in Shawnee, Oklahoma to discuss returning Indigenous human remains and burial objects back to their rightful tribal nations.
They were each participants in the 9th Annual Repatriation Conference, hosted by the Association on American Indian Affairs, at the Citizen Potawatomi Nation's Grand Casino Hotel and Resort in Shawnee, Oklahoma. The conference's theme was "Building the Next Fire."
For three days, more than 300 in-person attendees heard panelists speak to the Native American Graves Protection and Repatriation Act (NAGPRA) from many different angles.
New York Times bestselling author Angeline Boulley (Sault Ste. Marie Tribe of Chippewa Indians) delivered a keynote about her new novel, Warrior Girl Unearthed, a thriller she described as a "Native Laura Croft,"with a twist: Instead of robbing tombs, her main character robs museums to take back her ancestors.
The Smithsonian's National Museum of Natural History's newest hire, Dorothy Lippert (Choctaw Nation of Oklahoma) spoke about the new vision of repatriation at the National Museum of Natural History. Lippert was hired this month as the museum's new repatriation program manager, She is the first woman and first Native American to hold her position.
"I would not have taken on this role if I were nearly coming on board to be a caretaker for the status quo," Lippert said on Wednesday, November 8. She said she plans for her office to do a complete assessment of its repatriation process to determine how to decrease the amount of time it takes them to respond to repatriation requests.
"I told myself when I was writing this, that I wasn't going to make a promise that I couldn't keep. I do not yet know what the revised process for repatriation will look like, but I do know that we will move more quickly in responding to repatriation requests," Lippert said.
Another panel of academics, tribal leaders, and government officials spoke on developing strategies for international repatriation. The Association on American Indian Affairs is currently developing that strategy, the Association's chief executive and attorney Shannon O'Loughlin (Choctaw Nation of Oklahoma) said on Thursday.
"The first step that we're engaged in right now is developing country-specific strategies that are based on that country's laws, policies, institution guidance and policies, because every country's laws and policies are different," O'Loughlin said. "This is a really complicated and complex area of repatriation because we don't have a law that we can complain about."
Melanie O'Brien of the National NAGPRA program led a workshop on Tuesday for museum and institution officials walking them through impending changes to the federal law, walking them though NAGPRA process from start to finish.
Last October, the Federal Register published a proposed rule to rewrite the Native American Graves Protection and Repatriation Act (NAGPRA) in order to expedite and simplify the process for tribal nations seeking their relatives' return.
The newly proposed rule-making "is an attempt to reset the process, really, how Congress initially intended it to work," said Melanie O'Brien, manager of the National NAGPRA Program that's responsible for administering the Act on behalf of the Secretary of the Interior. O'Brien walked institutional leads through what is required by law–and what is not. Her main message to institutions on Tuesday was that an inventory does not require museums or institutions holding Native American human remains to provide any additional information than that for the limited purpose of determining geographic origin or cultural affiliation.
"That's it," O'Brien said. "There's no need to get any more information on the human remains than what the museum has in its possession already."
International human rights lawyer and the former UN special rapporteur on Indigenous peoples, S. James Anaya, delivered a final keynote on international laws and standards that support repatriation. Anaya zoomed into the conference remotely from Washington D.C., where he was participating in a hearing at the UN American Commission on Human Rights with the Maya People of Belize and their land rights.
Anaya emphasized that tribal nations and those engaged in repatriation work need to understand the specific strategies and tools they can use to get their ancestors and artifacts back, and then use them.
"The UN declaration will not make a difference unless people use it," Anaya said. "Those in authority will not know about it, unless it is used, and countries and those in authority are reminded that they have an obligation to move forward with it. Yes, it's a challenge. But, in my view, the answer to that challenge is not to recoil from it, but to take it head on."
More Stories Like This
Federal Government Overhauls NAGPRA to Expedite Return of Native Ancestral Remains
Tribes in Maine Spent Decades Fighting to Rebury Ancestral Remains. Harvard Resisted Them at Nearly Every Turn.
3 Million Acres Returned to Tribal Trust Ownership During Decade Long Program
Seneca Nation & New York State Agree to Short-Term Compact Gaming Extension, as Negotiations Continue
$1.58M Grant Will Reconnect Otoe-Missouria to Ancestral Lands
In a world filled with inaccurate narratives about Native Americans, we spotlight the overlooked, unheard and underrepresented stories that are often overlooked by the mainstream media. Our journalism is free for all to read, but it is not free to produce. Your donation provides the much-needed financial support for us to produce inclusive Indigenous journalism that inspires, informs and uplifts Native Americans. Thank you for being a force behind our work. Together, we are rewriting the narrative.