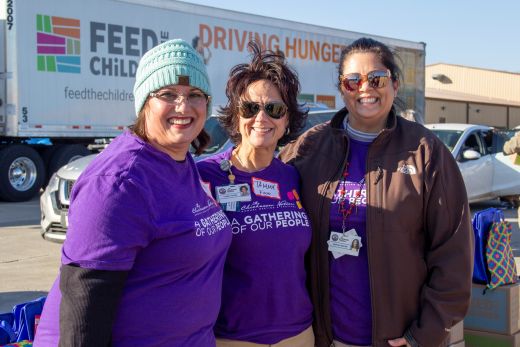 Details

By

Chickasaw Nation Media
SULPHUR, Okla. — With the cooperation of Feed the Children, the Chickasaw Nation and Murray County area volunteers, hundreds of families received holiday care packages Tuesday, December 17, 2019, in Sulphur, Oklahoma.
The packages were available to both non-Native and Native American families.
Crossway Church opened its doors as host for the fourth "No Hunger Holiday" event in south-central Oklahoma. Nearly 100 volunteers from Feed the Children, the Chickasaw Nation, local churches and civic groups met at 2 p.m. within the church to prepare. They would be passing out goods until after dark.
The line started just off Broadway where local law enforcement helped direct traffic. Bundled up volunteers greeted passengers and guided them through the line. Groups of volunteers assembled care packages and carried them to trunks and truck beds.
From within their vehicles, local residents received an assortment of food, beverages, educational materials and household items. In total, 800 Murray County families were assisted.
"We have an important partnership between the Chickasaw Nation and Feed the Children that's been going on for many years," Marty Wafford, under secretary of support and programs for the Chickasaw Nation, said. "We are excited and blessed to be here today. As you can see behind me, this already has a large presence in Murray County," she said, looking back to the active church parking lot. "This is a big event we've done the last few years around the holiday season, but the Chickasaw Nation has many programs and services for our people all throughout the Chickasaw Nation and Oklahoma which helps our families, elders and children."
The "No Hunger Holiday" initiative was designed to help children and families during the holidays, as well as bring awareness to the important issue of childhood hunger. Recipients were selected by Sulphur area churches, social services and other organizations, which see food insecurity firsthand.
This is the fourth year the Chickasaw Nation and Feed the Children worked together to address hunger in Oklahoma. Previous events occurred in Ada, Ardmore and Tishomingo.
Feed the Children, one of the nation's leading anti-hunger organizations, was established in 1979. It is headquartered in Oklahoma City. The organization provides food, education initiatives, essentials and disaster response as it helps children and their families become independent and self-reliant. Feed the Children currently works in all 50 states, the District of Columbia and in 10 countries around the world.
"We believe that no child should go to bed hungry in a land where there is plenty of food, especially during the holiday season," said Travis Arnold, Feed the Children president and CEO. "But the reality is millions of boys and girls right here in our own backyard face this hardship every day. Thanks to the support of the Chickasaw Nation, we are able to help families rest a little easier knowing they do not have to worry about where their next meal is coming from."
For more information about the food-based programs and services the Chickasaw Nation offers its citizens and members of the public, contact Chickasaw Nation Nutrition Services at (580) 436-7255. Visit FeedTheChildren.org/NoHungerHolidays to learn more about the No Hunger Holidays campaign, which has events planned in communities across America.
More Stories Like This
Navajo Citizen Judge Sunshine Sykes Confirmed to Serve as U.S. District Court Judge
Indigenous Women Make Up Nearly Half of Canada's Incarcerated Population; New Legislation Seeks to Change That
Ho-Chunk Nation's Economic Arm Set to Move Forward with Casino Project 
Leaders Respond to Federal Indian Boarding School Investigative Report, Call it 'Monumental'
Native News Weekly (May 15, 2022): D.C. Briefs