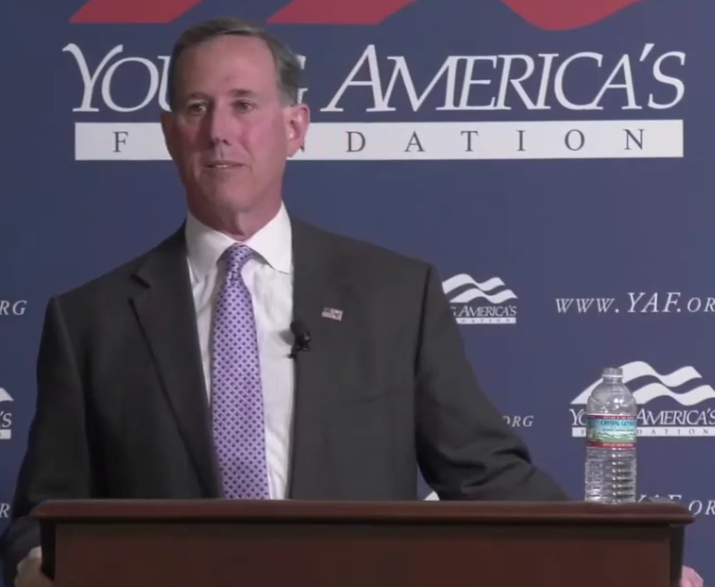 Details

By

Levi Rickert
ATLANTA — CNN has fired Rick Santorum, its conservative senior political correspondent, almost a month after the former Pennsylvania U.S. senator and twice-failed presidential candidate made disparaging comments about Native Americans during an event on April 23 at a Young America's Foundation event.
At the event, Santorum said the country was set up based on Judeo-Christian principles, and that White settlers "birthed a nation from nothing. I mean, there was nothing here," he said, adding, "I mean, yes, we have Native Americans, but candidly, there isn't much Native American culture in American culture." A video emerged days later that was shared thousands of time on social media platforms.
His comments drew the ire of Native Americans across Indian Country. Many Native Americans called for his immediate firing; including in an op-ed on Native News Online.
"Rick Santorum is an unhinged and embarrassing racist who disgraces CNN and any other media company that provides him a platform," National Congress of Americans Indians (NCAI) President Fawn Sharp wrote in a statement published by Native News Online late last month.
After hearing about the push back from Native Americans and even some CNN anchors who would not allow him on their programs, Santorum said his words were taken out of context. He never apologized for his remarks.
On Saturday evening, NCAI released a statement on Santorum's firing from CNN. The statement said NCAI President Sharp applauds CNN's termination of its contract with Santorum. Sharp says CNN's decision upholds the network's profound responsibility to cover racial discourse equitably and responsibly.
"I am thrilled that CNN is ensuring that justice is served," President Sharp said. "This was never a matter of if a decision would be made; it was only a matter of when. I look forward to continuing to be a resource for CNN as the network works to combat racist and inaccurate narratives."
President Sharp emphasized the importance of partnerships with American Indian tribes, journalists, and media to develop creative solutions that address inaccurate portrayals of Indigenous peoples and Native erasure in the media.
IllumiNative, a nonprofit initiative designed to increase the visibility of – and challenge the negative narrative about – Native Nations and peoples in American society, posted on Facebook Saturday evening that said
"Finally, CNN has taken the correct action to #RemoveRick after his racist comments that whitewashed history and Native American's contributions to US society. News organizations must take quick and decisive action to combat racism and white supremacy.
CNN must rebuild its trust with the Native community. We call on CNN to take action to diversify its lineup of contributors and staff to include Native peoples. The network must establish an Indigenous Affairs Desk, staff must undergo regular comprehensive anti-bias training and the network must adopt clear standards and policies to ensure respect for Native peoples and Indigenous cultures."
Editor's Note: This article was updated to include statements from NCAI and IllumNative on Santorum's firing.
More Stories Like This
Supreme Court Overturns Roe v. Wade, Indian Country Responds
President Biden Nominates Patrice Kunesh for Commissioner of the Administration for Native Americans
Ultra Meaningful: Running the Western States Endurance Run
Supreme Court Rules Miranda Rights to be Limited; Impact on Indian Country 
Shinnecock Attorney & Secretary of the Council of Trustees Kelly Dennis Appointed to New Dept. of Interior Advisory Committee