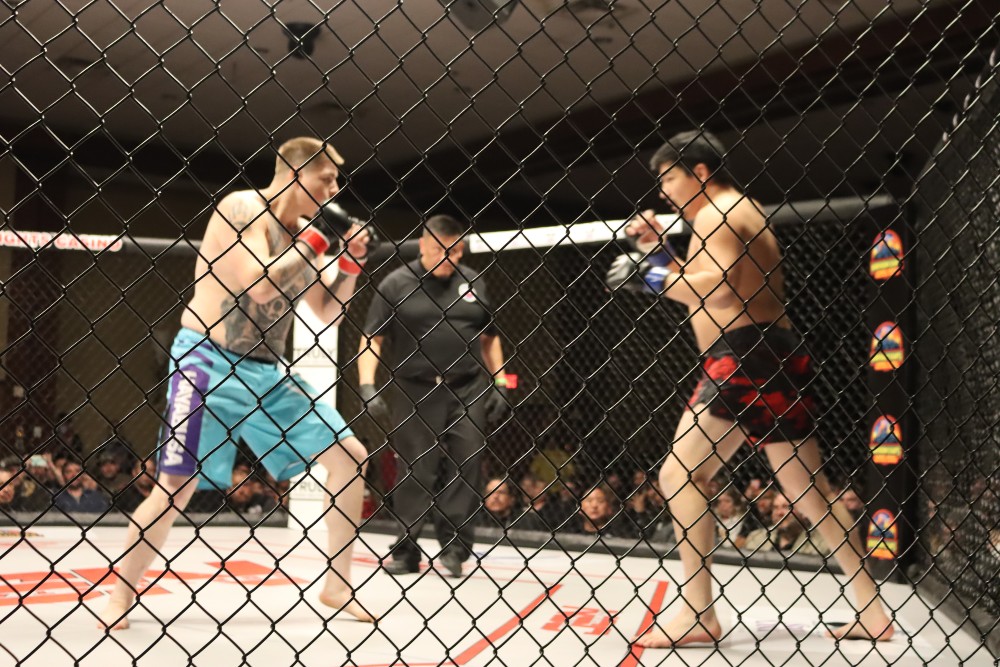 Details

By

Darren Thompson
WALKER, Minn. — On Saturday, Throne MMA hosted a 7-fight event to a sold-out crowd at the Northern Lights Casino on the Leech Lake Indian Reservation. Event promoters originally scheduled an 11-fight event on Saturday, February 5, but was rescheduled due to COVID-19 restrictions.
"Everyone in the crowd delivered, for sure," said Throne MMA Founder and Co-Owner Dean Lamb said to Native News Online.
Throne MMA is a Native owned and operated fight promoter based in Alexandria, Minnesota. Lamb is a citizen of the White Earth Band of Ojibwe and co-owner David Amitrano is a citizen of the Bois Forte Band of Ojibwe. Together, they host and organize a variety of fights throughout the region. Saturday's event is Throne MMA's second event; their first was hosted at the Northern Lights Casino in December 2021.
The event's original main event—Sam Cleveland vs. Jay Feiock—was canceled after Feiock's no-show at weigh-in on Friday, but was replaced by Daven Staples vs. Christopher Clark, both Native fighters.
Clark, a White Earth Ojibwe citizen, defeated Daven Staples, of Leech Lake Ojibwe, by technical knockout (TKO) at 1:52 in the second round. Each fight had three rounds.
The Mille Lacs Band of Ojibwe's Department of Athletic Regulation Commission regulated the event with several experienced fight inspectors unable to attend.
"Our team of inspectors make me so proud," said the Department of Athletic Regulation's Executive Director Matt Roberson to Native News Online. "We had several of our most experienced inspectors out on vacation for spring break and our team stepped up to the challenge."
"Overall, our operations didn't miss a beat. Our team takes our training seriously—they work hard and trust each other," said Roberson of Mille Lac's Athletic Regulation Commission.
Throne MMA said this summer there will be several fundraising events in the Twin Cities featuring retired professional fighters aiming to raise awareness and funding for organizations that serve American Indian people and families.
Terry Goodsky, a member of the Bois Forte Band of Ojibwe, opened the evening's event with a prayer and song in the Ojibwe language.
More Stories Like This
Billboard Project in Billings Celebrates Crow Culture and People
What's Going On In Indian Country: May 19 - 26
Opening of Chicago Field Museum's Native Truths Exhibition Marks a 'New Beginning'
Eight Finalists for the 2022 Indigenous Screenwriters List Announced
Sneak Preview: Native Truths Exhibition at Field Museum Reveals Vibrancy of Contemporary Native People