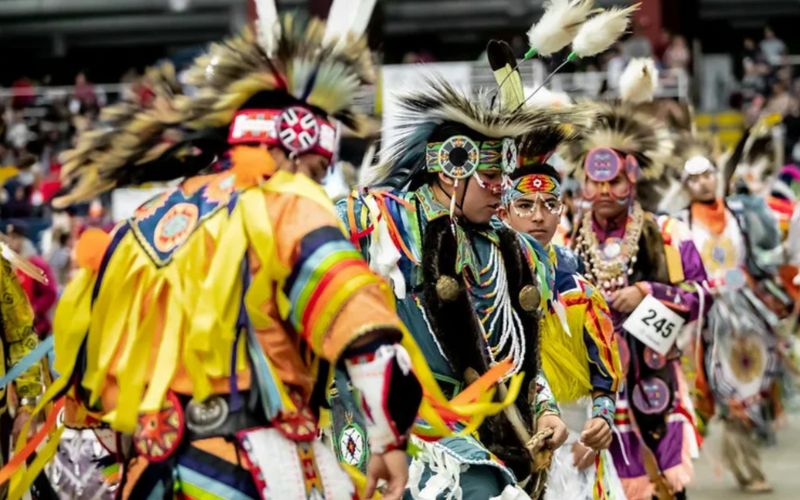 Details

By

Kaili Berg
This week in Indian Country, there are plenty of events for everyone to enjoy. From powwows to Indigenous People's Month celebrations to educational films, here is Native News Online's weekly round-up of arts, culture, and entertainment offerings around Indian Country.
Native American Culture Day
Lafayette, LA
November 18, 2023
Join this free event to celebrate and share local Native American culture and heritage.
The focus is to celebrate the rich history and modern culture of the tribes and tribal communities whose lands fall within the boundaries of Louisiana. Tribes from across the state will come to share their stories, music, drumming, dance, crafts, language, and culture.
Never miss Indian Country's biggest stories and breaking news. Sign up to get our reporting sent straight to your inbox every weekday morning.
Powwow & Native American Festival
Timonium, MD
November 18, 2023
The Baltimore American Indian Center is hosting its 47th Annual Powwow. Everyone is invited to join at the Maryland State Fairgrounds Exhibition Hall. There will be Native American music, dancing, and food for all.
Native American Heritage Festival
Palm Desert, CA
November 18, 2023
Come join in for a special screening of Tuhaymani'chi Pal Waniqa, bird singing and dancing, along with Native American vendors.
First Voices Festival
Atlanta, GA
November 18, 2023
This will be the inaugural First Voices Festival, a gathering of Native Americans in Atlanta for a PowWow. There will be Native American dancers, crafts, Native American vendors, and demonstrations of Native American customs.
Native American Arts Fair
Tucson, AZ
November 18, 2023
Every year, Mission Garden hosts Native American artists who exhibit and sell their products. The artists come from many of Arizona's tribes, including Tohono O'odham, Yaqui, Hopi, Navajo, and Apache, and work in various media. These include ceramics, basketry, jewelry, gourd decorations, carvings, beadwork, clothing, paintings, and more. Some artists will be demonstrating their crafts at their booths.
The Austin Powwow
Austin, TX
November 18, 2023
For over 25 years, this unique Austin event has featured hundreds of Native American dancers, singers, musicians, artists and craftsmen. Friends, food, art, and culture are enjoyed throughout the day. The songs and dances you will experience are based on ancient traditions and living cultural expressions of creativity and innovation. Thousands of visitors have the opportunity to share in this exciting cultural experience.
Native American Heritage Month Weaving
Walnut, CA
November 18, 2023
Join in to celebrate Native Americans in the United States and learn about their important history, rich culture, and diverse traditions. After, try your hand at weaving and learn more about this traditional Native American art.
Native Culture Make and Take
Tulsa, OK
November 18, 2023
Come and enjoy a variety of make-and-take arts to celebrate Native American Heritage Month. Featured arts include beading on looms, heirloom family photo ornaments, and Native American patchwork. Materials are provided.
Native American Heritage Documentary
Las Vegas, NV
November 17, 2023
Celebrate Native American Heritage Month by watching Wild Beauty, an immersive journey into the world of wild horses that illuminates the profound beauty and desperate plight they face in the Western United States. Filmmaker Ashley Avis and crew try to uncover the truth before wild horses disappear forever.
Local Heritage Film: Native American Lives and Customs
Penn Yan, NY
November 18, 2023
Come join in for a viewing of a previously-recorded talk by G. Peter Jemison, Native American Life and Customs. This was a presentation of the Dundee Area Historical Society held at the Tyrone Fire Hall in 2015. This video affords us the opportunity to revisit Jemison's presentation, which includes details on the lives of our region's indigenous peoples in the past and today.
Native American Celebration
Pickens, SC
November 18, 2023
Every November, the Hagood Mill Historic Site observes Native American Heritage Month by holding the Native American Celebration. This beloved third weekend event is also called Selugadu. Visitors and guest performers will participate in the festivities of the day which will include Native American traditional drumming, singing, dancing, flute playing, storytelling, Cherokee hymns in the Tsalagi Gawonihisdi language, and traditional crafts and demonstrations.
Native American Blessing at Quogue Wildlife Refuge
Quogue, NY
November 18, 2023
Join the Shinnecock Nation tribal members for a blessing of our earth and a guided traditional dance that you can participate in, outside at Quogue Wildlife Refuge. This free program will take place outside.
Native American Heritage Lunch and Learn
Charlotte, NC
November 16, 2023
Vail and Wanda Carter, members of the Lumbee Tribe, will be back to share their expertise about Native culture. Their talk will cover a lot of material about historic and contemporary accounts of Indigenous Peoples of the U.S.
Native American Heritage Month Event
Duluth, MN
November 21, 2023
Come join in for a brief overview of issues faced by Native American people in the modern world presented by Roxanna DeLille, Dean of Indigenous & Academic Affairs at the Fond du Lac Tribal & Community College. Lunch will be provided at the Center for Equity and Inclusion.
Native American Stories & Corn Husk Doll Workshop
Concord, CA
November 22, 2023
Join in to celebrate National Native American Heritage Month. Our special guest, Rayshell Clapper will retell us Native American stories then, we all learn how to make corn husk dolls. You will have the opportunity to take seeds from our seed library to make your own Three Sisters garden at home.
Native Story Hour with Karen Kitchen
Coos Bay, OR
November 22, 2023
Join in to honor and celebrate Native American cultures at the Coos Bay Public Library. Karen Kitchen (Osage Nation) will deliver an engaging program featuring Native traditional stories that entertain and teach important values. She will also share songs that showcase the beauty and diversity of American Indian music. Children, families, elders, aunties, uncles, cousins are invited and welcome.
Celebrating Native American Heritage Month
Bismarck, ND
November 21, 2023
Join in for the Heritage Center and State Museum from 10am to 4pm to honor and celebrate Native American traditions and cultures from North Dakota. The celebration will include vendor booths with authentic Native American made products, samples of Indigenous foods, and traditional storytelling, MHA Nation dancers and singers. All programs are free and open to the public with performances in the Russel Reid Auditorium.
Native American Heritage Month
El Monte, CA
November 21, 2023
Come join in to celebrate Native American Heritage Month at the El Monte Library from 4 pm to 5 pm. Learn the tradition of pinch pottery and create your own piece of art.
More Stories Like This
"Reservation Dogs" Ties for Best TV Show of the Year by TIME Magazine
Here's What's Going in Indian Country, December 9 —14
Tribal Museums Day Livestream Take Viewers Across Indian Country
"Killers of the Flower Moon" Named to TIME's 10 Best Movies of 2023 List
Here's What's Going in Indian Country, November 30 —December 7
In a world filled with inaccurate narratives about Native Americans, we spotlight the overlooked, unheard and underrepresented stories that are often overlooked by the mainstream media. Our journalism is free for all to read, but it is not free to produce. Your donation provides the much-needed financial support for us to produce inclusive Indigenous journalism that inspires, informs and uplifts Native Americans. Thank you for being a force behind our work. Together, we are rewriting the narrative.