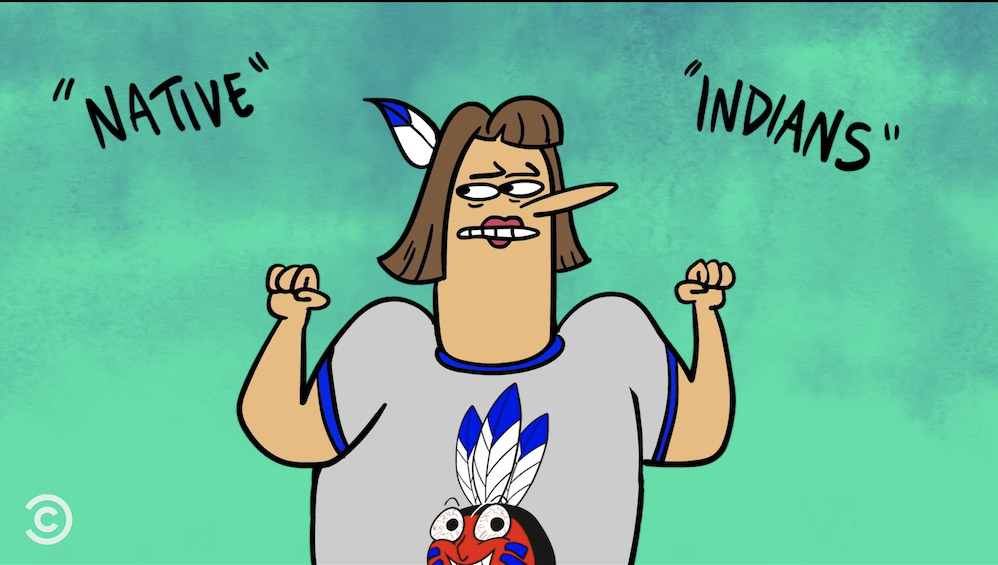 Details

By

Native News Online Staff
NEW YORK — Fans of Cleveland's professional baseball team are lamenting the end of an era with the retirement of the team's "Indians" name this Sunday. Comedian Joey Clift (Cowlitz Indian Tribe) has some humorous advice to help them cope.
On Friday, Clift released a three-minute animated video called How to Cope with Your Team Changing Its Native American Mascot on Comedy Central's social media platforms.
The video features an all Native American cast that includes comics Jana Schmieding (Lakota) and Tai Leclaire (Mohawk) from Peacock's Rutherford Falls and John Timothy from Spirit Rangers on Netflix. Indigenous cartoonist Marie Bower designed all of the "weird Native mascot faces," according to a statement.
Clift wrote, directed and stars in the short video.
"This is just a silly, three-minute comedy short, but with Rutherford Falls and Reservation Dogs coming out this year, I think it's so cool that Native comedians are finally getting opportunities in the media, and, due to the efforts of a lot of activists fighting for a long time, I'm so grateful that I got to make this video about Native mascots changing," Clift said. "Comedy Central could not have been better partners in giving me a platform, and helping me make the thing I wanted to make."
Clift's other writing include Spirit Rangers on Netflix, New Looney Tunes on Cartoon Network and Molly of Denali on PBS. He was named one of Uproxx's "26 Native American Comedians to Follow in 2020," his award-winning animated short film Telling People You're Native American When You're Not Native Is A Lot Like Telling A Bear You're A Bear When You're Not A Bear.
Next year, Cleveland MLB fans will welcome the newly renamed Cleveland Guardians.
More Stories Like This
Eight Finalists for the 2022 Indigenous Screenwriters List Announced
Sneak Preview: Native Truths Exhibition at Field Museum Reveals Vibrancy of Contemporary Native People
What's Going On In Indian Country: May 12 - 19
One Down, 500 to Go: Native Nations Contextualize their Own Artifacts at New York Museum
Bubble of Joy: Late Taos Pueblo Artist's Work Popped with Tradition, Style, and Strength