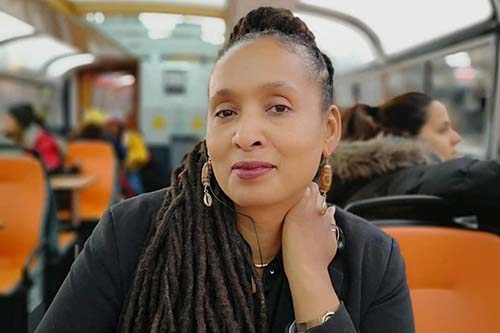 Details

By

Rich Tupica
DETROIT — When award-winning poet, educator and author Shonda Buchanan writes about her African-American family's American-Indian roots, she's telling "the real story of America and its founding."
Buchanan is an award-winning poet, educator and author of Black Indian, a 2019 memoir exploring her family's legacy of being African-Americans with American Indian roots and the societal exclusions the combination brought.
Buchanan is headed to University of Detroit Mercy Feb. 5 at 6:45 p.m. to discuss Black Indian as part of the university's Black History Month celebrations and will speak on why she penned such a personal account of her life.
"I was inspired to write Black Indian because I wanted to tell the story of my family, and particularly the story of African American families with American Indian blood connections or oral history," Buchanan said in a statement. "Our story is the real story of America and its founding."
Born in Kalamazoo, Buchanan offers up historic stories, but also intimate glimpses of her family's dynamics. According its description, Black Indian tells the story of her Michigan tribe: "A comedic yet manically depressed family of fierce women, who were everything from caretakers and cornbread makers to poets and witches, and men who were either ignored, protected, imprisoned or maimed — and how their lives collided over love, failure, fights and prayer despite a stacked deck of challenges, including addiction and abuse."
Buchanan earned bachelor's and master's degrees in English from Loyola Marymount University and a Master of Fine Arts from Antioch University. She now teaches at Loyola Marymount in Los Angeles. So far, the author said she's had a surge of positive feedback, as well as outreach from readers who've garnered healing from Black Indian.
"Because of the difficult yet important subject matter... I do believe my book has changed lives," Buchanan said. "I have had several people contact me to tell me how my book helped them confront a family member about something that happened in the past. When I hear that kind of story, I think my work has been accomplished. Because the purpose of writing, the purpose of telling stories, is to help someone in some way, shape or form. I really believe that language can be a catalyst to change our lives and I write in that manner."
The book talk will take place in the Ballroom, located on the second floor of the Student Union on Detroit Mercy's McNichols Campus. A book signing will follow the talk. This event is sponsored by the College of Liberal Arts & Education, the African American Studies program and the Black Abolitionist Archive. To learn more about Detroit Mercy's Black History Month celebration, visit.
More Stories Like This
Billboard Project in Billings Celebrates Crow Culture and People
What's Going On In Indian Country: May 19 - 26
Opening of Chicago Field Museum's Native Truths Exhibition Marks a 'New Beginning'
Eight Finalists for the 2022 Indigenous Screenwriters List Announced
Sneak Preview: Native Truths Exhibition at Field Museum Reveals Vibrancy of Contemporary Native People