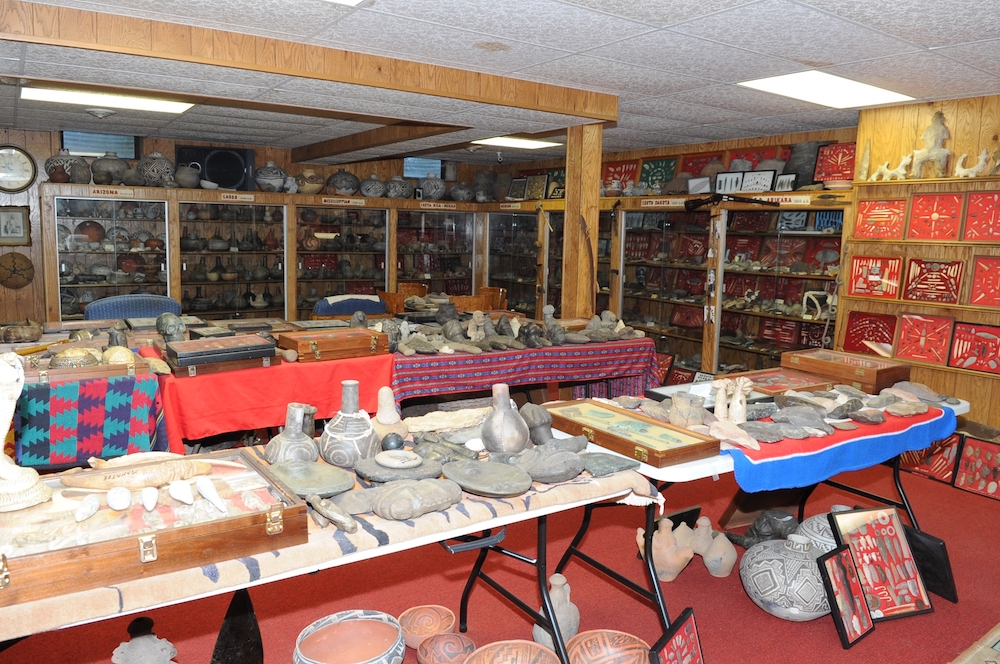 Details

By

Jenna Kunze
Eight years ago, the FBI made the largest seizure of stolen artifacts and Native American human remains in its history from an amateur archaeologist in Indiana. Now, with the majority of ancestors and artifacts returned to their respective nations, tribal leaders and experts on the case say the bureau has created a model for timely yet thorough repatriation.
Since 2014, a temperature-controlled Federal Bureau of Investigation warehouse in Indianapolis has become a waiting room for thousands of stolen artifacts and the remains of hundreds of Native American ancestors that had been dug out of the ground by amateur archaeologist Don Miller from the 1940s through the 2000s.
That wait is now coming to an end. The warehouse, where boxes of carefully handled artifacts once reached the ceiling, has emptied significantly over the last year, as the FBI has repatriated most of the stolen artifacts and the ancestors' remains. Last November, about 450 remains seized by the FBI from Miller's house in 2014—the majority of the ancestors—were escorted home to South Dakota by delegations from the Oglala Sioux Nation and to Michigan by the Pokagon Band of Potawatomi.
"Just yesterday, I was walking through [the facility] and it was empty shelf after empty shelf," said Holly Cusack-McVeigh, a professor of anthropology and museum studies at Indiana University-Purdue University Indianapolis. She's been caring for the massive collection of stolen artifacts and ancestors the FBI took from Miller's house since 2014, as well as initiating consultations with tribes about repatriations.
"You walk into the room where the ancestors were kept, and it's almost all empty shelves," Cusack-McVeigh told Native News Online. "And that just feels so good to know that they're home. There's still some awaiting their homecoming, but the dialogue is happening."
'It was surreal'
In late 2013, FBI Art Theft Program agent Tim Carpenter received a tip that an elderly man in rural Indiana had a collection of thousands of priceless artifacts that he had personally excavated from archeological grounds in the U.S. and abroad over more than six decades.
Carpenter, who had been giving guest lectures about the Art Theft Program to Cusack-McVeigh's museum-studies class, enlisted her for help. They spent six months quietly preparing a case against Miller. On April 1, 2014, armed with a search warrant and backed by a recovery team of more than 100 people, they entered Miller's house in Moscow — a village about 45 miles southeast of Indianapolis—with a plan to recover a few thousand sacred artifacts.
Inside, the team canvassed more than 42,000 items stored in large, self-made exhibit cases in Miller's basement and other buildings throughout his property. It was one thing to know the number of artifacts that they expected to encounter, but a very different thing to see them on the ground.
"It was surreal," Cusack-McVeigh remembers. "No photographs and no amount of previous planning and discussion really could prepare you for the scale and the scope."
They were also surprised to find hundreds of human skeletons, some stored in paper bags, hidden throughout the property.
"What we couldn't have known was that throughout the entire estate, in various buildings—the main house, the old family farmhouse, his research building, his barn—we would discover and recover the human remains of over 500 individuals," Cusack-McVeigh said.
Miller—who died at age 91 in 2015 without ever facing criminal charges—told FBI agents that he used metal detectors on battlefields and Native American reservations to know where to dig. FBI agents would later piece together, through Miller's personal slides, passports, film footage, and travel journals, that more than half of the ancestors found had been dug out of the ground in South Dakota in the 1950s and 1960s.
"There was a period where, every summer, he would leave Indiana and drive for vacation to South Dakota and spend weeks digging," Cusack-McVeigh said.
"I want to dispel the notion that Don was a responsible collector," Carpenter told Vanity Fair in 2021. "He was not. He was a grave robber."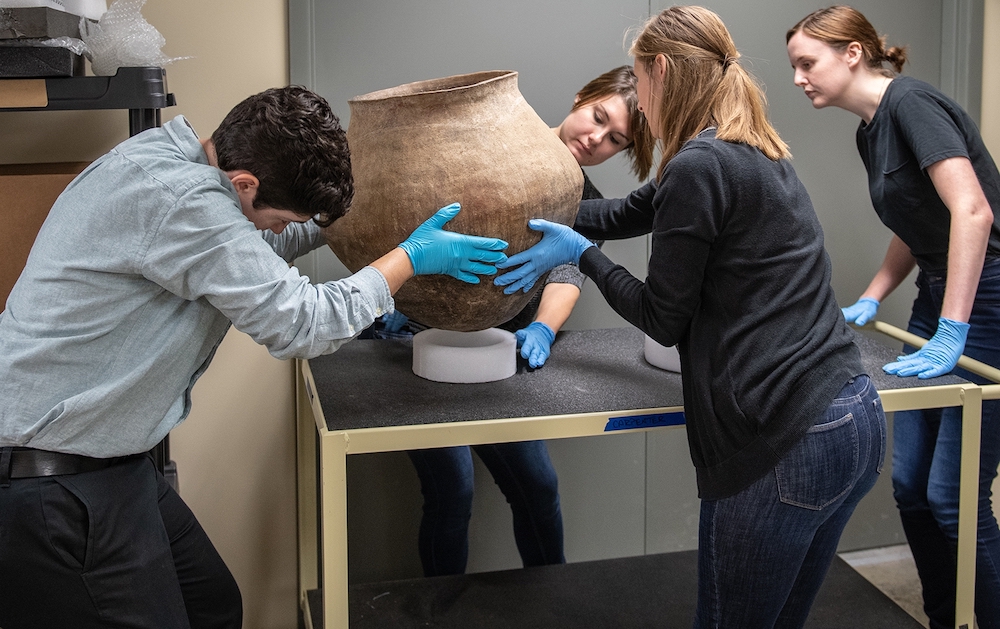 PICTURED: Museum studies graduate students from Indiana University-Purdue University Indianapolis (IUPUI) help care for the recovered artifacts in a facility near Indianapolis where all the recovered artifacts are housed securely and temperature, humidity, and light levels are controlled. (Photo: FBI)
Although the FBI and its team of archaeologists, tribal authorities, and evidence-recovery specialists found about 42,000 items on Miller's property—about half Native American, the rest taken from countries around the world—the bureau only had probable cause to seize 7,000 artifacts. The seizure was the largest recovery of cultural property in FBI history.
"We seized what material, that, with the help of the subject matter experts, the FBI thought we could prove, if we had to go to court, we could defend the seizure of those items," Randy Deaton, manager of the FBI's Art Crime Team, told Native News Online. Miller had labeled some of the items that the FBI seized, he said, which made the burden of proof far easier.
For the last eight years, the bureau has been working with tribal nations, foreign countries, and subject experts to identify and return each piece of pottery, each jewel, and, especially, every ancestor. It has now successfully repatriated 82% of its holdings from the Miller case, according to spokesperson Tina Jagerson.
Of the more than 500 human remains, Cusack-McVeigh said, the FBI has returned all but around 50, including one foreign national. About half of the remaining 50 are awaiting transfer to a Southwestern tribe, and the bureau is consulting with multiple tribes about the return of the others.
While the FBI's eight-year timeline might not seem expedient to some, it is a sprint compared to the decades-long pace set by museums and universities. State institutions that have far fewer ancestral remains have taken more than three times as long to complete the same process, despite a 30-year-old federal law that mandates the ancestors' return.
For example, the Indiana State Museum, a statewide museum network with 12 locations across Indiana, has 77 Native American ancestors at its Indianapolis museum and the historic sites it maintains, according to a federal database. It has returned seven of them.
The largest collection of human remains from Indiana is at Indiana University in Bloomington. Between the Department of Anthropology and the Glenn Black Lab of Archeology, the institution still holds more than 4,800 Native American ancestors. It has returned just over 1,000 others in the last 30 years.
International repatriation
Deaton, though he wasn't involved in the Miller case at the time, oversees the 23-member art-crimes unit that's now responsible for returning the artifacts and ancestors Miller stole.
"We've made significant progress in the last 16 months that I've been in this position on repatriation, not only to the various tribes, but also to several foreign countries," he said. "But we do have work to do."
Though the vast majority of ancestors Miller excavated were in the United States, Cusack-McVeigh said he also dug up and brought home a few sets of remains from foreign countries. The FBI has since repatriated human remains Miller grave-robbed, including shrunken heads and mummified body parts, to Haiti, Papua New Guinea, and Peru.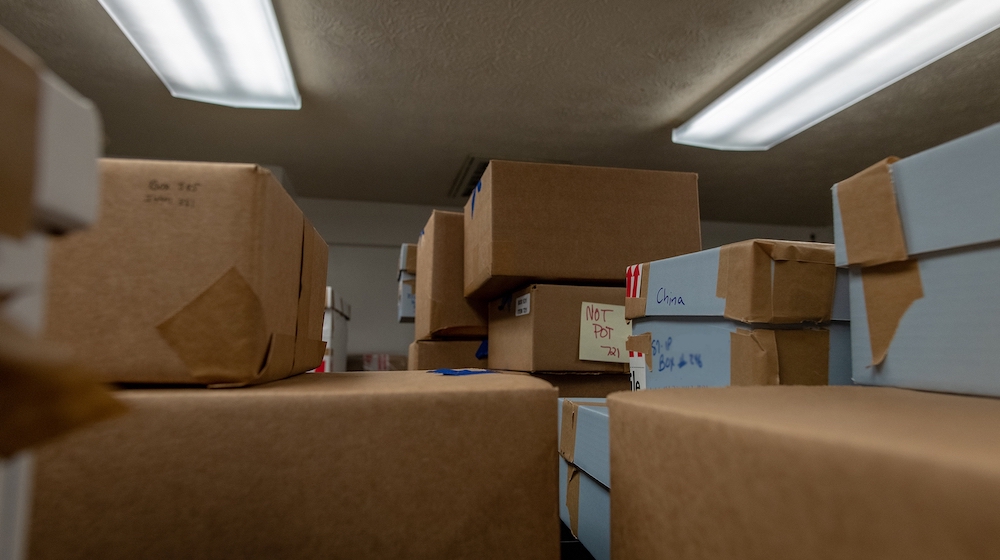 PICTURED: Students and highly trained IUPUI staff also helped prepare the artifacts for shipping when repatriation occurs. (Photo: Courtesy of the FBI)
As well, the FBI says it has returned items from Miller's collection to Australia, Cambodia, Canada, China, Colombia, Ecuador, Haiti, Iraq, Mexico, New Zealand, Peru, Russia, and Spain. In two of the largest repatriations of art from the United States to foreign countries, the bureau returned about 360 cultural artifacts to China and more than 400 to Haiti.
According to Deaton, the FBI relies on experts in the U.S. and abroad to determine the country of origin for each artifact. Last December, it returned 21 pre-Columbian artifacts from Miller's collection back to the Dominican Republic.
"I sent pictures of those artifacts before that [repatriation] ceremony happened—weeks or months before—so the experts in that country could look at those artifacts and confirm that yes, they belong to our country," Deaton said.To streamline the process of identifying artifacts, the FBI created a private online database where it gave limited access to experts in foreign countries to look at the collection and to begin consultation and claims for objects that might have been taken from their lands.
As for the human remains, the FBI consulted with archaeologists, anthropologists, and tribal experts for many years to ensure proper repatriation of each ancestor back to the land they were taken from.
In some cases, however, that wasn't possible.
Claiming unidentified ancestors
The FBI held its first consultation with tribes about returning the ancestors' remains in 2014, the same week that it raided Miller's house.
"We, at that time, didn't know who we had and where they belonged," Cusack-McVeigh said. "But we wanted guidance from the very beginning." Within months, the bureau had sent formal notices to tribal historic preservation officers throughout the country, and sent staff to make presentations at those officers' annual national gathering.
Through non-invasive methods, such as examining personal belongings some ancestors were buried with, osteologists and other experts were able to narrow the regions where the ancestors originated to the Great Plains, the Great Lakes, and the Southwest.
Once the areas were identified, all federally recognized tribes with historic ties to each region were invited to participate in government to government consultation with the FBI beginning in April 2014 through 2021. Between 2016 and 2021, there were a handful of repatriations to the Crow Creek tribe in South Dakota and others in the Southwest, Cusack-McVeigh said.
But it was impossible to determine where 138 ancestors had come from, because only fragments of their bodies remained, they had been mixed with other people's remains, or there was no information associated with them.
"What posed the most difficulty was the fact that Miller was storing random parts of the human remains in various boxes," Matthew Bussler, the Pokagon Band of Potawatomi Indians' tribal historic preservation officer, told Native News Online. "There were no archaeological or archival notes to discern one individual from the next, and that made it near impossible to complete the cultural-affiliation process without doing highly discouraged and unacceptable destructive DNA testing."
The Pokagon Band, however, was from the beginning willing to claim any ancestors who could not be identified, as it's the only federally recognized tribe in Indiana, Bussler said. So when Cusack-McVeigh contacted him in 2020 with the final number of unidentified ancestors, he said, it "wasn't even a conversation." The tribe knew what it had to do.
"In Indian Country, our work is to do whatever we can to as effectively and expediently return the ancestors back to the womb of Mother Earth so they can continue their journey," Bussler said. "We always will take on the responsibility of repatriating any ancestors if people aren't able to do it."
Most of the repatriations took years, because of the sheer number of stakeholders involved in tribal consultations.
"It required bringing together all tribes who consider South Dakota their ancestral homeland," Cusack-McVeigh said. Roughly a dozen tribes participated in years of consultation over the nearly 300 ancestors Miller had taken from the state. "That's not only all federally recognized tribes in South Dakota, but several tribes from surrounding states, including the Mandan, Hidatsa, and Arikara [Nation]. That's why the consultation took so many years."
The same process took place for those ancestors connected with Indiana.
"You return them safely to the earth"
Dorene Red Cloud (Oglala Lakota) is a curator of Native American art at the Eiteljorg Museum in Indianapolis. She is the great great granddaughter of Chief Red Cloud, one of the last Lakota war chiefs and one of the most well-known American Indians in history. Dorene calls herself a "relocation kid"—a child of the federal relocation program that brought her father from South Dakota to Chicago, in the late 1950s. She was born there in 1970.
When Dorene was working in the repatriation office for the National Museum of the American Indian, she met Cusack-McVeigh in the early 2000s through their overlapping repatriation work. The two have been friends ever since, and when Dorene heard that the Miller case was drawing to a close this year, she helped the FBI facilitate a potluck dinner for the tribal delegations at the Eiteljorg Museum on Nov. 9, as spiritual leaders and elders from both tribes traveled to Indiana for the transfer.
"For the longest time when I was in college, it was kind of shameful to be like 'I'm Oglala, but I'm not from the reservation,'" she told Native News Online. "Then, time has passed and I've learned more and more that Native Peoples are literally everywhere. It makes me think there's a larger picture at work. Here I am, one of the wayward Oglalas outside of the community, and it turns out I was able to help these ancestors get home. It reminds me of why I do the work that I do."
On Nov. 11, the Oglala Lakota repatriated 274 ancestors on behalf of all the affected tribes, along with more and 400 cultural items. The same day, the Pokagon brought home 177 ancestors—the 138 who were unidentified and 39 who were geographically affiliated to Indiana—for reburial on Pokagon Band property in Michigan, the Pokagon Band's Bussler said.
"It's always emotional for me when I pick up ancestors and return them to the earth eventually," said Kevin Daugherty, a Pokagon Band elder and member of the tribe's four-person Traditions and Repatriation Committee, which retrieved their ancestors from Indianapolis in early November.
He said he has worked on numerous repatriations since the '90s, but this one felt different.
"The thing that impacted me about this particular one was the number of people who the Miller collection had touched," he said. "There were a lot of people with a lot wrapped up in this, and you could feel it."
Daugherty described a sense of overwhelming relief once the ancestors were put back into the earth at a small ceremony at an undisclosed location in Michigan in November.
The task itself is not difficult, he said: You pick up the ancestor, you carefully wrap and prepare them for reburial, and you return them safely to the earth.
"But the mental weight, it's like there's an invisible [emotional and spiritual] barrier that you're always pushing against. Then, when you finally get through it, you feel really happy," he said. "I look at it like: you have relatives and cousins who came to visit. You try to make them feel welcome, you chat with them and share some food and stories with them and… you send them on their way in a good way. I feel like I've had a real good visit."
'A replicable model'
Although it has taken the FBI more than eight years to return these ancestors and cultural artifacts to their homes, tribal leaders and experts involved say the bureau has set a precedent for the museums and institutions that still hold over 100,000 sets of human remains, and more than 756,000 associated funerary objects.
In 1990, Congress passed the Native American Graves Protection and Repatriation Act (NAGPRA), which requires all federal agencies and museums receiving federal funding (excluding the Smithsonian Institution and its nearly two dozen museums and research facilities, which follow their own repatriation process) to catalog the Native American remains and cultural items held in their collections within five years. The law then required museums and agencies to notify tribes on their specific holdings affiliated to that tribe.
Never miss Indian Country's biggest stories and breaking news. Sign up to get our reporting sent straight to your inbox every weekday morning.
In 1995, museums reported a collection of more than 208,000 Native American human remains. But in the past 32 years, not even half have been returned. Today, institutions still hold roughly 108,000 human remains, according to the federal government's database.
The majority of those remains have been deemed "culturally unidentifiable" by the institutions that hold them. The law gives the museums authority to determine kinship and cultural affiliation. In many cases, they reject tribal evidence such as oral history, geographic affiliation to the area where the remains were unearthed, and other traditional knowledge.
"There are still institutions out there dragging their feet and using way too many excuses, like, 'Oh, we can't culturally affiliate them. So we have to do more research,'" Cusack-McVeigh said. "That is a lame excuse. We need to recognize the pain that this causes the living contemporary communities when their ancestors continue to be held, even though NAGPRA was passed in 1990."
In July 2021, Interior announced the beginning of tribal consultation as part of an ongoing review to update NAGPRA. The proposed changes would, among other things, eliminate the designation "culturally unidentifiable" to describe human remains and their associated funerary objects when cultural affiliation cannot be determined.
Tribes have suggested that the Interior Department use the term "geographic affiliation," which acknowledges a connection to present-day tribes through their traditional land base. The FBI followed that process with the items seized from Don Miller.
Ultimately, success under NAGPRA is really about the intent of the institution, said Shannon O'Loughlin, chief executive and attorney at the Association on American Indian Affairs, which has long weighed in on repatriation policy and offered technical assistance for tribes seeking repatriation.
"[The] FBI was always very clear that they had no interest in holding onto these items as it is their position that these items belong to Native Nations," O'Loughlin told Native News Online. "Those institutions that understand that Native bodies and cultural heritage were taken wrongfully and who wish to repatriate have been successful; those institutions that want to find a preponderance of evidence about affiliation are using NAGPRA as a research project to gain more funding and entice more researchers to study their collections – they do not have intent to repatriate."
The FBI isn't perfect, Cusack-McVeigh said, but the way the Art Crimes unit handled the Miller case is a replicable model for museums and institutions across the country.
"[Other agencies] can look at this example and they can learn to do it the right way," she said. "These are ancestors who are powerful beings, they are aware and they need to be respected like any living person."
"From my experience, [the FBI] seemed to operate in good faith," Daugherty said. "They reached out to the Native community, they accepted guidance from the Native community, they worked very diligently to have a comprehensive consultation list. Rather than trying to find ways to restrict their list of people to consult with, they were expansive. In the long run, that made it a much simpler process, and it built up a lot of trust with the tribes."
Bussler said that tribes would benefit if all institutions conducted their consultation process as thoroughly as the FBI did. "They went through strenuous… years of attempting to affiliate and to allow all 574 recognized tribes in the country to review their the collections in an online archive or an online database," he said. "They were fulfilling their due diligence."
The Don Miller case has occupied large spaces in the minds and hearts of Cusack-McVeigh and many others for nearly a decade. Many of Miller's neighbors supported him, defending his actions as something naive and innocent, rather than calculated and illegal.
"It's very easy, when you see the treatment of these individuals, to be very angry," Cusack-McVeigh said. "On the other hand, I think that the Don Miller case has allowed those of us who care about these issues to raise public awareness to bring them into the fold to better understand that these are not just actions of the past. These things are still happening today. This really is about equality and justice. Things are not okay until everybody is back home and placed lovingly back in the ground."
More Stories Like This
Colorado Hospital Finally Admits to Cutting Lakota Elder's Hair Without His Permission
Large Majority of Mainers Support Making Clearer State's Treaty Obligations to Wabanaki
NCAI Faces Controversial Constitutional Amendments to Remove State Recognized Tribes
Hospitalized Lakota Elder's Waist-length Hair Cut without His Permission; Family & AIM Demand Answers
9th Annual Repatriation Conference: "Building the Next Fire"
Together, we can educate, enlighten, and empower.
November is celebrated as "Native American Heritage Month." At Native News Online, we amplify Native voices and share our relatives' unique perspectives every day of the year. We believe every month should celebrate Native American heritage.
If you appreciate our commitment to Native voices and our mission to tell stories that connect us to our roots and inspire understanding and respect, we hope you will consider making a donation this month to support our work. For those who commit to a recurring donation of $12 per month or more, or make a one-time donation of $150 or greater, we're excited to offer you a copy of our upcoming Indian Boarding School publication and access to our quarterly Founder's Circle meetings and newsletter.