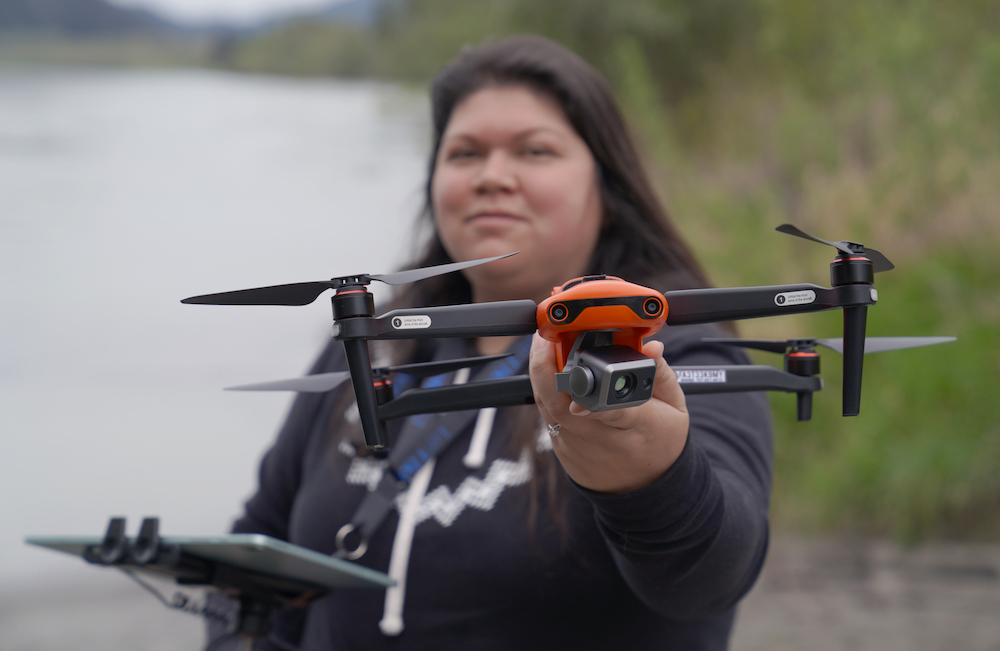 Details

By

Chez Oxendine
Alanna Nulph wanted to be a helper when Indigenous people went missing in her region.
A senior paralegal and special tribal criminal jurisdiction coordinator for the Yurok Tribe in Northern California, Nulph spent years working on missing and murdered Indigenous people, or MMIP, cases in the region.
Never miss Indian Country's biggest stories and breaking news. Sign up to get our reporting sent straight to your inbox every weekday morning.
When one of the tribe's own, Emilee Risling, went missing in October 2021, Nulph decided that she needed to take even more direct action in the face of what she felt was helplessness. "I know when Emilee Risling went missing, I was at home wringing my hands together because I didn't know how I could help, but felt like I needed to do something," Nulph told Native News Online.
In response to the crisis, Nulph took it upon herself to earn a Part 107 Remote Pilot certification from the Federal Aviation Administration in February this year. The license is required to operate drones for search-and-rescue missions.
Now, she plans to turn her newfound expertise to helping address the MMIP crisis. Nulph is building a drone search-and-rescue program through the To' Kee Skuy' Soo Ney-wo-chek ("I Will See You Again In A Good Way") Project. That project, an initiative by the Yurok Tribe launched in 2019, aims to establish more effective investigation procedures around MMIP cases.
"This program was born out of my desire to be a 'helper' when a missing person incident occurs in our territory," Nulph said. "I have been sworn into Del Norte (County) Search and Rescue so I can be on the front lines when someone goes missing.
Nulph's efforts are already bearing fruit: she helped locate a missing mushroom picker near Gasquet, California during a two-week search effort. The missing forager, 71-year-old Vana Sisopha of Tacoma, Washington, and her daughter went missing in early February after they were separated in the woods. Sisopha was later found dead, though her daughter was located safely. Nulph joined the search team, logging her flight details with local authorities and providing updates on the search to the missing person's family each day, per a Yurok statement.
Eyes in the skies
The drone program will become a part of the Yurok Tribe's "comprehensive" response to one of the largest crises facing Indian Country: the rates at which Native women suffer violence and homicide, often disappearing in the process. According to a 2022 Congressional Research Service Report, there were 9,560 cases involving missing or murdered Indigenous people in 2020 alone.
A Yurok MMIP Investigator told Native News Online that California alone had roughly 200 MMIP cases, over half of which were in Northern California where the Yurok Tribe resides. The tribe declared an emergency in December 2021 as cases spiked in the region. That's where To' Kee Skuy' Soo Ney-wo-chek comes in, pulling together prosecutors, a dedicated investigator, tribal police and US Marshals to focus on improving public safety and lowering instances of violence against the vulnerable.
The tribe's efforts include Missing In California Indian Country, which saw the Yurok partner with the California Justice Department's Office of Native American Affairs to take new missing persons reports and DNA samples, and new entries into the National Missing and Unidentified Person Database, from loved ones hoping to find their missing friends and family in April 2023.
In October 2022, the Yurok hosted the first Statewide Tribal MMIP summit, which brought together nearly 300 tribal leaders, tribal police, impacted families, state legislators and law enforcement from across California.
There have also been moves on a legislative level, such as a push to include $200 million in the state budget for MMIP response plans and culturally informed prevention work in the state. In February of this year, the Yurok organized the MMIP Day of Action, which brought 500 tribal leaders and citizens from across California to the state capitol to raise awareness.
Now, Nulph plans to join the tribe's MMIP initiatives through her drone program, she told Native News Online.
"The drones allow me to play to my strengths," Nulph said. "I am not much of a hiker or ground searcher but I am able to pilot these drones to do the work for me."
Drones have become a popular tool in search-and-rescue missions in investigative departments across the United States, as evidenced by a rapidly growing market for the equipment. A November 2022 report by market research firm Fact.MR predicted the market for search and rescue drones would top roughly $11.65 billion by the end of 2023.
The report attributes drones' newfound popularity in these missions to adding a layer of safety and wide-ranging perspectives to searches, especially in dangerous climates or rough terrain like dense forests and mountainous areas. Drones take less time and fewer searchers to find and rescue injured or missing people, which dramatically lowers the cost of search-and-rescue operations, the report notes.
For the Yurok program, Nulph has acquired two high-powered drones with a range of additional tools to help search-and-rescue efforts. That includes highly sensitive thermal imaging tools that can detect heat signatures from long distances regardless of the time of day. The drones are also equipped with a payload delivery system that can deliver water, food, and other necessities to people awaiting rescue, and can provide light for first responders tending to a wounded person.
That's especially useful in Yurok County, where much of the landscape consists of steep mountains, rivers, and dense mixed-conifer stands. It was the geography, in part, that pushed Nulph to look into drones as a potential solution, she said.
"My dad and his friend had been flying drones for some time and they gave me the idea that we can be more technically advanced when we search. This is an extreme rural area with some of the harshest landscapes for searching on foot so any technology we can get is welcome," Nulph said. "I saw the struggle we had with law enforcement, with jurisdictional boundaries, and with getting resources in for searching on the reservation."
Nulph worked with her law enforcement colleagues to research what would be necessary to purchase and use drones in their search efforts. The tribe eventually secured their drones and put Nulph through the training, leading to a successful drone pilot exam.
Now it's time to put that training to work, Nulph said.
"I am no longer wringing my hands and pacing my room, I now have an active role in helping and don't lose sleep over what I could possibly do," Nulph said. "I'm there doing it now."
More Stories Like This
Zuni Youth Enrichment Project Receives $20,000 Grant from Blue Cross and Blue Shield of New Mexico
Urban Native Elders Health and Social Needs Are Not Being Met, New Survey Finds
International Day of Persons with Disabilities
Dr. David Wilson (Navajo) Appointed Chair of the School's Department of Indigenous Health at the University of North Dakota
$9 Million Grant to NativeBio Awarded, Stanford University to Improve Health in Indian Country
The Native News Health Desk is made possible by a generous grant from the National Institute for Health Care Management Foundation as well as sponsorship support from the American Dental Association. This grant funding and sponsorship support have no effect on editorial consideration in Native News Online.