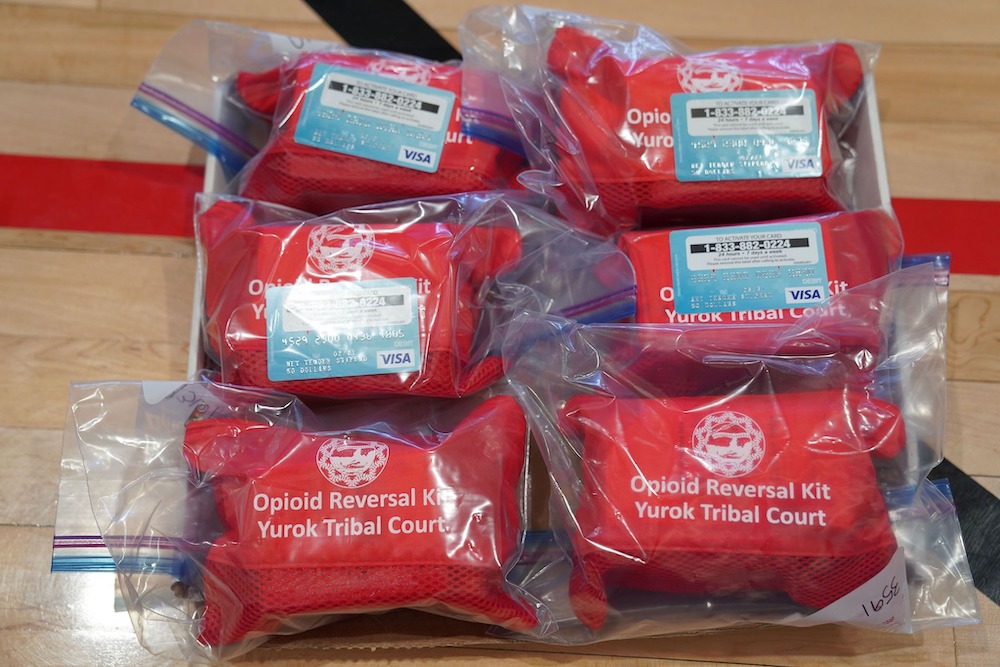 Details

By

Elyse Wild
The Yurok Tribe has issued an emergency declaration in response to a growing number of drug overdoses on and near the Tribe's Northern California reservation in Del Norte and Humboldt counties.
Per a statement issued by the Tribe on Monday, May 22, the crisis is driven by the presence of fentanyl — a highly potent synthetic opioid that is 50 times stronger than heroin and was present in 66% of fatal overdoses nationally in 2022 — and xylazine, a sedative approved by the US Food and Drug Administration for veterinary use.
"The Yurok Tribal Council is sounding the alarm and taking action to address this exigent risk to our community," Chairman Joseph L. James said in a statement. "Too many of our families have lost loved ones to fentanyl. Now, we are seeing fentanyl mixed with xylazine, which is even more dangerous."
When fentanyl and xylazine are combined, the result is a deadly drug called "tranq" that causes prolonged blackout states and skin lesions. Tranq is resistant to Narcan, a medication that reverses the effects of opioid overdoses and has been critical to saving lives. Last month, the Biden-Harris Administration officially designated fentanyl adulterated with xylazine as "an emerging threat to the United States."
The emergency declaration will guide the response to the emergency by the Yurok Tribal Court and Yurok Public Health Department. Per the declaration, the Tribe will seek assistance from all federal, state, tribal, local and volunteer resources; and will request state and federal governments declare the Yurok Reservation to be in a state of emergency.
Currently, it is mandatory for all Yurok government staff to be trained in administering Narcan. In the past two years, about 266 tribal staff and community members have been trained. There are approximately 6,300 enrolled members living on or around the Yurok Reservation, which encompasses some 56,000 acres.
Native Americans in the Humboldt-DelNorte region are experiencing overdoses at a rate that is significantly higher than their white counterparts.
According to a statement released by the Yurok Tribe, in 2021, the most recent year for which data is available, tribal citizens in Del Norte County required emergency services for fentanyl overdoses at a rate of 54.49 per 100,000 residents compared to 5.87 per 100,000 white residents. In Humboldt County, the fentanyl-related overdose death rate for Native people was 114.99 per 100,000. For white residents, the rate was 23.80 per 100,000.
The Yurok Tribe reported that its Tribal Police Department is encountering fentanyl on a regular basis and has administered Narcan to individuals experiencing an overdose.
The remote position of the Yurok Reservation puts the community at increased risk for opioid mortality; the nearest ambulance services are 1-3 hours away from the most populated areas of the reservation.
"The lack of emergency medical services capacity for basic and advanced life-saving measures within the Yurok Tribe and geographic remoteness of the Yurok Reservation have and continue to present a major barrier to mobilizing adequate opioid overdose emergency responses," the emergency declaration reads.
The Tribe issued the following guide on how to recognize the signs of an opioid overdose and what to do if you see someone experiencing an opioid overdose.
How to spot an opioid overdose
Small, constricted "pinpoint" pupils
Falling asleep or losing consciousness
Slow, weak, or not breathing
Choking or gurgling sounds
Limp body
Cold and/or clammy skin
Discolored skin (especially in lips and nails)
What to do if you see someone overdosing from fentanyl or other opioids
Call 911 immediately. (Police will not arrest a person who is overdosing or the person who called for help.)
Administer the life-saving medication naloxone if you have it.
Try to keep the person awake and breathing.
Turn the person on their side to prevent choking.
Stay with the person until paramedics arrive.
Yurok Tribe members are urged to participate in Narcan training through the Yurok Wellness Court. All training participants receive free Narcan kits.
Treatment for opioid addiction is available at Open Door Community Health Center locations in Humboldt and Del Norte counties.
More Stories Like This
'We are in dark times' | Reeling from Four Overdose Deaths in Four Days, Lummi Nation Calls for Urgent Action
IHS Awards $1.5 Million to Address Alzheimer's Disease 
Statement from IHS Director Roselyn Tso on the Availability of Updated COVID-19 Vaccines
Promote Hope for the Future: Addressing Suicide in Indigenous Youth
Ovarian Cancer Affects 20,000 Women a Year. Here's What You Need to Know.
The Native News Health Desk is made possible by a generous grant from the National Institute for Health Care Management Foundation as well as sponsorship support from the American Dental Association. This grant funding and sponsorship support have no effect on editorial consideration in Native News Online.