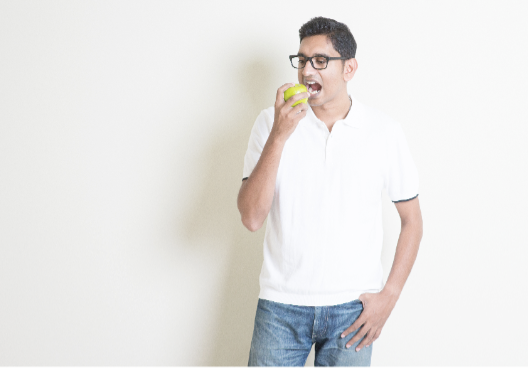 Details

By

Jessica A. Rickert
Place your fingers just in front of your ears and open your mouth — that joint you feel working? That's the Temporomandibular Joint (TMJ). It's a complicated joint due to its
complex movement and unique makeup.
"TemporoMandibular Disorder" (TMD) encompasses a wide spectrum of abnormal conditions, including abnormal sounds coming from the joint such as clicks and pops, deviation of
mandible on mouth opening, facial pain, arthritis, sore face muscles, joint tenderness, damaged teeth, and pain with mouth movements. TMD limits speech, chewing, facial expression and other functions and contribute to headaches and earaches, all of which can impact quality of life.
The most frequent cause of TMD is bruxism, which is teeth grinding, especially during sleep. An unbalanced bite, muscle hyperactivity, clenching habits, past trauma, pain disorders and psychological stress can also contribute to TMD. Other physical conditions such as general pain disorders, sleep disorders, osteoporosis, arthritis, and advanced age can worsen TMD as well. A higher rate of bruxism is associated with caffeine, alcohol, and smoking habits.
The dentist evaluates the TMJ at periodic examinations; and the dentist is often the first to diagnose TMD.
The first line of treatment is to reduce the patient's stress and teach relaxation techniques and therapeutic exercises to relieve jaw pain. Second, the dentist advises the patient to stop
harmful habits. A professional occlusal mouthguard, also called a bite splint, fabricated by a dentist, may need to be customized for the patient. Other treatments which might be
recommended are replacing missing teeth, eliminating gum disease, or orthodontics.
Occlusal mouthguards fit over the lower or the upper teeth. They are fabricated from a composite material commonly, they are clear. An athletic mouthguard is NOT the same as a
bite guard.
Patient self-care may be helpful in easing symptoms, such as:
eating soft foods
avoiding extreme jaw movements (yawning); avoiding chewing gum and biting the nails
stress relief through practicing relaxation techniques
modifying the pain with heat packs
short term use of over-the-counter pain medicines such as nonsteroidal anti-
inflammatory drugs (NSAIDs); an example is ibuprofen.
A well-balanced diet can help the TMJ heal
Eliminating harmful habits
Be sure to see your dentist every six months, so that any changes in the TMJ can be evaluated. Let your dentist know if you've had trauma to your TMJ or if you've noticed any changes in your TMJ. The sooner TMD is treated, the more successful is the return to health, form, and function.
Dr. Jessica A. Rickert is a tribal citizen of the Prairie Band Potawatomi Nation. A graduate of the University of Michigan School of Dentistry, in 1975, she became the first female Native American dentist.
More Stories Like This
Urban Native Elders Health and Social Needs Are Not Being Met, New Survey Finds
International Day of Persons with Disabilities
Dr. David Wilson (Navajo) Appointed Chair of the School's Department of Indigenous Health at the University of North Dakota
$9 Million Grant to NativeBio Awarded, Stanford University to Improve Health in Indian Country
December 1 is World AIDS Day
The Native News Health Desk is made possible by a generous grant from the National Institute for Health Care Management Foundation as well as sponsorship support from the American Dental Association. This grant funding and sponsorship support have no effect on editorial consideration in Native News Online.