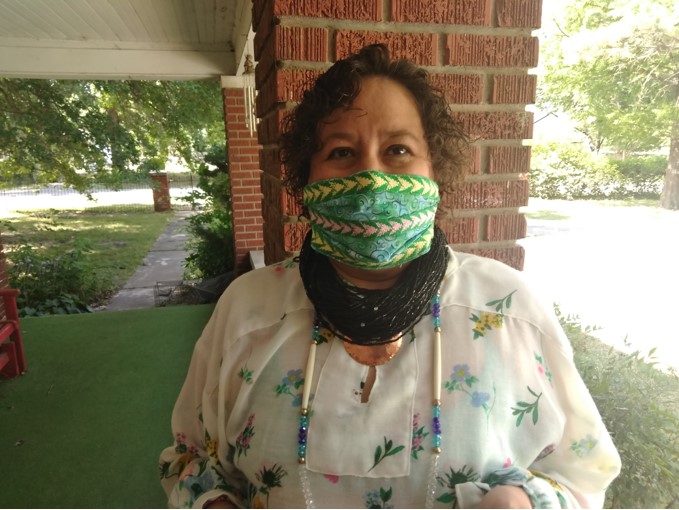 Details

By

Tamara Ikenberg
SKIATOOK, Okla. –– Juli Cote took a joke and wove it into a functional face mask.
"I had been finger weaving and I showed my friends this belt that I had finished, and they jokingly said, 'You should finger-weave a mask,'" said Cote (Osage). "I said, 'Maybe I'll just do that, because I can.'"
She used the meticulous art of Osage finger weaving to make the mask. To top it off, she gave it a fitting name: "Because I Can."
The machine washable and dryer-safe mask, which contains a wire nose clamp and a pocket for an air filter, was featured in First American Art Magazine's Masked Heroes, a virtual exhibition that showcased the work of Indigenous artists who used the quarantine as an opportunity to channel their creativity into culturally-inspired facial coverings.
"Everybody wants a functional art piece, and that's what I was going for," said Cote, who lives in Skiatook, Okla. She has exhibited work at The Zarrow Center in Tulsa, and there she was declared a "Master of Ancient Art."
To make her mask, Cote used multi-colored acrylic yarn and patterned cotton fabric she had around her house.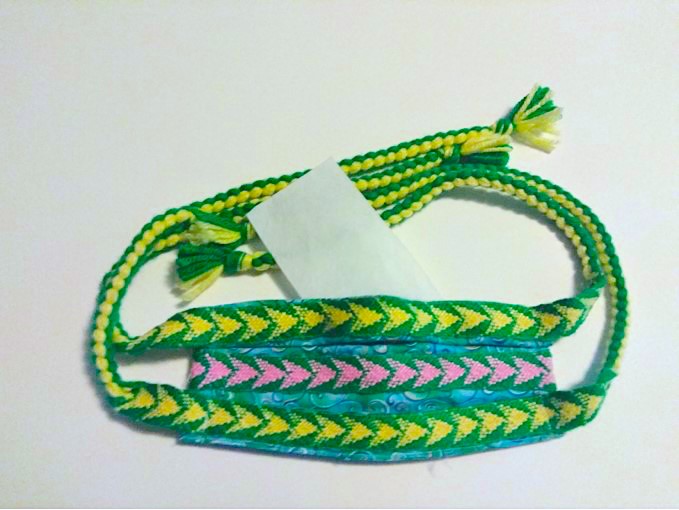 Made of acrylic yarn and cotton, the mask has a wire nose clamp and an air filter pocket. (Courtesy photo)Colored yarn became available to the Osage in the 1600s, as a result of European contact. It was then that Osage finger weaving, which was originally done using human and animal hair, became more widespread, according to Alice Anne Callahan's book "The Osage Ceremonial Dance I'n-Lon-Schka."
"The debate whether the finger weaving method was aboriginal or introduced, and whether the designs were influenced by European embroidery taught in mission schools or were original designs among the Osages, will probably never be completely resolved," Callahan writes.
Traditionally used for belts, sashes, garters and headbands in religious ceremonies and dances, finger weaving requires speed and focused attention to maintain the thread tension required to make the pieces lay flat. The weaver creates the center of the piece first, and then works her way to the outside edges.
According to Callahan and other finger weaving experts, the arrow motif used by Cote is one of the more advanced designs.
Cote came to finger weaving as a student at Santa Fe's Institute of American Indian Arts in the early 1990s, where she sampled a variety of Native styles and techniques.
"I tried beading, which I was not really good at, and I tried ribbon work, which I failed miserably at," Cote said. "I just kind of went down the line of things to try, and then I started
finger weaving and I just picked it up. It's become very easy for me––very natural."
Even for an accomplished weaver like Cote, adapting the method to a face mask was a challenge.
"Because I Can" didn't flow magically from her fingers. Between her friend's joke and the finished mask, she went through some trial and error.
Cote's first attempt at a finger-woven mask was fraught with design problems. When it wasn't sliding off her face, it was stiff and uncomfortable, and she had trouble breathing through it.
Forging ahead, Cote addressed the prototype's issues in her second try.
When a friend sent her a link to the Mask Heroes callout for submissions she sharpened her focus and worked fast.
"That gave me motivation to get it done," Cote said. "So I really stepped it up."
The artist also managed to weave in a subtle tribute to her grandmother, who died when she was five. Cote said she felt a powerful sentimental connection to the swirl-patterned cotton backing fabric layered between the finger-woven strips. The fabric becomes fully visible when the mask is properly placed on the face.
"I picked it because it reminds me of a dress my grandmother had," she said. "I don't have very many memories of her, but I remember that dress."
In addition to weaving masks, Cote has also been very busy making more conventional masks for paramedics, military personnel, and friends in need.
"All of the masks I make outside of the yarn ones," she said, "I donate."
In March, Cote sent four filtered masks made from cotton bedsheets to an Oklahoma EMT who called her because he only had one mask. In early April, before contactless delivery became the norm, she sent a few masks to a friend who works as a pizza delivery driver in Florida.
Many of Cote's masks are also present at Marine Corps Base Camp Pendleton in Southern California, where her son, a Marine, distributes them to his fellow soldiers. Several of those soldiers have since been deployed, Cote said.
"So now," she said. "I have masks all over the world."
More Stories Like This
Substance Abuse and Mental Health Services Administration Awards $35 Million to Reduce Suicide in Indian Country
'We are in dark times' | Reeling from Four Overdose Deaths in Four Days, Lummi Nation Calls for Urgent Action
IHS Awards $1.5 Million to Address Alzheimer's Disease 
Statement from IHS Director Roselyn Tso on the Availability of Updated COVID-19 Vaccines
Promote Hope for the Future: Addressing Suicide in Indigenous Youth
The Native News Health Desk is made possible by a generous grant from the National Institute for Health Care Management Foundation as well as sponsorship support from the American Dental Association. This grant funding and sponsorship support have no effect on editorial consideration in Native News Online.