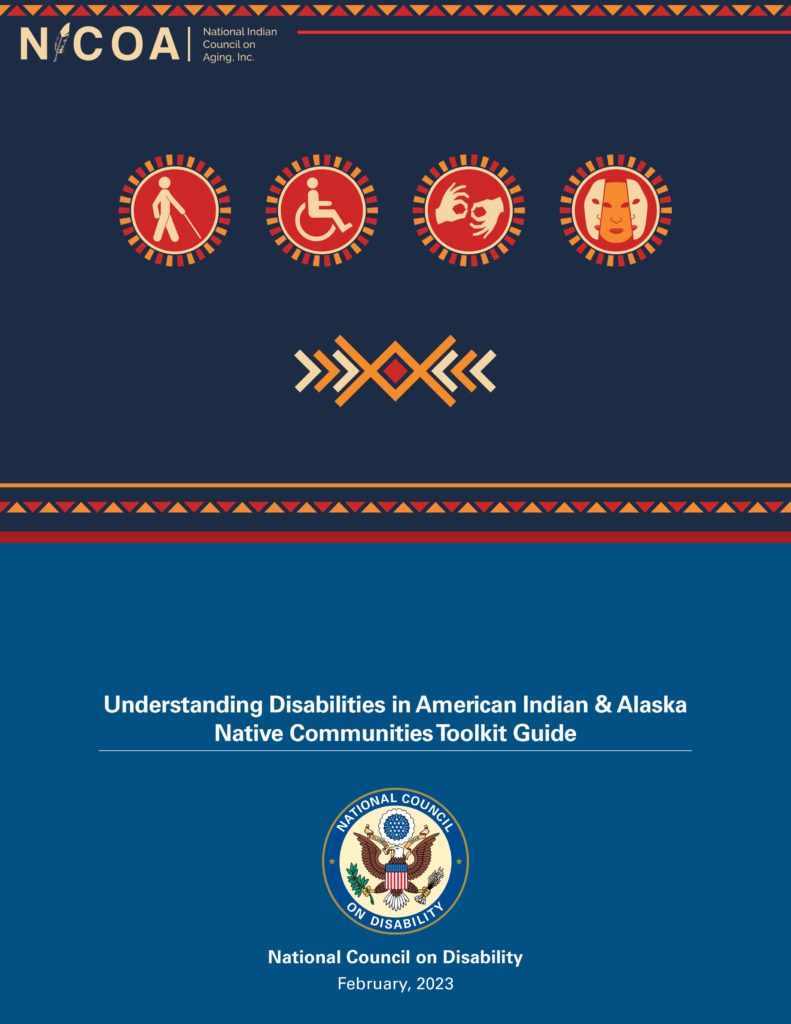 Details

By

Kaili Berg
The National Indian Council on Aging (NICOA) introduced a new toolkit dedicated to increasing awareness and knowledge of the needs of American Indian and Alaska Native (AI/AN) people living with disabilities.
The toolkit contains information about disabilities, tribes and resources.
Data from the Centers for Disease Control and Prevention found that 30% of AI/AN adults have a disability, the highest rate of disability among any other ethnicity.
"Some of the statistics that surprised me most was that 1 in 3 AI/AN adults all have a disability. That's higher than any other race in the U.S. I believe this is something that we really need to tackle and bring awareness to," Desiree Lapahie, Data Analyst, said in a NICOA webinar on July 13.
Every type of disability found in the general population is also found in the AI/AN population. Many people have hidden or unseen disabilities, such as emotional or mental health challenges, learning disabilities, substance use disorder, or deafness. If AI/AN people live long enough, each person will eventually experience life with a disability.
The term "disability" is defined in various ways. The definition of a person with disability is typically defined as someone who has a physical or mental impairment that limits one or more major life activities, has a record of an impairment, or is regarded as having an impairment.
Not every Indigenous language has a word for disability, and some tribes use descriptive language or stories to describe what disability is.
One of the most unique features of this toolkit are stories featuring people living with disability. The stories give examples of Indigenous views on disability through things like songs and even language. They reflect on their life, their relationship to the Native disability community, and how their disability has made life both fulfilling and challenging.
"Not all tribes have these stories, some of them don't even have words for disability, but the lessons from some stories are saying to have compassion and have a sense of inclusion within the community," said Lapahie.
Never miss Indian Country's biggest stories and breaking news. Sign up to get our reporting sent straight to your inbox every weekday morning.
The toolkit is high quality in its description of the problems facing American Indian and Alaska Native students with disabilities. The information within addresses an urgent need of Native people today and has been formatted for easy accessibility. This unique resource has the potential to affect its target population through the dissemination of critical information to parents, community members, tribes, and schools.
"The toolkit has a lot of cultural essences that are specific to us as AI/AN people and I think that people who do use the toolkit consider adopting it and using it to train people. My intention with it is to fan it out and get others involved. Not just Natives, but non-Natives as well that could use a little more cultural sensitivity when interacting with our members with disability, care providers, and family members," said Kimberly Yellow Robe, Associate Director, Banner University Health, said in a NICOA webinar.
The project is dedicated to building bridges between tribes and those in the Aging Network who want to help but are not sure how to begin. It is NICOA's hope that this guide will assist tribes and their allies as they work together to make good decisions about the future.
Another advocacy group, the Native American Disability Law Center, is hosting a series of virtual talking circles — also called listening sessions — in July and August to gather firsthand experiences and insights from Indigenous Natives throughout the United States. The next one will be on July 18, and registration is open to anyone.
"We encourage people to come and join. It is an opportunity for people who listen to share and voice their concerns with us," said Yellow Robe.
NICOA is a nonprofit organization founded in 1976 by members of the National Tribal Chairman's Association who called for a national organization focused on the needs of aging AI/AN elders. Their mission is to advocate for improved comprehensive health, social services and economic well-being for AI/AN elders.
Editor's Note: This story has been updated to reflect the host and number of listening sessions on Native disabilities in the months of July and August.
More Stories Like This
Promote Hope for the Future: Addressing Suicide in Indigenous Youth
Ovarian Cancer Affects 20,000 Women a Year. Here's What You Need to Know,
Early Detection is Key to Prostate Cancer Survival
FDA & CDC Approve Updated Covid Vaccines from Pfizer and Moderna
September is Suicide Prevention Month. Here's a List of Native Focused Mental Health Resources.
The Native News Health Desk is made possible by a generous grant from the National Institute for Health Care Management Foundation as well as sponsorship support from the American Dental Association. This grant funding and sponsorship support have no effect on editorial consideration in Native News Online.