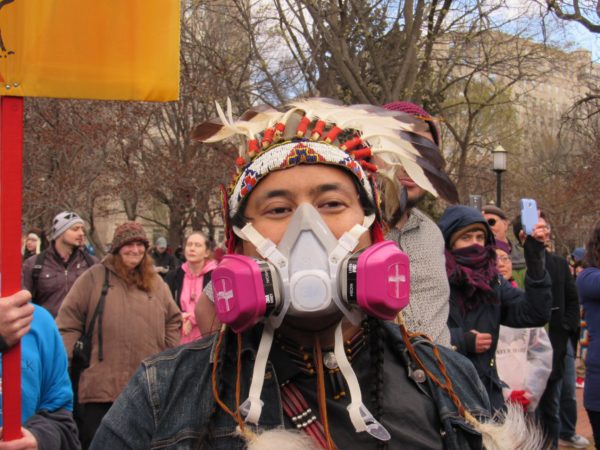 Details

By

Levi Rickert
SANTA FE — Redwolf Pope, 41, has been showing up at American Indian events for decades, including demonstrations against the Dakota Access pipeline at Standing Rock. He was on hand outside the White House in Lafayette Square on March 10, 2017 for the Native Nations Rise March on DC along with thousands of American Indians and their allies showing support for Standing Rock's fight against the Dakota Access pipeline.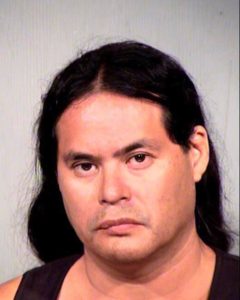 Redwolf Pope mugshot after his arrest for rapePope, who resides in Seattle, Washington and Santa Fe, New Mexico, even gave a TEDxSeattle talk about his activism called "Lessons of Courage from Standing Rock. He once appeared on FOX's "The O'Reilly Factor" giving his perspective on Thanksgiving with guest host John Kasich, current Ohio governor, interviewing him.
This week Pope gained national attention for his arrest for allegedly raping women, who were unconscious at the time of the the sexual attack. The despicable deeds were captured on video. He remains in a Santa Fe, New Mexico jail, held without bond.
Court documents say Pope is a member of the Tlingit tribes of the Northwest according to court documents. The Tlingit tribes of Northwest says he is not an enrolled tribal citizen. Through the years, Pope has represented himself as being a member of the Western Shoshone Tribe. There are several Shoshone tribes in America's west. A website lists him as an attorney for the Tulalip Tribal Court in Washington state.
Since Pope's arrest, Native News Online has interviewed individuals who choose to remain anonymous. However, they maintain Pope is not American Indian as he claims.
One source sent in a comment that read:
"I lived with that family for two years. His mother is from San Francisco, both her parents were Chinese immigrants. I visited their graves. She is 100% Chinese I know it for a fact. They say they're Tlingit because many Alaskan Natives have features similar to Asians. His father claimed to be Shoshone. I was sitting next to him on the couch when he opened the results of his genealogy research, he was not Native American either. He tried to say that it was doctored because he was such an activist that the government wanted to strip him of his tribal affiliation. That's when I knew they were cons and severed ties with them. His father turned out to be a prolific sex offender too."
Native News Online contacted the individual who wrote the comments, who was interviewed for this story.
"This family has been posing as Native Americans for years. I happen to be Native American and I think the family should be exposed for their fraud. His mother is Chinese. I went to her parent's grave with her in San Francisco. The grave markers were in Chinese, with no English written on them. His father is white who may have some Hispanic blood. They have traveled around making money by telling people they are Native Americans. His father had a following in Germany before he was accused of sexual assault there."
Pope's father, Mala Spotted Eagle Pope, has traveled extensively in Europe where he claimed to be a medicine man, or spiritual leader. According to one unnamed source, Mala Pope received money from people in Germany to establish a New Age compound Oregon.
Mala Pope is purportedly attempting to raise money by putting a lien on the Oregon property.
With news of Redwolf Pope's arrest for rape, TEDxSeattle has taken down the YouTube video of Pope's Standing Rock talk.
Pope "playing Indian" in Washington, D.C. - Native News Online photo by Levi Rickert
Editor's Note: The Washington, D.C. photos of Redwolf Pope were never used in publication prior to this article. As this story unfolds, Native News Online will report on events. Levi Rickert may be contacted at [email protected]
More Stories Like This
Navajo Citizen Judge Sunshine Sykes Confirmed to Serve as U.S. District Court Judge
Indigenous Women Make Up Nearly Half of Canada's Incarcerated Population; New Legislation Seeks to Change That
Ho-Chunk Nation's Economic Arm Set to Move Forward with Casino Project 
Leaders Respond to Federal Indian Boarding School Investigative Report, Call it 'Monumental'
Native News Weekly (May 15, 2022): D.C. Briefs