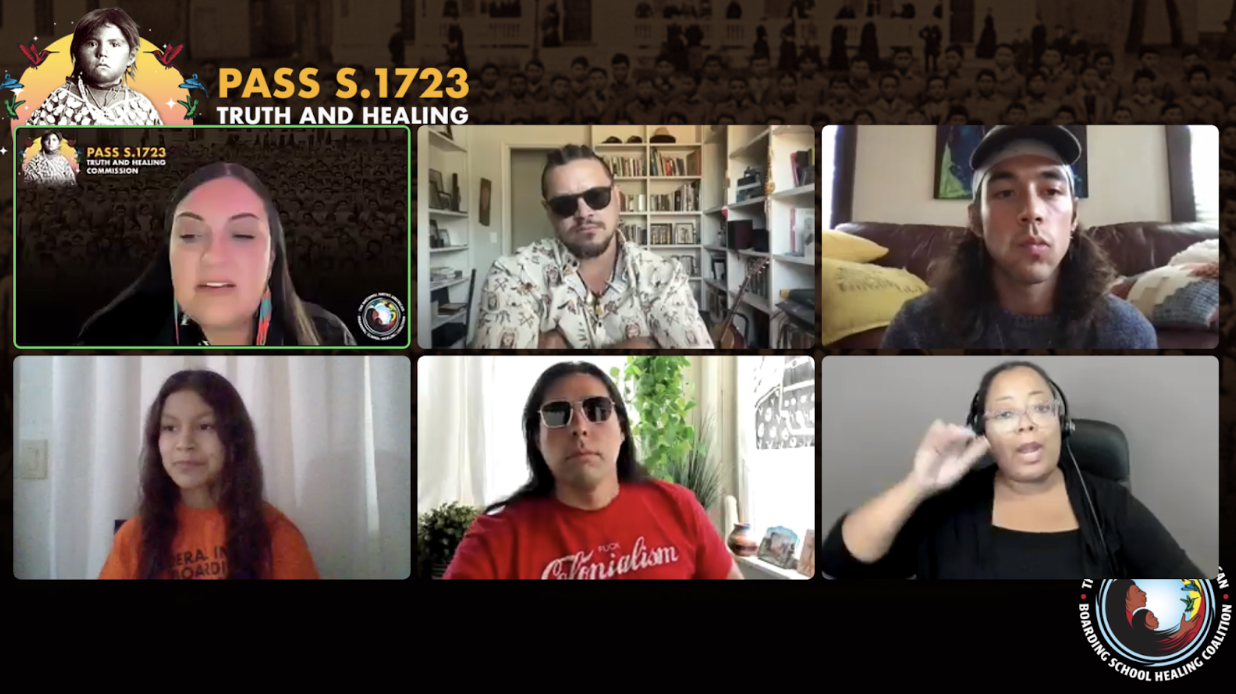 Details

By

Jenna Kunze
With the series finale of the hit FX show "Reservation Dogs" this week, several creators and actors of the series joined a livestream event hosted by the Native American Boarding School Healing Coalition (NABS) on Wednesday to discuss confronting the legacy of Indian boarding schools.
The livestreamed event, titled "The Time is Now," focused on advocacy around the Truth & Healing Commission Bill, legislation that would call for Congress to investigate the federal government's Indian boarding school policies. In June, the bill unanimously passed the Senate Committee on Indian Affairs, and awaits a Senate accounting on the cost of implementation.
To drum up conversation on the importance of such a bill, NABS CEO Deborah Parker (Tulalip) led a panel with four "Reservation Dogs" creators, actors, and contributors. Included were the show's co-creator Sterlin Harjo (Seminole/Muscogee); music composer Mato Wayuhi (Oglala Lakota); and actors Dallas Goldtooth (Lower Sioux Dakota Nation), who played "Spirit"; and Georgeanne Growingthunder (Fort Peck Assiniboine and Sioux Tribes), who played the young Deer Lady in the Season 3 flash-back episode to boarding school.
Harjo, who wrote "Deer Lady," said that it was the episode he's most proud of for telling the truth and not flinching.
Never miss Indian Country's biggest stories and breaking news. Sign up to get our reporting sent straight to your inbox every weekday morning.
In the 30-minute episode, Bear (played by D'Pharaoh Woon-A-Tai) is traveling home to Oklahoma when he stops at a diner and encounters Deer Lady (played by Kaniehtiio Horn). Bear inadvertently joins Deer Lady, a spirit, on her mission to exact revenge against a now elderly boarding school guard— "a human wolf," she says — for the abuse she and other students endured in childhood.
Even though the episode is dark, Harjo said, the storyline is a sort of catharsis where Deer Lady takes the power back into her own hands.
"Our grandparents didn't have a chance for healing," Harjo said, "and I wanted to try to show a version of what that healing could feel like. We had to tell that story in a real way for it to have the impact that we wanted to have."
Eleven-year-old Growingthunder, whose grandfather and father went to boarding school, said she talked with her family about their experiences and researched boarding schools for the first time before taking on the role.
"I just felt like it was important to play the role because there's so little known about everything," Growingthunder said.
Parker asked Goldtooth to share a few words about his community's recent reckoning with Indian boarding schools. Last week, two Oyate boys who died while attending the nation's flagship boarding school in Carlisle were brought home by their tribes after 144 years away.
"It's a sad fact that a lot of relatives, young children who were taken from home and never came back, still remain at many of those boarding schools," Goldtooth said. "That's what this commission is about: trying to track down facts and numbers about how many relatives never came home."
"This is real," he said. "It's not something that affects the past but affects us in this moment."
Wayuhi, the show's 25-year-old musical composer, spoke about how the score for the show mirrors the premise for the entire creation: it "subverts expectations."
"One of my biggest goals was not settling for what's expected, specifically for music within Indian Country," said Wayuhi, who was named among Forbes 30-under-30 in 2022. "And then, years into my art, I hear rumblings of a show called Reservation Dogs made by these creators who have never settled for what's expected of Native art and Native comedy."
Wayuhi recalls his first meeting with the show's creators when Harjo told him, "no flute music that isn't for a point" to shake up the stereotypes of what Indigenous music sounds like.
"And when I do play flute on the score, it's from a sense of comedy and subverting expectations," Wayuhi said. "That's a lot of Dallas's character, [he] subverts the expectation of what you think of those 'Native men.'"
That was the aim of the whole show, Harjo said. "Reservation Dogs" served to challenge the assumptions of Indigenous People while also allowing them to tell their own story with the first and only TV series with an entirely Indigenous cast of writers, directors, and main cast.
"I think that the Reservation Dogs was one step in the right direction of showing people who we really are and telling the truth about our communities," Harjo said. "I think there's such an inclination for people that have been misrepresented and had such darkness in our history to try to show positive things."
"What we did was not turn our eyes from the truth and from the darkness. We told the darker sides of our communities. You can heal yourself by metaphorically looking at yourself in the mirror, but you have to look at the blemishes, as well. You can't just look at the beauty. And that's how we have to approach looking at our communities."
For NABS, an organization whose work largely revolves around advocacy for policy change to seek support the same healing Harjo has tackled with "Reservation Dogs," the U.S. Truth & Healing Commission Bill is the next step. For more information about how to contact your legislator and be your own advocate, use their Tool Kit.
"Skoden," said Theresa Sheldon (Tulalip Tribes), NABS' Director of Policy and Advocacy. "Let's get this bill passed."
More Stories Like This
Potential First Native American Federal Judge in Oklahoma Advances Toward Senate Confirmation
Photos from the 2023 White House Tribal Nations Summit
Native News Weekly (December 10, 2023): D.C. Briefs
December 10th is the 75th Human Rights Day
Vice President Harris Addresses Indian Boarding Schools at the White House Tribal Nations Summit
In a world filled with inaccurate narratives about Native Americans, we spotlight the overlooked, unheard and underrepresented stories that are often overlooked by the mainstream media. Our journalism is free for all to read, but it is not free to produce. Your donation provides the much-needed financial support for us to produce inclusive Indigenous journalism that inspires, informs and uplifts Native Americans. Thank you for being a force behind our work. Together, we are rewriting the narrative.