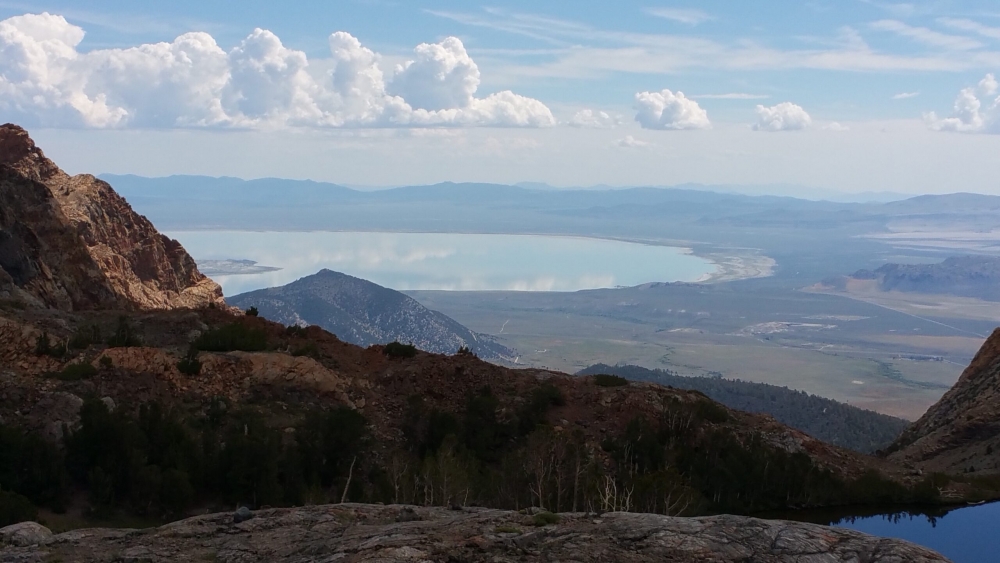 Details

By

Nanette Kelley
MONO LAKE, Calif. — With support from the neighboring tribes, community and their local U.S. representative, the Mono Lake Kutzadika'a Paiute Tribe, with its 88 tribal citizens, is seeking federal recognition through legislation.
In California college towns throughout the 1970s and 1980s, there appeared to be a "Save Mono Lake" bumper sticker on every other environmentalist's car. Most of those who rallied to save the lake may not have known its significance as the cultural resource base to the lake's original caretakers, the Mono Lake Kutzadika'a Paiute Tribe, who have continued their own struggle for recognition and survival. According to Tribal Chairperson Charlotte Lange (Paiute), the tribe attempted to gain federal recognition multiple times through the Office of Federal Acknowledgement and those efforts continue today.
The Mono Lake Kutzadika'a Paiute Tribe people have resided in central California between Yosemite and the Nevada border near Mono Lake since time immemorial. Beginning with the California Gold Rush, when minors and other settlers moved in and took all the resources, it became difficult for tribal members to live in the already inhospitable region.
"They were starving, and it was a tough place to live anyway," said Lange.
Although a few families still retain their original 1907 Indian allotments, due to the social and environmental issues, many tribal members were pressured to sell their lands and move away.
"The (Los Angeles Department of Water and Power) came in and started buying up the lands and the electricity and all this, and there was a big land grab," she said, noting that because the DWP owns most of the land and water rights in surrounding Inyo and Mono counties, the tribe's problems with the DWP and their battle to protect regional cultural resources (dependent upon the water) continue to this day.
For instance, Lange explained, when the region's water is shut off to supply the need in Los Angeles, over 300 miles away, the local creeks dry up, which adversely affects ecosystems such as the sage grouse habitat. "The meadows, the grasses, the fish, who speaks for those?" she said.
Because the ecosystem's health is dependent upon local ranchers receiving water leases, the tribe joined forces with a coalition of ranchers and other community members in the organization Keep Long Valley Green to address the DWP's withholding of water leases. It was during one of the group's meetings that someone from Rep. Paul Cook's (R-Apple Valley) office asked why their tribe was not federally recognized. Not long after, California Indian Legal Services executive director Dorothy Alther (Oglala Sioux Tribe) and Cook's office began work on behalf of the tribe.
On Sep 11, Rep. Cook, who serves as the leading Republican on the House Natural Resources Committee Subcommittee for Indigenous Peoples of the United States, introduced federal recognition legislation for the tribe.
"Federal recognition of the Mono Lake Kutzadika'a Tribe is long overdue, and it's time we honor their tireless efforts in preserving their culture and history," Rep. Cook said in a press release. "I commend the hard work and dedication of Chairperson Lange and the Mono Lake Kutzadika'a people for their unwavering commitment to their tribe and to Mono Lake."
The tribe has always put forth great efforts in preserving their culture. The Mono Lake Kutzadika'a Indian Community Cultural Preservation Association (501c3) holds basket making classes and other cultural education events. Lange explained that as part of the seven affiliated tribes of the region, they participate in neighboring cultural activities as well.
"We feel really supported. There's basket makers all the way down through here, and our baskets are unique," she said.
Lange described the importance of the affiliated tribal relationships.
"We traveled up, they call it Mono Pass/Bloody Canyon, up into Yosemite, and our people lived there season to season as well and we'd go over and trade for basket making material and we'd take pine nuts and trade for their acorns and beads," she said.
All seven federally recognized tribes in Mono and Inyo counties support federal recognition for the Mono Lake Kutzadika'a Paiute Tribe. They have also received support from the other traditionally associated seven affiliated tribes of Yosemite National Park, which includes the federally recognized North Fork Rancheria of Mono Indians of California, Bishop Paiute Tribe, Picayune Rancheria of Chukchansi Indians, Bridgeport Indian Colony, Tuolumne Band of Me-Wuk Indians and the non-federally recognized Southern Sierra Miwuk Nation and Mono Lake Kutzadika'a Paiute Tribe. In addition, Lange added that the Mono County Board of Supervisors supports the tribe in their efforts and the county forest service and BLM (Bureau of Land Management) treat them like a federally recognized tribe.
"The Southern Sierra Miwuk, they're having a tough time too getting recognized, and everybody around us is recognized and we're the only two tribes in our territories that aren't," she said.
Lange lamented over the fact that there have been elders who have passed away without ever witnessing the tribe gain federal recognition.
"It breaks my heart to hear our elders say, 'I won't see it in my lifetime,'" she said. "I hope it happens so we can bring our people home. They all want to come home and we want them home."
More Stories Like This
Native News Weekly (May 22, 2022): D.C. Briefs
WATCH:  Native Bidaske featuring Bryan Newland, the Interior Department's assistant secretary of Indian Affairs
Georgia Republican Gubernatorial Primary Candidate Kandiss Taylor Makes Stupid, Crass Comment about Native Americans, the First Amendment, Georgia, and Jesus
Navajo Citizen Judge Sunshine Sykes Confirmed to Serve as U.S. District Court Judge
Indigenous Women Make Up Nearly Half of Canada's Incarcerated Population; New Legislation Seeks to Change That