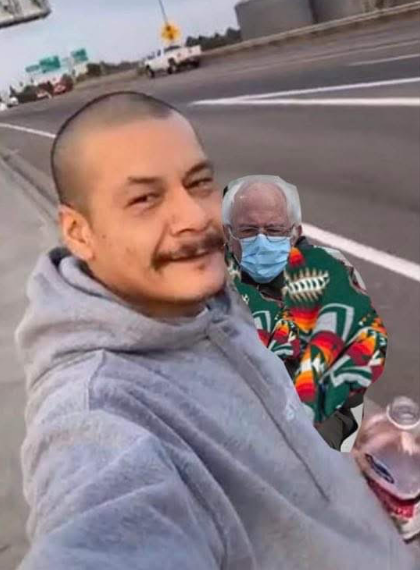 Details

By

Darren Thompson
WASHINGTON — A photograph taken of Senator Bernie Sanders (D—VT) on Inauguration Day by Brendan Smialowski, a former sports photojournalist from Connecticut who documents politics for wire service Agence France-Presse, has taken over social media with what some estimate more than 100,000 memes.
On a day presumed to be entirely about the inauguration President Joseph Biden, it undoubtedly—it seemed—belonged to Mr. Sanders, whose most avid supporters came from young voters during the presidential race. He didn't do anything out the ordinary; he attended the socially-distanced Inauguration with his arms and legs crossed while wearing mittens and a bulky winter coat.
There is pretty much a Bernie meme out there for every taste, view, and scene including many in Indian Country. Bernie outside a sweat lodge. Bernie sitting beside a powwow drum. Bernie at Mato Tipila—Devil's Tower—with the infamous buffalo who gouged a tourist in the Black Hills last summer. Bernie with Nathan Apodaca. Bernie at the Black Hills Powwow. Bernie inside the South Dakota State Capital chambers. It doesn't matter where he is, the overall consensus is it's just funny.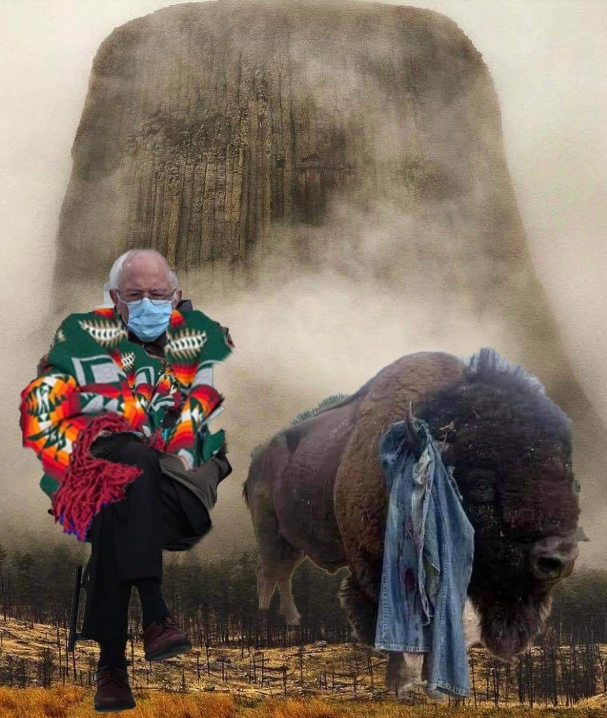 Whitney Rencountre, administrator of the Social Distance Powwow Facebook page and graphic designer made a few memes himself. "Laughter is medicine," said Whitney Rencountre to Native News Online.
Rencountre quickly shared his memes to the popular Facebook group and they were well loved, shared, and laughed at. "Everyone seemed to love the memes," said Rencountre.
South Dakota State Senator Red Dawn Foster, a citizen of the Oglala Sioux Tribe, had a comment to make on her appearance in a meme of her dressed in full regalia while being sworn in the South Dakota State Capital chambers. "I think the world is finally getting Indian humor," said State Senator Red Dawn Foster to Native News Online.
In case you're wondering, his mittens are sold out.
Jen Ellis, the artist behind Bernie's mittens, wrote on Twitter. "I'm so flattered that Bernie wore them to the inauguration. Sadly, I have no more mittens for sale. There are a lot of great crafters on ETSY who make them."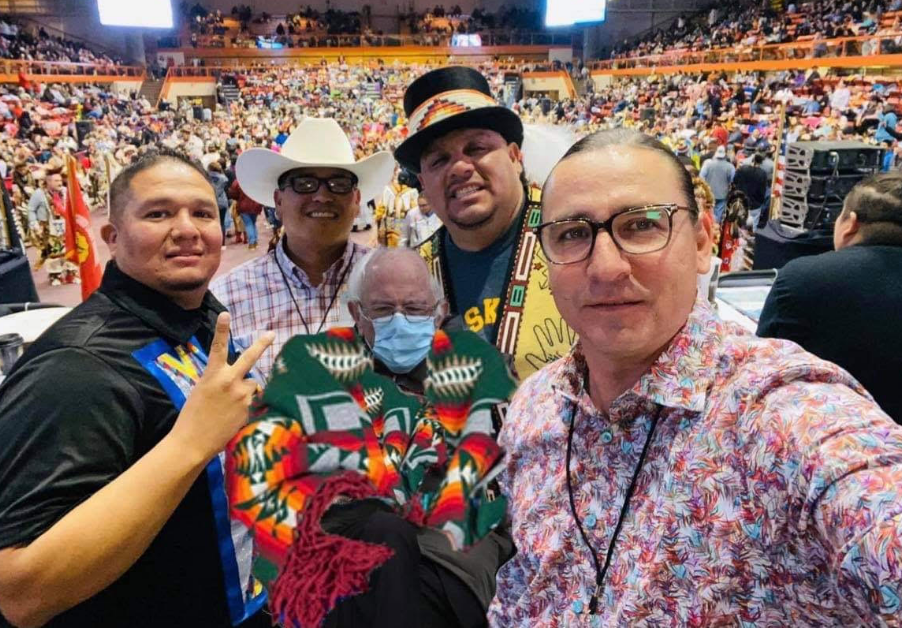 More Stories Like This
Georgia Republican Gubernatorial Primary Candidate Kandiss Taylor Makes Stupid, Crass Comment about Native Americans, the First Amendment, Georgia, and Jesus
Navajo Citizen Judge Sunshine Sykes Confirmed to Serve as U.S. District Court Judge
Indigenous Women Make Up Nearly Half of Canada's Incarcerated Population; New Legislation Seeks to Change That
Ho-Chunk Nation's Economic Arm Set to Move Forward with Casino Project 
Leaders Respond to Federal Indian Boarding School Investigative Report, Call it 'Monumental'