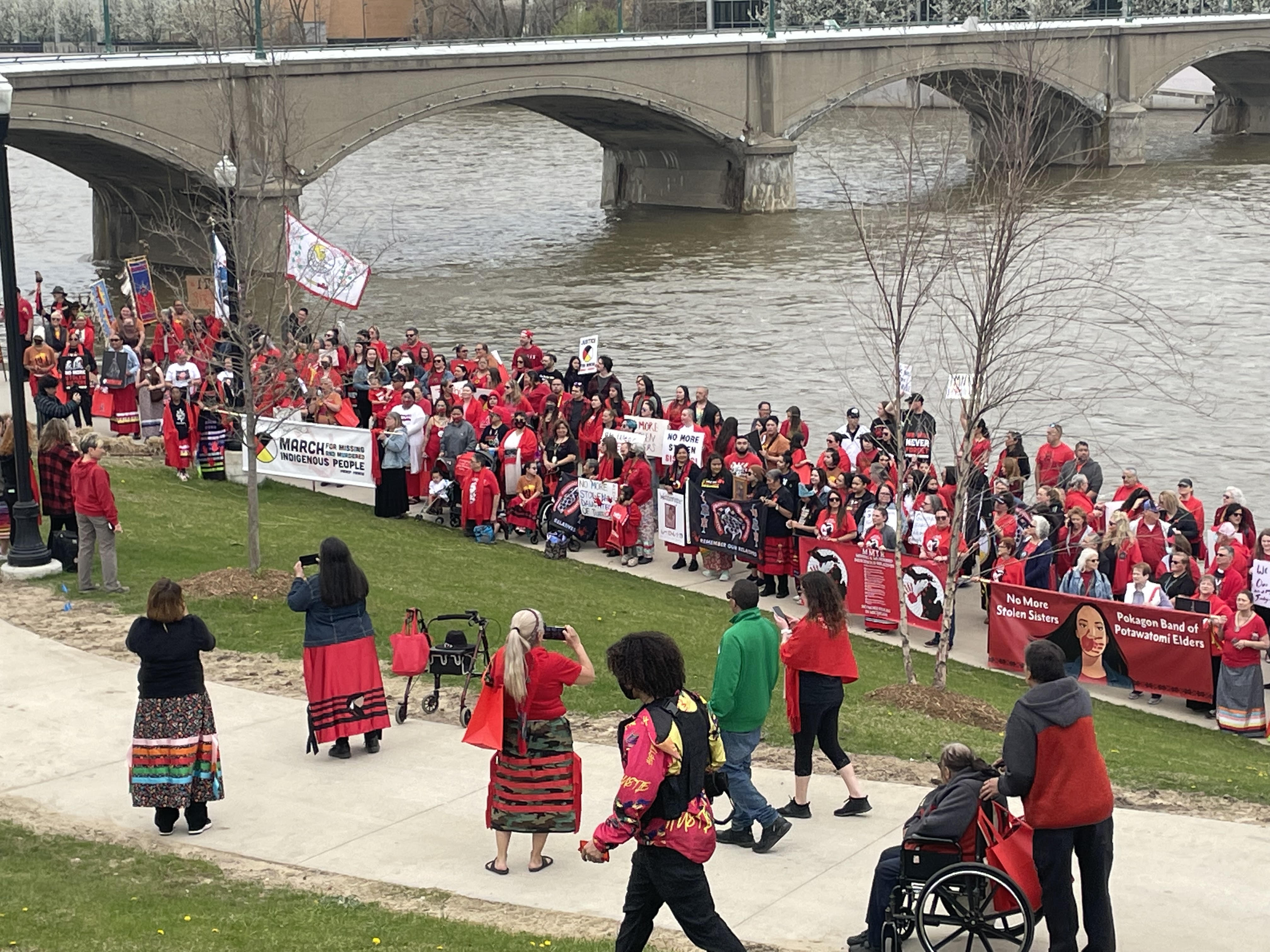 Details

By

Levi Rickert
GRAND RAPIDS, Mich. — Several hundred Anishinaabeg and supporters gathered in Ah-Nab-Awen Park on the shores of the Owashtinong (Grand River) in downtown Grand Rapids, Mich. on Thursday, May 5, 2022 to observe Missing and Murdered Indigenous Persons Awareness Day.
Above the hums of traffic from a nearby freeway as travelers went about their daily business, speakers spoke about the tragic losses encountered in Indian Country of missing and murdered Indigenous persons. The vast majority of people in the crowd wore red in observance of those lost across Indian Country.
"The problem with missing and murdered Indigenous women has been an epidemic since 1492," Melissa Isaac (Saginaw Chippewa Indian Tribe), who was an invited guest in first lady Jill Biden's box during the State of the Union, who served as the emcee of the event said.
The event in Grand Rapids was only one events held nationwide on Thursday to bring awareness to the sad reality that Native American people go missing or are murdered at rates that far surpass their White counterparts.
Michigan Governor Gretchen Whitmer sent a proclamation that was read by Melissa Kiesewetter, Native American specialist at the Michigan Department of Civil Rights. Grand Rapids City Commissioner Joe Jones read a proclamation from the City of Grand Rapids.
On Wednesday, President Joe Biden signed a presidential proclamation to recognize Missing and Murdered Indigenous Persons Awareness Day.
"For far too long, justice for Indigenous communities has been elusive. We must improve our investigations to resolve missing or murdered cases while supporting victims and their families," President Biden said.
One of the most poignant moments of the day came when the parents of Nagohns-ba Massey, a citzen of the Little Traverse Bay Bands of Odawa Indians, who was stabbed to death in Mt. Pleasant, Mich. in November 2020, spoke. She was only 21 when she was tragically murdered on the Isabella Indian Reservation in Mt. Pleasant.
"She was a MMIW advocate and a water protector. She had her whole life ahead of her," Melissa Pamp, Massey's mother, told the crowd. "When something like this happens, it affects us all, as we all know someone, at least one person, who is has been a victim of MMIW. I would encourage you to use your voice. Seek justice and show up when needed to help."
"Use tribal sovereignty to banish perpertrators from your tribal lands," Pamp said. "I encourage tribal leadership to get involced. I was fortunate enough to have some tribal leadership who were supportive of a life sentence (for the person who was convicted of killing her daughter).
"I am sorry it took all this to get involved, We do everything we can do to stop this so that other families don't have to go through what we did," Miengun Pamp, Massey's stepfather said.
After other speakers, the crowd marched through downtown Grand Rapids to bring awareness of the tragedy of missing and murdered Indigenous persons.
The event was sponsored by the three Potawatomi tribes located in southwest Michigan: Nottawasippi Huron Band of Potawatomi, Gun Lake Tribe, and Pokagon Band of Potawatomi.
More Stories Like This
Georgia Republican Gubernatorial Primary Candidate Kandiss Taylor Makes Stupid, Crass Comment about Native Americans, the First Amendment, Georgia, and Jesus
Navajo Citizen Judge Sunshine Sykes Confirmed to Serve as U.S. District Court Judge
Indigenous Women Make Up Nearly Half of Canada's Incarcerated Population; New Legislation Seeks to Change That
Ho-Chunk Nation's Economic Arm Set to Move Forward with Casino Project 
Leaders Respond to Federal Indian Boarding School Investigative Report, Call it 'Monumental'