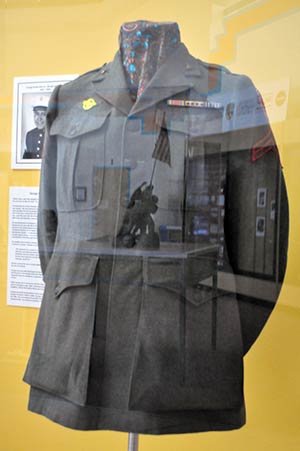 Details

By

Mark Charles
Editor's Note: This article by Mark Charles was originally published on Native News Online on August 14, 2016.
WINDOW ROCK, ARIZONA - August 14 is National Navajo Code Talkers Day and it is good that, as a nation, we remember and honor these hundreds of courageous men for their service to our country. On the Navajo Reservation, in Window Rock AZ, there is a statue erected in their honor with a plaque commemorating their service. I would like to share with you the words of this plaque and the names of each of the Code Talkers, but first I would like to give you some of the broader historical context that these men literally came out of.
Boarding Schools:
Indian Boarding Schools were the brainchild of an army Captain and Indian fighter named Richard Henry Pratt. The first school was named Carlisle Indian Industrial School and was opened in a deserted military base in Carlisle Pennsylvania in 1869.
"A great general has said that the only good Indian is a dead one. In a sense, I agree with the sentiment, but only in this: that all the Indian there is in the race should be dead. Kill the Indian in him, and save the man."
- Captain Richard Henry Pratt
In 1893 mandatory Indian Education became law and Chester Nez, one of the original 29 Navajo Code Talkers, was educated in an Indian Boarding School in Fort Defiance AZ. Here are some of his words describing his boarding school experience as a child.
Snow fell softly outside the dormitory windows. Loud whispering came from two beds away. Navajo. I'd been caught speaking Navajo three days before. The Pima matron brushed my teeth with brown fels-Naptha soap. I still couldn't taste food, only the acrid, bitter taste of lye soap. Teachers at the school were encouraged to be strict and the smaller children were frequently targeted by slaps or kicks. But the lingering taste of the soap was worse than either of those punishments.
The knowledge of constant danger sat lodged in the pit of my stomach like a rock. I tried by best to answer questions correctly, but never knew when a matron would strike. They watched, their dark cold eyes waiting for us to make a mistake, to do something wrong.
I was always afraid.
Chester Nez (from his book "Code Talker")
Boarding Schools:
"Indian Boarding Schools remained in operation in the United States as late as the 1990s. The number of Native American children in the boarding schools reached a peak in the 1970s, with an estimated enrollment of 60,000 in 1973. Investigations of the later twentieth century have revealed many documented cases of sexual, manual, physical and mental abuse occurring at such schools."  (Wikipedia)
Citizenship and Voting Rights:
In 1924 the US Congress passed the Indian Citizenship act which declared all non-citizens Indians born in the US to be citizens. However because voting was considered a states right, the states of Arizona and New Mexico kept Indians disenfranchised until 1948.
Thus, because the Navajo reservation is located in the Southwest, primarily within the states of Arizona and New Mexico, when the Navajo Code Talkers were serving this country, they did not even have the right to vote.
Please keep this history in mind as you read the following words:
The Legendary Navajo Code Talkers
During World War II, in the South Pacific Theater, the Japanese were extremely proficient at breaking into military radio communications and transmissions. Thus they were able to decipher U.S. Military codes. The U.S. Armed forces needed to find a secure method of communication if they were to have any chance of defeating a cleaver and intelligent foe. To counter the cleverness of the Japanese cryptographers, 29 Navajo Marines were recruited to devise a secret military code using their native language. By war's end, there were over 400 Navajo Marines serving as code talkers and the code vocabulary had doubled. So successful was this innovative code that the Marine Corps commanders credited it with saving the lives of countless American Marines and soldiers. It enabled their success engagements throughout the Pacific Theater which included the battles for Guadalcanal, Wake Island, Tarawa, Saipan, Guam, Midway, Iwo Jima, and Okinawa. The code paved the way to early victory for the allied forces in the South Pacific. Major Howard M. Conner, 5th Marine Division Signal Officer stationed in Iwo Jima commented on the gallantry of the Navajo Code Talkers: "Were it not for the Navajos, the Marines would not have taken Iwo Jima."
Far from their homes, these brave young Navajo Marines served our nation with honor and dignity. The tale of their exploits remained a closely guarded secret for decades in the event that the Navajo Code Talkers unique talents would be needed again. In 1968 the Navajo code was finally declassified. In July 2001, at the National Capital Rotunda, United States President, the honorable George W. Bush, awarded the Congressional Gold Medals to the first 29 Navajo Code Talkers, their surviving spouses or children. In November 2001 at the Navajo Nation capital of Window Rock Arizona, the Congressional Silver Medals were awarded to the rest of the Navajo Code Talkers, their surviving spouses or children. Sadly, many of the Navajo Code Talkers have passed on never knowing of the honor a grateful nation has bestowed upon them. The Navajo Code Talkers will never be forgotten.
Dine' Bizaad Yee Atah Naayee' Yik'eh Deesdlii
Akee, Dan
Alfred, Johnnie (or Johnny)
Allen, Perry
Anderson, Edward B.
Anthony, Franklin A.
Apache, Jimmie
Arviso, Bennie
Ashley, Regis
Augustine, John
Ayze, Lewis Franklin
Babiya, Don
Bahe, Henry Jr.
Bahe, Woody
Baldwin, Benjamin C.
Beard, Harold
Becenti, Ned D.
Becenti, Roy Lewis
Bedoni, Sidney
Begay, Carlos
Begay, Charley (or Charlie) Tsosie (or Sosie)
Begay, Charlie Y.(or H.)
Begay, E.
Begay, George K.
Begay, Henry
Begay, Jerry Claschee Jr.
Begay, Jimmie M.
Begay, Joe N.
Begay, Lee H.
Begay, Leo B.
Begay, Leonard
Begay, Notah
Begay, Paul
Begay, Roy
Begay, Samuel Hosteen Nez
Begay, Thomas H.
Begay, Walter
Begay, Walter (or Willie) Kesoli
Begay, Wilson J.
Begaye, Fleming D. Sr.
Begody, David Maize
Begody, Roger
Belinda, Wilmer
Belone, Harry Sr.
Benally, Harrison Lee
Benally, Harry
Benally, Jimmie L.
Benally, John Ashi
Benally, Johnson Delwashie
Benally, Samuel
Bennallie (or Benallalie), Jimmie D.
Bentone (or Benton), Willie Sr.
Bernard, John
Betone, Lloyd
Bia, Andrew
Billey, Wilfred E.
Billie, Ben
Billiman, Howard Jr.
Billison, Samuel
Billy, Sam Jones
Bitse, Peter John
Bitsie, Wilsie H.
Bitsoi, Delford E. (or Baldwin)
Bizard, Jesse J.
Black, Jesse
Blatchford, Paul H.
Bluehorse, David
Bowman, John Henry
Bowman, Robert
Brown, Arthur C.
Brown, Clarence Paul
Brown, Cosey Stanley
Brown, John Jr.
Brown, N.A.
Brown, Tsosie Herman
Brown, William Tully
Buck, Wilford
Burke, Bobby
Burnie, Jose Jr.
Burnside, Francis A.
Burr, Sandy
Cadman, William
Calleditto (or Calledito), Andrew
Carroll, Oscar Tsosie
Cattle Chaser, Dennis
Cayedito, Del
Cayedito, Ralph
Charley, Carson Bahe
Charlie, Sam Sr.
Chase, Frederick
Chavez, George Sr.
Chee, Guy Claus
Chee, John
Clah, Stewart
Clark, Jimmie
Claw, Thomas
Cleveland, Benjamin H.
Cleveland, Billie
Cleveland, Ned
Cody, Leslie
Cohoe, James Charles
Craig, Bob Etsitty
Crawford, Eugene Roanhorse
Crawford, Karl Kee (or Lee)
Cronemeyer, Walter
Crosby, Billy
Curley, David
Curley, Rueben
Dale, Ray
Damon, Anson Chandler
Damon, Lowell Smith
Davis, Tully
Deel, Martin Dale
Dehiya, Dan
Dennison, George H.
Dennison, Leo
Dixon, James
Dodge, Jerome Cody
Dooley, Richard
Doolie, John
Doolie, Richardson
Draper, Nelson
Draper, Teddy Sr.
Etsicitty, Kee
Etsitty, Deswood
Evans (or Evas), Harold
Foghorn, Ray
Foster, Harold Y.
Fowler, King
Francisco, Jimmy
Freeman, Edwin
Gatewood, Joseph (or Joe) Patrick
George, William M.
Gishal (or Gishall), Milton Miller
Gleason, Jimmie (or James)
Goldtooth (or Gooldtooth), Emmett
Goodluck, John V.
Goodman, Billie
Gorman, Carl Nelson
Gorman, Tom
Gray, Harvey
Grayson, Bill Lewis
Greymountain, Yazzie
Guerito, Billy Lewis
Gustine, Tully
Guy, Charles
Harding, Ben Williams (or William)
Harding, Jack W.
Hardy, Tom
Harrison, Emmett (or Tom)
Haskie, Ross
Hawthorne, Roy Orville
Haycock, Bud
Hemstreet, Leslie
Henry, Albert
Henry, Edmund Juan Sr.
Henry, Kent Carl
Hickman, Dean (or Dan) Junian
Holiday, Calvin
Holiday (or Holliday), Samuel T.
Housewood, Johnson
Housteen, Dennie
Howard, Ambrose
Hubbard, Arthur Jose
Hudson, Lewey
Hunter, Tom
Ilthma, Oscar B.
Jake, H.
James, Benjamin
James, Billy
James, George B.
Jenson, Nevy
Johle, Elliott
John, Charlie Tsihi
John, Edmund
John, Leroy
Johnny, Earl
Johnson, Deswood Remy
Johnson, Francis Taylor
Johnson, Johnnie (or Johnny)
Johnson, Peter
Johnson, Ralph
Jones, Jack
Jones, Tom H.
Jordan, David
Jose, Teddy
June, Allen Dale
June, Floyd
Keams (or Kearns), Percy
Keedah, Wilson
Kellwood, Joe (or Joseph) H.
Kescoli, Alonzo
Ketchum, Bahe
Kien, William
King, Jimmy Kelly Sr.
Kinlahcheeny, Paul
Kinsel, John Sr.
Kirk, George Harlan Sr.
Kirk, Leo
Kiyaani, Mike
Kontz, Rex T.
Lapahie, Harrison Sr.
Largo, James
Leonard, Alfred
Leroy, George (or John)
Leuppe, Edward
Little, Keith Morrison
Lopez, Tommy K.
MacDonald, Peter
Malone, Max
Malone, Rex T.
Malone, Robert
Maloney, James
Maloney, Paul Edward
Manuelito, Ben Charles
Manuelito, Ira
Manuelito, James C. Sr.
Manuelito, Johnny R.
Manuelito, Peter R.
Marianito, Frank
Mark, Robert
Martin, Matthew
Martinez, Jose
McCab+B201e, William
McCraith, Archibald
Mike, King Paul
Miles, General
Moffitt, Tom Clah
Morgan, Herbert
Morgan, Jack C.
Morgan, Ralph
Morgan, Sam
Morris, Joe
Moss, George Alfred
Multine, Oscar Phillip
Murphy, Calvin Henderson
Nagurski, Adolph (or Alolph) N.
Nahkai, James Thomas Jr.
Nakaidinae, Peter
Napa, Martin
Naswood, Johnson
Negale, Harding
Newman, Alfred K. Sr.
Nez, Arthur
Nez, Chester
Nez, Freeland
Nez, Howard Hosteen Sr.
Nez, Israel Hosteen
Nez, Jack
Nez, Sidney
Notah, Roy (or Ray)
Notah, Willie A.
O'Dell, Billy
Oliver, Lloyd
Oliver, Willard V.
Otero (or Ottero), Tom
Paddock, Layton Sr.
Pahe, Robert D.
**Palmer, Joe (originally Balmer Slowtalker)
Parrish, Paul A.
Patrick, Amos Roy
Patterson, David E.
Peaches, Alfred James
Peshlakai, Sam
Pete, Frank Danny (or Denny)
Peterson, Joe (or Jose) Sr.
Pinto, Gual (or Guy)
Pinto, John
Platero, Richard
Preston, Jimmie
Price, Joe Frederick
Price, Wilson Henry
Reed, Sam
Roanhorse, Harry C.
Sage, Andy
Sage, Denny
Salabiye, Jerry Edgar Sr.
Sandoval, Merril Leo
Sandoval, Peter Paul
Sandoval, Samuel
Sandoval, Thomas
Scott, John
Sells, John Captain
Shields, Freddie
Shorty, Dooley
Shorty, Robert Tom
Silversmith, Joe A.
Silversmith, Sammy
Singer, Oscar Jones
Singer, Richard B.
Singer, Tom
Skeet, Wilson Chee
Slinky, Richard T.
Slivers, Albert James
**Slowtalker, Balmer (later Joe Palmer)
Smiley, Arcenio
Smith, Albert
Smith, Enock
Smith, George
Smith, Raymond R.
Smith, Samuel Jesse (or Jessie) Sr.
Soce, George Bill
Sorrell, Benjamin G. Sr.
Spencer, Harry
Tabaha, Johnnie (or Johnie) Sr.
Tah, Alfred
Tah, Edward
Talley, John
Tallsalt, Bert
Thomas, Edward
Thomas, Richard Sr.
Thompson, Claire M. Sr.
Thompson, Everett (or Everitt) M.
Thompson, Francis Tso
Thompson, Frank T.
Thompson, Nelson S.
Todacheene, Carl Leo
Todacheenie, Frank Carl
Tohe, Benson
Toledo, Bill Henry
Toledo, Curtis
Toledo, Frank
Toledo, Preston
Toledo, Willie
Towne, Joseph H.
Towne, Zane
Tracy, Peter
Tso, Chester Housteen
Tso, Howard Benedict
Tso, Paul Edward
Tso, Samuel N.
Tsosie, Alfred
Tsosie, Cecil Gorman
Tsosie, Collins D.
Tsosie, David W.
Tsosie, Harry
Tsosie, Howard
Tsosie, Kenneth
Tsosie, Samuel Sr.
Tsosie, Woody B.
Upshaw, John
Upshaw, William R.
Vandever, Joe Sr.
Visalia, Buster
Wagner, Oliver
Walley, Robert (or Roberts)
Werito, John
Whitman, Lyman Jimmie
Willeto (or Willetto), Frank (or Frankie) Chee Jr.
Williams, Alex
Williams, Kenneth
Willie, George Boyd
Willie, John W. Jr.
Wilson, William Dean
Woodty, Clarence Bahe (or Bahi)
Yazza, Peter
Yazza, Vincent
Yazzie, Charlie
Yazzie, Clifton
Yazzie, Daniel
Yazzie, Eddie Melvin
Yazzie, Edison Kee
Yazzie, Felix
Yazzie, Francis
Yazzie, Frank Harold
Yazzie, Harding
Yazzie (or Yazhe), Harrison A.
Yazzie, Joe Shorty
Yazzie, John
Yazzie, Justine D.
Yazzie, Lemuel Bahe
Yazzie, Ned
Yazzie, Pahe D.
Yazzie, Peter
Yazzie, Raphael D.
Yazzie, Robert H.
Yazzie, Sam
Yazzie, William
Yellowhair, Leon
Yellowhair, Stanley
Yellowman, Howard Thomas
Yoe, George Edward
Zah, Henry
Ahe'hee' shi'chei doo shi'nali
Mark Charles
More Stories Like This
Orange Shirt Day Observed on Friday on the Grounds of Closed Tomah Indian Industrial School
Indian Country Braces for Federal Government Shutdown
'Reservation Dogs' Creators, Cast & Crew Reflect on Show's Legacy, Boarding School Era
Through the Eyes of a 6-Year-old Child, Orange Became a Symbol of an Indigenous Movement
Native Man Shot at Protest in New Mexico
Stand with us in championing Indigenous journalism that makes a difference. Your support matters.
Support our Indigenous-led newsroom as we shed light on critical issues, such as the painful history of Indian Boarding Schools. To date, we've published nearly 200 stories dedicated to this important topic, providing insights and awareness to a global audience. Our news is freely accessible to all, but its production demands resources. That's why we're reaching out to you this month for your generous contribution.
For those who commit to a recurring donation of $12 per month or more, or make a one-time donation of $150 or greater, we're excited to offer you a copy of our upcoming Indian Boarding School publication. Additionally, you will be added to our Founder's Circle. Together, we can ensure that these vital stories continue to be told, shared, and remembered.