Details

By

Tamara Ikenberg
SANDOVAL COUNTY, N.M. –– "Face mask or face fine!"
Ricardo Caté, creator of the Santa Fe New Mexican's daily "Without Reservations" comic, painted this simple warning, as well as the mask and war-bonnet-clad cartoon Chief delivering it, on the window of his truck.
"People who know my cartoon know the Chief speaks the truth," Caté said from his home in New Mexico's Santo Domingo Pueblo, a.k.a. Kewa Pueblo. "He's a man of few words, but they're usually very intelligible and inspiring or helpful."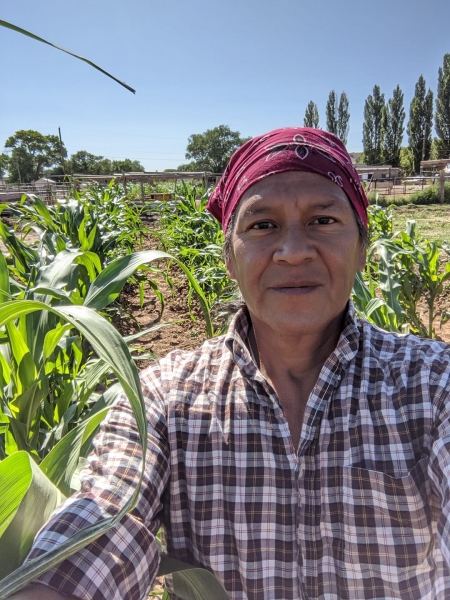 Cartoonist Ricardo Caté on the Santo Domingo/Kewa Pueblo in New Mexico. (Ricardo Caté)Caté is New Mexico's reigning clown prince of COVID-19 prevention, and he's in demand. Multiple organizations have recently reached out to him to help liven up campaigns for crucial causes.
He and his characters, including the Chief and the Custer-like General, are drawing attention to health and other causes through a variety of amusing awareness projects. Among his activities are a coloring book and brochures made in conjunction with the New Mexico Department of Health, a coloring book for the New Mexico Native Census Coalition, and billboards and pamphlets for the New Mexico Human Services Department's Dose of Reality, an anti-opioid campaign.
It's a busy and rewarding time for Caté, who also has to meet his newspaper deadlines in the midst of all his side projects. Since 2013, Caté has been ingeniously injecting Indian humor into mainstream society and expressing the quirks and challenges of dealing with the dominant culture through Without Reservations.
Native News Online chatted with Caté about his role as a health advocate, his cartoon history, and those "Lockdown Reservation Quarantine Blues."
How did the Chief end up on your truck?
I submitted that as a cartoon for the New Mexican in early July. One morning I was waiting for my kids in Santa Fe and just decided just to paint that on there. That was about the time when the Governor of New Mexico came out with that mandate that you had to wear a face mask otherwise you'll be fined. So I came up with that simple statement, and everyone recognized the Chief. It's a driving billboard. I get a lot of people honking at me in Santa Fe in support. I had it parked downtown by a park when I first did that, and at least twenty people biking by, running by or walking by, would stop and take a picture of it or take a selfie with my truck in the background.
Tell us how the Without Reservations COVID-19 prevention coloring book for the New Mexico Department of Health came about.
They first asked me to do some cartoons for brochures, then people wanted to know more about it, so I did a public service announcement on TV, then the local news interviewed me and people just thought it was like the coolest thing, and then someone said let's come up with a coloring book. It was just a spark and now it's a big old flame. The cartoons that are in there are funny. I'm trying to make it funny; not to make fun of the pandemic, but to look at it from a humorous standpoint, so people still get the seriousness of it, but on a lighter note.
Can you give us a little coloring book preview?
The cartoons are mostly southwest and New Mexico-based. They're Pueblo, unlike my regular cartoons, which are of Plains Indians. This one is more of our culture. It's got the kivas, and the outside ovens and buildings. So It's more regional. I just had fun doing that. My mom likes to color so it will be perfect for her. It's not hard. It's for kids. I'm also working with the New Mexico Native Census Coalition and we're putting out a comic book for that. I'm supposed to draw more attention to the Census for tribal communities in New Mexico to get more Native people to get counted so we don't miss out on that money.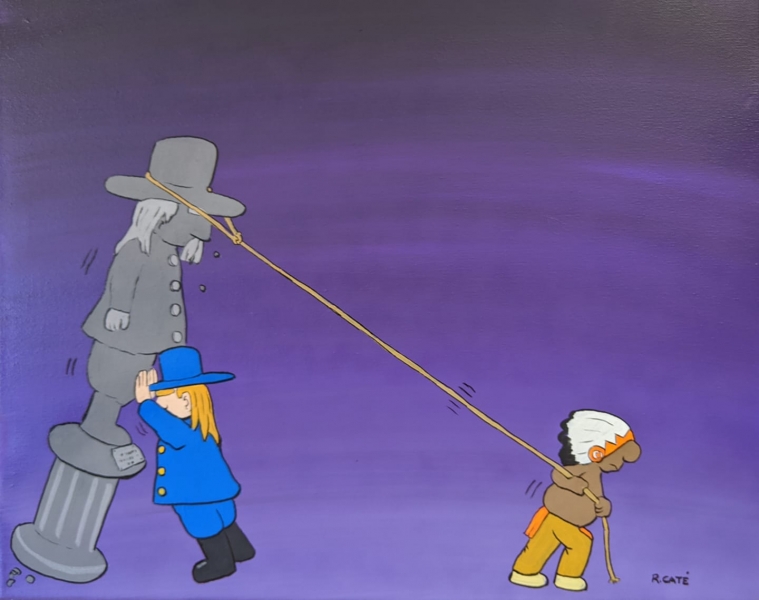 The Chief and The General clash in this "Without Reservations" cartoon by Ricardo Caté.
Without Reservations is being used to bring awareness to so many important causes. How do you feel about your role as a health and social justice advocate?
I like the fact that these [organizations] are searching me out to help them. I am very happy to be able to assist. It's cool that my cartoons are seen as a way to reach a bigger audience, especially kids, with the coloring books. I'm just glad my cartoons are seen as a venue for that.
How has COVID-19 influenced your work?
I've always drawn about what's happening in my state and my community and the nation. I just draw about current events. And with COVID-19, there's all kinds of stuff. You throw in this guy who's supposed to be the president. You throw in his antics and man, [the potential material] is almost endless. There is enough to come out with a book. Right now I'm working on my calendar for next year, but right on the heels of that I'm going to do the book. This pandemic is still going and I'm still getting material and adding to it. I'm thankful I have all this opportunity to put out all these cartoons and make people feel better and even laugh.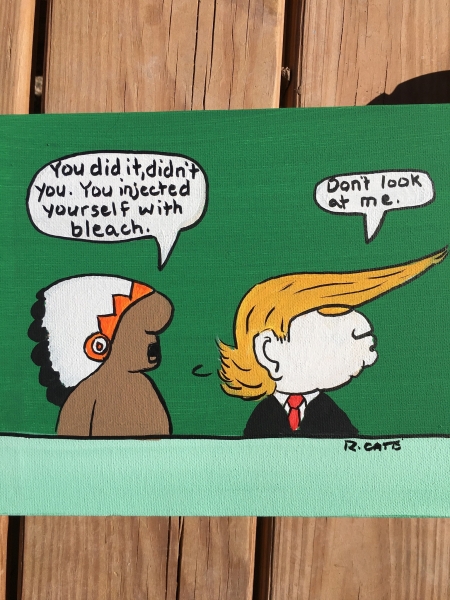 A painting of President Trump and The Chief by cartoonist Ricardo Caté.
How did you settle on your current rendition of Trump?
You can see when you go through my Facebook page, starting from the year before he was elected, when he was first running, he looks really different. Right about the time he got elected I got comfortable in the way I was drawing him. It's really simple. The hair really sticks out, then the lips, then the double chin and all that. So he became very recognizable and that was my favorite rendition.
In some ways, is President Trump a version of the General?
Trump is just himself. You can't make this stuff up. So as a cartoonist especially, you can't make him up. You just draw him as he is. He's a character of his own, like in that interview the other day where he's filing through the paper, looking at his charts. I'm sure I can sit down and think about a cartoon to draw about him with his charts.
The General is always going to be the General. And it's a good thing that the General is the General and the Chief is the Chief and I never gave them names and they're just generic, because now the Chief speaks for the Native people and the General speaks for the dominant culture. If you look very closely, the Chief's thinking process and his vocabulary is better than the General's and it's definitely better than Trump's. It's not stereotypical Indian talk with limited vocabulary, because I'm not like that. I'm very well educated. I want people to know we are very well educated.
Why is it important to keep laughing and being inventive through this crisis?
It's all we can do. Otherwise we'll go crazy. It's a really good time [for creativity]. People will probably look back on these few months and say these Americans were pretty creative during this virus. Some artists are using it to their advantage: making videos and coming up with songs. As a cartoonist, I'm simply on that train. My friend Adrian Wall came up with this song "Lockdown Quarantine Reservation Blues" and asked me to shoot a video for it and I said of course. So I took my little cousins and I shot a video and my friend edited it.
Did you have the Lockdown Quarantine Reservation Blues?
Oh yeah. This was at the very beginning when you couldn't even leave your house and stuff like that. It was a time to not be selfish. I see my mom every day. She lives across the lot from me and I massage her feet and back every day whenever I can. When I'm home, I walk across the lot to do that. So in order to do that, I have to protect myself and not get the virus so I can see my mom and be with her. She's 79 and she's kind of frail. During that time you just had to not be selfish and adhere to the rules of the quarantine and the lockdown.
I've heard you say your characters' bulbous noses are based on the style of Mad Magazine cartoonist Don Martin. Can you tell us about that and other cartoonist influences?
I grew up in the 70s when Mad was huge, especially for us nerds. Mad was just big at the time and I was in grade school seeing humor for the first time that wasn't Native humor. Don Martin was my favorite cartoonist at the time and he was just a big influence. The way he drew the cartoons and the sounds were just hilarious. Around that same time was Andy Capp. He also had the big nose and you couldn't see his eyes. I always thought that was pretty cool. You could still get the point across, you could still get his emotions even without using the eyes. I saw that as a challenge, so in 2010, I took the eyes off my characters. My dad loved Andy Capp too. It's kind of a tribute to my dad, who passed away in 2001.
Do you ever think about how your father would view your success and Without Reservations?
Me and my mom talk about it all the time. She knows he was always the one pushing me to do this. While my dad was still here, he was very active in our tribal education system and tribal housing and our veterans program. He was constantly up at the legislature and he would have meetings with representatives and senators trying to raise money. He would come to me and say something like, "This guy I'm meeting with is a hunter, he hunts bears. Could you draw a cartoon about that and he can laugh and we can start our meeting like that?" He got used to asking me to draw cartoons for these people he was going to talk to to break the ice. He would tell me I should do this for a living. I didn't really think about doing this for a living until November 2003 when I sold my first cartoon.
Are there many other Native American cartoonists?
There are tons, but the thing is they're drawing for their respective tribal newspapers. I'm the only one that I know of with a daily cartoon in a mainstream newspaper. Without Reservations went from the bottom left hand corner to the top left hand corner, and finally it's in the upper righthand corner in the largest space. That's where your eyes automatically go when you open the page. I'm in a prestigious spot.
Why do you think you're still the only Native American cartoonist with a daily mainstream newspaper strip?
I wouldn't take no for an answer from the newspaper. In 2007, it was my job to get in. At that point I felt confident enough that I was just as good as Don Martin, Bill Watterson and Gary Larson. I walked into that newspaper and I didn't take no for an answer. But once I got in, then it was my job to keep the quality up and improve on that. I've been tweaking it for the last 13 years.
How has it changed?
Back then I did a lot of inside jokes where only Natives would get it. People would constantly tell me, "I didn't get yesterday's cartoon." And I would simply say, "Well, that's okay, because I don't get the cartoons in The New Yorker sometimes." But then I thought about it, and I thought that's not a very good answer. As an artist I shouldn't be offended that people don't get it. I should be improving myself so more people get it. So about five years ago I grew up and stopped thinking like that and I thought, "Okay, let's get to work, let's see what I can do to tweak this so more people can understand it." Because ultimately that's my goal, to get more non-Natives to read it so I can put these Native issues on the table and then go from there.
More Stories Like This
Here's What's Going On In Indian Country, September 28 —October 5
Alaska Native Heritage Center Honored with 2023 International Guardians of Culture and Lifeways Award
Eighth Generation Blanket Featured on Cover of British Vogue in October
Here's What's Going On in Indian Country, September 21 —September 28
The Land That Carries Our Ancestors: Contemporary Art by Native Americans Exhibition Begins Sept. 22 at National Gallery of Art
Stand with us in championing Indigenous journalism that makes a difference. Your support matters.
Support our Indigenous-led newsroom as we shed light on critical issues, such as the painful history of Indian Boarding Schools. To date, we've published nearly 200 stories dedicated to this important topic, providing insights and awareness to a global audience. Our news is freely accessible to all, but its production demands resources. That's why we're reaching out to you this month for your generous contribution.
For those who commit to a recurring donation of $12 per month or more, or make a one-time donation of $150 or greater, we're excited to offer you a copy of our upcoming Indian Boarding School publication. Additionally, you will be added to our Founder's Circle. Together, we can ensure that these vital stories continue to be told, shared, and remembered.