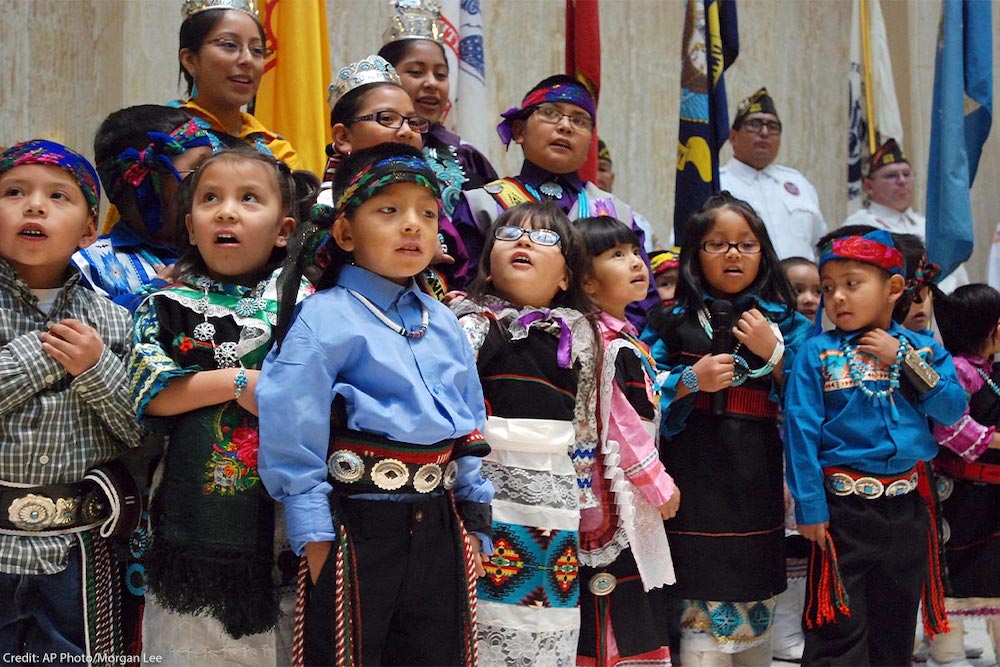 Details

By

Elyse Wild
Indian Country breathed a sigh of relief yesterday after months of anxiety over the possibility of a substantial blow to tribal sovereignty as the Supreme Court affirmed the constitutionality of the Indian Child Welfare Act (ICWA).
ICWA was passed in 1978 and gives tribal governments exclusive jurisdiction over Native children who live on reservations and is considered a core legal tenant to tribal sovereignty.
The Court upheld ICWA as law of the land in the case Haaland v. Brackeen by a 7-2 vote. Justices Clarence Thomas and Samuel Alito dissented.
The Court's decision represents a significant victory for federal Indian law and the rights of tribes and Native children across the nation.
Here's what Native American leaders and government officials are saying about the landmark ruling and what it means for Indian Country.
Never miss Indian Country's biggest stories and breaking news. Sign up to get our reporting sent straight to your inbox every weekday morning.
Statement from President Joe Biden
I stand alongside Tribal Nations as they celebrate today's Supreme Court decision. This lawsuit sought to undermine the Indian Child Welfare Act – a vital law I was proud to support. The Indian Child Welfare Act was passed to protect the future of Tribal Nations and promote the best interests of Native children, and it does just that. The touchstone law respects tribal sovereignty and protects Native children by helping Native families stay together and, whenever possible, keeping children with their extended families or community who already know them, love them, and can help them understand who they are as Native people and citizens of their Tribal Nations. The Indian Child Welfare Act safeguards that which is most precious to us all—our children. Today's decision from the Supreme Court keeps in place a vital protection for tribal sovereignty and Native children.
Our Nation's painful history looms large over today's decision. In the not-so-distant past, Native children were stolen from the arms of the people who loved them. They were sent to boarding schools or to be raised by non-Indian families—all with the aim of erasing who they are as Native people and tribal citizens. These were acts of unspeakable cruelty that affected generations of Native children and threatened the very survival of Tribal Nations. The Indian Child Welfare Act was our Nation's promise: never again.
Tribal Nations fought hard to pass the Indian Child Welfare Act, and I am proud to have joined them in the ongoing efforts to defend it. Vice President Harris and I will continue to stand with Tribes to protect Native children, honor tribal sovereignty, and safeguard the essential principles of the Indian Child Welfare Act.
Secretary of the Interior Deb Haaland (Laguna Pueblo)
Today's decision is a welcome affirmation across Indian Country of what presidents and congressional majorities on both sides of the aisle have recognized for the past four decades.
For nearly two centuries, federal policies promoted the forced removal of Indian children from their families and communities through boarding schools, foster care, and adoption. Those policies were a targeted attack on the existence of Tribes, and they inflicted trauma on children, families, and communities that people continue to feel today.
Congress passed the Indian Child Welfare Act in 1978 to put an end to those policies. The Act ensured that the United States' new policy would be to meet its legal and moral obligation to protect Indian children and families and safeguard the future of Indian Tribes.
Rep. Tom Cole (R-OK), Chickasaw and Rep. Sharice Davids (D-KS), Ho-Chunk
Since 1978, the Indian Child Welfare Act has protected vulnerable children from being taken from their tribal communities and culture during custody or guardianship proceedings.
This landmark decision rightly upholds protections for Native children and reaffirms the sovereign rights of tribal governments. We applaud the Supreme Court in rejecting these challenges and standing with Native American children and their right to remain in their own cultures.
Rep. Mary Peltola (D-AK), Yupik
I am overjoyed that the Supreme Court has affirmed both the sovereignty of tribal governments and the irreplaceable bonds of Indigenous family.
This decision provides certainty and security for children and families all across this country and respects the basic principles of self-governance for Native American tribes. This is an important step in continuing the process of intergenerational healing from long histories of separation and loss and a victory for tribal advocates everywhere. I look forward to strengthening ICWA and making sure that children everywhere are able to stay with their families and loved ones.
John Echohawk (Pawnee) Native American Rights Fund Executive Director
Today's decision affirming the constitutionality of ICWA is a major victory for Tribes, tribal families, and tribal children and it should put an end to the challenges to ICWA and the broader challenges to tribal sovereignty. NARF is honored to have worked alongside all who stood to defend ICWA―including over 500 Tribes, dozens of states, current and former members of Congress, the nation's leading child welfare experts, former foster youth, medical experts, and legal experts. I hope Indian Country takes time today to pause and celebrate this victory, hug our children, and give thanks to our ancestors who have walked with us during each stage of the case. No matter what ICWA's opponents might try next, Tribes will never stop working to protect and care for their children, and NARF will always show up to the fight.
Great Plains Chairmen's Association Chairman and Oglala Sioux Tribal President Frank Star Comes Out
We must not forget the flawed policies that brought us to where we are today – effects of the boarding school and removal policy linger still here today.
Make no mistake; they are connected… We can do a much better job working together. And we can start by sitting down and revisiting how ICWA is implemented here in this state.
National Council of Juvenile and Family Court Judges on Supreme Court Ruling Upholding Indian Child Welfare Act (ICWA)
The Supreme Court's decision marks a significant milestone in upholding the Indian Child Welfare Act (ICWA), preserving tribal sovereignty, and protecting Native American children and families. It affirms the ICWA's constitutionality, emphasizing the importance of preserving cultural identity and connections. This decision aligns with our collaborative efforts to educate the judiciary in both state and tribal courts, as well as our resolution calling for full implementation of the ICWA, which recognizes the historical injustices faced by Native American communities and emphasizes the significance of tribal sovereignty in promoting the well-being of Native American children.
By prioritizing the placement of Native American children within their extended families, tribes, and Native American communities, this decision helps to rectify past wrongs and fosters a sense of identity and resilience. It underscores the obligation of state courts and child welfare agencies to actively preserve and strengthen Native American families, ensuring the best interests of Native American children are safeguarded.
California Assemblyman James Ramos (Serrano/Cahuilla)(D-San Bernardino)
California's tribes today join other Native Americans across the United States in celebrating the reaffirmation of our sovereign right to raise our children in tribal communities where they can maintain their tribal identity, culture and traditions." He noted that the Court's majority opinion was released almost four years to the day – June 18, 2019 – since Gov. Gavin Newsom's apology to California's Indians for the state's historical wrongdoings.
No one can underestimate the trauma of genocide, the forced separation of children from their parents, the creation of boarding schools, and other crimes aimed at eliminating or assimilating Native Americans in California and the nation. We have survived the attacks on our existence and our culture, and we will continue to resist attempts to deny our rightful place on this land as sovereign people.
I am proud and appreciative that California Attorney General Rob Bonta led a bipartisan coalition of 24 attorneys general in filing an amicus brief in the case arguing for upholding ICWA."
California Assembly Speaker Anthony Rendon (D-Lakewood)
The United States and California have a long, despicable history when it comes to the treatment of Native Americans. That is one reason why today's ruling by the Supreme Court is so important. With this landmark ruling, the Court honors the spirit of cultural preservation and ensures that Native American children have the opportunity to thrive within their own heritage. The Supreme Court got this one right.
Saint Regis Mohawk Tribe. ICWA Program Manager Sky Timmons
ICWA is possible and lasting because of our people opening up their homes both short and long-term to our most vulnerable population. When we are able to foster the minds of our children and connect them to our culture and traditions, they're able to feed their identity and spirit in positive and healthy ways. We know this leads to higher levels of self-esteem, academic achievement, lower rates of suicide and depression, and just a general overall state of well-being. We fight for many reasons, but the safety of our children remains our highest and greatest priority.
National Congress of American Indians, Native American Rights Fund, National Indian Child Welfare Association, Association on American Indian Affairs
Today's decision is a massive victory for Native children, Native families, and the future of Native peoples. The Court's decision affirmed that the Indian Child Welfare Act (ICWA) is constitutional, puts the best interests of Native kids first, and is grounded in tribal sovereignty. This ruling respects the work that Tribal Nations have done for millennia to ensure Native kids stay connected to their families, communities, and cultures whenever possible.
Not only will this ruling allow Indian Country to continue to advocate for the best interests of Native children, but it also reaffirms what we have said and known all along: Tribal Nations are sovereign nations. Similar to states or foreign countries, Tribal Nations have the inherent powers of self-government and have the right to provide for the social, economic, safety, and cultural needs of their citizens.
For too long, ICWA's opponents have used cases like Haaland v. Brackeen to try to undermine tribal sovereignty. Today, the Justices have sent a clear message that these biased, ahistorical attacks have no legal foundation and will not be tolerated. We hope this decision will lay to rest the political attacks, but let this case show that Indian Country and its many bipartisan allies are united in defense of Native children and of tribal sovereignty.
Today's ruling is a ringing endorsement of the protections that ICWA requires. The ruling reinforces that ICWA is binding federal law. The court's opinion adds momentum to collective efforts to increase ICWA compliance, enact state-based ICWA laws that build on ICWA's strong foundation, and continue to support tribal child welfare and justice systems.
Indian Country stands together in joy with the countless allies who have supported us throughout this case.
National Congress of American Indians President Fawn Sharp (Quinault Nation)
This victory now means the extraordinary vision of Tribal Leaders who fought so long and hard to pass ICWA in 1978 is now perfected and will be the law of the land for generations to come. Our children, our future, and our very existence as Native people will no doubt continue to survive and thrive just as our Creator intended and ancestors envisioned. Our prayers were answered, and today we honor every voice that joined us to make clear Tribal Nations have an inherent sovereign right to protect the interests of our children and future.
Sen. Brian Schatz (D-HI), Chairman of the U.S. Committee on Indian Affairs
The Supreme Court just validated what Indian Country and Tribal advocates have been saying for generations: the Indian Child Welfare Act is the gold standard of child welfare policy. I applaud today's decision, which upholds the constitutionality of this landmark law, respects Tribal sovereignty, and protects the best interests of Indian children.
Sen. Lisa Murkowski (R-AK), Vice Chair of the U.S. Senate Committee on Indian Affairs
In a victory for Native people, the Supreme Court has fully upheld the constitutionality of the Indian Child Welfare Act. I applaud the decision and am proud to have co-led the Congressional amicus brief to the Court. I also want to thank those who tirelessly fought to defend this important child welfare policy.
Sen. Catherine Cortez Masto (D-NV)
This decision is critical for Tribal sovereignty and will help protect Native American children in Nevada and across the country," said Senator Cortez Masto. "I have consistently spoken out in favor of protecting the Indian Child Welfare Act to keep Native families together. I'm pleased to see this law upheld, and I will continue working to protect Native communities.
Society of Indian Psychologists President Joseph P. Gone, Ph.D.
We appreciate that the court acknowledged that the routine placement of American Indian and Alaska Native children outside our community threatens the continued viability of that community, which psychological science shows may contribute to their impaired physical, spiritual, mental and emotional health.
We expect this decision to help keep American Indian and Alaska Native families intact in their communities and to minimize state government placements of such children outside their communities.
Prairie Band Potawatomi Nation Chairman Joseph "Zeke" Rupnick
Today's Supreme Court decision upholds the sovereignty of Native Tribes and allows us to continue to give our children, no matter their family circumstances, the opportunity to embrace their Native culture and history – so much of which is learned in our family homes due to centuries worth of attempts to erase us. The Supreme Court preserved the integrity of federal law and, by doing so, preserved our culture for generations to come.
Navajo Nation President Buu Nygren
The Indian Child Welfare Act is a vital tool for protecting Navajo families and communities, and we are grateful that the Supreme Court has recognized its importance.
Recently, I met a baby Navajo boy about the same age as my daughter. His smile lit up my office as I watched him play. He filled the office with the happiness children bring," said President Nygren. "The U.S. Supreme Court's decision in the Brackeen v. Haaland case is a victory for the Navajo baby toddler and all Indigenous children and all Indigenous Nations in the United States. Thank you to the advocates, to our Navajo Nation Department of Justice, and to the U.S. Supreme Court Justices.
Speaker of the 25th Navajo Nation Council Crystalyne Curley
Our prayers have been answered with today's ICWA ruling from the Supreme Court. It's been a long, hard-fought battle on the legal end and in the hearts and minds of Indigenous children and families across the country. Our families, leaders, and advocates remained united and persevered throughout this legal challenge," said Speaker Curley. "On behalf of the Navajo Nation Council, I thank the Supreme Court Justices who honored and respected the sovereignty of the first people of this country and ruled in support of our children.
Navajo Nation Council Delegate Amber Kanazbah Crotty
The United States Supreme Court upholding the Indian child welfare act as constitutional is just one small step in the right direction to protect our Navajo children. As a nation, we must do more to prevent our children from entering the child welfare system, and we must continue to fight for their futures. A future free of violence, a future with unlimited opportunities, and a future where our language and culture are integrated back into our lifeways.
Cherokee Nation Principal Chief Chuck Hoskin, Jr.
Today, the Supreme Court once again ruled that ICWA heralded as the gold standard in child welfare for over 40 years is constitutional. Today's decision is a major victory for Native tribes, the children, and the future of our culture and heritage. It is also a broad affirmation of the rule of law and of the basic constitutional principles surrounding relationships between Congress and tribal nations.
As chief, I don't think there is a day that goes by where I don't hear of another attack on our rights and our sovereignty, whether in court, Congress, the media, or statehouses. We hope this decision will lay to rest the political attacks aimed at diminishing tribal sovereignty and creating instability throughout Indian law that have persisted for far too long.
More Stories Like This
LA's Largest-Ever Land Back an 'Important Step' in the Movement
'It's happy sad': Two Oyate Boys Leave Carlisle, Others Left Behind
'I just don't want it to die in front of me' | One Ho-Chunk Man's Mission to Save Ho-Chunk Language
Association on American Indian Affairs Strengthens Executive Leadership with New Hire
California Excluded from Federal MMIP Support, Leaders Pressure Dept. of Justice for Inclusion
Native News is free to read.
We hope you enjoyed the story you've just read. For the past dozen years, we've covered the most important news stories that are usually overlooked by other media. From the protests at Standing Rock and the rise of the American Indian Movement (AIM), to the ongoing epidemic of Murdered and Missing Indigenous People (MMIP) and the past-due reckoning related to assimilation, cultural genocide and Indian Boarding Schools.
Our news is free for everyone to read, but it is not free to produce. That's why we're asking you to make a donation to help support our efforts. Any contribution — big or small — helps. Most readers donate between $10 and $25 to help us cover the costs of salaries, travel and maintaining our digital platforms. If you're in a position to do so, we ask you to consider making a recurring donation of $12 per month to join the Founder's Circle. All donations help us remain a force for change in Indian Country and tell the stories that are so often ignored, erased or overlooked.
Donate to Native News Online today and support independent Indigenous journalism. Thank you.