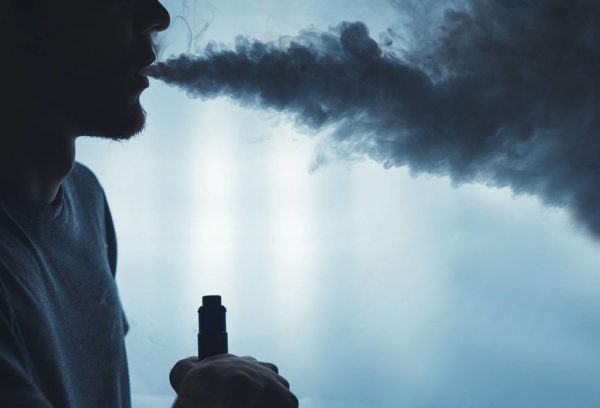 Details
REDWOOD COUNTY, Minn. — Vaping doesn't turn as many heads as it used to in the Lower Sioux Indian Community.
Members of the Minnesota-based tribe have come to accept the use of e-cigarettes, and in recent years have normalized vaping almost as much as smoking, says Elliot Christensen (Mdewakanton Dakota), the Community's Tobacco Prevention Coordinator.
Electronic cigarettes, also known as e-cigarettes (e-cigs), vapes, e-hookahs, vape pens, mods, and electronic nicotine delivery systems (ENDS), are battery powered commercial tobacco products that deliver nicotine, flavorings, and other harmful chemicals in the form of an aerosol. Users of these products inhale an "e-liquid" that may contain nicotine, as well as varying compositions of flavorings, propylene glycol, vegetable glycerin, and other ingredients; bystanders can also breathe in these dangerous substances from the air when in close proximity.
A former vaper himself, Christensen understands why e-cigs could appeal to smokers and nonsmokers alike: they give users a rush, come in a variety of flavors, are widely available and easily accessible. He quit for good when they started to make him feel sick, and when he noticed a film developing on his car windshield and realized "that's getting into my lungs."
"It just wasn't worth it," he said.
Both his health concerns and distaste for the flavor prompted Christensen to quit using e-cigarettes, not the social pressure from his community. Friends and relatives didn't push him to stop vaping, perhaps because smoking has always been more socially acceptable in Native communities than in mainstream America. According to the Centers for Disease Control and Prevention (CDC), American Indian and Alaska Native (AI/AN) people have the highest prevalence of smoking in the nation and the lowest quit rates. Despite tribal cessation efforts that have helped to reduce smoking rates over the last decade, the growing popularity of e-cigarettes now poses a new threat for families in Indian Country, especially for youth.
When Christensen started at the Lower Sioux Indian Community three years ago, his main focus was on traditional tobacco, which is used for ceremonies and medicinal purposes. And while he has seen a big decline in commercial tobacco use among youth, new challenges arose when the community was "slapped in the face with e-cigs" and vaping took over the spotlight. As Christensen began to notice more people vaping around the community, he expanded his program to include more cessation and tobacco education work. He has caught kids using mods in community gyms and in public places and has had to watch as some young people have suffered breathing trouble and near nicotine overdose.
Christensen worries that if he can catch youth vaping in such visible spaces, he "can only imagine how much they're doing it in private."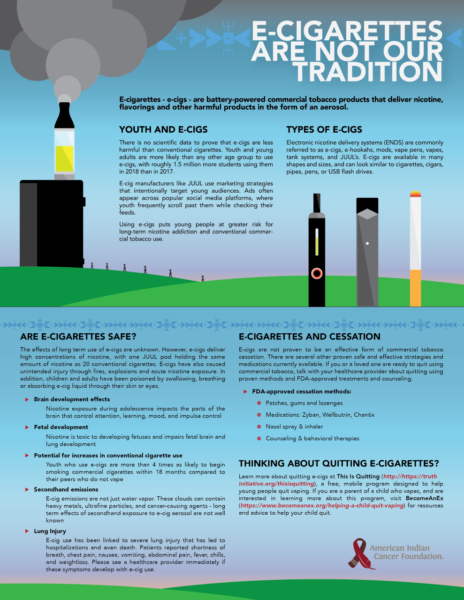 How Vaping Affects Health and Culture in Indian Country
The vaping epidemic is affecting communities across the nation. Youth and young adults are using e-cigs at alarming rates, and the numbers are only rising. The CDC's 2019 National Youth Tobacco Survey showed the number of middle and high school students using e-cigarettes rose from 3.6 million in 2018 to an astounding 5.4 million in 2019 - a difference of about 1.8 million youth. According to the Survey, about 1 in 4 high school students (27.5%) used e-cigarettes in the last 30 days, a 1.5% increase from 2011.
"E-cig use has definitely increased in the general population," said Alberta Becenti (Navajo), public health advisor of health promotion/disease prevention programs for Indian Health Service. Unfortunately, very little national data on e-cig prevalence exists for AI/AN communities, so to get a sense of vaping trends among Indigenous people Becenti says the IHS is forced to rely on data for the general population.
But even though the National Youth Tobacco Survey provides statistics for the nation as a whole, it's fair to assume that Native populations are vaping at least as much, if not more, than non-Natives given their history with commercial tobacco, says Canli Coalition Founder Rae O'Leary (Turtle Mountain Band of Chippewa).
"We've seen a sharp increase in vaping among young people nationwide. Throughout history, we've also seen how the tobacco industry targets and exploits Native Americans, which has resulted in the highest tobacco prevalence of all other races," O'Leary explained.
O'Leary founded the Canli (Tobacco) Coalition of the Cheyenne River Sioux Tribe in 2009 to combat the harmful effects of commercial tobacco use in South Dakota communities. Over the years the Coalition has been successful in reducing tobacco burdens and has led the Cheyenne tribe to become the fourth tribe in the nation with a comprehensive smoke-free air policy.
There is evidence supporting O'Leary's hypotheses in the 2017 Youth Tobacco Survey among South Dakota middle school students, which revealed that 1 in 5 American Indian youth have tried vaping, compared to 1 in 20 of their White counterparts. Further indication that Indigenous youth are vaping at higher rates than other groups comes from the 2019 Minnesota Student Survey. Across Christensen's home state, 34% of 11th grade Native students reported using e cigarettes in the past 30 days compared to just 26% overall.
This data is "very concerning," says Sarah Brokenleg, MSW (Rosebud Lakota Sioux), the American Indian Community Specialist at Minnesota Department of Health's (MDH) Office of Statewide Health Improvement Initiatives. No amount of nicotine is safe for youth, she added.
"Because the brain is still developing until about age 25, youth and young adult exposure to nicotine can lead to addiction and disrupt attention and learning," Brokenleg explained. Long-term effects of e-cigarettes are still unknown, but all tobacco products, including e-cigarettes, can pose health risks; vaping irritates the lungs and has negative impacts on the heart as well. Perhaps the greatest danger is that it can lead users to smoking cigarettes, which research shows increases our risk for developing several cancers and accounts for nearly 30% of all cancer deaths.
Recent CDC reports on e-cigarette, or vaping, associated lung injury (EVALI) outbreaks have finally made people second guess the new trend. As of December 2019, a total of 2,561 hospitalized EVALI cases or deaths have been reported from all 50 states, the District of Columbia, and two U.S. territories. More than 50 deaths have been confirmed in 27 states and the District of Columbia.
Parents and grandparents across the Lower Sioux Indian Community quit using e-cigs once they realized how detrimental vaping could be to their health. Christensen is pleased that adults are becoming more informed, but continues to worry about the kids. The community has made great strides to reduce commercial tobacco use among youth, however, the rise of e-cigs and their popularity seems to be reversing the progress.
The National Youth Tobacco Survey shows the most common reasons for using e-cigs were: use by friend or family member, availability of flavors, and the belief that they are less harmful than other forms of tobacco such as cigarettes. According to e-cigarette powerhouse JUUL - the preferred brand for youth across the nation - a single JUUL pod contains as much nicotine as a pack of cigarettes. E-cigs can become highly addictive, and the general misconception among youth that vaping is a safe alternative to smoking is worrisome.
"Now we'll have to face a new generation dealing with addiction from these products," Christensen said.
Although it seems to be more acceptable for adults to use e-cigs, youth are always watching and have a tendency to engage in the same behaviors, said Josh Hudson (Bay Mills Ojibwe), project director at the National Native Network (NNN).
"We're giving adults a pass, and now by proxy we're giving youth a pass," he said. "It's not quite the norm yet, but it's getting there. Especially with how concealable the devices are." Some pods are so covert that guardians can't tell when kids are vaping at all. In recent years manufacturers have released vape products that double as everyday items, like backpacks and watches, leaving many parents clueless.
In his fourth year with NNN, Hudson leads national efforts to reduce commercial tobacco use and improve cancer prevention and control in Indian Country. The organization functions as a "network of networks," bringing together several tribal organizations to address health disparities faced by AI/AN communities.
Accentuated throughout NNN's website is the phrase Keep It Sacred. Traditional tobacco has always been an integral part of Indigenous culture and has taken on many sacred roles throughout history. Native people share a universal understanding that when tobacco is used in positive ways - for spiritual, emotional, mental and physical guidance - it has the power to heal and protect; but when abused can also be harmful. The misuse of commercial tobacco throughout the years has prompted a Keep It Sacred movement across Indian Country, reinforcing Indigenous values that tobacco should be strictly ceremonial or medicinal, and never inhaled into the lungs.
Similar to conventional cigarettes, e-cigs are commercial tobacco products that contain nicotine, but technically do not contain tobacco. If this is the case, how does vaping align with beliefs about traditional tobacco? Will increased use of e-cigs shift Native views on sacred tobacco? Brokenleg explains that MDH tribal tobacco coordinators have worked hard to educate their communities on the differences between commercial and traditional tobacco, and trusts that cultural values have been ingrained in youth so they can make appropriate decisions. However, she wonders if people may vape as a way to "absolve them of the shame and guilt they might feel due to their misuse of tobacco."
Hudson agreed, stating that people use it as an excuse to not feel bad about their addiction. And even though vaping isn't going to downplay the sacredness of traditional tobacco, "developing a dependence to something isn't going to fix anything."
"I get it. Nobody wants to feel bad," Hudson said. "But at the end of the day, it's still an addiction."
Changing the Dialogue: Taking Action Against E-Cigarettes
Growing concerns for the health of Indigenous families is igniting efforts to change the story about vaping across Indian Country. Several Native organizations, public health advocates, and policy makers are getting involved, launching awareness campaigns, providing resources and education, and making system changes to combat e-cigarette use.
"Indian Country is very decentralized. Our work helps connect everyone and provides access to all the great resources out there," Hudson said. As a "resource hub," NNN has built a space for voices to raise awareness about commercial tobacco burdens. It highlights the work of community advocates, hosts educational webinars, and facilitates training and technical assistance.
MDH teams are traveling across Minnesota to educate parents, grandparents, schools, youth, and tribal councils about the risks of vaping. Funds from the state's Tobacco-Free Communities grants are being used to bring in educational speakers, develop presentations, and provide resources and technical assistance. Tribes have also been working to employ evidence-based strategies that limit youth access to products, such as raising the minimum purchase age to 21 and restricting where flavored commercial tobacco products are being sold, she added.
At the American Indian Cancer Foundation (AICAF), the focus is on building culturally-tailored resources and initiatives that resonate with community members. The national, Native-governed nonprofit strives to eliminate the cancer inequities on Indigenous people through improved access to prevention, early detection, treatment, and survivor support.
"We are thrilled about the launch of our first ever Sacred Breath campaign," said Chris Johnson (Sisseton Wahpeton Dakota), AICAF's prevention & policy manager. To celebrate National Lung Cancer Awareness Month, in November Johnson and his team developed Sacred Breath to improve lung health across Indian Country. The nationwide initiative encouraged community members to engage in healthy lung practices, like getting screened or participating in traditional activities or movement.
"Another main focus was on the promotion of commercial tobacco avoidance and cessation," Johnson added.
As part of the campaign, AICAF hosted Sacred Breath Day, engaging Indigenous communities across the country to join in its mission. The team also released the culturally-specific infographic "E-Cigarettes Are Not Our Tradition," and a vaping policy webinar in collaboration with NNN. AICAF made youth involvement a priority by hosting the "Say No to Commercial Tobacco Youth Meme Contest," in which they invited youth ages 13-17 to create and submit an original meme that illustrated the importance of keeping tobacco sacred, or avoiding the use of commercial tobacco and e-cigarettes.
"Commercial tobacco, including e-cigs, is extremely harmful to our communities and is not part of our tradition. It's important that we continue spreading that message to remind our relatives to keep tobacco sacred," Johnson said.
On a larger scale is Truth Initiative, a national nonprofit that envisions a nicotine-free country. The organization works to deliver the facts about the health risks and social consequences of commercial tobacco use. Its free mobile program This is Quitting is designed to help youth and young adults quit vaping by incorporating messages from other young people who have attempted to or have successfully quit.
"Truth's program is progressive," Hudson said. "They have a goal in mind and are some of the only people doing this work right now." The program's only flaw is that it appeals to the masses. While Hudson appreciates the organization's forward-thinking efforts, he doesn't believe This is Quitting speaks to everyone.
"It's very widespread, but it markets to a broad audience and doesn't relate as much to our communities," he added.
IHS, the CDC, and AICAF are all working to develop more Native-centered vaping resources and initiatives. Still, there are very few national programs dedicated to stopping the use of e-cigarettes, especially ones that cater to Indigenous people and their unique tribes. Community health advocates say one of the biggest obstacles in building these programs is limited, slow-to-react public funding streams. Private funding is rarely seen in communities, forcing tribes to rely mostly on federal and state grants to develop effective campaigns. This undependable funding can also be coupled with issues surrounding health equity. One of Hudson's biggest complaints is that many private funders who set their own agendas don't prioritize Indigenous communities. "We need programs to be specific to under-funded areas," he declared.
Despite Minnesota's efforts to help stop the vaping epidemic, Brokenleg said it's a challenge competing with e-cigarette ads that target young people. Their program messages are often overshadowed by vaping ads and promotions from companies like JUUL, who continue to reel in Minnesota students and leave them ill-informed of product risks. Responses from the Minnesota Student Survey showed that 88.4% of students had seen ads for e-cigarettes in the past 30 days.
Many advocates also agree that relying on outside funding for program support isn't the most effective way to tackle the vaping issue. Instead, the answer lies in public policy and system changes. O'Leary says the best tribal public health policies on e-cig use are those that ban the sale of vaping products all together and penalize the retailers.
"This is easiest to enforce and puts little strain on the legal system," she said. "I would love to see monetary penalties dedicated to support young people addicted to nicotine."
Last year the Canli Coalition chose to speak out about being targeted by JUUL's "Switching Program," an offer that included large sums of money and free product for adult smokers in exchange for personal data about their tobacco behaviors. In July O'Leary testified to the U.S. Congress about JUUL's offer to the Cheyenne River Sioux Tribe's Tribal Council. No other tribes accepted the offer despite multiple attempts by JUUL, and the tribal program was abandoned by the company.
Whether it's removing e-cig products from retail stores or banning them in community areas, tribes have started to fight back against the vaping epidemic. The Cheyenne River Sioux Tribe is currently one of six tribes in the nation that has enacted policy to halt the use of e-cigarettes. In September, AICAF worked with Lower Sioux Indian Community leaders to establish a policy that banned the use of e-cigarettes in all of the community's public spaces. Christensen is proud of the tribe for being proactive and hopes many more tribes will follow suit.
Community advocates will be persistent in raising awareness, educating, training, and implementing new policies on the use of e-cigarettes throughout 2020 and beyond. In August, IHS plans to host a tobacco prevention summit that will bring together champions from across the nation, brainstorming ways to address commercial tobacco and e-cigarettes. AICAF and NNN will work to strengthen their anti-vaping messages and make them more widespread; Johnson shared that AICAF will release a culturally relevant vaping PSA early this year. O'Leary plans to conduct research studies on vaping to streamline culturally tailored interventions.
Changing the system and the dialogue surrounding e-cigarettes will require a collaborative effort from tribal, state, and national health entities. Christensen does not think it's too far of a stretch for Native communities to become vape-free. He hopes, eventually, every tribe will become aware of the dangers of e-cigarettes and put a stop to the vaping trend before it creates long-lasting damage to Indigenous families.
"We can't say for certain what the long-term effects of vaping are, but that's why we need to fight this right now," Christensen continued, "We can't be statistics like we were for smoking."
Tina MacDonald (Ojibwe) is the communication specialist at the American Indian Cancer Foundation.
More Stories Like This
IHS Touts Reimbursement Agreement for Native Veterans
Zuni Youth Enrichment Project Receives $20,000 Grant from Blue Cross and Blue Shield of New Mexico
Urban Native Elders Health and Social Needs Are Not Being Met, New Survey Finds
International Day of Persons with Disabilities
Dr. David Wilson (Navajo) Appointed Chair of the School's Department of Indigenous Health at the University of North Dakota
The Native News Health Desk is made possible by a generous grant from the National Institute for Health Care Management Foundation as well as sponsorship support from the American Dental Association. This grant funding and sponsorship support have no effect on editorial consideration in Native News Online.