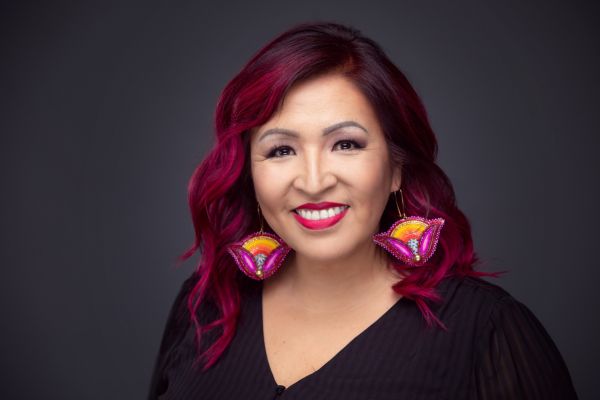 Details

By

Neely Bardwell
In light of last week being Worldwide Breastfeeding Week, a global campaign seeking to bring awareness to issues and barriers to breastfeeding, Native News Online sat down with Angie Sanchez (Grand Traverse Bay Band), a Michigan State University Ph.D. student researching ways to increase access to breastfeeding support resources in Indigenous communities.
Sanchez is an Indigenous lactation counselor, doula, wife, and mother. She co-founded the Sacred Waters Collective, a nonprofit with a mission to help Tribes in Michigan support community mothers in their community through education and culture.
She talked to Native New Online about her breastfeeding journey, why Indigenous communities have low rates of breastfeeding and what they can do to increase those rates and reclaim breastfeeding as ceremony.
What inspired you to do this work and research breastfeeding in Indigenous communities?
When I was pregnant with my son, I had been given a dream, assistance from the ancestors, that said I needed to breastfeed my baby. I had been planning on doing that anyway, and I didn't know what I was doing and did not think that it would be difficult because that's what people have been doing since the beginning of time.
I needed to have a scheduled C-section. He was a little bit early, and he was in the NICU, and we didn't get to latch right away. When we came home, we tried breastfeeding, and while I was working, I was in excruciating pain. At the time, I knew that it would hurt for about two weeks, but then after that, it shouldn't hurt anymore. But, it kept hurting well past the two weeks, and I thought maybe I just needed a little more time, then four weeks, and then five weeks, and it was still excruciating pain.
I was reaching out to whoever I could — lactation consultants, CLCs [certified lactation consultants]. I was reaching out to IBCLCs, which are international board-certified lactation consultants. I went to La Leche League in the Lansing area. I went to Lansing Baby Cafe for free lactation support, and reached out to friends, his pediatrician, and not only the pediatrician but also the pediatrician's office employees.
Folks would try to help me with different latch positions to make it hurt less, but none of them were really effective, and that's the extent of the help that I was given. They had nothing else to offer me, so I was kind of on my own. I'm very persistent, so I wasn't going to quit.
Through my own research, I figured out that he had a tongue tie, and I'd never heard of tongue ties, cheek ties, or lip ties; I knew nothing about them. I hired another IBCLC because she was known for having experience assessing tongue ties. She came over and did an assessment, and her suggestion was that I take him to a pediatric dentist.
Never miss Indian Country's biggest stories and breaking news. Sign up to get our reporting sent straight to your inbox every weekday morning.
That appointment cost me $250 out of pocket because insurance didn't cover it. I realized that's a lot for one person to have to do to figure out why breastfeeding hurts. We got his tongue tie corrected, and immediately within 30 seconds of having his tongue tie clipped, we put him back on my breast, and it was the first time in 11 weeks that I was able to breastfeed without being in excruciating pain.
I started reflecting on all that it took me to get there and realized that if I had been in my own home community and we were working the same jobs that we had when we lived there, none of that would have been possible. There was no way we could have afforded a $250 lactation counselor appointment. I also didn't know of any Indigenous lactation counselors either.
It's a problem that it took all of this effort for me to successfully breastfeed my son, and I was wondering what my own community members would be doing if they were faced with the same situation, so I reached out to folks for anecdotal research. I asked, 'Hey, you have a baby; did you breastfeed your baby?' and the answer from everybody that I talked to was they tried to breastfeed, but they quit within a couple of weeks. The reasons were all the same.
It was one of two things. It was either that they didn't know what they were doing and they didn't have anybody to reach out to, or that they weren't making enough milk, and they didn't have anybody to reach out to. I've learned that a lot of mothers and birthing people think that they're not making enough milk, and it's because they're misreading cues from the baby. It's actually relatively rare that a mom is not making enough milk.
So who are Indigenous people supposed to reach out to? Why are we even in this situation? I couldn't ask my mom because she didn't breastfeed us. I didn't grow up around breastfeeding. I knew nothing about it. So why am I in this situation? And why do I have to go to all these extra lengths to get the support I need?
That was the ultimate question, 'Why should it have been that difficult? And why are we in this situation?'
What are some of the biggest issues or barriers that prevent Indigenous women from getting the help they need when it comes to breastfeeding and other lactation issues?
The major issue is that communities were disrupted through colonization, and prior to colonization, we lived in ways such that when a person was having a baby in a birthing lodge or whatever was specific to that tribe or that community, they would have lots of help, and they would have community members, aunties, and grandmas and sisters and friends that would be there to help them and take care of them. If there was an issue, they knew what to do.
They also helped and did other things around their home. Now we're in a situation where we live in this capitalist society, and we all have to work, and we all have to clean and do these things because somebody else isn't going to come into our house and take care of the house and cook and all those types of things. Our family structures have been impacted by colonization.
Another thing is racism in the health industry. If you look at the data, Indigenous women and birthing persons initially have really good breastfeeding rates, and it's at what's expected, somewhere upwards of like 87% or 84% — it's pretty high. But then, at three months postpartum, six months postpartum, and one year postpartum, our rates are extremely low. So something is happening between initiation and three months time, where we are no longer breastfeeding.
A lot of our community members are working in jobs where they don't have the ability to take time off work to stay home with their babies. They might work jobs where they don't have maternity leave, and even if they do have maternity leave, most companies and other organizations don't give a proper amount of time for proper maternity leave. What happens is, very quickly, our Indigenous birthing people are going back to work way sooner than they really should be, through no fault of their own.
For a lot of folks, breastfeeding isn't considered prenatal care, but their healthcare providers should be having these conversations when somebody is receiving prenatal health care. A decent amount of the time, when somebody is literally giving birth, that's the first time that somebody asks them, "Do you plan to breastfeed?" Right? We should have been talking about this six months ago. Not while I'm sitting in labor at the hospital.
What do you think our Indigenous communities can do to improve those rates and improve the welfare of the birth givers who are choosing to breastfeed?
Communities need to first figure out what's going to work for them, but in general, there are some general things tribes should do. Tribes should implement year-long maternity leave. They should also become pro-breastfeeding, and breastfeeding should be lifted up in tribal communities to be just as important as reclaiming other ceremonies because breastfeeding is a ceremony.
A lot of tribes are working really hard to reclaim other parts of our culture that were stripped away from us. We're learning languages, we're learning how to grow our own seeds, and we are learning customs like crafting, things that have been stolen from us. Breastfeeding is also one of those things that need to be reclaimed in communities.
Tribes can make sure that there's an Indigenous lactation counselor that works in their IHS clinic or make sure that if their tribal members are getting health care at their tribal clinic, they're being supported in the clinic early — not just asking them the day they're giving birth if they want to breastfeed.
We also need to learn how to breastfeed as community members and knowledge and accept breastfeeding as a community responsibility. It's not just up to the it's not up to the birthing parent. It's up to the community to support their own community members in breastfeeding.
There's a grant I applied for through the Michigan Health Endowment Fund to start a project called the Nooni Project to increase breastfeeding initiation and duration in Native communities. I brought the Indigenous Lactation Counselor Training Program to six different Indigenous communities in Michigan. The program is a 45-hour breastfeeding course that was developed by an Indigenous person, and it arms Indigenous people with foundational lactation education, so they can serve their own communities. Over the last year, we certified about 75 new Indigenous lactation counselors within the state of Michigan.
What advice would you give to those who are planning to give birth in the future on how to advocate for themselves when it comes to breastfeeding?
We also started a nonprofit. It's called Sacred Waters Collective, and it's a collective of Indigenous people within the state of Michigan that want to reclaim all of these things in our communities —reclaiming birth ceremonies, reclaiming lactation, breastfeeding ceremonies — all of these things that are life stage type ceremonies.
One of our collective members is writing a milk-making course that Indigenous folks are welcome to take. Our collective is using our grant funds to pay her to develop this course that folks can take so they don't need to pay for it.
I think what's key is learning as much as you can before you have a baby. But then, after you have the baby, I really think that it's the community's responsibility to be reaching out to the birthing parent because if you don't know what's going on, how are you going to know who to reach out to? You're so overwhelmed, and you're dealing with so many hormonal changes after you give birth, and a lot of times, you're a new mom, and maybe you're not a new mom, maybe you have other kids and there's just so many other things going on.
What would be better is if we as community members are taking care of our birthing folks and basically coming to them every single day and saying, 'Hey, how can I help you? What's going on? Can I come over and do your laundry or cook you a couple meals?' Then you can also ask how lactation is going instead of waiting for the birthing person to reach out to somebody.
We need to be reaching out to them constantly. But what's important is that it's done very quickly. So when they come home from the hospital, or even in the hospital, kind of bug them and say, 'Hey, I'm here. Can I come to visit you so I can see how latching is going?' We as community members, need to be more proactive in reaching out to folks who have given birth and supporting them right away instead of waiting for them to reach out to us.
If you or someone you know are breastfeeding or plan to consider checking out the Sacred Waters Collective, an organization that focuses on reclaiming culture and nurturing healthy families.
More Stories Like This
Promote Hope for the Future: Addressing Suicide in Indigenous Youth
Ovarian Cancer Affects 20,000 Women a Year. Here's What You Need to Know,
Early Detection is Key to Prostate Cancer Survival
FDA & CDC Approve Updated Covid Vaccines from Pfizer and Moderna
September is Suicide Prevention Month. Here's a List of Native Focused Mental Health Resources.
The Native News Health Desk is made possible by a generous grant from the National Institute for Health Care Management Foundation as well as sponsorship support from the American Dental Association. This grant funding and sponsorship support have no effect on editorial consideration in Native News Online.