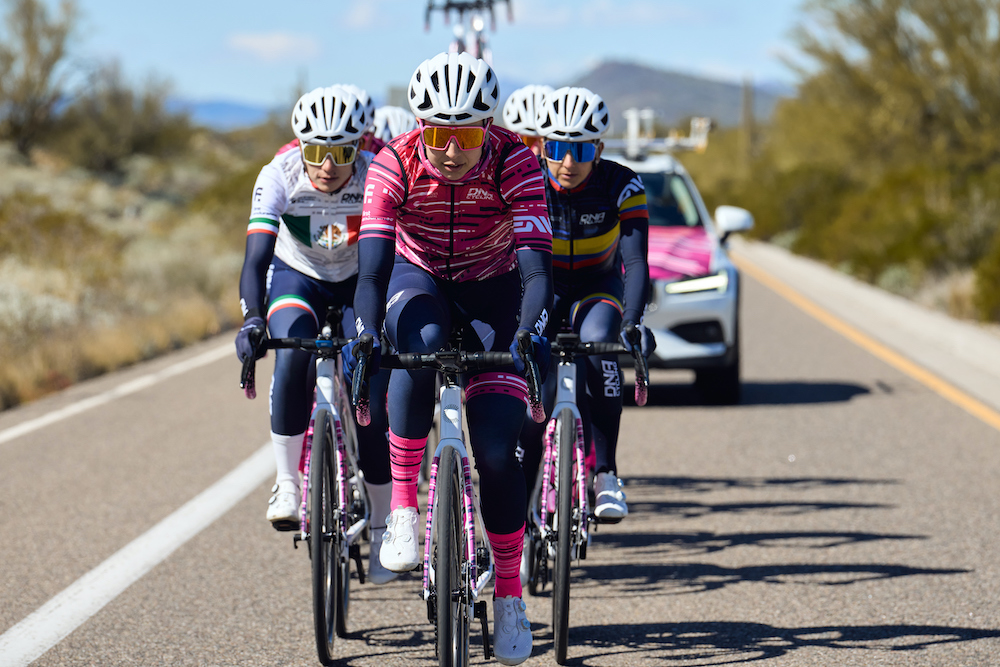 Details

By

Ben Pryor
As cyclist Shayna Powless (Oneida) prepares to kick off the 2023 international season in Jakarta this week, she has multiple goals on her mind.
The 29-year old professional rider wants to compete at the highest level and reach for a world championship this year. But, she adds, it's not just about winning trophies — and it's not just about her.
"My biggest goal in cycling is to become the best possible athlete and ambassador for the sport that I can be, and use my platform to encourage others to dream big," she told Native News Online.
In particular, she wants to inspire Native people, especially younger generations, to take up cycling and to focus on fitness, both physical health and mental health. That's a big part of her mission off the professional racing circuit, where she coaches cycling and runs a nonprofit organization with her fiance that empowers Native youths.
Having goals focused on giving back to the community helps keep her "grounded" and fuels her sense of purpose for her life outside of racing, she said.
A dynamic family duo
Shayna and her brother Neilson are one of the most prominent cycling families in the United States these days, with the brother-sister duo among the top professional riders in the sport.
ProCyclingStats recently ranked the 26-year old Neilson among the 25 best riders in the world, the only U.S.-based rider on the list. Last year, he finished 12th in the Tour de France, and since then, he has won the Japan Cup and the Étoile de Bessèges in France.
Shayna is emerging as a trailblazing Native American rider in women's professional cycling. She recently joined the DNA Pro Cycling team and the USA Cycling National Team.
"I tried track racing for the first time last year and quickly fell in love with it," Shayna said. "After achieving some strong results in the team pursuit event, I was honored to qualify for the national team this year."
Shayna and the national team will kick off the Union Cycliste International 2023 season at the UCI Track Nations Cup in Jakarta, Indonesia, from February 23-26.
"Track Olympic qualifications start this month, with the first race being the Nations Cup in Jakarta," she said. "There are a few more races that count toward Olympic qualifying throughout the year, so it will be quite a busy and high-pressure time, especially while trying to balance [with] road racing. I cannot wait to get the racing underway. I also love to travel and experience new places."
This season will be her first year with DNA Pro Cycling. "It is a team that I believe will be a good fit for me and my track and road racing goals this year," she said. Its schedule, she explained, includes events in North America, South America, and Europe, and it is willing to work with riders who compete in multiple disciplines.
DNA Pro Cycling was established ten years ago and is owned by K4 Racing and TREND Cycling Collective. The team competes in road and gravel races.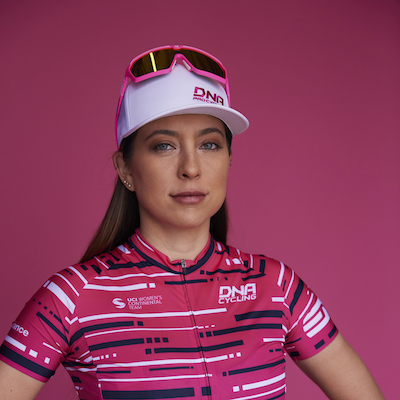 Shayna Powless team photo (Photo Credit: Patrick Daly)
"We're really excited to have Shayna join the team. She's proven herself in a broad range of cycling disciplines, including road racing, criteriums [races around a course of city streets], and gravel races," said DNA Pro Cycling sports director Catherine Fegan-Kim. "While she's been an invaluable asset as a team player supporting wins, we also see her potential to be the team leader in certain events. We hope to help her continue to grow in the sport and support her in reaching and surpassing her goals."
Those personal goals include competing at the highest level in the sport (i.e., the World Championships) and becoming an ambassador for the sport.
Shayna hopes to be a beacon inspiring more Indigenous women and girls to get involved in cycling.
"Ultimately, I want to see more Native people, especially the younger generations, getting more active and leading healthier lifestyles," she said. "Goals like these keep me grounded and give me a greater sense of purpose aside from being a bike racer."
Oneida pride
Her achievements have earned her praise from the Oneida Nation government.
"The Oneida Nation is proud of the accomplishments of Shayna Powless, and we wish her continued success in her quest to be the best professional cyclist," said Oneida Nation Chairman Tehassi Hill. "Shayna is an exemplary role model for the Oneida Nation as she lives our vision of a good mind, a good heart, and a strong fire."
She credits her parents for instilling pride in her Oneida heritage from a young age.
"My parents always made sure my brother and I maintained a connection to the Oneida community when we were younger by taking trips to visit family on the reservation and attending the annual Oneida pow-wow," Shayna said. "We practice tribal traditions of praying to the Creator and smudging for cleansing and blessing purposes, which further strengthens our connection to our culture and has significantly helped keep our family connected and grounded over the years."
In 2020, Shayna and her fiancée, National Football League defensive lineman Eli Ankou (Ojibwe), co-founded the Dream Catcher Foundation. This nonprofit organization aims to empower Native youth through cycling and football camps while bringing attention to the crisis of missing and murdered Indigenous women and girls.
Off the bike, Shayna is also a USA Cycling-certified coach and the founder of Powless Performance, her cycling-coaching business.
"Coaching and mentoring is an all-around rewarding experience. As a USA Cycling and Safe Sport-certified coach since 2018, I have had the privilege of working with a very diverse group of athletes of various levels and abilities," she said. "I pride myself in being very detail-oriented and data-driven when it comes to my athletes' training."
Shayna believes that excelling in cycling requires more than just what you do on the bike.
"Mental and physical health have a direct impact on performance in sports, including cycling. You have to have a certain level of mental and physical toughness to excel, especially at the professional level," she explained. "Everything you do off the bike (i.e., diet, sleep, daily habits, etc.) affects your performance on the bike."
Ultimately, she emphasizes the importance of listening to your body, knowing when to challenge yourself and when to give yourself time for rest.
"In order to get the best out of yourself in training, you also have to prioritize getting the most out of your recovery," she said. "Prioritizing mental health is also key. If you're struggling mentally, you will most likely struggle in your sport. Ultimately, you just need to listen to your body and be kind to yourself, respecting when to push and when to rest."
More Stories Like This
Native Bidaské with Dr. Meghan O'Connell on Syphilis in Indian Country
Inside the White Buffalo Calf Women's Society, Indian Country's Oldest Domestic Violence Shelter
$10 Million Grant Awarded for Indigenous Food Sovereignty Programs
Pueblo of Zuni Receives the Robert Wood Johnson Foundation Health Prize
Salmonella Outbreak Linked to Cantaloupes
The Native News Health Desk is made possible by a generous grant from the National Institute for Health Care Management Foundation as well as sponsorship support from the American Dental Association. This grant funding and sponsorship support have no effect on editorial consideration in Native News Online.