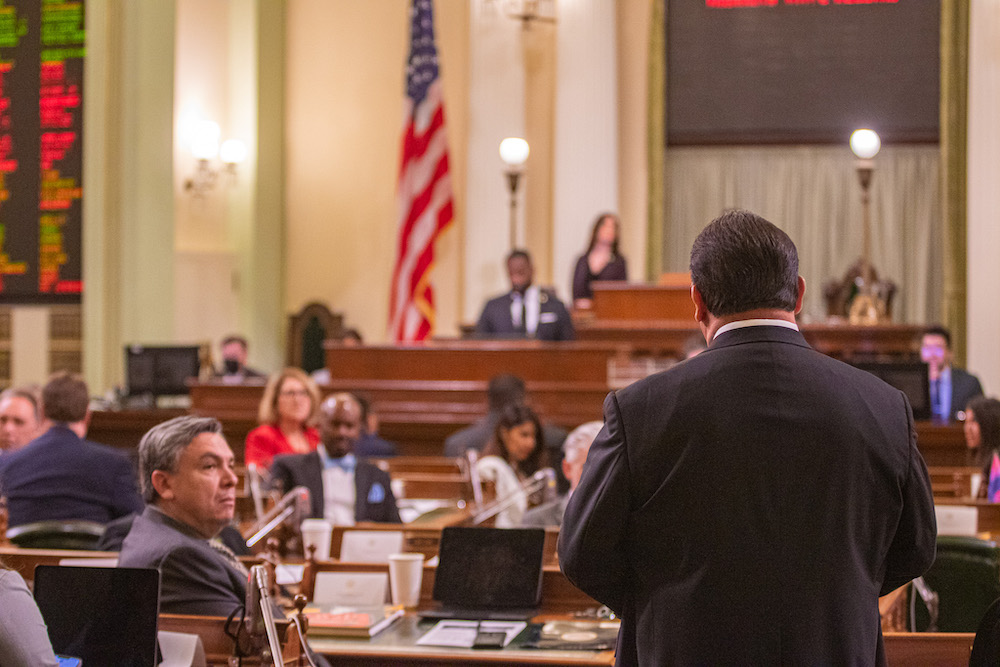 Details

By

Cyrus Norcross
SACRAMENTO - A bill to designate May as Missing and Murdered Indigenous People Awareness month in California, has passed the state's Assembly and Senate.
Last week, the senate voted 37-0 on May 25 to move the bill, Assembly Concurrent Resolution No. 25 (ACR 25), forward after the Assembly voted 13-0 on May 4.
ACR 25 was introduced by Assemblyman James Ramos, Serrano/Cahuilla tribe, to raise awareness on MMIP throughout California and increase support for tribal governments in their communities.
"This is something that we have been working on for many years, and it is now (that) we have finally gotten to the state assembly and state legislators," said Ramos, "We are able to raise the level of awareness with our colleagues and introduce pieces of legislation without having to be lobbied."
Advocating for Indigenous issues has not been easy for Ramos, yet he has been able to overcome the obstacles.
"I put in last year to light the capital red, and it was denied. But now, I sit as the chairman of the Rules Community, and I approved the lighting of the capital," said Ramos, "So, it is a testimony that representation truly does matter."
Previous Bills Passed
The passage of ACR-25 is the latest in a series of bills that Ramos has championed to help raise awareness and secure funding to address the MMIP crisis in California.
Ramos sponsored Assembly Bill (AB) 3099 in 2020 to provide training for law enforcement on missing and murdered Native American people. He also sponsored AB 1314, which created the Feather Alert program in 2022.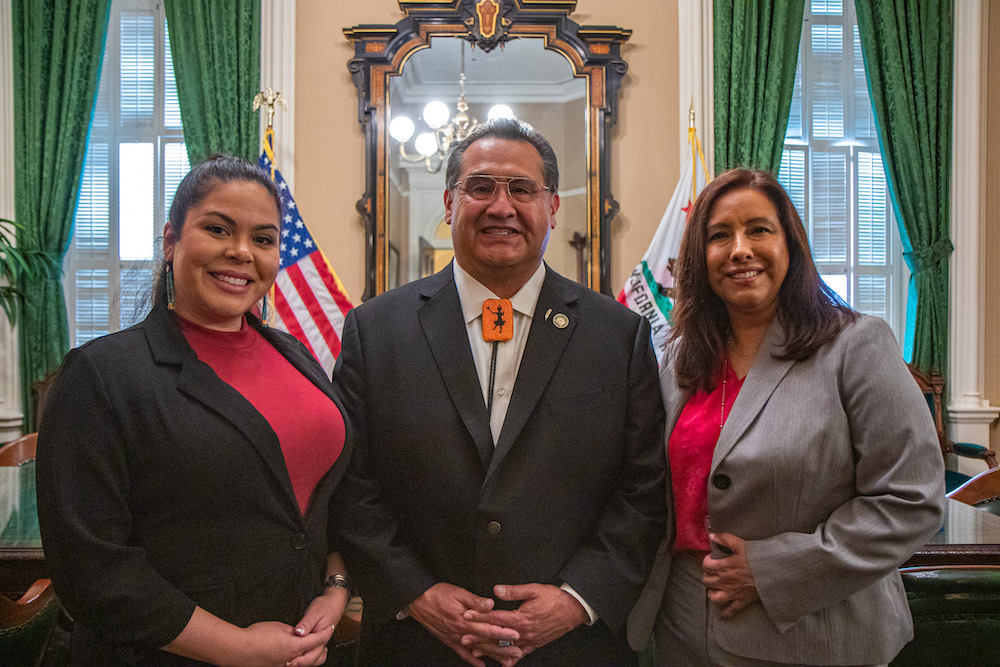 PICTURED: Assemblyman James Ramos stands with his staff, District Director Vanessa Brietry (left) and Chief of Staff Adriana Ruelas (right), in the Willie Brown Room after Assembly Bill 25 was adopted on May 4. (Photo: Cyrus Norcross)
Assembly Bill 3099 supports improvement in investigative resources and reducing the missing and murdered Indigenous peoples rate, provides guidance for local law enforcement on policing and criminal investigations on tribal lands, improved crime reporting and criminal statistics, and improved communication between law enforcement and tribal governments.
Assembly Bill 1314 is the Feather Alert, which is similar to the AMBER Alert and can be activated when a Indigenous person has gone missing or a law enforcement agency believes that a person is in danger. The Feather Alert will provide information to the public in hopes of recovering the missing Indigenous person quickly.
Even with the passage of recent legislation and unanimous support for ACR-25 in the Assembly, Ramos told Native News Online that there is still much that needs to be accomplished in California when it comes to MMIP issues.
Public Law 280
Ramos points to a 70-year old law as an example of state legislation that has hamstrung tribal law enforcement efforts to deal with crimes related to human trafficking, missing persons and homicide on tribal lands.
In 1953, Congress passed Public Law 82-280, which removed federal criminal jurisdiction over most major offenses committed on reservations and granted six states, Alaska, California, Minnesota, Nebraska, Oregon and Wisconsin jurisdiction over Native Americans on reservations. The law allowed civil litigation, originally handled by tribal or federal courts, to be handled by state courts.
Tribal nations were not consulted nor was their consent needed at the time of the passing of Public Law 280.
According to the National Institute of Justice, the research, development and evaluation agency of the U.S. Department of Justice, the consequences of Public Law 280 are the following:
The act violates tribal sovereignty by giving states criminal jurisdiction.
The act is often cited as a rationale for denying PL 280 tribes funding for law enforcement.
The act gives non-tribal law enforcement greater authority on tribal reservations. For example, prior to PL 280, minor crimes committed by American Indian and Alaska Natives were the responsibility of the tribes. Under PL 280, minor crimes can be penalized under state laws as well.
Ramos and tribal leaders from California are adamant on combating the effects of Public Law 280.
Two tribes declared a state of emergency in response to missing and murdered Indigenous peoples. The Round Valley Indian Tribes declared a state of emergency on April 16, 2023, while the Yurok Tribe declared an emergency on Dec 17, 2021.
"California is moving in the wrong direction, and we need allies in our fight to bring awareness and resources to California's first people," Ramos said.
Law Enforcement Telecommunications
Ramos has also moved to help secure funding for tribal law enforcement this year. He introduced Assembly Bill 44 Jan 1, 2023, which will allow law enforcement agencies of federally recognized tribes to apply for access to the California Law Enforcement Telecommunications System (CLETS).
CLETS is a criminal information network that connects agencies to criminal history, driving records, federal databases, and provides agencies to send and receive messages amongst themselves.
"CLETS is a tool that identifies people with prior records, so tribal governments will know who is coming on their lands, like those who have been involved with kidnapping, and abduction," Ramos said. "If they are coming on tribal lands, the tribal government should know about it. That is the disconnect at least getting that information and data flowing, so we are protecting our people proactively."
Within the state government code of CLETS, it mentions that a law enforcement program must be a public agency, i.e., municipal, county, state or federal.
The code does not mention tribes or their respective agencies within CLETS, so tribal law enforcement were not allowed access. Not having access to CLETS, tribal police lack the resources to conduct a thorough investigation.
By gaining access to CLETS, tribal police will be able to view criminal record information, missing and unidentified persons files, protective order files, and violent persons files.
On September 16, 2014, the Sycuan Tribal Police was allowed access to CLETS. The officers of Sycuan were all commissioned by the Bureau of Indian Affairs (BIA) and it is the BIA, a public agency, that applied to CLETS for their officers to utilize the system. The relationship that was developed between Sycuan Tribal police and local enforcement, because of access to CLETS, helped solve crimes within their respective communities.
"We need to start breaking the obstacles of public safety, ensuring public safety continues to be free flowing information to protect not only the vulnerable in the state of California, but to include the California Native American people," Ramos said.
"It is a daunting task, because when we hear speeches saying we are protecting California's most vulnerable, we always have to insert 'California Native American people' and Native Americans in general," Ramos said. "It's not a given that they are a part of that structure."
More Stories Like This
'We are in dark times' | Reeling from Four Overdose Deaths in Four Days, Lummi Nation Calls for Urgent Action
IHS Awards $1.5 Million to Address Alzheimer's Disease 
Statement from IHS Director Roselyn Tso on the Availability of Updated COVID-19 Vaccines
Promote Hope for the Future: Addressing Suicide in Indigenous Youth
Ovarian Cancer Affects 20,000 Women a Year. Here's What You Need to Know.
The Native News Health Desk is made possible by a generous grant from the National Institute for Health Care Management Foundation as well as sponsorship support from the American Dental Association. This grant funding and sponsorship support have no effect on editorial consideration in Native News Online.