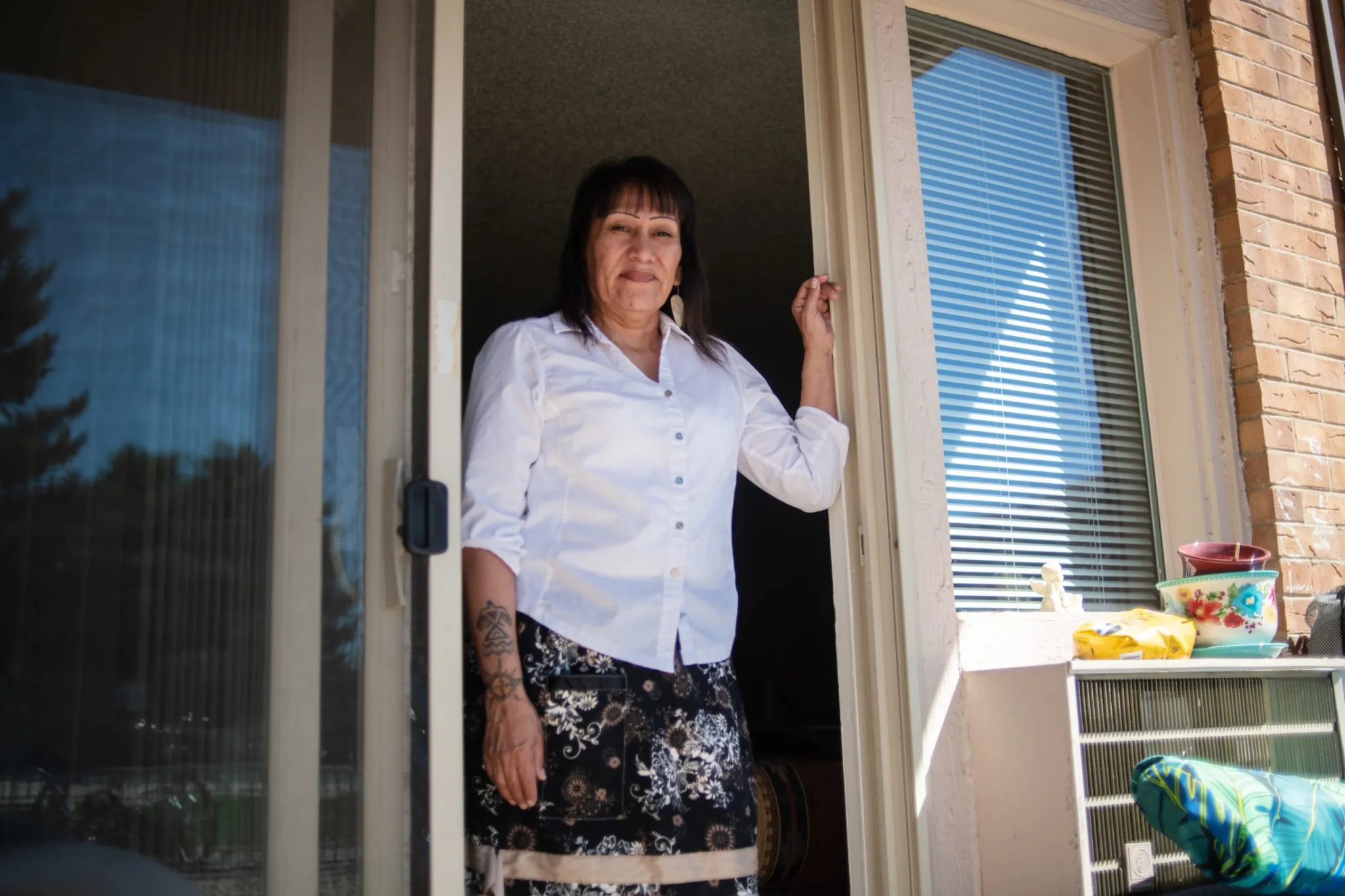 Details

By

Jennifer Brown, The Colorado Sun
This article was originally published in The Colorado Sun. The Colorado Sun is a reader-supported news outlet dedicated to covering the people, places and policies in Colorado.Sign up for their newsletters, and follow them on Twitter, Instagram, Facebook and Mastodon.

Carla Respects Nothing left the Pine Ridge Reservation in South Dakota right after high school, wondering what other life was beyond the rolling prairie.
She had relatives in Denver, so she came to Colorado's largest city in 1989 and enrolled in community college. She didn't realize then how much it would matter, but this is what Respects Nothing left behind: her ancestors' Lakota language, the traditions of the Oglala Sioux, her sense of belonging.
She has tried for 30 years to get it back, to somehow gather up a Native American community that's been scattered into pieces across the city. In her hardest times, when alcohol addiction led to losing her job and her housing and she ended up in a homeless shelter, Respects Nothing "just gave up."
But she has been sober nine years now, with help from White Bison, a sort of Native American version of Alcoholics Anonymous where she learned to get back on the "Red Road," the spiritual path to a "good life, with a clear heart and mind," she said. Respects Nothing looked for connection in "talking circles" organized by the Colorado Coalition for the Homeless. And while working as a peer navigator for the Denver Public Library, she invited Native Americans who were homeless to gather for "wiping of the tears" ceremonies for loved ones who had died. She shopped for groceries and let them cook the traditional foods of their tribes — buffalo and beef kidney, soup and wasna, a crumble made with cornmeal and animal fat or beef and chokecherries.
But none of it, Respects Nothing said, will compare to what's coming for the Native people in Denver who never felt they belonged.
For the first time, the city is building an apartment complex for American Indians who are homeless or on the verge of losing their housing, a community that, in one small way, will attempt to make up for past wrongs.
Mercy Housing, a national affordable housing nonprofit headquartered in Denver, will build a 187-unit community centered on "recognizing the historic displacement of American Indian tribes" after presenting the winning grant proposal to the Denver Housing Authority. The project, which will begin rising in summer 2024 at 901 Navajo St., about 12 blocks southwest of the state Capitol, will target American Indians and Alaska Natives who qualify based on income. It will house the city's Indian Health Services clinic, which has outgrown its space in the Sun Valley neighborhood.
A circle, a powerful symbol in Native American culture, is the core of the building's design. Respects Nothing imagines programming that will include traditional food, tribal language classes and ceremonies. Native people who understand cultural norms — including the art of respectful silence — will work as on-site substance abuse, mental health and job training counselors.
It will become a place where Native people can connect, an extremely overdue attempt to help them heal from a past that cut them off from each other and attempted to erase their culture, Respects Nothing said.
"We were put on reservations to keep us quiet. There was assimilation to make us white people," she said. "They forced us to practice Christianity and Catholicism. When I came here, people were assimilated to the places where they lived, different areas of Denver and the Front Range. I had to learn the urban Indians as well. Do they even know what we do on reservations? Of course they don't. They've lived here all their lives. They don't know what we went through. We struggled to even eat."
Homelessness linked to U.S. urban relocation programs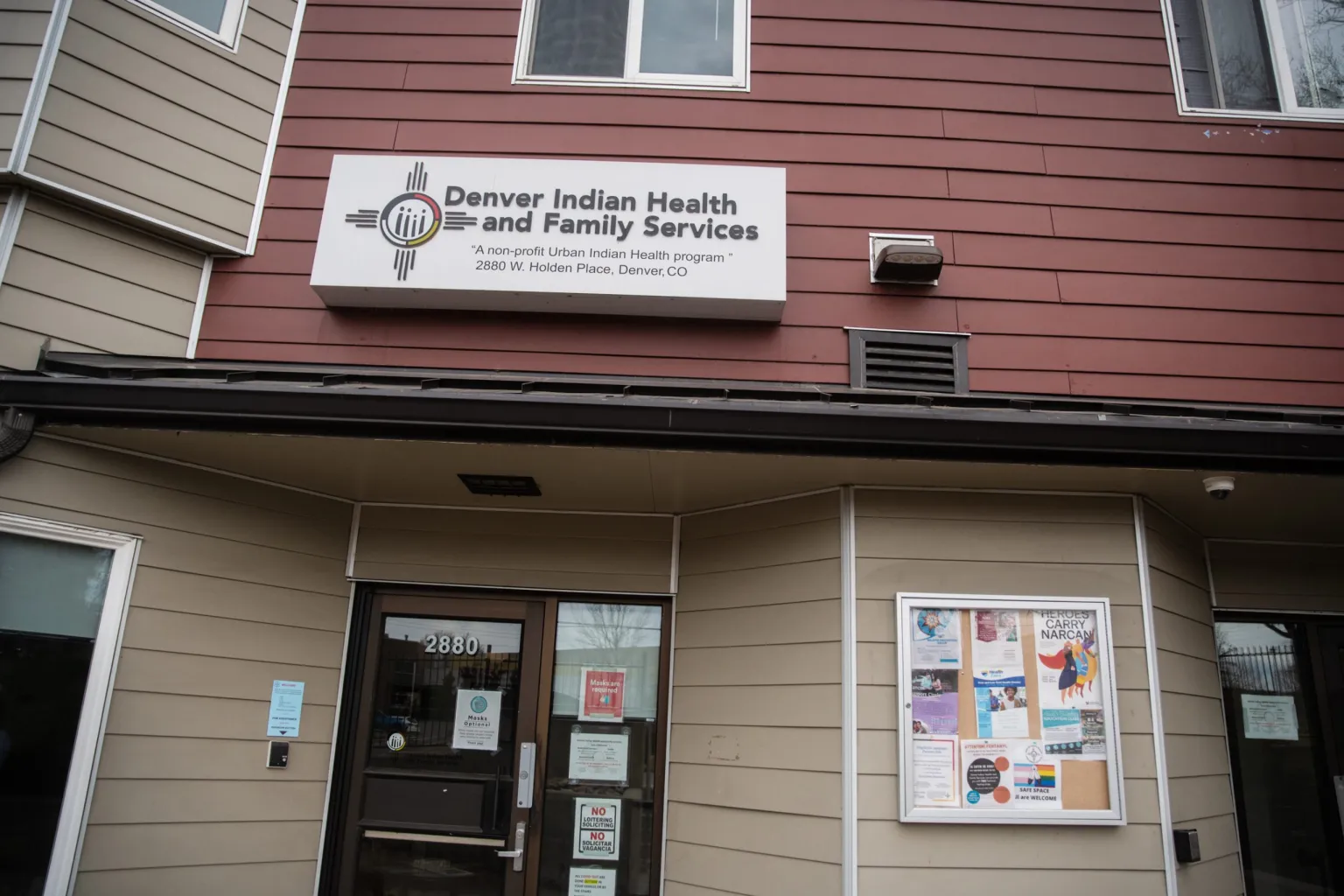 communities. The center provides primary care, dental care, behavioral health services, disease prevention, and insurance assistance. (Olivia Sun, The Colorado Sun via Report for America)
A disproportionate number of Native Americans are homeless in Colorado. The most recent homeless count, conducted in January 2022, found that the rate of homelessness among Native Americans and Alaska Natives in the seven-county Denver area is 4.5 times higher than other groups. More than 6% of the nearly 7,000 people living in shelters and on the streets that night in January were Native people.
Bill Ziegler, the principal housing consultant for Native American Housing Circle, links those depressing statistics back to the 1950s tactics of the U.S. government that encouraged Native people to leave reservations and assimilate into cities.
Chicago, Los Angeles and Denver were among the first cities involved in the Bureau of Indian Affairs urban relocation program, which led to huge numbers of Native people leaving tribal lands based on the promises of federal help with housing and jobs. The effects of that failed policy are still evident, Ziegler said.
The percentage of American Indians living in urban America has increased to 70% from 8% since the relocation programs of the 1950s, even as Native people reported that they didn't thrive in American cities and no longer fit in if they tried to return home. In the Denver area, the Native American population doubled between 2010 and 2020.
"I believe that the federal policy of relocation was a sham," Ziegler said. "The federal government went into Indian Country, went onto reservations and made promises, saying 'Hey, move to this city. We'll provide education. We will provide employment opportunities. We will provide housing.' So all of these promises were made, and very few were kept.
"People want to act like it was ancient history. It wasn't that long ago."
Ziegler's father was among the men who signed up, getting dropped off in the middle of the night in Oakland, California, with five young children. "No one was there. He had no idea what to do," Ziegler said. He worked the shipyards for two years until he had enough money to move his family back to the Lower Brule reservation in central South Dakota.
"And once he moved back, he never left again," said Ziegler, who was born after his father moved back to South Dakota. "I could hear the pain in his voice when he told the stories, so that's really what drives me in the work that I do today."
Ziegler left his Lakota people to attend college, but returned to the reservation after graduation. For years, he has worked to create affordable housing for Native people. The Native American Housing Circle, which formed in Denver in 2019, is partnering with Mercy Housing to design the new housing complex, providing input on everything from the artwork to the programming.
"Finally, after a hundred years, it's an opportunity in Denver for American Indian people to live together like historically, we always did," he said. "It gives us an opportunity to heal. It gives us an opportunity to bring each other up and to hold each other accountable and to move forward as a community. It's that shared space together that's going to expedite the healing process."
The housing community will, in a way, restore tribal living, which was stripped away in American urban culture, Ziegler said.
"America is a country that was built on capitalism. The Native way is built on compassion," he said. "America rewards individualistic achievement. Native communities are always looking out for the whole. Individual rising doesn't do the tribe or the community much good at all, but how do we all rise?"
In-building health center is key to healing, staying housed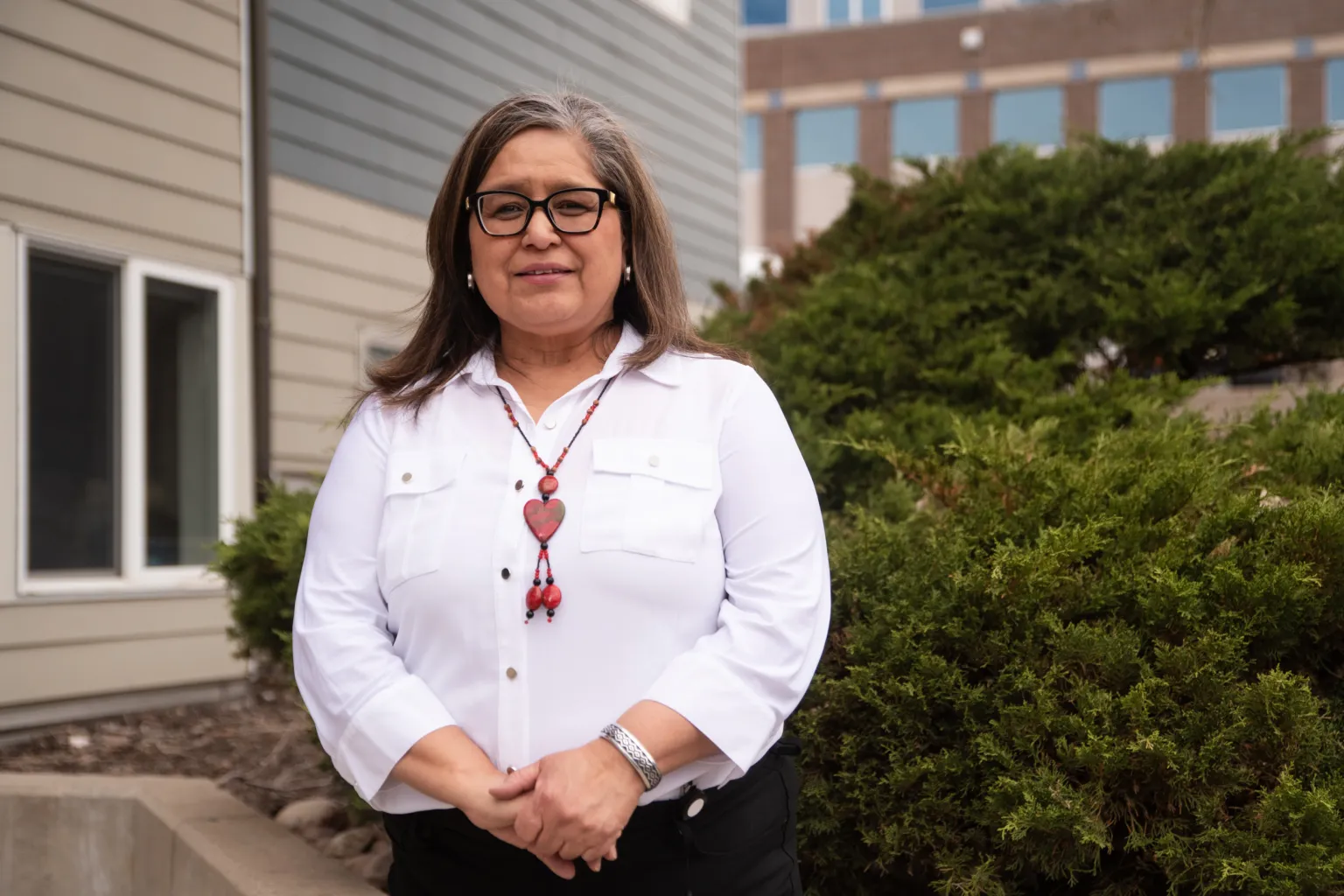 Adrianne Maddux runs Denver's Indian Health Center, which provides culturally appropriate care for members of American Indian and Alaskan Native communities. (Olivia Sun, The Colorado Sun via Report for America)
Housing and health care are intertwined, advocates often say, which is why the new building will have an Indian Health Services clinic on its main floor.
The plan builds upon an ongoing relationship between Mercy Housing and the Denver Indian Health center, which exists now inside a Mercy affordable housing project called Decatur Place in the west side of Denver's Sun Valley neighborhood. Though it moved there five years ago, the health center already has outgrown the space, doubling its number of clinicians to 50 from about 25 in the past three years.
The space in the new building is twice as large, and it's possible Indian Health Services will keep the current location open too, said Adrianne Maddux, executive director of Denver Indian Health and Family Services. The next closest Indian Health clinic is about a seven-hour drive, in far southwestern Colorado and the tribal lands of the Ute Mountain Ute and Southern Utes.
"This is a meaningful step forward in improving the health care of our American Indian and Alaska Native families," said Maddux, a member of the Hopi Tribe of Arizona. "There was never an opportunity before for our organizations, or even our local government, wanting to provide this for our community."
Native people suffer the worst health disparities in the country, and this is related in part to homelessness, Maddux said. "If a family doesn't have running water or a place to store their food, it doesn't do any good for our health care providers to tell them to go out and buy diabetes medications that need to be refrigerated and to buy healthy foods when they don't have a place to keep it."
"This is a huge opportunity for us to address that barrier," she said.
Maddux, too, sees the new building as a chance for the government to make amends. While the U.S. spends about $9,200 per capita on health care for people on Medicare and Medicaid, it spends $3,300 per capita on Indian Health Services.
"Congress has failed in taking care of the original keepers of this land," she said. "It really does come down to prioritizing."
Indian Health Services will provide medical, behavioral and dental care, as well as nutrition and fitness classes. WellPower, the city's community mental health center, will provide case management, mental health and other services.
Trauma and pain run deep in the Native culture, which also contribute to health disparities, Maddux said. She is reminded of this each time her family visits an Indian cemetery in Winslow, Arizona, filled with unmarked children's graves, including one the family believes belongs to Maddux's aunt, who died as an infant. The place reminds her of how many Indian children were buried anonymously, separate from white people.
"We're all impacted, in some way, by the trauma and by the pain of all this," she said. "This is a great opportunity to step forward in healing our community.
Community is Denver's first focused on Native Americans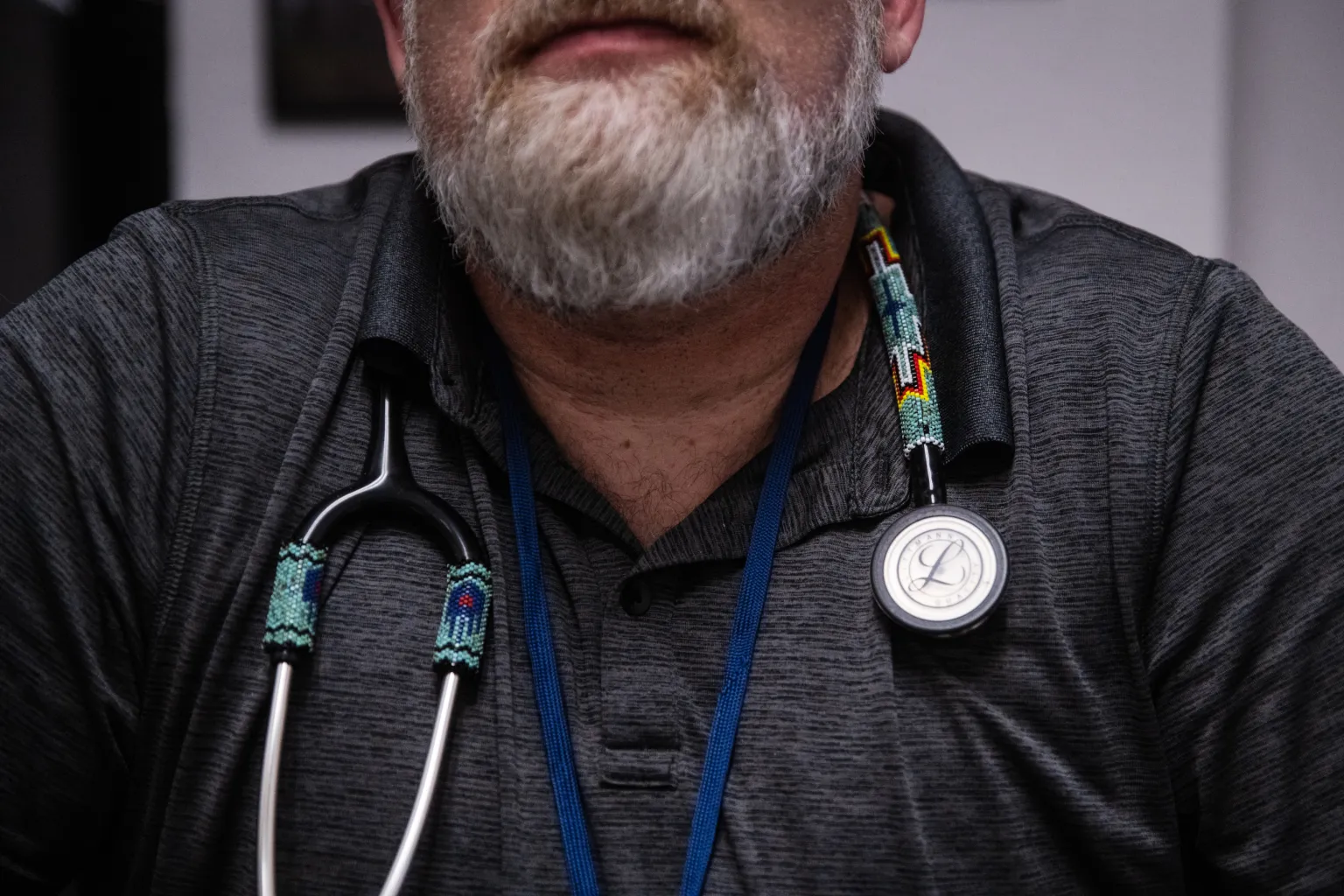 Nurse practitioner Jason Lewis wears a stethoscope his wife helped decorate to celebrate Indigenous culture and honor missing persons in the Native community. (Olivia Sun, The Colorado Sun via Report for America)
Funding for the project comes from federal, state and local sources. And because of fair housing laws, the community cannot turn away people who are not American Indian or Alaska Native. Anyone who makes 30% to 60% of the area median income is eligible, which is about $49,000 or less for a single person. Residents coming directly from homelessness likely will qualify for housing vouchers to pay their rent.
The plan, however, is to advertise to the Native community and spread the word through organizations that work with that population, including Indian Health Services and the Denver Indian Center, said Shelly Marquez, president of the Mountain Plains region for Mercy Housing. "Our team needs to be very intentional in who we're engaging," she said.
The Denver community is the first among Mercy's 19 Colorado properties to focus on Native Americans.
The building site is south of downtown in an area known as the Mariposa district, a name that came from a 2006 master plan by the Denver Housing Authority, the first neighborhood-scale plan to create an affordable living community. Colorful housing projects for seniors as well as families now sit near La Alma-Lincoln Park, not far from a light rail station at 10th Avenue and Osage Street and the city's cultural Art District on Santa Fe. The area has 580 affordable housing units, including home ownership options. The rebirth of the historically Latino neighborhood after decades of disinvestment and displacement is visible in the urban gardens and vibrant murals that have appeared on building walls.
The new building centered on Native American culture will stand out among the others, in part for the circle at its center, similar to a courtyard. In Native culture, the circle represents life connecting from beginning to end. "Everything is a circle, from birth to death, to the seasons, everything," Ziegler said, "so the significance of that to our Native communities will not be lost."
Mercy is partnering with the Native American Housing Circle to make sure that the building looks and feels culturally appropriate in a genuine way, not with token touches that could offend, Marquez said.
"How do we ensure that it's culturally relevant and culturally appropriate?" Marquez said. "What we've heard loud and clear from the community, especially the tribal community, is that this is a place that could be theirs. We need to create space where kids can play, where there are opportunities to have one-on-one counseling. You think about colors. You think about artwork."
Of the 187 units, 94 will be designated for permanent supportive housing, which means they will go to people who are coming out of homelessness and will need counseling, substance abuse treatment and other services in order to stay housed. The building design includes a coffee shop and a community kitchen, plus outdoor space to take walks or garden.
The hope is that several nonprofits that are run by Native Americans and serve Native people will have space in the building, and that all staff will understand cultural norms about how to respectfully offer help and build trust, including how to acknowledge daily trauma as well as historical trauma.
Instead of lobbing questions, they will understand it's not uncommon for a Native person who grew up in a traditional way to sit for five minutes in respectful silence before any words are exchanged at all.
"We are seen"
The building is a key part of Denver's five-year plan to create 7,000 units of affordable housing by 2026.
The authority is providing a 99-year lease for the property, which was acquired in 2020 for about $4 million through a partnership between City and County of Denver and the authority to buy land for permanent, supportive housing. It is the authority's sixth development secured through the bonding program, funded by a property tax mill levy for Denver's Affordable Housing Fund.

Mercy won the competitive bidding process for the project after its pitch focusing on the struggles of Native American people regarding homelessness and health disparities. The synergy of the housing, health center, playgrounds and mental health services hit all the marks, said Erin Clark, the authority's chief real estate investment officer.
"It's a really unique and exciting site for us," said Clark, who can see the location from her window at the Denver Housing Authority. "This will be housing that is available for many different people to apply for, but having that specific focus, to the extent possible, on Native American communities has really been missing across our affordable housing landscape."
Mercy Housing is seeking low-income tax credits to finance construction, with the goal that residents will move in beginning in 2025.
The cost of construction, including the health clinic, is estimated at $85 million. The building design includes the clinic and community space on the ground level, then five floors of apartments ranging from one to four bedrooms. There's semiprivate, green space to support mental health and solitude, plus playgrounds and gardening plots.
"It's important that we are taking an all-of-the-above approach to affordable housing," Clark said. "How can we leverage any possible resources that we have, via capital, via staff, to just get more housing built. We are really excited to see state-of-the-art new construction incorporating housing and health care within the same building and within a community that is underserved."
For Ziegler, with the Native American Housing Circle, the building's overall aesthetic will be just as important as the programming offered within its walls.
"The American Indian community needs to see a visual representation of, 'OK, this is an American Indian facility, brand new and shiny,'" he said. "It's amazing and we should feel good about that. We are worthy as American people to have something nice, right? We shouldn't always have to settle for second-rate things. Just from that perspective, it brings a sense of pride and value. We are seen."
Together, we can educate, enlighten, and empower.
November is celebrated as "Native American Heritage Month." At Native News Online, we amplify Native voices and share our relatives' unique perspectives every day of the year. We believe every month should celebrate Native American heritage.
If you appreciate our commitment to Native voices and our mission to tell stories that connect us to our roots and inspire understanding and respect, we hope you will consider making a donation this month to support our work. For those who commit to a recurring donation of $12 per month or more, or make a one-time donation of $150 or greater, we're excited to offer you a copy of our upcoming Indian Boarding School publication and access to our quarterly Founder's Circle meetings and newsletter.
The Native News Health Desk is made possible by a generous grant from the National Institute for Health Care Management Foundation as well as sponsorship support from the American Dental Association. This grant funding and sponsorship support have no effect on editorial consideration in Native News Online.