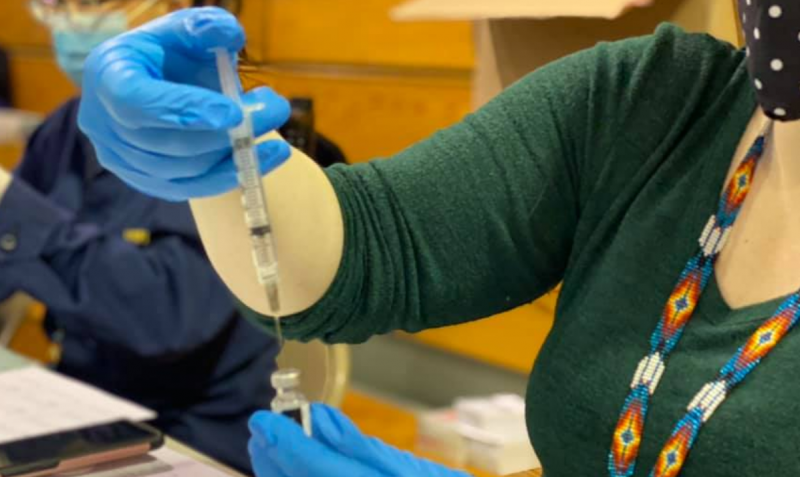 Details

By

Native News Online Staff
WASHINGTON — The White House on Wednesday announced that the third Covid-19 vaccine shot, commonly referred to as the Covid-19 booster shot, will be available as early as September 20.
"Under this plan, a booster would be administered eight months after an individual's second dose, beginning the week of September 20—at which point those individuals who were fully vaccinated earliest in the vaccination rollout will be eligible, including many health care providers, nursing home residents, and other seniors," a White House statement said on Wednesday.
Last week Friday, the Centers for Disease Control and Prevention (CDC) approved a third dose of the Covid-19 vaccine for those who have weakened immune systems. In an email sent to Indian Health Service (IHS) staff earlier this week, Dr. Christensen, the IHS Chief Medical Officer, provided examples of immune-compromised conditions. They include organ transplant recipients, those receiving cancer treatments, people with advanced or untreated HIV or anyone being treated with an immune system suppressing medication.
Also in the email, Dr. Christensen addressed the Covid-19 vaccine booster.
"IHS will follow approved recommendations for boosters. The Food and Drug Administration must amend the Emergency Use Authorization and the CDC's Advisory Committee on Immunization Practices must recommend approval of boosters after a thorough review of evidence, and the CDC director must approve the recommendation. Once this happens, the Indian Health Service will move forward with administering boosters. We continue to prepare to offer booster shots beginning the week of September 20 for those who completed their Pfizer or Moderna vaccinations 8 months prior. We also anticipate they will likely be needed for people who received the Janssen/Johnson & Johnson vaccine and expect a decision soon. Data is currently being collected on the J&J vaccine," Dr. Christensen said.
The National Indian Health Board released a statement on Thursday that reads in part: "Currently, the three vaccines – Pfizer, Moderna, and Johnson & Johnson – authorized for use in the U.S., IHS facilities, and Tribal health systems are effective at reducing the risk of severe illness, hospitalization, and death from Covid-19 infection including the more contagious Delta variant. Booster shots are recommended immediately for immunocompromised individuals."
On Thursday, the Sault Ste. Marie Tribe of Chippewa Indians in Michigan began offering Covid-19 booster shots through Sault Tribe-hosted Covid-19 Vaccination Clinics.
"At this time, booster shots are recommended for immunocompromised patients along with those who live with or are in regular contact with them," according to a statement from Sault Ste. Marie Tribe.
The Sault Tribe Health Division's COVID-19 vaccination clinics are scheduled at the following dates and locations in August: Aug. 24-St. Ignace; Aug. 26-Manistique Health Center; Aug. 26-Marquette Tribal Community Health Center; Aug. 30-Munising Tribal Health Center; Aug. 31-Escanaba Tribal Community Health Center; and Aug. 31-Sugar Island Community Center.
Those who are interested in other parts of Indian Country receiving the Covid-19 booster shot should contact their personal health care provider, such as an IHS clinic or personal physician.
For vaccine resources, check out National Indian Health Board's (NIHB) "Questions to Ask Your Provider" for patients to use when considering getting a Covid-19 vaccine. For answers on the Delta variant from the White House Vaccine Coordinator and a Native physician, watch the webinar "Response to the Delta Variant in Tribal Communities Webinar" – the first in the NIHB #ACTOFLOVE Covid-19 Vaccine Webinar Series in partnership with the Association of American Indian Physicians (AAIP).
UPDATED: Friday, Aug. 20, 2021, 10:20 a.m. - EDT
More Stories Like This
IHS Awards $1.5 Million to Address Alzheimer's Disease 
Statement from IHS Director Roselyn Tso on the Availability of Updated COVID-19 Vaccines
Promote Hope for the Future: Addressing Suicide in Indigenous Youth
Ovarian Cancer Affects 20,000 Women a Year. Here's What You Need to Know.
Early Detection is Key to Prostate Cancer Survival
The Native News Health Desk is made possible by a generous grant from the National Institute for Health Care Management Foundation as well as sponsorship support from the American Dental Association. This grant funding and sponsorship support have no effect on editorial consideration in Native News Online.