WASHINGTON — The National Congress of American Indians (NCAI) on Monday issued a statement that supports development of robust tribal consultation in Washington state.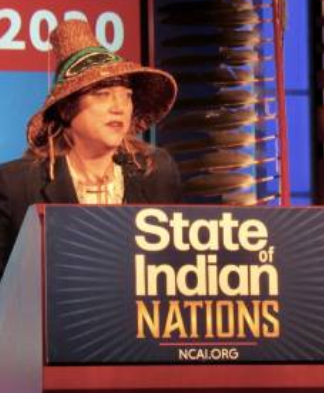 The statement comes after Washington Gov. Jay Inslee, a Democrat, unilaterally vetoed a section of the cap and trade Climate Commitment Act that would have required tribal consent, not only tribal consultation, for projects funded by new funds from cap and trade.
The veto came as a surprise to tribal leaders in the state, who felt betrayed by the governor.
Several tribal leaders, including NCAI President Fawn Sharp, pushed back on the governor's veto.
Want more Native News? Get the free daily newsletter today.
"This week, Jay Inslee committed the most egregious and shameless betrayal of a deal I have ever witnessed from a politician of any party, at any level," Sharp said in a written statement.
"After using and exploiting Tribal Nation's political capital to pass his climate bill, Jay Inslee made the cowardly decision on the day of the bill's signing to ambush Tribal leaders by suddenly vetoing all Tribal consultation requirements and all protections for Native American sacred sites and burial grounds that his office and the State Legislature had negotiated as a condition of the bill's passage," Sharp continued.
Sharp, who also serves as the vice president of the Quinault Indian Nation and a leading global expert on climate change and human rights law, had some terse words for the governor.
The governor then singled out Sharp in on Twitter. He said in a tweet "Fawn Sharp is not a real tribal chair" and he was working with "real tribal chairs."
Monday's statement NCAI showed the organization's support for Sharp, who joined world leaders at the White House Leaders Summit in April.
Here is NCAI's statement:
"After many hours of negotiation with leaders of the Washington State Legislature and Governor Inslee's office and consultation with Tribal Nations in the state of Washington, advocacy groups, businesses, and many others, two historic measures to address the climate crisis recently become law. These measures are consistent with standing National Congress of American Indians (NCAI) policy on Climate Change, especially with respect to our position on the United Nation's Declaration of Indigenous Peoples Free, Prior, and Informed Consent (UNDRIP-FPIC).
Washington Tribal Nations endorsed and worked hard for the adoption of this measure based on the assurance that they would be fully consulted on new projects related to this measure, especially those that might impact cultural, archeological, or sacred sites. Moreover, as the original people of the lands and waters that comprise Washington state, they won a clear acknowledgement that they should be at the table when these critical conversations take place as the bill passed the legislature.
The good faith negotiations leading to the adoption of this and other provisions took place with legislative leaders and directly with the Governor's office. It was, therefore, disappointing to learn of the Governor's surprise and last-minute veto of the tribal consent and consultation provisions.
We were further displeased to learn of the Governor's recent response to a reporter's question in which he implied the nationally elected president of NCAI, Fawn Sharp, is not a real leader. Those remarks suggest a division of leadership rank and legitimacy in Washington.
Tribal leaders are not divided. We support all leaders we elect at the national level, and we expect that they will be treated with respect.
We extend our support for the work of all Washington state tribal leaders who seek to resolve the issues raised by the Governor's veto. NCAI's policy as voted upon by the NCAI General Assembly of Tribal Nations (SAC-12-036), is congruent with the action of the Washington State legislature including the section that was vetoed.
Thus, we fully support a robust consultation process leading to the statewide adoption of a Free, Prior, and Informed Consent policy that protects the inherent civil and human rights of Tribal Nations, including their cultural, archeological, or sacred sites, and that recognizes the role Tribal Nations have held since time immemorial as stewards of the land, and that they continue to hold as they uphold the rights of future generations."
More Stories Like This
Georgia Republican Gubernatorial Primary Candidate Kandiss Taylor Makes Stupid, Crass Comment about Native Americans, the First Amendment, Georgia, and Jesus
Navajo Citizen Judge Sunshine Sykes Confirmed to Serve as U.S. District Court Judge
Indigenous Women Make Up Nearly Half of Canada's Incarcerated Population; New Legislation Seeks to Change That
Ho-Chunk Nation's Economic Arm Set to Move Forward with Casino Project 
Leaders Respond to Federal Indian Boarding School Investigative Report, Call it 'Monumental'