Details

By

Native News Online Staff
SHIPROCK, N.M. — Navajo Nation citizens were given opportunities to make statements at several public hearings about uranium mining on the Navajo Reservation, beginning in Shiprock, New Mexico on March 5.
Navajo Nation Council Speaker Seth Damon said the public hearings were an outreach effort to gather information on an issue that has been occupying the Navajo Nation for the past seven decades: uranium mining and its negative impact on Navajo communities.
"We're here to listen to your concerns and to gather as much information to include in the Navajo Nation's uranium position statement," Damon said.
Members of the public were given three minutes to speak. Twenty-two people came forward to speak.
Eva Stokley said she was speaking on behalf of her husband, Peter, and his mother. Both were originally from Burnt Corn, Ariz.
"I'm going to speak on the downwinders," she said, struggling to hold back tears. She said residents from the area live in the traditional way, most often unaware of the uranium being carried downwind. She said many people were contracting cancer and other ailments.
Henry Tso spoke next and said uranium has impacted the land, air and water. He called the Navajo Nation Council the spearhead for the tribe.
"You're the spear that protects the Navajo Nation. We lost our mom and dad from Hard Rock due to uranium mining," he said, adding that the Council needed to take action on uranium, which has been talked about for decades and studied numerous times.
"We need to quit talking about it and do something," he said.
Larry King said he was born and raised in Church Rock and lived there for the past 60 years. He graduated high school in 1975 and began working at the Church Rock Mine in Aug. 1975.
"In April 1983, I was laid off because the mine was shutting down," King said. "I witnessed the July 16, 1979 uranium spill. I saw the huge cracks in the uranium tailings pond. To this day, it remains the largest release of radioactive waste in the history of the U.S."
Despite the enormity of the incident, King said the 3-Mile Island meltdown received more media attention.
"Forty years later, Red Water Pond Community Association is still trying to get social justice for the people," he said.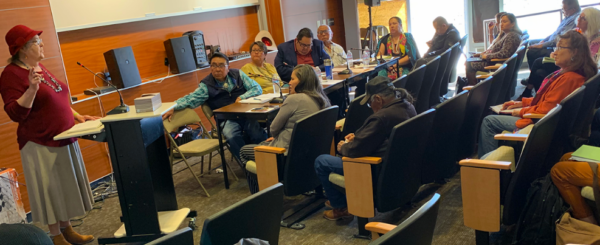 San Juan County Commission Glojean Todacheene says she worries about the health effects of the mining.
San Juan County Commission Glojean Todacheene (D-Dist. 1) said her mother worked as a licensed nurse practitioner who contracted cancer and eventually lived to the age of 86. "In 1981, something was wrong with her and they had surgery. It was cancer and it was malignant," she said. "(Navajos) are survivors and we're really tough people, but I worry about our health."
Cove Chapter President James Benally said public hearings have already been conducted through the Navajo Nation Uranium Advisory Committee under former president Russell Begaye.
"Region 9 Superfund has been meeting with us. Cove is doing removal site evaluation and engineering evaluation cost analysis in consultation with the tribal government," he said. "Instead of trying to create something new, why don't we let the U.S. EPA be the lead agency? We can build capacity for Navajo AML."
Navajo citizen Terry Charley asked how long the issue would be studied, especially since it's been 70 years since uranium extraction first began on Navajo land.
"Too many studies and risk assessments have been done," Charley said. "Our people want action. They're crying because of it. We have tons of radioactive waste, but we've yet to quantify this."
Damon reported that the Council met with the U.S. EPA Feb. 28 for one-on-one consultation regarding the 10-year plan. Speaker Damon said $1.7 billion was available to begin the cleanup of 219 mines.
More Stories Like This
Potential First Native American Federal Judge in Oklahoma Advances Toward Senate Confirmation
Photos from the 2023 White House Tribal Nations Summit
Native News Weekly (December 10, 2023): D.C. Briefs
December 10th is the 75th Human Rights Day
Vice President Harris Addresses Indian Boarding Schools at the White House Tribal Nations Summit
In a world filled with inaccurate narratives about Native Americans, we spotlight the overlooked, unheard and underrepresented stories that are often overlooked by the mainstream media. Our journalism is free for all to read, but it is not free to produce. Your donation provides the much-needed financial support for us to produce inclusive Indigenous journalism that inspires, informs and uplifts Native Americans. Thank you for being a force behind our work. Together, we are rewriting the narrative.