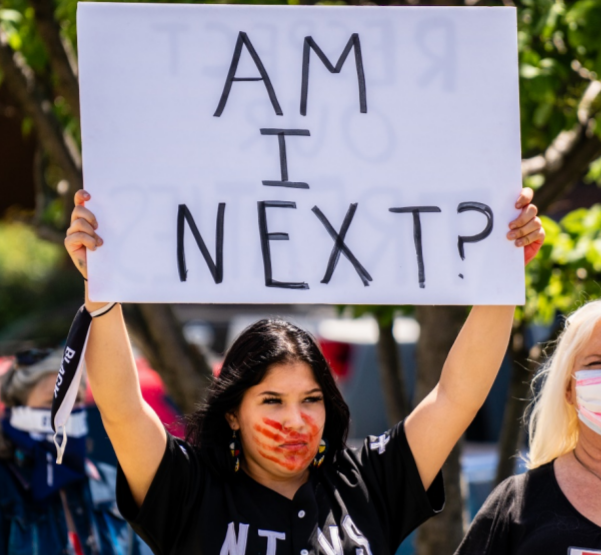 Details

By

Darren Thompson
ST. Paul, Minn. — A task force established in 2019 in Minnesota that focuses on the epidemic of missing and murdered Indigenous women (MMIW) released its first report that in Minnesota, American Indian women and girls make up 8 percent of murdered women and girls in the State.
Indigenous women (and girls) make up only 1 percent of the state's population, according to the report released on December 15, 2020 by the Minnesota Department of Public Safety.
The report published several findings including:
1) Root cause of MMIW injustices are based in colonization and historical trauma, racism, and sexism and sexual objectification of Indigenous women and girls.
2) Indigenous women, girls and two spirit people are not at increased risk of violence because of individual risky behaviors or poor choices, but rather systemic risk factors such as poverty and homelessness, child welfare involvement, domestic violence, sex trafficking and prostitution which place them in dangerous situations.
3) Once an Indigenous woman or girl goes missing or dies under suspicious circumstances, the investigation, prosecution and sentencing processes that are supposed to serve justice often fail to provide equal and fair treatment for Indigenous victims.
4) The system does not include sufficient resources for adequate culturally responsive healing resources for Indigenous victims or survivors, families and communities.
The findings were applauded by Minnesota Lieutenant Governor Peggy Flanagan—"We measure what we care about, which is why this report is a transformative achievement," said Flanagan in a statement.
"For far too long, Native women have been, at best, invisible, and at worst, disposable. As Native women and girls experienced violence, went missing, or were murdered at disproportionate rates, too often, the cases and root causes went unexamined," said Flanagan.
In 2019, the Missing and Murdered Indigenous Women's Task Force was created through unanimous bipartisan support of the Minnesota Legislature, and was coordinated by the Minnesota Department of Public Safety, and signed into law by Governor Tim Walz in 2019.
The Task Force is composed of representatives of the Governor's administrative cabinets, the Minnesota State Legislature, law enforcement, organizations that serve Indigenous women and victims, the U.S. Attorney's Office, and all 11 federally recognized tribes in the state of Minnesota.
Some of solutions presented in the report are: 1) create an MMIW Office to provide ongoing attention to and leadership for this issue; 2) ensure adequate funding and resources to implement these recommendations; 3) address systemic racism, and 4) focus on eliminating poverty and meeting basic needs.
"We're here for you now and we're going to do what we can to make this better so that nobody has a mother, an aunt, or a grandmother, daughter or sister walk out the door and never know if they are going to see them again," said Minnesota Representative and Chair of the MMIW Task Force Mary Kunesh-Podein.
Distributed by the Department of Public Safety Office of Justice, CLICK to read the report.
More Stories Like This
Georgia Republican Gubernatorial Primary Candidate Kandiss Taylor Makes Stupid, Crass Comment about Native Americans, the First Amendment, Georgia, and Jesus
Navajo Citizen Judge Sunshine Sykes Confirmed to Serve as U.S. District Court Judge
Indigenous Women Make Up Nearly Half of Canada's Incarcerated Population; New Legislation Seeks to Change That
Ho-Chunk Nation's Economic Arm Set to Move Forward with Casino Project 
Leaders Respond to Federal Indian Boarding School Investigative Report, Call it 'Monumental'