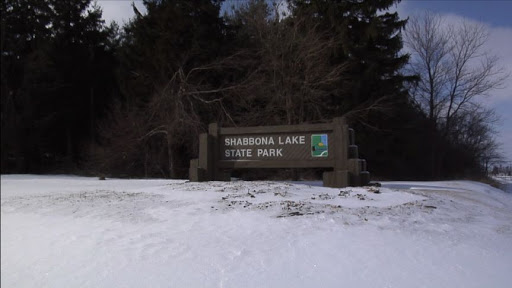 Details

By

Levi Rickert
Prairie Band Potawatomi Nation officials held a press conference in Springfield, Ill. on Wednesday with Illinois state lawmakers who have introduced resolutions in Illinois Legislature that supports the tribe's claim to reservation land near the village of Shabbona, near Chicago.
Two separate bills Senate Resolution 896, sponsored by state Sen. Cristina Pacione-Zayas (D-Chicago), and House Resolution 504 sponsored by state Rep. Tom Demmer (R-Dixon), call on the U.S. Congress to pass legislation that would allow the Nation to secure 1,151 acres of land, near Shabbona State Park in the southern part of DeKalb County, Illinois.
The Prairie Band Potawatomi Nation is a federally recognized Native American tribe that occupied lands in southern Wisconsin, northern Illinois and northwestern Indiana. They signed the 1829 Treaty of Prairie du Chien, which reserved two sections of land near Paw Paw Grove, Illinois for Potawatomi Chief Shab-en-nay and his band.
"We simply want to reclaim the land that was taken from us and we want to do so in the most community-focused, least disruptive way," Prairie Band Potawatomi Nation Chairman Joseph Rupnick said. "We're rooted in the northern Illinois community and after 170 years, we just want this issue resolved."
State Sen. Pacione-Zayas, the bill's sponsor in the Illinois Senate, says it is time to correct an injustice.
"As U.S. inhabitants, it's important to recognize the Indigenous communities who called this land home before us and continue to call it home," Pacione-Zayas said. "The land of Chief Shab-eh-nay and his band was illegally sold, and recognition of this act of injustice by the federal government will begin to repair the harm and ensure that the land is recognized as reserved for the Potawatomi people in northern Illinois."
In the late 1840s when Chief Shab-eh-nay traveled from his home Reservation in DeKalb to visit his family in Kansas, the U.S. government illegally auctioned off more than 1,280 acres of his land near the village of Shabbona in southern DeKalb County.
In 2001, the U.S. Department of the Interior confirmed the history and legal status of the Shab-eh-nay Reservation as federally recognized Indian Country because the U.S. Government never received the required Congressional approval to auction off land that rightfully belonged to Chief Shab-eh-nay.
The U.S. Congress is the only governing body that has the authority to designate land titles to tribal nations.
Currently, deeds for homeowners within the reservation are subject to "all rights, claims, or title to the descendants of a Potawatomi Indian Chieftain named Shabbona and his Band."
The federal legislation now in the U.S. Senate would wipe those deeds clean of that clause in favor of assuring current homeowners that their property is theirs without condition. It would also provide clean title to the State and DeKalb County governments who also own land within the current reservation.
"The U.S. Government made a mistake 170 years ago by illegally selling the Nation's land," Demmer said. "Now we as lawmakers here in Illinois and our counterparts in Congress have a chance to correct it."
More Stories Like This
Georgia Republican Gubernatorial Primary Candidate Kandiss Taylor Makes Stupid, Crass Comment about Native Americans, the First Amendment, Georgia, and Jesus
Navajo Citizen Judge Sunshine Sykes Confirmed to Serve as U.S. District Court Judge
Indigenous Women Make Up Nearly Half of Canada's Incarcerated Population; New Legislation Seeks to Change That
Ho-Chunk Nation's Economic Arm Set to Move Forward with Casino Project 
Leaders Respond to Federal Indian Boarding School Investigative Report, Call it 'Monumental'