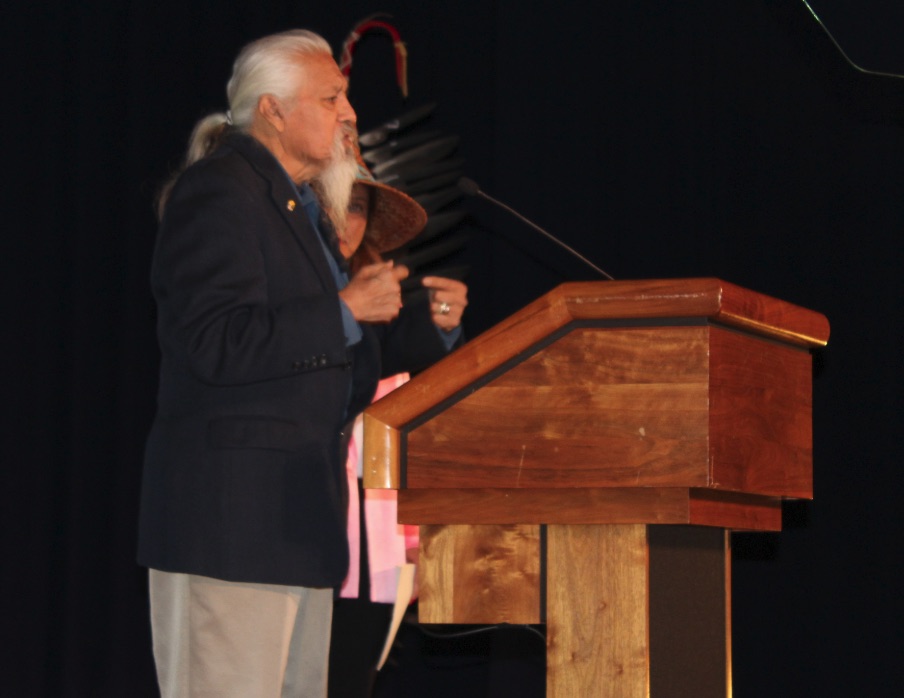 Details

By

Levi Rickert
Tribal leaders from across Indian Country are mourning the passing of former National Congress of American Indians (NCAI) President Joe Garcia, who served three terms as governor of the Ohkay Owingeh, a federally recognized pueblo in New Mexico. Garcia died on Thursday and a traditional funeral has already been held. Garica was 70.
Garcia served for two terms as president of NCAI, the largest and most representative American Indian and Alaska Native organization in the country. He was elected president of NCAI in 2005 and reelected in 2007. At the time of his death, Garcia served as the Southwest region vice president of NCAI.
Even though he has not served as president of NCAI in over a decade, his presence was profoundly felt at national NCAI conventions and meetings because of Garcia's stable leadership and spiritual guidance.
"His untimely departure is a significant loss for Indian Country, as he was a true culture keeper for his people and a dedicated advocate for Native nations across the Southwest region," NCAI President Fawn Sharp said in a statement on Friday.
"As the NCAI Southwest Region Vice President and former NCAI President, he embodied the spirit of unity and strength that we hold dear. His unwavering belief in the mission of NCAI, to foster collaboration and solidarity among all Tribal Nations, was evident in every endeavor he undertook," Sharp continued.
Just a few months ago, on February 21, 2023, President Sharp, at the conclusion of her State of Indian Nations address at the Smithsonian National Museum of the American Indian, called upon Garcia to address the audience to provide a short prayer and guidance.
"Our strength comes from the spirit of our ancestors. We invoke the spirit of our ancestors and even the spirit of the unborn, the new ones. That is how we will succeed. Their spirits are why we are still here. Many times we forget that. The strength of the spirit is how Indian Country will survive," Garcia said. "The never ending energy of the spiritual power of Indian Country brings us our strength."
For Lance Gumbs, the NCAI Northeast Region Vice President Lance Gumbs, the Shinnecock Nation ambassador, the loss of Garcia is both personal and professional. Gumbs, who lost several members of his immediate family from COVID-19 said Garcia was there for him in the difficult times of personal loss.
"Joe was the first person I met when coming to NCAI years ago. He showed me the ropes inside the organization. He became my mentor and friend with shared common interests and values in our people's well being. I could always count on his support and words of wisdom to get me through some of the tough times," Gumbs said.
Indian Gaming Association (IGA) Chairman Ernie Stevens, Jr. said while Garcia was physically a small man, he was a giant whose influence will be greatly missed.
"We invited Joe to come to open our IGA convention in San Diego last month with a prayer. As a matter of fact, we have invited him to several of our conventions because of his strong prayers and strong leadership. He taught us to stay firm and strong leaders. In his prayer he asked the Creator to have us work together in a peaceful way that was respectful. That was how he always was: working towards unity as Native people," Stevens said to Native News Online. "He called me his little brother."
Former NCAI vice president Aaron Payment, the former tribal chairperson of the Sault Ste. Marie Tribe, also told Native News Online that Garcia was a big brother to him.
"I once made the mistake of referring to him as an uncle. He reminded me that was not much older than me and laughed about it," Payment said.
"What I will remember the most about him is at NCAI conventions was his generous prayers and strength from his ancestors and our ancestors who bless us. This death is difficult for me." Payment reflected.
Garcia earned an electrical engineering degree from the University of New Mexico. After graduating, he was employed by the Los Alamos National Laboratory where he worked for 25 years until his retirement in 2003. Garcia then established his own firm, MistyLake Consulting Services.
He has taught numerous courses in computers, electronics, lasers, and math at the Northern New Mexico College from 1979 to1983.
Garcia also completed his third term as Governor of Ohkay Owingeh 2005-2006. In 2009, he became head councilman by tradition of the Ohkay Owingeh, a position he served until his death.
After his term as Governor he was elected as Chairman of the All Indian Pueblo Council (AIPC), the organization which was formed in 1598 and serves the 19 Pueblos of New Mexico. He served as Chairman for 4 years (2007-2010).
In addition to serving his pueblo and others, Garcia served nationally on several task forces and committees. He was a member of the Tribal Leaders Task Force for the Federal Communications Commission (FCC) where he served as co-chair for three years, a co-chair of the Tribal Technical Advisory Committee for SAMHSA (Substance Abuse and Mental Health Services Administration) and co-chair of the Tribal Transportation Self Governance Program.
On Saturday, the Democratic National Committee issued a statement from DNC Chair Jaime Harrison and DNC Native Caucus Chair Clara Pratte on the passing of Garcia.
"We are deeply saddened to learn of the passing of renowned Tribal leader and elder Joe Garcia. As the head councilman of the Ohkay Owingeh, former president of the National Congress of American Indians, and former DNC committee member, Head Councilman Garcia devoted his life to strengthening nation to nation relationships across Indian Country."
Garcia is survived by his wife, Oneva; daughters Melissa and MorningStar; He had six grandchildren and two great-grandchildren. His son, Nathan, died in 2020.
More Stories Like This
Potential First Native American Federal Judge in Oklahoma Advances Toward Senate Confirmation
Photos from the 2023 White House Tribal Nations Summit
Native News Weekly (December 10, 2023): D.C. Briefs
December 10th is the 75th Human Rights Day
Vice President Harris Addresses Indian Boarding Schools at the White House Tribal Nations Summit
In a world filled with inaccurate narratives about Native Americans, we spotlight the overlooked, unheard and underrepresented stories that are often overlooked by the mainstream media. Our journalism is free for all to read, but it is not free to produce. Your donation provides the much-needed financial support for us to produce inclusive Indigenous journalism that inspires, informs and uplifts Native Americans. Thank you for being a force behind our work. Together, we are rewriting the narrative.