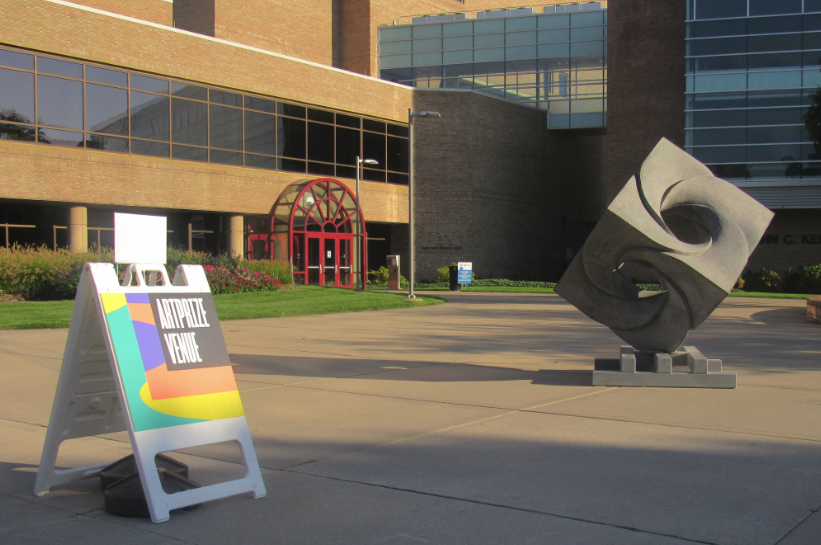 Details

By

Levi Rickert
GRAND RAPIDS, Mich. — Anishinaabe artist Jason Quigno installed his 7,000-pound sculpture on Thursday outside Grand Valley State University's L.V. Eberhard Center as an entry in the bi-annual Artprize competition in downtown Grand Rapids, Mich.
ArtPrize is an open, independently organized international art competition that takes place for 18 days in Grand Rapids. ArtPrize is a bi-annual event that began in 2009 and attracts artists from around the world. ArtPrize organizers say this year there is artwork from more than 800 artists from 30 countries on display in 150 venues.
Quigno, an accomplished sculptor who has won awards for his work at the Santa Fe Indian Art Market, has an art studio in Grand Rapids.
"I had entries each of the first couple of years of ArtPrize and then I was too busy to enter a piece a couple of years," Quigno said to Native News Online.
This year, Quigno entered "Infinity Cube" into the competition. The granite sculpture's dimensions are 88"x78"x78" and rest atop a temporary base Quigno built for ArtPrize. It will eventually be placed on a pyramid base to complement the slope of the cube.
"I started this sculpture years ago with a 10,000-pound block of granite I purchased from a dealer in Canada and I began carving," Quigno said. "I began cutting spiral circles and kept going."
Qiugno's sculpture is a contemporary representation of American Indian artistry. He says the piece represents how we are all connected—within and without.
As a sculptor, Quigno works with different stones — granite, basalt, marble, limestone and alabaster.
Quigno, a tribal citizen of the Saginaw Chippewa Indian Tribe, who has been carving stone since he was 14, is a life-long resident of Michigan and is a direct descendant of Chief Cobmoosa, also known as the Great Walker, one of the most recognized nineteenth-century Grand River Ottawa leaders.
The sculpture will be on display until Oct. 4, 2021 in downtown Grand Rapids.
More Stories Like This
What's Going On In Indian Country: May 19 - 26
Opening of Chicago Field Museum's Native Truths Exhibition Marks a 'New Beginning'
Eight Finalists for the 2022 Indigenous Screenwriters List Announced
Sneak Preview: Native Truths Exhibition at Field Museum Reveals Vibrancy of Contemporary Native People
What's Going On In Indian Country: May 12 - 19