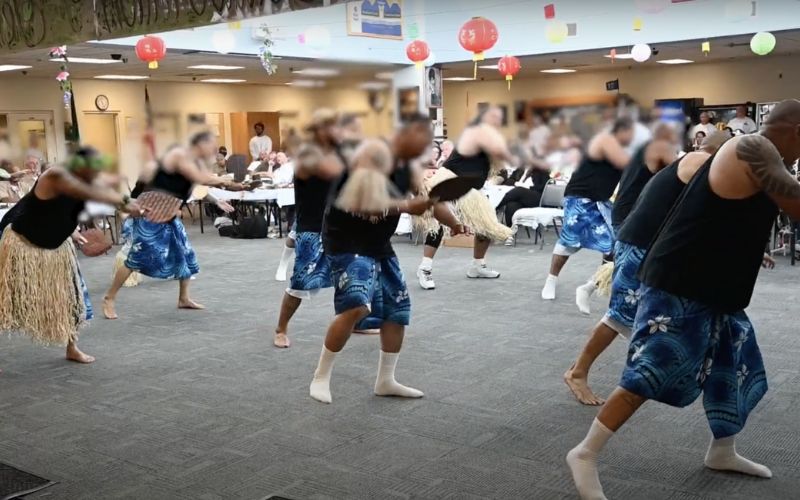 Details

By

Ralph Dunuan, Filter
Incarceration in the United States has long been used to strip cultural identities from people of color. Through the centuries, we've been separated from our communities through chattel slavery; Indigenous boarding schools; Japanese internment camps; reservations that were concentration camps by another name.
This article was originally published by Filter, an online magazine covering drug use, drug policy and human rights through a harm reduction lens. Follow Filter on Facebook or Twitter, or sign up for its newsletter.
Today, that state violence is carried out by the prison-industrial complex. Inside Washington State Department of Corrections (WDOC) facilities, incarcerated people of color have resisted the isolation and whitewashing we're subjected to by forming cultural groups: organizations by and for prisoners where we teach classes, host traditional events and build connections with our outside communities.
The fundamental nature of these groups is that they are peer-led. While we're often denied the full expression of our cultural traditions, for decades we've designed our own educational curricula and organized our own events—until this spring, when WDOC suspended all peer-led programming across all facilities.
In order to resume, we must agree to define ourselves as "volunteer-based groups" that can't teach our own classes without supervision. Instead of each cultural group determining its own programming, all of us would be part of WDOC's "Diversity" group, whose board would make those decisions for us.
"Cultural groups are not gangs, contrary to what DOC tries to imply!"
Cultural groups have been in Washington State prisons longer than the Department of Corrections. By the time WDOC was created in 1981, and the state's notorious Sentencing Reform Act ushered in an era of punishment rather than rehabilitation, the Black Prisoners Caucus (BPC) had been organizing inside Washington State Reformatory for several years.
By 1995, when "Hard Time for Armed Crime" drastically lengthened many sentences, the Asian Pacific Islander Cultural Awareness Group (APICAG) had already formed at Clallam Bay Corrections Center. In the early 2000s, Nuestro Grupo Cultural (NGC, formerly Hispanic Cultural Awareness Group) formed at Clallam Bay, and along with Native American Circle, these groups have expanded into facilities across the state. Though independent, the four groups support each other and often work together.
"Cultural groups are not gangs, contrary to what DOC tries to imply!" said Thomas Kelderhouse, who like myself is an APICAG member currently incarcerated in Washington Corrections Center (WCC). "DOC likes to villainize anything that promotes unity amongst incarcerated peoples … Yes, once in a while [fights] do happen. It's prison. But they never tell you how many assaults and riots these groups have prevented."
Here at WCC, for example, APICAG classes include "Anti-Domestic Violence and Family Communication," "Intersectional Feminism 101" and "Asian Pacific Islander Cultural Studies." This kind of peer-led education has always been at the center of cultural group programming. Publicly WDOC supports it, while internally restructuring it so it's no longer peer-led.
WDOC has allowed cultural groups to operate under its religious programming policy, but for years has been eyeing a takeover in the form of a new policy. Once implemented, administration would decide what material is appropriate for our classes and what foods are appropriate for our events. Instead of each of the four groups organizing its own annual cultural celebration as they currently do, WDOC would organize a composite event for all four, as if "culture" is one thing everyone can celebrate the same way. The WDOC-selected board of the Diversity group would determine which cultural programming requests get approved.
Cultural groups learned of the WDOC's plans several years ago, and in 2018 collectively authored a draft policy to present as an alternative. The department has not acknowledged it nor included any representatives in any discussions about the change.
"These groups have not been suspended or dissolved," WDOC Media Relations Manager Tobby Hatley told Filter. "This process allows prison leadership to have visibility into the group's actions and activities and can help strategize ways to improve accessibility to programming."
Director of Correctional Services Lisa Flynn, who oversees programming, has indicated that peer-led programming always required supervision. Over the past several years, when we've asked about the source of various denials or restrictions, WDOC's cultural group liaisons and other staff have frequently said the decision came from either Flynn or from Family Services Manager Dawn Taylor. Neither Flynn nor Taylor responded to Filter's request for comment.
Some groups are currently at a stalemate with the department, which won't let us continue our peer education unless we have outside sponsors submit paperwork categorizing us primarily as "volunteer based" programs. (Cultural groups have so far not been able to get clarity on what happens if we mark the form below as "Other.")
One cultural group representative, whose name and location are being withheld for his protection, told Filter that there's a collective hesitation to file the paperwork at all.
"Our fear is that if we fill out that form, then we'd be conceding our cultural group protections, i.e. civil rights," he said. "We have no issues with transparency or filling out the form if they remove the 'volunteer group' portion."
In recent years, cultural groups have organized hunger strikes to peacefully protest our living conditions. We've overturned WDOC's practice of withholding vocational training opportunities from the people it detains at the behest of Immigrations and Customs Enforcement. We've developed cultural curricula with accredited colleges. We've advanced legislative reform of the state's unjust sentencing practices.
"Cultural awareness leads to community-building," Megan Ybarra, a University of Washington professor who has worked extensively with cultural groups inside WDOC facilities, told Filter. "[When] that fosters positive change … elites react with the swift violence of retaliation. They know that communities that build power with each other have the potential to shake up the system."
Cultural group representatives preparing to host a social justice summit in November, including myself, were for the first time required to submit our speeches in advance for approval. Other representatives have described being placed in solitary confinement in retaliation for their organizing work. Hatley did not comment on Filter's inquiry about that claim.
At WCC, family members of Native American Circle members have been denied entry to the group's annual pow wow. APICAG, which is preparing to host its annual event on October 28, was recently denied its longstanding tradition of making leis with candy or flowers to present to guests; WDOC claimed they could be used to choke someone.
NGC, which has been fighting for WDOC to recognize its current name since changing it in 2016, was told in a recent meeting with administration that it would no longer be permitted to function under any name not recognized by an outside organization.
"We are struggling with the prisons hierarchy, who is currently telling mi gente from the NGC that this culture group is not a legitimate or recognized Hispanic/Latino cultural group," Joe Mata, who is incarcerated at WCC and was present at the meeting, told Filter. "We are not about gangs, nor violence. All we want is peace and to be recognized as a cultural group within prison walls and out. In 2023, we should not be forced or threatened for our beliefs or for holding on to our heritage. We need to unite gente, for there is strength in numbers and power in organized knowledge."
"Cultural groups are the real rehabilitators inside these prisons," Kelderhouse told Filter. "That's why DOC fights so hard to take them away."
A central premise of cultural groups that we are accountable to our communities both inside and outside prison, and that we are making our communities safer and stronger from the inside out.
"Our culture shows unity to our heritage," APICAG member Jerome Ta'afulisia, 23, told Filter. "[How] to be a better person for our community." Jerome was 16 during the events for which he and his brother James Ta'afulisia, then 17, were sentenced as adults. The two joined APICAG soon after they were sent into the WDOC system.
Though staff portrays them as disruptive and combative, many of us who've gotten to know them feel that characterization doesn't add up. They possess a maturity not many of us exhibited at their age. As APICAG has encouraged their personal growth, they've responded in kind, becoming prominent organizers in the community.
My frustration with WDOC lies with the fact that it is accountable to the same communities that we are, but doesn't acknowledge it. Instead, it seeks to blind us with the outward appearance of "diversity," while two white women at headquarters choose the appropriate ways for us to express our own cultures. It claims to supports peer-led programming, but is not allowing us to continue operating that way.
When I began my sentence 25 years ago, the only culture I'd ever known was a street culture of violence; one that taught us to harm our communities, not build them. But peer-led cultural groups taught me the history of my Indigenous and Filipino descent. They've connected me with my Indigenous traditions, like sweat lodge ceremonies and Native drumming groups. They opened my eyes to systemic patriarchy. They have been the light that guided me through the trauma of solitary confinement.
After a quarter-century stripped of my humanity, and all the conditioning to survive that mental warfare, I'm nearing the end of my sentence. The anxiety of my approaching re-entry is with me every waking moment and every restless night. I struggle to envision what a future of happiness would look like. I wonder if maybe some wounds are not meant to heal.
I may not know what my future looks like outside these walls. But I know that in spite of WDOC's tactics that divide and isolate us, I will leave strengthened by community and the cultural identity I gained through my peers. I will not allow the carceral state to define that identity for me.
Ralph is an incarcerated member of the Native American Circle group Tribal Sons, the Asian Pacific Islander Cultural Awareness Group, and No New Washington Prisons. He is the lead organizer for Liberation Media Northwest and the host of C.H.O.I.C.E.S., a podcast about issues affecting incarcerated communities. His writing and organizing focus on promoting peer-led cultural education, exposing the social inequities of incarceration, and changing the draconian sentencing practices of Washington State.
Together, we can educate, enlighten, and empower.
November is celebrated as "Native American Heritage Month." At Native News Online, we amplify Native voices and share our relatives' unique perspectives every day of the year. We believe every month should celebrate Native American heritage.
If you appreciate our commitment to Native voices and our mission to tell stories that connect us to our roots and inspire understanding and respect, we hope you will consider making a donation this month to support our work. For those who commit to a recurring donation of $12 per month or more, or make a one-time donation of $150 or greater, we're excited to offer you a copy of our upcoming Indian Boarding School publication and access to our quarterly Founder's Circle meetings and newsletter.