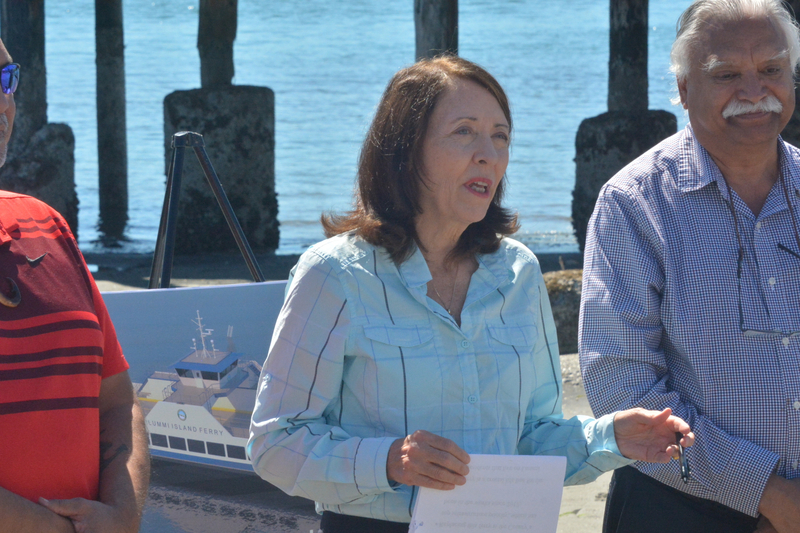 Details

By

Elyse Wild and Karlee Van De Venter
A recent overdose tragedy in Lummi Nation is prompting one of Washington's U.S. senators to call on fellow lawmakers to pay much-needed attention to a public health crisis that is tearing through Native American communities.
This report was produced in partnership between Native News Online and McClatchy.
In a letter addressed to leaders of the U.S. Senate Committee on Indian Affairs on Oct. 3, Sen. Maria Cantwell (D), requested that the agency hold an oversight hearing to address the surge in fentanyl deaths in Indian Country. The letter came just days after four Lummi Nation citizens died of fentanyl overdoses in one week.
The proliferation of fentanyl, a synthetic opioid 50 times stronger than heroin, in the nation's illicit drug supply is driving overdoses in every community in the United States, disproportionately affecting Native American communities. How do we know this?
Cantwell has a message for Lummi Nation and other tribes in Washington and around the country: "We don't want you to feel like you have to tackle this crisis alone. Let's work together. Let's make sure that your creative ideas on treatment and getting people immediate access work together with law enforcement on trying to counter the fentanyl supply on reservations."
Overdose rates in Indian Country
Last year, the Centers for Disease Control and Prevention (CDC) reported that American Indians and Alaska Natives had the highest drug overdose rates in both 2020 and 2021. Native Hawaiians experienced a staggering 47% increase in drug overdose death rates from 2020 through 2021.
Advocates say the reasons for the high overdose rates in Native communities are myriad, but clear: generational trauma, cavernous gaps in healthcare, geographic isolation, and complicated law enforcement and public safety jurisdictions. While many of these overarching factors have affected Native health for decades, the sudden rise of fentanyl-related deaths, which nearly tripled from 2019 to 2022, has intensified the impact in Indian Country.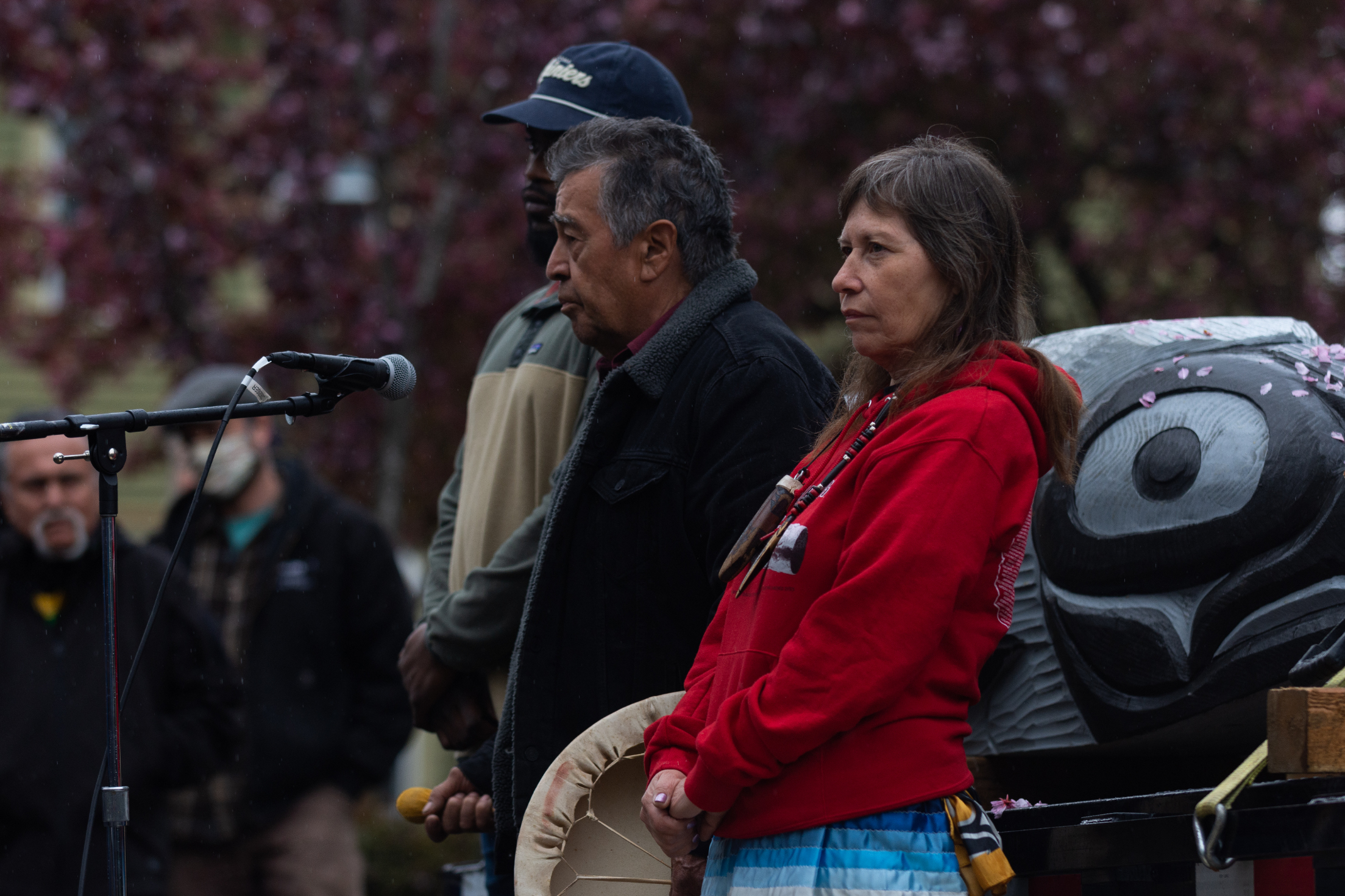 Lummi Tribal members Siam'el wit, right, and Doug James joined by fly angler Jian Lawrence offer prayer and song to bless the totem pole at the The Snake River to Salish Sea Spirit of the Waters totem pole journey launch Tuesday, May 3, 2022 at Bellingham Unitarian Fellowship in Bellingham, Wash. (photo/Natasha Brennan for McClatchy)
"Like many communities, Lummi Nation is experiencing devastating effects of the fentanyl crisis," Lummi Nation Tribal Chairman Anthony Hillaire told Native News Online. "The impacts on Indian Country are magnified immeasurably because they're filtered through the cultural and physical genocide that continues to inflict harm on our people."
According to a recent CDC report, more than 65% of 107,081 reported drug-overdose deaths in the United States last year involved fentanyl. The U.S. is currently in the fourth wave of the opioid crisis, characterized by the presence of fentanyl in non-opioid drugs, such as cocaine and methamphetamine, driving up overdoses in the non-opioid- addicted population.
Last month's overdoses devastated the Lummi community, which currently has around 5,000 enrolled members. One mother who lost her son in the overdose wave told Native News Online she had to wait a week to bury him.
"There are other families ahead of me," she said. "Who has to wait in line to bury their child?"
Preventing opioid overdose in WA tribes
The epidemic is seen across Washington state's 29 federally-recognized tribes. The Yakama Nation Reservation, the state's largest reservation with 1.4 million acres of land, has also experienced the dangers of opioid and fentanyl abuse.
Several organizations in Yakama Nation have joined the effort to increase awareness and safety among tribe members. The Yakama Nation Tiináwit Program, a certified outpatient treatment facility, hosted a Fun Run/Walk for Opioid Prevention in late August 2023. The event was a collaboration with the Youth Treatment Center & Problem Gambling and the Yakama Nation Behavioral Health Services. Around this time, Sen.ator Cantwell held a roundtable discussing the fentanyl crisis.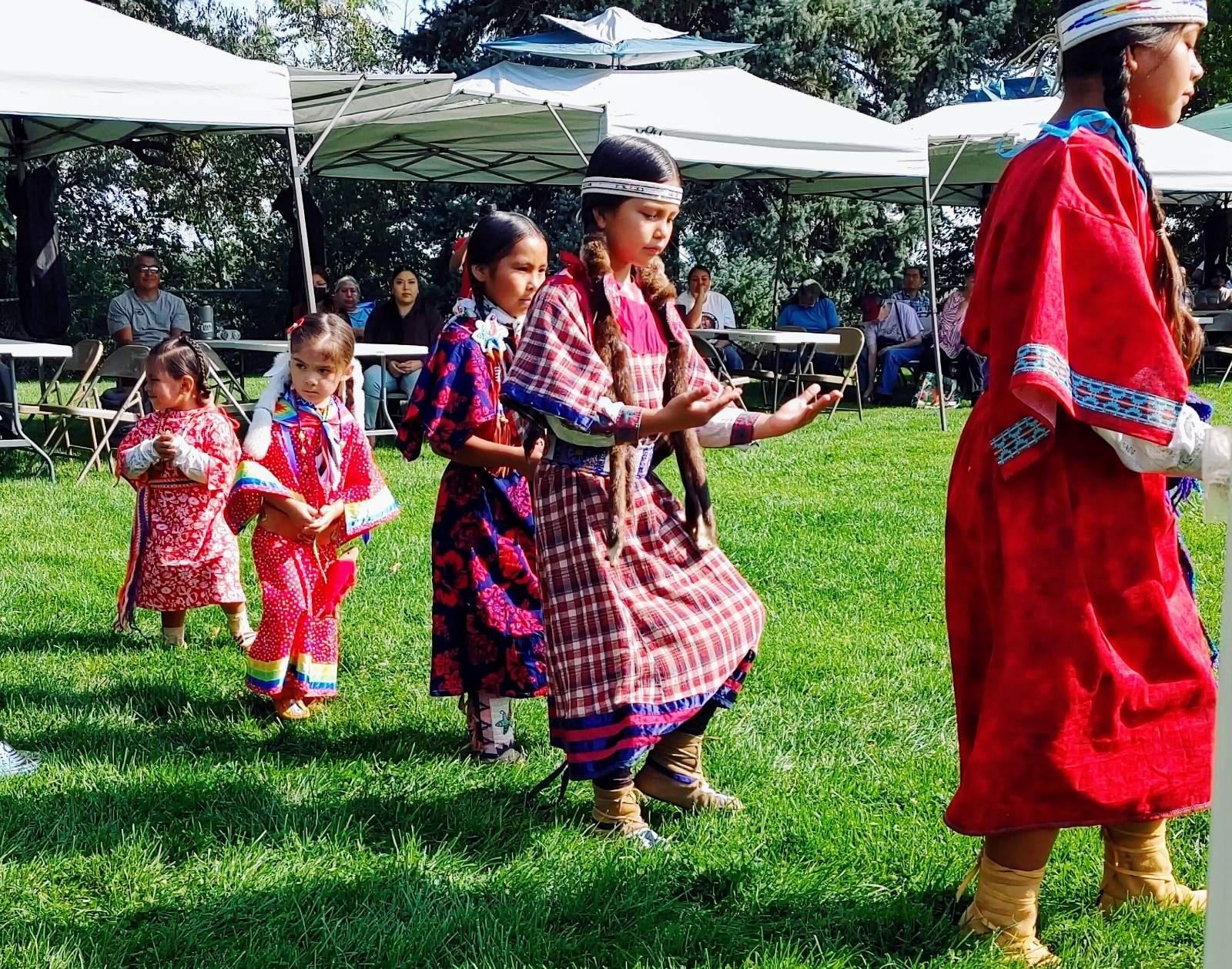 Members of the Yakama Nation gathered Friday at the Wye Park in Richland near Bateman Island to advocate for salmon. They are calling for immediate removal of the earthen causeway to the island, which reduces water flow and increases water temperatures and sediment, fostering invasive plants and predatory fish. (photo/Yakama Nation)
In an interview, Cantwell told Native News Online that lawmakers need to "immediately address the gaps" that create ample opportunity for drug trafficking in tribal nations.
Where is fentanyl coming from?
It's long been known that international drug cartels leverage geographic isolation plus limited resources and law enforcement on reservations to their advantage, leaving Native communities vulnerable to drug trafficking. A map by the U.S. Drug Enforcement Administration depicting the flow of fentanyl into the United States shows that precursors, or substances used to make drugs, for manufacturing fentanyl are shipped by mail from China to western Canada — just north of Lummi Nation — where it is then manufactured and distributed.
A report by the Department of Justice states that Interstate 5 — which passes near both the Lummi Nation and Tulalip Tribes reservations — is commonly used for drug trafficking.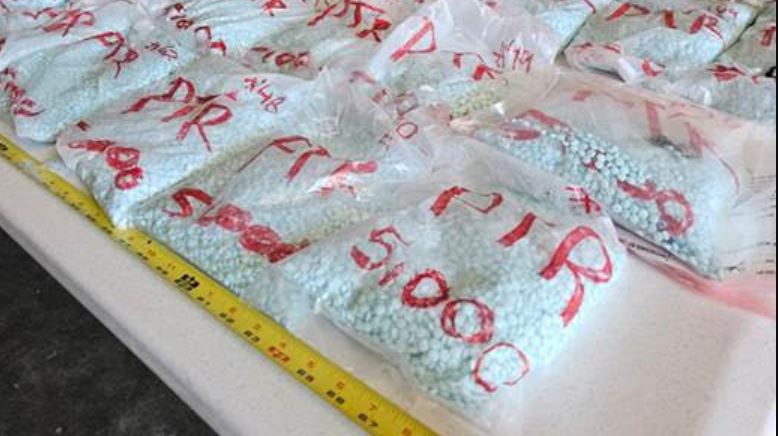 An Interstate 5 traffic stop over the weekend resulted in detectives finding 200,000 fentanyl pills hidden inside the vehicle, Centralia Police announced Monday afternoon. (photo/Centralia Police Department)
After last month's overdoses, traffic stops and searches were implemented on the Lummi Nation reservation. Lummi leader Hillaire told Cascade Daily News that the tribe was prepared to block main thoroughfares through the reservation.
"We don't have all of the resources, and we need a strong federal partner in Indian Country to address the fentanyl crisis," Cantwell told Native News Online. "Lummi's recent horrific deaths of five individuals where the tribe is reaching out for help and support is just an example. They don't quite have the resources to match up against these cartels, nobody does."
WA tribes act to prevent overdoses
Tribes in Washington state are leading the charge to organize responses and prevention methods regarding the opioid crisis in Indian Country.
In May 2023, the Lummi Nation hosted the first Washington State Tribal Opioid/Fentanyl Summit, a two-day government-to-government summit attended by the state's tribal leaders, Gov.ernor Jay Inslee, and sState aAgency leaders.
During the conference a panel of tribal leaders, law enforcement officials, and a Whatcom County prosecutor cited a litany of jurisdictional issues inhibiting prosecution of drug dealers on tribal land. These issues include tribal arrest warrants not being recognized by the state, and the need to incorporate traditional knowledge and culture when prosecuting tribal drug offenders.
Several programs have been implemented across Washington tribes in response.
Harm reduction is an evidence-based public health strategy designed to minimize the negative effects of drug use that involves the distribution of Naloxone — a life-saving overdose reversal drug often referred to by the brand name Narcan — and fentanyl testing strips, and syringe exchanges. Many tribal nations infuse these services with language and traditional components in order to help tribal members with substance use disorder maintain a connection to culture and community.
Lummi Nation citizen and Coast Salish artist Jason LaClair is four years into recovery for opioid addiction. During an Oct. 25 livestream panel on reducing overdoses hosted by Native News Online, LaClair spoke emphatically about culture and community being the center of his recovery journey.
"Reconnecting with our spirituality and our way of life is who are born to be," LaClair said. "It strengthens my foundation to know that I come from strong people and I have to carry on in a good way for the generations coming behind me."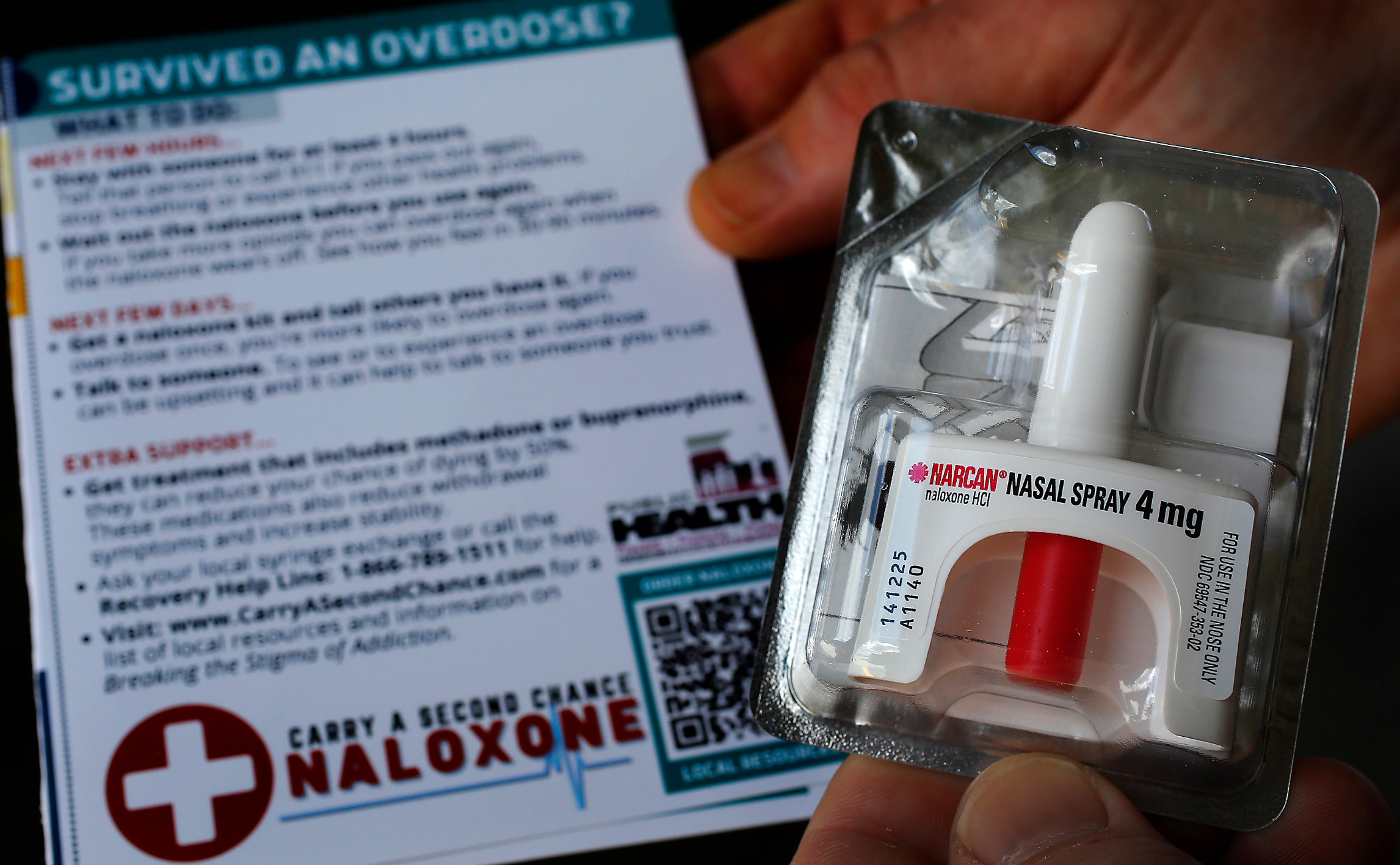 A Narcan nasal spray kit with bi-lingual instructions is part of a partnership with program between local fire departments and the Benton Franklin Health District for overdose survivors. (photo/Bob Brawdy for the Tri-City Herald)
The Yakama Nation Indian Health Services offers free Narcan for enrolled tribal members and any other patients it serves, in order to alleviate a strain on police supplies.
In Lummi Nation, crisis response workers distribute Narcan and testing strips in the community and to tribal members in Bellingham's homeless encampment.
On the Native News Online livestream, Hillaire spoke about the importance of involving the community when making short-term and long-term investments in response to the opioid crisis.
"We have a great amount of resource in our children, our elders and our formal leaders," Hillaire said. "We've been here before. The atrocities that have happened to us, the broken promises we've endured, we've had this feeling before. Leaning on those who came before us for me specifically, I have a lot of elders and aunties and those who have even grown up in drugs and addiction, that we can lean on them to make informative decisions to help all of our people."
Legislators address WA opioid crisis
Recognizing the nuanced differences existing in Indian Country, Cantwell acknowledged tribal nations can be more swift and focused than cities and states in their response to the fentanyl crisis — and urges her fellow lawmakers to give tribes the resources they need.
"They have the ability to be more creative and deliver tailored solutions," Cantwell told NNO. "We need to support that."
On top of the numerous roundtables the senator has held across the state, Cantwell has taken numerous other actions to address the crisis. She cosponsored the FEND Off Fentanyl Act, passed by the Senate in July, and has worked to secure mental health funding for different parts of the state.
Other regional legislators have noted the crisis as well.
Not long after the Yakama Nation fun run, a community meeting was held at the Toppenish Community Center, with tribal leaders and Representative Gina Mosbrucker (R-14) in a Drug Crisis Town Hall. According to an update from the Confederated Tribes and Bands of the Yakama Nation, those in attendance discussed a myriad of issues relating to the epidemic. Lack of resources was again a common concern.
Hillaire said Lummi Nation is grateful for the senator's support and is asking state and federal lawmakers to help the Lummi community utilize every resource possible.
"We thank Senator Cantwell for recognizing our strength as a people through her support for the crisis we face," Hillaire told NNO. "At the state and federal levels, we are calling on lawmakers to issue emergency declarations so we can use all resources available to combat the fentanyl crisis. We're additionally calling to remove barriers that keep this work from being carried out."
He said the tribe hopes to add a new detox facility to supplement its current addiction recovery efforts, which include an outpatient treatment program and a seven-bed stabilization and recovery center.
"The Lummi Nation, in particular, is reeling, and we are asking for support for a new detox facility," Hillaire said. "We're also calling for direct federal funding in accordance with the government's treaty and trust responsibility."
Together, we can educate, enlighten, and empower.
November is celebrated as "Native American Heritage Month." At Native News Online, we amplify Native voices and share our relatives' unique perspectives every day of the year. We believe every month should celebrate Native American heritage.
If you appreciate our commitment to Native voices and our mission to tell stories that connect us to our roots and inspire understanding and respect, we hope you will consider making a donation this month to support our work. For those who commit to a recurring donation of $12 per month or more, or make a one-time donation of $150 or greater, we're excited to offer you a copy of our upcoming Indian Boarding School publication and access to our quarterly Founder's Circle meetings and newsletter.
The Native News Health Desk is made possible by a generous grant from the National Institute for Health Care Management Foundation as well as sponsorship support from the American Dental Association. This grant funding and sponsorship support have no effect on editorial consideration in Native News Online.