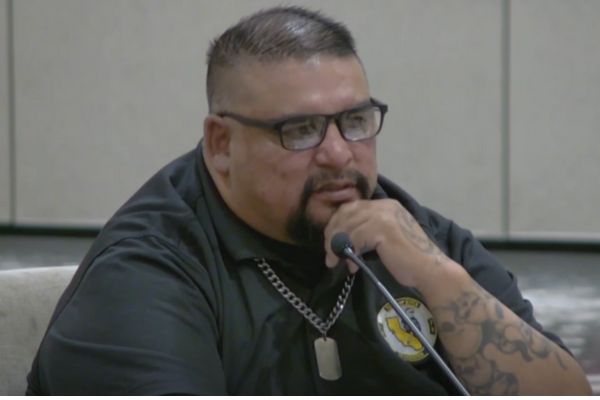 Details

By

Elyse Wild
Tule River Tribe Vice Chairman Shine Nieto's voice shook as he spoke about being visited by a teen in a tribal youth group he runs for young men in his community.
It was 5 a.m., and the teen had just been discharged from the hospital after a fentanyl overdose when he showed up at the Vice Chairman's house to tell him who was selling fentanyl pills to youth in the community. By 3 p.m. that day, the boy was dead.
"He went home and took another pill," Nieto said. "He overdosed. He was gone."
The teen was one of four in Nieto's youth group who has died of a fentanyl overdose in the past couple of years.
"Those boys were like my sons," Nieto said. "Every one of them."
Fentanyl is a synthetic opioid up to 50 times stronger than heroin that the National Center for Health Statistics reported was responsible for more than 70,000 overdose deaths in 2021 in the U.S.
On Friday, August 18, Nieto was part of a group of tribal leaders, community members, and law enforcement that convened on the Viejas Reservation to testify before the California Assembly's Fentanyl, Opioid Addiction and Overdose Prevention Committee hearing on addressing rising fentanyl deaths in tribal communities.
Assembly members Matt Haney (D), David Alvarez (D), Pilar Schiavo (D), and Jim Patterson (R) heard testimony on how the overdose crisis is impacting tribal community members. They also heard testimony on efforts to combat drug trafficking, drug abuse prevention, and removing barriers to medication-assisted treatment.
According to the CDC, American Indians and Alaska Natives had the highest drug overdose death rates in both 2020 and 2021, with a 33 percent increase in drug overdose deaths during that time.
John Christman, chairman of the Viejas Band of Kumeyaay Indians, spoke of how the current fentanyl crisis doesn't compare to other drug addiction issues he has seen in his community.
"We have had an addiction problem my whole life," John Christman, chairman of the Viejas Band of Kumeyaay Indians, who has held various leadership positions within the Tribe since 1991, said to the committee. "Looking into the eyes of a meth addict versus a fentanyl addict is way different … they are lost."
The Viejas Band has around 350 tribal members and around 400 people living on the 1,600-acre reservation in southern California. Christman said the Tribe has seen five overdose deaths since 2018 and many more overdoses that are reversed with naloxone, which is available at no cost in a vending machine on the reservation.
Never miss Indian Country's biggest stories and breaking news. Sign up to get our reporting sent straight to your inbox every weekday morning.
By August of 2022, San Diego County, where the Viejas reservation is located, saw the highest amount of fentanyl seized by United States Border Patrol Agents than any of the nation's other 300-port of entry ports that year so far. Fentanyl seized in San Diego County from January to August 2022 accounted for sixty percent of the 8,425 pounds of fentanyl seized around the entire country in that same time period.
According to San Diego County Sheriff Kelly Martinez, who also testified at the hearing, the department has seized 4 million fentanyl pills so far this year in San Diego County.
Nieto describes the shock of discovering that the person who was selling fentanyl to youth in the community was a close friend he grew up with.
"I couldn't believe it," he said. "I grew up with him, played sports with him."
Since California is a Public Law 280 State, tribes have no jurisdiction over criminal activity on their reservations. Some tribes have security forces, but they can only observe and report criminal activity to the county sheriff's office. By the time the sheriff's department arrives, the alleged drug dealers are gone.
"This is bigger than all of us," Christman said.
Viejas Band of Kumeyaay Indians tribal member Danielle Espinoza gave an emotional testimony to the overdose death of her son Ruben. Her voice, wrought with grief, held steady as she described her son overdosing after he was discharged from a rehab facility.
"He was in the wrong place at the wrong time, he used, and he overdosed," she said.
After Espinoza's son died, she told the committee, she wanted to do what she could to keep it from happening to other young people on the reservation by raising awareness and advocating for treatment — but, she and Christman said, the proliferation of fentanyl in their community overwhelms efforts to combat the crisis.
"They can still get the drugs, it's still happening, and they are losing their minds out here," Espinoza said. "These drugs just take them. They go to rehab, they get out, and they fall back in... that is what I see out here. I don't know what the solution is, but as a people, I think we can come together to move forward and get to the root of the problem."
Tule River Tribe Project Manager Sabino Martinez emphasized the need for tribes to bring together internal and external stakeholders to create a comprehensive opioid response strategy, starting with identifying a mission and vision for their community.
"The community early on was experiencing the prevalence and presence of illicit drugs," Martinez said. "We are a rural community underserved with limited resources. However, we had a vision and goals of self-governance and self-resilience. We pursued every opportunity for funding for medication-based treatment access, youth education, awareness campaigns… information sharing and collaboration at all levels is key."
The hearing concluded with testimony from Nieto from the Tule River Tribe.
"It's everywhere, these drugs, they're like candy. If this wipes out any town or reservation, it will just keep moving," Nieto told the committee. "We need to slow it down or put speed bumps in its way, or it will destroy everybody."
More Stories Like This
Promote Hope for the Future: Addressing Suicide in Indigenous Youth
Ovarian Cancer Affects 20,000 Women a Year. Here's What You Need to Know,
Early Detection is Key to Prostate Cancer Survival
FDA & CDC Approve Updated Covid Vaccines from Pfizer and Moderna
September is Suicide Prevention Month. Here's a List of Native Focused Mental Health Resources.
The Native News Health Desk is made possible by a generous grant from the National Institute for Health Care Management Foundation as well as sponsorship support from the American Dental Association. This grant funding and sponsorship support have no effect on editorial consideration in Native News Online.