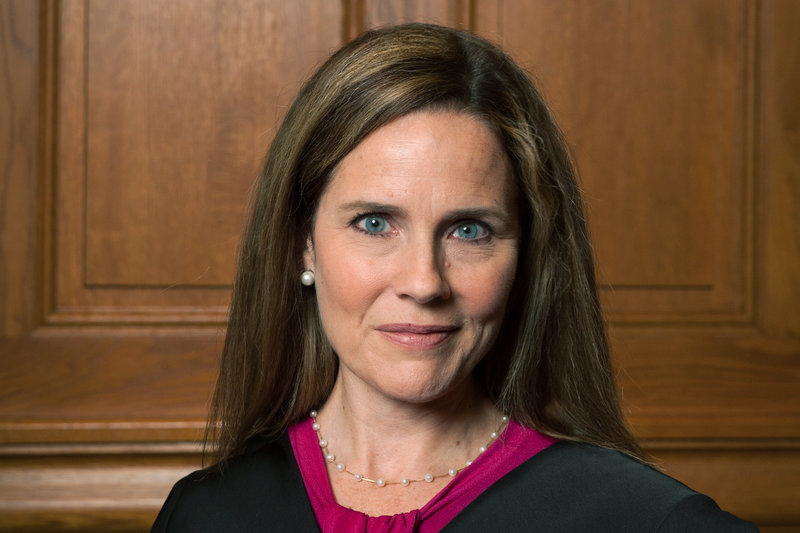 Details

By

Native News Online Staff
WASHINGTON — President Donald Trump nominated Amy Coney Barrett, a federal appeals court judge, to the U.S. Supreme Court on Saturday, eight days after the death of Justice Ruth Bader Ginsburg.
Barrett grew up in Metairie, La., a New Orleans suburb, the daughter of a Shell Oil attorney and a stay-at-home mom. She attended an all-girls high school. Barrett graduated with honors from Rhodes College in Tennessee and graduated summa cum laude from Notre Dame Law School.
Barrett, who was appointed by Trump to the 7th U.S. Circuit Court of Appeals in 2017, does not have the long record of decisions a judge with more experience has. However, she teaches law part-time at Notre Dame and has written numerous articles that reveal her conservative philosophy.
The 7th U.S. Circuit Court of Appeals is based in Chicago, but covers cases in Indiana, Illinois and Wisconsin. Barrett, 48, lives with her husband, Jesse E. and seven children in South Bend. Ind.
Rep. Tom Cole (R-OK), a tribal citizen of the Chickasaw Nation, was pleased with Saturday's announcement.
"In nominating Amy Coney Barrett to fill the vacant seat on the Supreme Court, President Donald Trump is fulfilling his constitutional obligation, and he is right to do so," said Cole. "The president has absolutely made an exceptional choice with this nomination. Indeed, Judge Barrett is well qualified to serve for her educational and career credentials alone. But most important of all, she deeply respects the United States Constitution and has devoted her life to defending it," said Cole.
Barrett's nomination caused ire among Democrats because it comes within 40 days of the presidential election on Nov. 3. Voting has already begun in some states. Democrats feel the appointment should have been made by whoever is elected president on Nov. 3.
Among one of the main concerns about Barrett taking Ginsburg's seat on the Supreme Court is that the nation's highest court will hear arguments on the Affordable Care Act, commonly referred to as Obamacare.
"By nominating Judge Amy Coney Barrett to the Supreme Court, President Trump has once again put Americans' healthcare in the crosshairs," Senate Democratic Leader Chuck Schumer wrote in a statement, adding that a vote for Barrett amounted to "a vote to strike down the Affordable Care Act."
Sen. Tom Udall (D-N.M.), vice chairman of the Senate Committee on Indian Affairs, feels naming a nomination to the Supreme Court so close to the presidential election goes against precedent.
"Make no mistake: Senate Republicans are trying to rush a justice onto the court in time to decide on Donald Trump and the Republicans' suit to destroy the Affordable Care Act — as the nation battles a pandemic that's killed over 200,000 Americans. Senate Republicans say they can fill this Supreme Court seat in weeks, after telling struggling New Mexicans and Americans for months that there was 'no urgency' to pass COVID-19 relief. Their refusal to honor their own precedent and the will of the American people is unconscionable and a stain on the Senate," Udall said.
Sen. Lindsay Graham (R-S.C.), chairman of the Senate Judiciary Committee, said the committee will begin hearings on Barrett's nomination on Oct. 12.
More Stories Like This
Georgia Republican Gubernatorial Primary Candidate Kandiss Taylor Makes Stupid, Crass Comment about Native Americans, the First Amendment, Georgia, and Jesus
Navajo Citizen Judge Sunshine Sykes Confirmed to Serve as U.S. District Court Judge
Indigenous Women Make Up Nearly Half of Canada's Incarcerated Population; New Legislation Seeks to Change That
Ho-Chunk Nation's Economic Arm Set to Move Forward with Casino Project 
Leaders Respond to Federal Indian Boarding School Investigative Report, Call it 'Monumental'