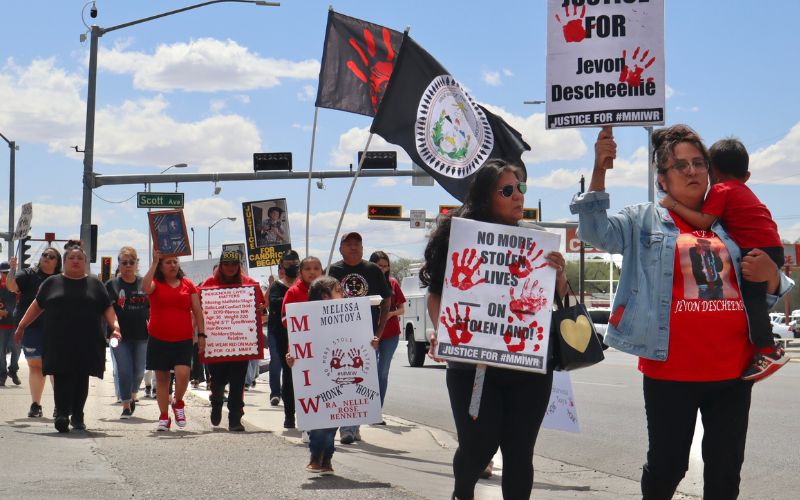 Details

By

Bella Davis, New Mexico In Depth
Gov. Michelle Lujan Grisham's administration has quietly ended a state task force created to find solutions to a crisis of missing and murdered Indigenous people.
This story was originally published by New Mexico In Depth.
The group hasn't met since May, a few months after several members publicly opposed Lujan Grisham's nomination of former San Ildefonso Pueblo Gov. James Mountain to lead the Indian Affairs Department, which housed the task force.
"We were really making some great headway," said Cheryl Yazzie (Diné), one of several task force members who believes the group's work had just begun. "We just seem to have kind of stalled, ran out of gas."
A department spokesperson did not answer a question Monday about whether Mountain had communicated with the group about its future. Two task force members New Mexico In Depth spoke with in the past week said they hadn't heard anything.
But Darlene Gomez, a member and attorney who's represented over 20 impacted families pro-bono, said she learned at a summit the department hosted in June that the task force was ending. She told department staff they should make a public announcement because its members and New Mexicans "deserve to know."
That never happened.
The governor's press secretary, Caroline Sweeney, didn't answer a question about whether some members' opposition to Mountain's appointment was a factor in ending the task force, but told New Mexico In Depth the group achieved objectives spelled out in an executive order that expired in summer 2022. Sweeney didn't explain why the administration continued to fund and convene the group for a year after it had achieved its objectives.
The governor is "grateful" to task force members, Sweeney wrote in an email. Indian Affairs spokesperson Aaron Lopez added in his own email the agency "understands that members of the task force may wish to continue a dialogue with the department, and we are actively evaluating ways to provide that opportunity."
The agency is also asking state lawmakers to fund four full-time employees to focus on recommendations the task force made, Sweeney and Lopez wrote.
Sen. Shannon Pinto (Diné), a Democrat from Tohatchi and a task force policy advisor, said more staff isn't enough. The task force brought together dozens of people from diverse backgrounds — from community organizers to law enforcement officials — to more effectively push for action.
"We're not where we need to be," Pinto said.
Sen. Linda Lopez, D-Albuquerque, another policy advisor, agreed the group is still needed. Some members are continuing to meet and work on their own, but that isn't the same as a governor-endorsed task force charged with making change, she said.
"Sometimes you need that officialness to continue to move it forward," Lopez said.
Without another executive order, or the Indian Affairs Department informally convening the task force, as it did until earlier this year, the group's future is up to the Legislature. Rep. Pamelya Herndon, D-Albuquerque, who also acted as a policy advisor to the task force, said the Legislature should codify the group in state law so it will outlast Lujan Grisham's tenure. An executive order only lasts as long as the governor who authored it is in office.
"I think these temporary fixes are now over," Herndon said. "This has been around for far too long and without the attention it needed, so I think now's the time to do it."
For generations, an untold number of Indigenous people have gone missing or been murdered across the country, well exceeding national averages. It's a crisis that until recent years never generated headlines or prompted policy changes.
The Urban Indian Health Institute in 2018 found New Mexico leads the nation in missing and murdered Indigenous women and girls. While the data underlying the study was incomplete, it helped spur New Mexico lawmakers in 2019 to create a task force to study the problem and propose solutions.
"Our state not only should be proactive about responding to this but also really leading in how it is that we respond to these situations," Rep. Andrea Romero, D-Santa Fe, one of the bill's sponsors, said at a legislative committee meeting in January 2019.
Like Urban Indian Health Institute researchers, lack of data stymied the task force. A number of law enforcement agencies around the state did not provide information, labeling the task force's requests for missing persons and homicide cases, plus demographic information about the victims, as "excessively broad and burdensome." But the task force found that Indigenous people likely accounted for a disproportionate percentage of missing persons cases.
Lujan Grisham reconstituted the task force with the May 2021 executive order after its legislative mandate expired, instructing its members to present legislation for the 2022 session and develop a state response plan, along with a "framework" for the plan.
Acting on the task force's recommendations, the Legislature created a new position in the Attorney General's Office focused on missing Indigenous people, and established Missing in New Mexico, an annual event aimed at connecting families with law enforcement.
And in May 2022 the group delivered a 115-page plan that outlines solutions that can be pursued at all levels of government.
The governor's executive order expired at the end of June 2022, but the Indian Affairs Department kept the task force going, with dedicated staff plus a budget of $107,600 to pay for public events and monthly task force meetings, along with a contractor to facilitate them, according to an agency work plan obtained through a public records request.
The staff work plan includes a draft of potential legislative proposals, including renewing the task force for another three to five years, making an annual review and possible update of the state response plan mandatory. Such a requirement would help "maintain momentum, stay accountable and transparent with the community, and adapt priorities" in step with local and national developments.
That's one of the main reasons the task force needs to continue, according to members and lawmakers who advised the group.
But lawmakers didn't make an effort to renew the group during this year's legislative session because they were under the impression Lujan Grisham would extend the executive order, Pinto and Lopez said.
Task force members are unsure why the governor has let the task force die.
"Maybe she felt like what she had championed and what she had promised to New Mexico was delivered," Yazzie said. "But the work was really just beginning … It's unfortunate that she didn't want to see it all the way to the end."
During this year's legislative session, task force members and the governor clashed over her appointment of Mountain to replace former Indian Affairs Secretary Lynn Trujillo, who resigned last November.
Mountain was indicted on charges of criminal sexual penetration, kidnapping and aggravated battery against a household member in 2008, but those charges were later dropped and he never stood trial.
Several task force members at their meeting in February expressed outrage over the appointment and unease about the idea of working with Mountain. Lujan Grisham's decision threatened the work they'd done over the past few years to build trust with impacted families and survivors, some members said.
"I've been fighting this, will fight it 'til the end," Pinto said at the meeting. "This is not the position that can be compromised, as far as the figurehead representing Native American people within our state."
Navajo Nation President Buu Nygren also opposed the appointment, writing in a letter to Lujan Grisham in February that his people's voices "are so often unheard on concerns like this." And the Navajo Nation Council in April passed a resolution against the appointment.
But Lujan Grisham defended her pick. Although her office did not submit Mountain for confirmation by the state Senate before the session ended, he has continued to serve as head of the agency.
Lujan Grisham "remains committed to addressing" the crisis, spokesperson Maddy Hayden wrote in an email. Pinto, though, in a July interview described the appointment as "overshadowing" the state's ability to do that.
The Indian Affairs Department did not make Melody Delmar, its task force coordinator who served as the group's acting chair earlier this year, available for an interview despite numerous requests or provide specifics about the work it is doing. But a review of the agency's Facebook page showed it helped host a public event in Farmington last week for impacted families, and in July, Delmar spoke at an event in Albuquerque giving law enforcement leaders an update on the state's missing and murdered Indigenous people.
Advocates are questioning whether state leaders have the will to confront the root causes of the crisis, which they say include systemic racism, economic inequality, and generational trauma stemming from colonization.
"For centuries, Native American lives have not mattered and by continuing not to address the issue, this problem is going to just go on generation after generation," said Gomez, the task force member and attorney. "It could be possible that the amount of funding it would take to make these changes is just not a priority for the governor."
The state response plan calls for mandatory law enforcement training on trauma-informed care and cultural sensitivity, funding for liaisons who could help families make reports and access resources, financial support for families, improved data collection and expanded access to housing, mental health care and substance abuse treatment, among other recommendations.
Concerns about a lack of political will are amplified by the dissolution of the task force, which members and lawmakers say is meant to serve as a driving force.
"The task force did bring people together. It did help to create resources. However, it feels like we're just kind of being left in the dust almost," Reyes DeVore (Jemez), a task force member and program director for Pueblo Action Alliance, said, speaking of the governor. "Where do we go from here? Yes, we can continue to advocate within our own tribal communities or within our regional areas but how and where are we going to pick that back up?"
Together, we can educate, enlighten, and empower.
November is celebrated as "Native American Heritage Month." At Native News Online, we amplify Native voices and share our relatives' unique perspectives every day of the year. We believe every month should celebrate Native American heritage.
If you appreciate our commitment to Native voices and our mission to tell stories that connect us to our roots and inspire understanding and respect, we hope you will consider making a donation this month to support our work. For those who commit to a recurring donation of $12 per month or more, or make a one-time donation of $150 or greater, we're excited to offer you a copy of our upcoming Indian Boarding School publication and access to our quarterly Founder's Circle meetings and newsletter.