Valentina Blackhorse wasn't just an ambitious Navajo pageant winner, she was also a devoted mother and a determined woman who was working to be a strong leader for her Navajo Nation. One day, Blackhorse hoped, she would become the president of Navajo Nation. But after a battle with COVID-19, she died April 23 at age 28.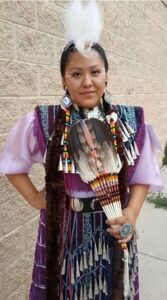 According to The New York Times, Valentina worked as an assistant at the Dennehotso Chapter House, an administrative office, and was among the Navajo Nation's youngest and most prominent pandemic victims. Her death stunned her family, community and others all across Indian country.
"She accomplished her big dream by becoming a mother, she loved being a mom to her daughter Poet Bessie. It came naturally to her," said her sister Vanielle Blackhorse. "Valentina had dreams of entering politics one day, aspiring to become a delegate to the Navajo Nation Council or even president of the Navajo Nation, one of the largest tribal nations in the United States."
As a former Miss Western Navajo, Blackhorse previously also held the titles Miss Monument Valley High School and Miss Diné College. She won those titles while starting a family and a career as a public servant, even as she grappled with rheumatoid arthritis, an autoimmune disease that may have heightened her risk of COVID-19.
Valentina was known for helping others, even at the onset of the pandemic. When the coronavirus began tearing across her reservation, she counseled family members to stay home, wash their hands and wear masks.
The virus ultimately spread to her home in Kayenta, Ariz., a Navajo Nation town near the sandstone buttes of Monument Valley. Her companion, Robby Jones, a detention officer with the Navajo Department of Corrections, caught COVID-19, the disease caused by the virus.
"She cared for him until she got sick herself," her sister said. "She was always that way, looking after others."
When Blackhorse came down with symptoms including shortness of breath and back and knee pain, she went for a test. The positive results came back April 22. A day later, she died at Kayenta's health clinic, where Jones had taken her after she had difficulty breathing, her sister said.
Blackhorse was born on Sept. 2, 1991, in Tuba City, Ariz., to Danny and Laverne Blackhorse. Her father was a coal miner, her mother a cook.
In addition to her parents, Robby Jones and her sister Vanielle Blackhorse, she is survived by her 1-year-old daughter, Poet Bessie Blackhorse, and another sister, Victoria Blackhorse.
Native News Online would like to recognize the lives of American Indians and Alaska Natives lost to COVID-19. If you have lost a loved one to COVID-19, please reach out to us at [email protected].
More Stories Like This
Potential First Native American Federal Judge in Oklahoma Advances Toward Senate Confirmation
Photos from the 2023 White House Tribal Nations Summit
Native News Weekly (December 10, 2023): D.C. Briefs
December 10th is the 75th Human Rights Day
Vice President Harris Addresses Indian Boarding Schools at the White House Tribal Nations Summit
In a world filled with inaccurate narratives about Native Americans, we spotlight the overlooked, unheard and underrepresented stories that are often overlooked by the mainstream media. Our journalism is free for all to read, but it is not free to produce. Your donation provides the much-needed financial support for us to produce inclusive Indigenous journalism that inspires, informs and uplifts Native Americans. Thank you for being a force behind our work. Together, we are rewriting the narrative.