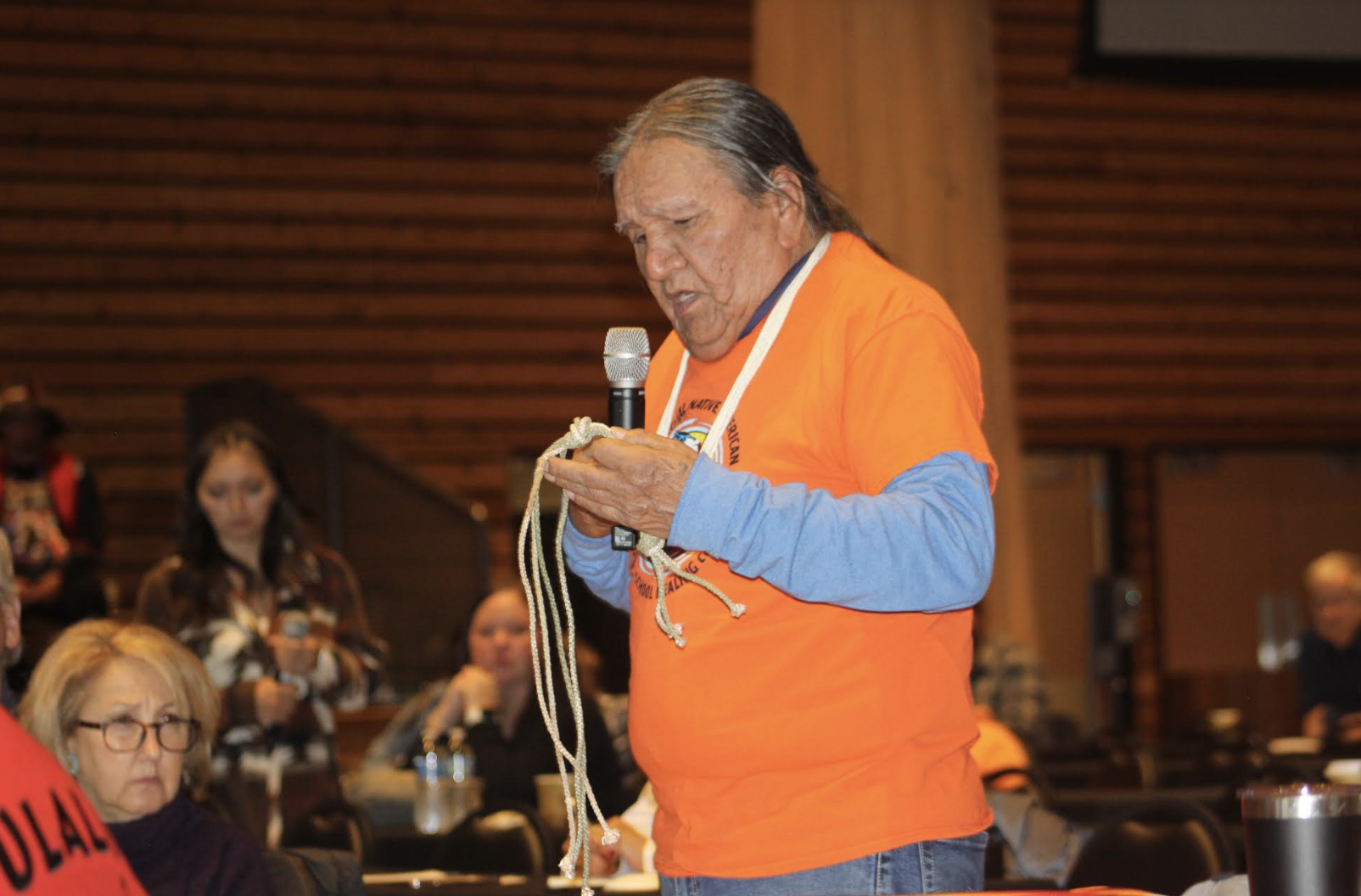 Details

By

Levi Rickert
*Trigger Warning* The situations detailed in this story and survivor testimony could be triggering and harmful to some.

TULALIP INDIAN RESERVATION — Hundreds of Native Americans, many wearing traditional wooden caps unique to tribes in the Pacific Northwest, attended The Road to Healing on Sunday at the gathering hall on the Tulalip Indian Reservation, an hour north of downtown Seattle.
The event at the Tulalip Gathering Hall was the sixth listening session of the year-long tour of Native communities led by Interior Secretary Deb Haaland (Laguna Pueblo) and Assistant Secretary - Interior Affairs Bryan Newland (Bay Mills Indian Community). The Road to Healing was launched last July by the Department of Interior to provide Native Americans affected by the federal Indian board school system an opportunity to share their experiences and the effects on their communities.
"I want you to know that I'm with you on this journey and I will listen," Haaland said in her opening remarks. "I will grieve with you. I will weep with you and I will feel your pain, as we mourn what was lost. Please know that we still have so much to gain. The healing that can help our communities will not be done overnight."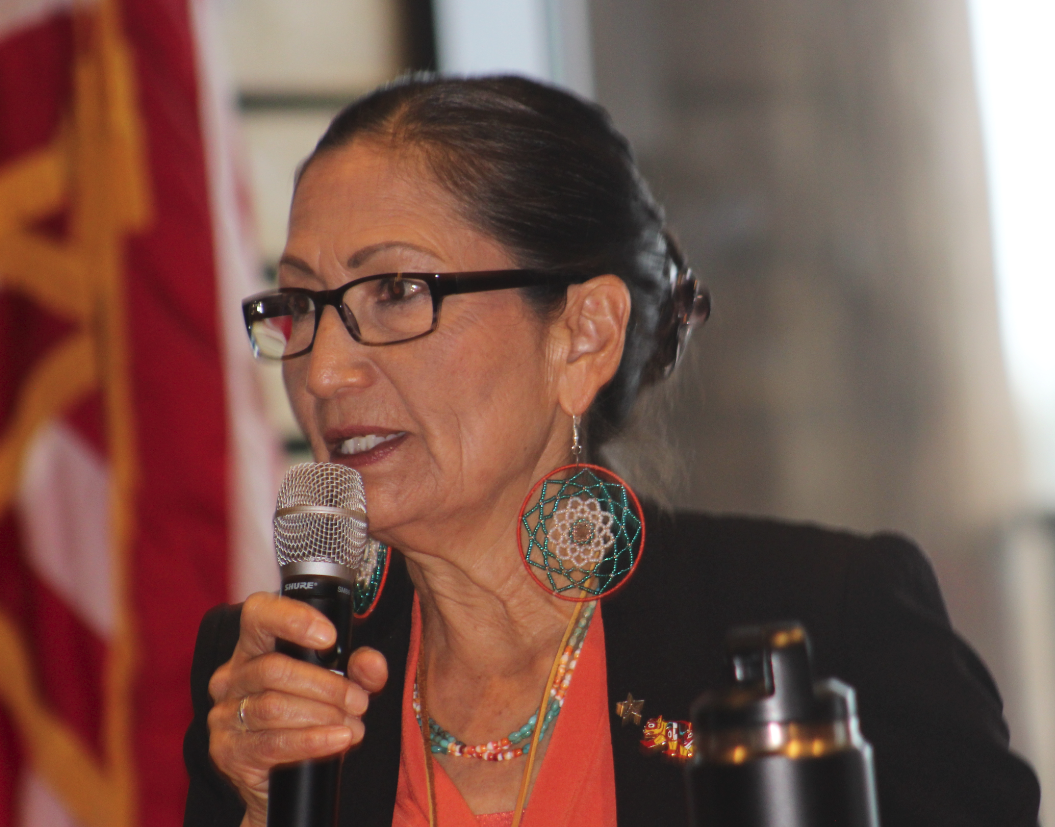 During the event Sunday, more than a dozen survivors and their descendants told stories of physical, emotional and sexual abuse experienced by innocent Native American students while attending Indian boarding schools. The schools were part of a system that lasted more than a century to assimilate Native children into American society, under the mantra of "kill the Indian, save the man."
For Matthew War Bonnet (Lakota), 77, an eight-year survivor of the St. Francis Indian Boarding School on the Rosebud Indian Reservation in South Dakota, it is important to tell the stories, as painful as they may be, about Indian boarding schools so that the cycles of abuse can end and the tribal communities can heal, he said.
"In my heart's memory, I think of the kids who went to school there," War Bonnet said. "And, so what I am going to say now is (something) I say with a lot of respect to their memories, and their children, and grandchildren. I know what they went through."
War Bonnet recounted how children at St. Francis Indian school, including himself, were so badly beaten that they often ended up in the clinic. The beatings happened at night, when Native kids were in bed feeling lonely because they missed their parents, he said.
Children were given choices on what they would be beaten with, he said. They could choose from a belt, razor strap, willow stick, or a rope that was referred to as a "Jesus rope" in reference to the suffering of Christ.
On Sunday, War Bonnet brought a belt, a razor strap, and a replica of a Jesus rope to the event to drive home his point about the beatings.
War Bonnet said the lesson he learned from beatings was how not to "feel."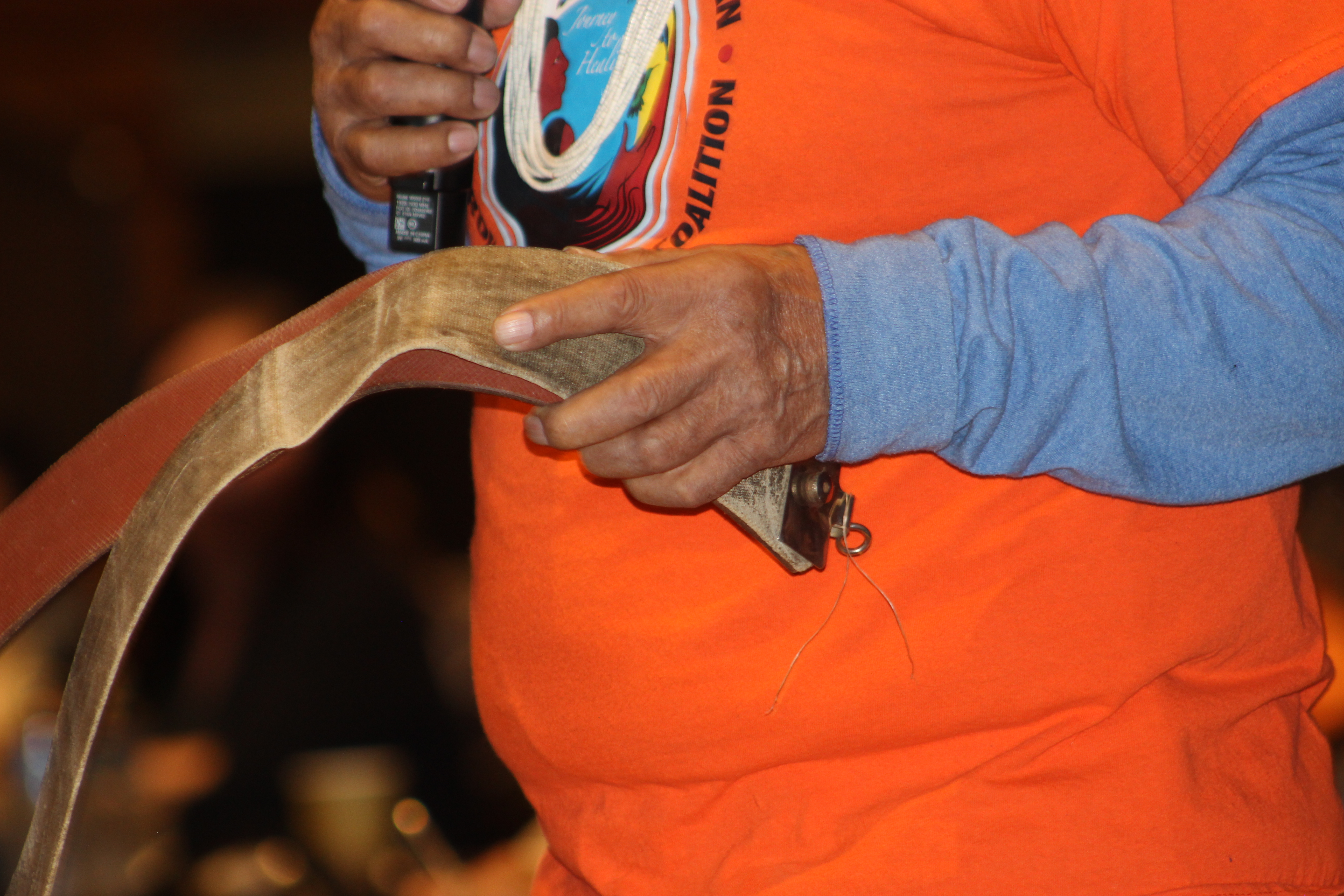 He also recounted a story about a friend, who in adulthood was on the Rosebud tribal council with him. The friend talked about how he had chosen three different options for punishments he endured: the belt, razor strap and the Jesus rope.
One time, the friend chose the willow stick. That can't be too bad, his friend supposed. But, when he was hit with it, he was whacked so hard he saw stars. He was hit eight to ten times after the first hit. The friend ended up needing medical care.
Later, War Bonnet later explained to Native News Online that the "Jesus rope" was used to demonstrate how badly Jesus was beaten while being crucified. The message was "you don't really want to suffer a beating like Jesus did."
"The school was run by the Jesuits," War Bonnet said. "I want people to understand this was never about religion. It's about people abusing children. Men abusing children: physically, emotionally, mentally. Kids I went to school with grew up to be abusers of themselves, abusers of their families, abusers of their communities. I know this because what was in them was in me."
The abuse he suffered at St. Francis nearly led him to take his own life.
"When I was in the eighth-grade my dad had a tripod in the backyard he used to pull motors from vehicle," War Bonnet continued. I put a rope around it and went to hang myself. "Then I saw my dad. He was crying. It was the first time I ever saw my dad cry."
Sobs could be heard in the audience with some wiping tears from their eyes as War Bonnet spoke.
Other survivors shared their stories of abuse while attending Indian boarding schools. Several spoke of how numerous generations within their families attended the schools. Often, they went to the same schools that their grandparents, parents, aunts, and uncles attended.
Besides the abuse experienced, several expressed dismay at the fact their tribal languages were forbidden while attending the schools. One man said he learned Latin, English, and even Spanish, but was not allowed to speak his own tribal language.
U.S. Representative Rick Larsen (D-WA), who has served Washington's 2nd congressional district since 2001, attended Sunday's listening session to hear the testimony of the survivors and their descendants. Larsen was a co-sponsor with Rep. Tom Cole (R-OK) and Rep. Sharice Davids (D-KS) of the Truth and Healing Commission on Indian Boarding School Policies Act.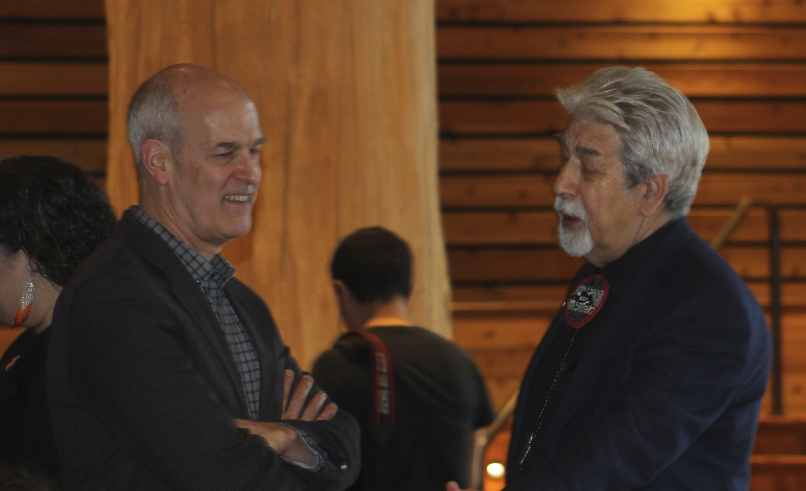 "The Indian boarding school legacy is a dark, dark stain in U.S. history and as official U.S. government policy was essentially to beat the 'Indian' out of the 'Indian' is horrible," Larsen told Native News Online. "The legacy needs healing. So the Road to Healing tour that Secretary Haaland is conducting are important steps to get to some level of reconciliation."
Assistant Secretary Newland said the Interior Department has identified and confirmed 15 Indian boarding schools operated in the state of Washington.
Sunday's listening session was the sixth stop on The Road to Healing tour. Previous stops included Anadarko, Oklahoma; Pellston, Michigan; Mission, South Dakota; Gila River, Arizona; and Many Farms, Arizona.
The Interior Department has not yet announced the location or time of the next listening session.
More Stories Like This
Urban Native Elders Health and Social Needs Are Not Being Met, New Survey Finds
International Day of Persons with Disabilities
Dr. David Wilson (Navajo) Appointed Chair of the School's Department of Indigenous Health at the University of North Dakota
$9 Million Grant to NativeBio Awarded, Stanford University to Improve Health in Indian Country
December 1 is World AIDS Day
The Native News Health Desk is made possible by a generous grant from the National Institute for Health Care Management Foundation as well as sponsorship support from the American Dental Association. This grant funding and sponsorship support have no effect on editorial consideration in Native News Online.