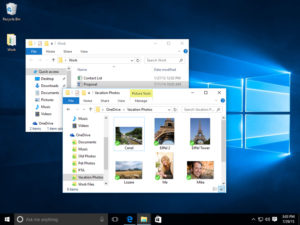 Details
Every business has important documents to store. These documents contain record and other important information that help a company operate smoothly. In the past, there were only printed documents. Now we store them in a soft copy on our computers.
While creating soft copies of office documents makes filing system as easy it can get, you can still use a few tricks to further enhance your productivity.
Properly Rename Each File
All files should be stored following a naming convention. It's up to decide the rules of renaming according to your work and use. For example, you could name documents with an attribute and a person's name. For example, "Monthly Review – John Watson". Some people use dates as names to keep a record of the modified versions. Appropriately renamed documents are easy to find and understand.
Sort by Date Modified
Most operating systems, including MS Windows, allow you to sort files in a number of ways. You can sort them by groups, names, types, and size – in both ascending and descending order. It is recommended to sort them by the date they were created or modified. Recently edited files will show first in the list. Besides, it's easy to remember how old a file is.
Be Generous with Folders
Some are scared of making too many folders. I say be generous when making folders; it's not like they are taking any physical space. Folders make it easy to group files. For example, you can store all records of an employee in a folder with his name or ID. Likewise, most official documents like press releases, notification, and letters can be stored in separate folders. That said, avoid creating unnecessary folders to avoid any confusion. You will have to brainstorm and decide the best system to separate your office documents. Create folders only for major categories.
Compress File Sizes
While text files don't take a lot of space, you don't have unlimited space on your drive. Even if there is no shortage of space, files and folders with small size are easier to load. Besides, it's a good professional practice to store data in a small size. You should prefer storing them in PDF format; this also makes it easy to share them. To makes things further easy for you, I suggest you visit SodaPDF.com to compress your documents.
Keep Editable and Protected Versions
Most documents are stored and shared in PDF format. While editing a Word or notepad file is no problem, PDF is mostly used for just viewing the document – though you can edit them too. PDF doesn't alter the original format of the document that's why it's preferred for long term storage and sharing. You need to store a protected and editable version of each document. Protected version to store and share, and editable for future modifications.
Backup of a Backup
Always keep backup of all your files. Your data isn't secure in a hard drive. A piece of hardware can malfunction any time and take your data with it. So create a system to automatically backup all your files on an online drive. In addition, just to be safe, keep a backup of that backed data in another place.
DISCLAIMER: Branded Voices features paid content from our marketing partners. Articles are not created by Native News Online staff. The views and opinions expressed in the Branded Voices are those of the authors and do not necessarily reflect the official policy or position of Native News Online or its ownership. Any content provided by our bloggers or authors are of their opinion and are not intended to malign any religion, ethnic group, club, organization, company, individual or anyone or anything.