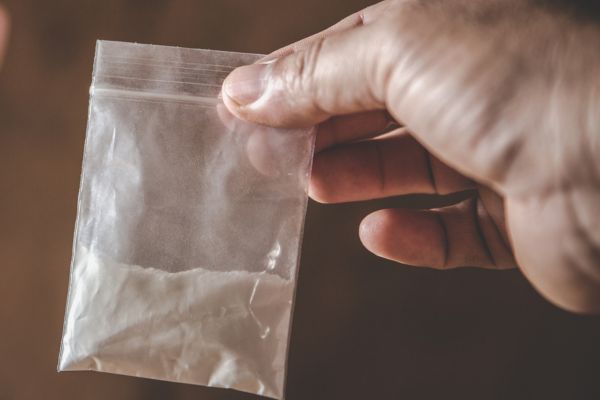 Details

By

Elyse Wild
Evelyn Jefferson (Lummi) started seeing the gruesome wounds in December 2022. She wasn't sure what was causing them, but she had a suspicion.
That month, Jefferson, a crisis outreach supervisor for the Lummi Nation in Washington state, transported a tribal member from a homeless encampment in the nearby city of Bellingham to an area hospital to treat open wounds on her legs that had become infected and painful.
"After I dropped her off, there were maggots in my car from her wounds," Jefferson told Native News Online.
The woman's wounds were cavernous, lined with black, dead tissue and emitting a smell that filled Jefferson's car. She was admitted to the hospital, where her legs were amputated from the knees down to keep the infection from spreading.
This was the first time Jefferson saw evidence of a deadly new drug called xylazine, or tranq, in the Lummi Nation community. The drug, a powerful animal tranquilizer, is often added to heroin and fentanyl sold on the street.
Overdoses involving the deadly combination of fentanyl and tranq have skyrocketed in the past two years, according to data released last month by the federal Centers for Disease Control and Prevention (CDC). According to the CDC, the share of fatal opioid overdoses in which tranq was detected almost quadrupled from January 2019 to June 2022, from 2.9% to 10.9%.
Xylazine has been approved by the U.S. Food and Drug Administration for use in animals and is not meant for human consumption. When ingested, it slows the user's heart rate, reduces their blood pressure, and in overdoses, induces a state of prolonged unconsciousness. It is often found in drugs laced with fentanyl, a highly potent and deadly synthetic opioid that, milligram for milligram, is 50 times as strong as heroin and 100 times as strong as morphine. Tranq renders naloxone — a life-saving medication that reverses the effects of an opioid overdose, often referred to by the brand name Narcan — ineffective, creating a dangerous and possibly lethal cocktail when it is mixed with fentanyl.
The increased presence of tranq is creating new challenges for tribal communities already mired in the deadly overdose epidemic surging across the nation.
'More strong than ever'
The Lummi Nation sits on a 20,000 acre-reservation on Puget Sound. The Lummi have inhabited the area for 12,000 years. Today, the reservation is home to 5,000 people, approximately half of them enrolled tribal members.
Along with triaging community members going through mental-health crises, Jefferson and a team of Lummi Nation recovery coaches work with tribal members who are dependent on opioids and live in the homeless encampment in Bellingham. The team utilizes harm reduction, a public-health approach that, rather than try to force people to stop using drugs, seeks to mitigate the negative effects of drug use, such as overdose and HIV transmission. They deliver Narcan, water, and other supplies to the unhoused tribal members and try to help them find healing from the substance misuse and medical care.
Whatcom County, where Bellingham and the Lummi Nation are located, has an unhoused population of approximately 1,000 people. Jefferson estimates that 10% are Native American.
The presence of tranq in the region's drug supply has changed how the community responds to overdoses. Before, one dose of Narcan was usually enough to avert a fatal overdose. Now, when tranq is present in an overdose, it can take multiple doses of Narcan, administered one after the other, to save someone's life.
"I tell our tribal members, 'you have to understand that tranq is in the fentanyl, and if one Narcan doesn't work, you need to use multiple Narcans and if that doesn't work, do CPR," Jefferson said. "Don't assume they are dead."
Fentanyl testing strips — which are legal in 20 states, including Washington — allow users to test drugs for the presence of the synthetic opioid. A box of 100 strips costs $100, or $1 each.
Xylazine testing strips cost more than twice as much, $255 for a box of 100 — a potential cost barrier to tribal health departments fighting against the effects of tranq in their communities.
Never miss Indian Country's biggest stories and breaking news. Sign up to get our reporting sent straight to your inbox every weekday morning.
Jefferson says the Lummi Nation started seeing signs of xylazine last winter. Prolonged use causes open, festering wounds on users' bodies. The wounds resemble craters and are difficult to treat due to rapid tissue loss.
It's important, Jefferson says, to recognize the characteristics of tranq wounds: They start off resembling spider bites and quickly grow out of control. The Lummi Nation crisis outreach team has transported several tribal members with tranq wounds to area hospitals for treatment. Some have limbs amputated to stop the infected wounds from spreading. Many leave treatment when met with perceptions from hospital staff that they are "drug seeking," feeling judged.
"It's the worst part of my job," Jefferson said. "The smell of the rotting flesh… a lot of them leave without getting care. Sometimes the ER nurses can be downright rude. I've seen it. There is a lot of judging."
That judgment and the shame of causing pain to your loved ones leaves many tribal members struggling to manage their drug use in isolation, cut off from the culture and community that is central to well-being in Indian Country.
"People are afraid they will never be accepted back in their families and community," Jefferson said, "I don't want these people to be left behind. Just listening to their stories — what hits me is that I grew up with their parents. We have lost a whole generation."
The woman Jefferson transported to the hospital with tranq wounds in December 2022 died from a fatal overdose the night she was discharged, after she returned to the Bellingham homeless encampment.
More than 103,000 Americans died in opioid-related incidents in 2022, according to the CDC. That's more than triple the number who died in 2000.
While Americans of all races and ethnicities have been affected, the proliferation of opioid deaths has disproportionately affected Black and Indigenous communities. In 2020, Native Americans' opioid mortality increased by 39% over the prior year — the second-highest rate of increase behind African Americans, according to the CDC.
"We need to remember that trauma is at the root of this," said Nickolaus Lewis (Lummi), chairman of the Northwest Portland Area Indian Health Board. "Our healthcare staff needs to be trained on empathy. When we are chasing people away from seeking help, we are making the problem worse."
Lewis, who is also vice-chair of the National Indian Health Board, spearheaded the Washington State Tribal Opioid/Fentanyl Summit, held in May. It brought the state's tribal nations together to examine possible solutions to the overdose crisis through a multifaceted lens, including justice, housing, treatment, and family.
Whatcom County had more than 90 overdose deaths last year and more than 35 by June 6 this year, a county health officer told the Cascadia Daily News last month. There were only 11 in 2018, none attributed to fentanyl.
"[W]e need people to know that what is out here now is more deadly than ever," Jefferson said.
"People are not a label–addiction–it's about the conditions that led to their situation, needing to use substances to deal with their traumas." Juan Cortez, a holistic health and harm reduction community activist based in New York City, told Native News Online. "The focus needs to be put on those conditions."
More Stories Like This
Promote Hope for the Future: Addressing Suicide in Indigenous Youth
Ovarian Cancer Affects 20,000 Women a Year. Here's What You Need to Know,
Early Detection is Key to Prostate Cancer Survival
FDA & CDC Approve Updated Covid Vaccines from Pfizer and Moderna
September is Suicide Prevention Month. Here's a List of Native Focused Mental Health Resources.
The Native News Health Desk is made possible by a generous grant from the National Institute for Health Care Management Foundation as well as sponsorship support from the American Dental Association. This grant funding and sponsorship support have no effect on editorial consideration in Native News Online.