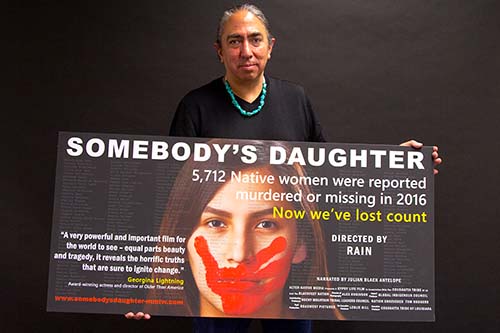 Details

By

Mark Charles
Guest Opinion
There is a crisis in Indian Country known as Missing and Murdered Indigenous Women and Girls. Literally hundreds, even thousands of Indigenous women and girls have been murdered or reported missing, and not only have many of their cases never been closed, but in many instances they have never even been opened. Leaving their families and loved ones to search for them alone, without the assistance or support of local law enforcement or federal agencies.
When I attended the Frank LaMere Native American Presidential Forum last August with many of the leading democratic candidates, we were asked about how our administrations would respond to this crisis. Many of the candidates stated that they would propose new laws and/or policies to protect this very vulnerable demographic.
But unfortunately the solution is not that simple. When the Declaration of Independence refers to Natives as 'savages' and the US Constitution never mentions women, we should not act surprised when our indigenous women and girls go missing or get murdered and society doesn't give a crap.
Simply passing a new law will not fix this problem. The crisis of MMIWG is a foundational level problem. We don't need a new law, we need a new basis for our laws.
And that is precisely why I am running for the office of President of the United States. My vision is to build a nation where for the very first time, We the People might truly mean #AllThePeople, especially and including our precious indigenous women and girls.
May 5th is the National Day of Awareness for Missing and Murdered Indigenous Women and Girls, and I invite you to join me in taking a moment of silence and also to pray: for the safety and healing of our indigenous women and girls, for strength and healing for their families, and for the courage for the citizens of our nation to see what is unseen and to fix what is broken.
Walk in beauty my relatives, and may we learn how to walk in beauty together.
Mark Charles Dual Citizen of the United States and the Navajo Nation and an independent candidate for the office of President of the United States
More Stories Like This
Georgia Republican Gubernatorial Primary Candidate Kandiss Taylor Makes Stupid, Crass Comment about Native Americans, the First Amendment, Georgia, and Jesus
Navajo Citizen Judge Sunshine Sykes Confirmed to Serve as U.S. District Court Judge
Indigenous Women Make Up Nearly Half of Canada's Incarcerated Population; New Legislation Seeks to Change That
Ho-Chunk Nation's Economic Arm Set to Move Forward with Casino Project 
Leaders Respond to Federal Indian Boarding School Investigative Report, Call it 'Monumental'